Note: Supplemental materials are not guaranteed with Rental or Used book purchases.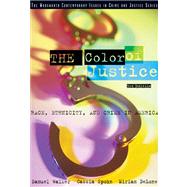 Questions About This Book?
What version or edition is this?
This is the 3rd edition with a publication date of 4/10/2003.
What is included with this book?
The New copy of this book will include any supplemental materials advertised. Please check the title of the book to determine if it should include any CDs, lab manuals, study guides, etc.
Related Products
Summary
Preface. 1. Race, Ethnicity, and Crime: The Present Crisis. 2. Victims and Offenders: Myths and Realities About Crime. 3. Race, Ethnicity, Social Structure, and Crime. 4. Justice on the Street? The Police and Minorities. 5. The Courts: A Quest for Justice During the Pre-Trial Process. 6. Justice on the Bench? Trial and Adjudication in Adult and Juvenile Court. 7. Race and Sentencing: In Search of Fairness and Justice. 8. The Color of Death: Race and the Death Penalty. 9. Corrections: A Picture in Black and White. 10. Minority Youth and the Criminal Justice System. 11. The Color of Justice. Selected Bibliography. Index.
Table of Contents
Foreword
vii
Preface
ix

| | |
| --- | --- |
| | Race, Ethnicity, and Crime |

1
(24)
3
(2)
5
(1)

| | |
| --- | --- |
| | The Colors of America: Racial and Ethnic Categories |

5
(9)

| | |
| --- | --- |
| | Racial and Ethnic Categories |

5
(6)

| | |
| --- | --- |
| | The Politics of Racial and Ethnic Labels |

11
(2)

| | |
| --- | --- |
| | The Quality of Criminal Justice Data on Race and Ethnicity |

13
(1)

| | |
| --- | --- |
| | The Geography of Racial and Ethnic Justice |

14
(1)

| | |
| --- | --- |
| | Disparity versus Discrimination |

15
(4)

| | |
| --- | --- |
| | The Discrimination--Disparity Continuum |

18
(1)

| | |
| --- | --- |
| | A Theoretical Perspective on Race, Ethnicity, and Crime |

19
(2)
20
(1)
21
(1)
21
(1)
22
(3)
25
(40)
26
(1)

| | |
| --- | --- |
| | A Broader Picture of the Crime Victim |

26
(11)

| | |
| --- | --- |
| | The National Crime Victimization Survey |

27
(1)
28
(2)
30
(3)

| | |
| --- | --- |
| | Trends in Household and Personal Victimization |

33
(1)

| | |
| --- | --- |
| | Lifetime Likelihood of Victimization |

34
(1)

| | |
| --- | --- |
| | Homicide Victimization Rates |

35
(1)

| | |
| --- | --- |
| | Summary: A More Comprehensive Picture of the Crime Victim |

36
(1)

| | |
| --- | --- |
| | Picture of the Typical Offender |

37
(13)

| | |
| --- | --- |
| | Official Arrest Statistics |

37
(6)

| | |
| --- | --- |
| | Perceptions of Offenders by Victims |

43
(4)
47
(3)

| | |
| --- | --- |
| | Summary: A Picture of the Typical Criminal Offender |

50
(1)

| | |
| --- | --- |
| | Crime as an Intraracial Event |

50
(3)

| | |
| --- | --- |
| | The National Crime Victimization Survey |

51
(1)
51
(1)

| | |
| --- | --- |
| | Summary: Crime as an Intraracial Event |

52
(1)

| | |
| --- | --- |
| | Crime as an Interracial (Hate) Event |

53
(1)
54
(5)
55
(2)

| | |
| --- | --- |
| | Varieties of Ethnic Gangs |

57
(2)
59
(1)
60
(1)
60
(5)

| | |
| --- | --- |
| | Race, Ethnicity, Social Structure, and Crime |

65
(28)
65
(1)
66
(9)
67
(1)
67
(2)
69
(1)
70
(1)

| | |
| --- | --- |
| | Human Capital and Social Capital |

70
(1)

| | |
| --- | --- |
| | Progress, Stagnation, or Regression? The Debate over the Status of African Americans |

71
(2)

| | |
| --- | --- |
| | The Debate over the Underclass |

73
(2)

| | |
| --- | --- |
| | Community Social Structure |

75
(4)
75
(4)

| | |
| --- | --- |
| | Theoretical Perspectives on Inequality and Crime |

79
(5)
79
(1)

| | |
| --- | --- |
| | Differential Association Theory |

80
(1)

| | |
| --- | --- |
| | Social Disorganization Theory |

81
(1)
82
(1)
82
(1)
83
(1)

| | |
| --- | --- |
| | The Limits of Current Theories |

84
(1)

| | |
| --- | --- |
| | Inequality and Social Reform |

84
(5)

| | |
| --- | --- |
| | The Impact of the Civil Rights Movement |

85
(2)

| | |
| --- | --- |
| | The Attack on Economic Inequality |

87
(2)
89
(1)
89
(1)
90
(3)
93
(50)
93
(2)
94
(1)
95
(1)
95
(2)

| | |
| --- | --- |
| | A Long History of Conflict |

97
(1)

| | |
| --- | --- |
| | The Police and a Changing America |

97
(1)

| | |
| --- | --- |
| | Public Attitudes About the Police |

98
(2)

| | |
| --- | --- |
| | Policing Racial and Ethnic Minority Communities |

100
(3)

| | |
| --- | --- |
| | The African American Community |

100
(1)
101
(1)

| | |
| --- | --- |
| | The Native American Community |

101
(1)

| | |
| --- | --- |
| | The Middle Eastern Community |

102
(1)

| | |
| --- | --- |
| | Special Issue: Enforcing Federal Immigration Laws |

103
(1)

| | |
| --- | --- |
| | Police Use of Deadly Force |

103
(3)

| | |
| --- | --- |
| | Disparity versus Discrimination in Police Shootings |

105
(1)

| | |
| --- | --- |
| | Controlling Police Shootings |

105
(1)

| | |
| --- | --- |
| | ``Police Brutality'': Police use of Physical Force |

106
(3)

| | |
| --- | --- |
| | Discrimination in Arrests? |

109
(2)
110
(1)

| | |
| --- | --- |
| | Traffic Stops: Racial Profiling |

111
(5)

| | |
| --- | --- |
| | Defining Racial Profiling |

111
(1)
112
(1)

| | |
| --- | --- |
| | The Data on Traffic Stops |

112
(1)

| | |
| --- | --- |
| | Interpreting Traffic Stop Data |

113
(1)

| | |
| --- | --- |
| | Controlling Bias in Traffic Stops |

114
(1)

| | |
| --- | --- |
| | A Success Story: The Customs Bureau |

115
(1)
116
(3)

| | |
| --- | --- |
| | Special Issue: Stereotyping and Routine Police Work |

118
(1)
119
(1)

| | |
| --- | --- |
| | Police Officer Attitudes and Behavior |

120
(2)

| | |
| --- | --- |
| | Minorities and Police Corruption |

122
(1)

| | |
| --- | --- |
| | Police-Community Relations Programs |

122
(2)

| | |
| --- | --- |
| | Citizen Complaints Against the Police |

124
(2)

| | |
| --- | --- |
| | Citizen Oversight of the Police |

126
(1)

| | |
| --- | --- |
| | Police Employment Practices |

126
(8)

| | |
| --- | --- |
| | Trends in Racial Minority Employment |

127
(2)

| | |
| --- | --- |
| | The Law of Employment Discrimination |

129
(1)

| | |
| --- | --- |
| | Discrimination in Assignment |

130
(1)
131
(3)

| | |
| --- | --- |
| | Minorities as Supervisors and Chief Executives |

134
(1)
134
(1)
135
(1)
136
(7)
143
(35)
145
(2)
147
(1)

| | |
| --- | --- |
| | Decisions Regarding Counsel and Bail |

147
(15)

| | |
| --- | --- |
| | Racial Minorities and the Right to Counsel |

148
(6)

| | |
| --- | --- |
| | Racial Minorities and Bail Decision Making |

154
(8)

| | |
| --- | --- |
| | Charging and Plea Bargaining Decisions |

162
(10)

| | |
| --- | --- |
| | Prosecutors' Charging Decisions |

162
(8)

| | |
| --- | --- |
| | Race and Plea Bargaining Decisions |

170
(2)
172
(1)
173
(1)
174
(4)
178
(24)
180
(1)

| | |
| --- | --- |
| | Selection of the Jury Pool |

180
(5)

| | |
| --- | --- |
| | Techniques for Increasing Racial Diversity |

183
(2)

| | |
| --- | --- |
| | The Peremptory Challenge: Racial Profiling in the Courtroom? |

185
(5)

| | |
| --- | --- |
| | The Supreme Court and the Peremptory Challenge: From Swain to Batson |

186
(4)

| | |
| --- | --- |
| | Playing the ``Race Card'' in a Criminal Trial |

190
(7)

| | |
| --- | --- |
| | Race-Conscious Jury Nullification: Black Power in the Courtroom? |

195
(2)
197
(1)
198
(1)
199
(3)
202
(48)
203
(1)

| | |
| --- | --- |
| | Racial Disparity in Sentencing |

203
(4)

| | |
| --- | --- |
| | Four Explanations for Racial Disparities in Sentencing |

204
(3)

| | |
| --- | --- |
| | Empirical Research on Race and Sentencing |

207
(4)

| | |
| --- | --- |
| | Reviews of Recent Research |

207
(4)
211
(20)

| | |
| --- | --- |
| | Sentencing in Three Urban Jurisdictions: Direct and Indirect Race Effects |

211
(2)

| | |
| --- | --- |
| | Race/Ethnicity, Gender, Age, and Employment: A Volatile Combination? |

213
(5)

| | |
| --- | --- |
| | Differential Treatment of Interracial and Intraracial Sexual Assault |

218
(4)

| | |
| --- | --- |
| | The Effect of Race on Sentencing for Various Types of Crimes |

222
(3)

| | |
| --- | --- |
| | Sentencing and the War on Drugs |

225
(6)

| | |
| --- | --- |
| | Sentencing Reform: The Quest for a ``Just'' Punishment System |

231
(12)

| | |
| --- | --- |
| | Race/Ethnicity and the Federal Sentencing Guidelines |

238
(1)

| | |
| --- | --- |
| | Race/Ethnicity and State Sentencing Reforms |

239
(2)

| | |
| --- | --- |
| | Have Sentencing Guidelines Increased the Likelihood of Racial Discrimination? |

241
(2)
243
(1)
244
(1)
245
(5)
250
(47)
251
(1)

| | |
| --- | --- |
| | The Constitutionality of the Death Penalty |

251
(4)
252
(1)
253
(2)

| | |
| --- | --- |
| | Attitudes Toward Capital Punishment |

255
(2)

| | |
| --- | --- |
| | Race and the Death Penalty: The Empirical Evidence |

257
(19)

| | |
| --- | --- |
| | Statistical Evidence of Racial Disparity |

258
(4)
262
(5)
267
(5)

| | |
| --- | --- |
| | Race and the Federal Capital Sentencing Process |

272
(3)

| | |
| --- | --- |
| | Explanations for Disparate Treatment |

275
(1)

| | |
| --- | --- |
| | McCleskey v. Kemp: The Supreme Court and Racial Discrimination in the Application of the Death Penalty |

276
(7)

| | |
| --- | --- |
| | The Execution of Warren McCleskey |

280
(2)

| | |
| --- | --- |
| | The Aftermath of McCleskey |

282
(1)

| | |
| --- | --- |
| | The Death Penalty in the 21st Century |

283
(6)

| | |
| --- | --- |
| | The Movement to Reform the Death Penalty |

286
(1)

| | |
| --- | --- |
| | The Movement to Abolish the Death Penalty |

287
(2)
289
(1)
290
(1)
291
(6)

| | |
| --- | --- |
| | Corrections Versus College: Minorities in Society |

297
(27)
298
(1)

| | |
| --- | --- |
| | The Incarcerated: Prison and Jail Populations |

298
(7)

| | |
| --- | --- |
| | Minority Overrepresentation |

298
(3)
301
(2)

| | |
| --- | --- |
| | Impact of the War on Drugs |

303
(1)
303
(2)
305
(1)
305
(1)

| | |
| --- | --- |
| | Minority Overrepresentation |

305
(1)

| | |
| --- | --- |
| | Parole: Early Release from Prison |

306
(2)

| | |
| --- | --- |
| | Success and Failure on Parole |

307
(1)

| | |
| --- | --- |
| | Probation: A Case of Sentencing Discrimination? |

308
(1)

| | |
| --- | --- |
| | Perspectives on the Racial Distribution of Correctional Populations |

309
(10)
312
(4)
316
(3)
319
(1)
319
(1)
320
(1)
320
(4)
324
(31)
325
(1)

| | |
| --- | --- |
| | Young Racial Minorities as Victims and Offenders |

325
(6)

| | |
| --- | --- |
| | Juveniles as Victims of Crime |

325
(3)
328
(3)

| | |
| --- | --- |
| | Juveniles of Color and the Police |

331
(1)

| | |
| --- | --- |
| | Race/Ethnicity and the Juvenile Justice System |

332
(16)

| | |
| --- | --- |
| | Race/Ethnicity and Juvenile Court Outcomes in Four Jurisdictions |

337
(7)

| | |
| --- | --- |
| | Transfer of Juveniles to Criminal Court |

344
(2)

| | |
| --- | --- |
| | Explaining Disparate Treatment of Juvenile Offenders |

346
(2)

| | |
| --- | --- |
| | Juveniles Under Correctional Supervision |

348
(2)
350
(1)
351
(1)
351
(4)
355
(5)
356
(3)
359
(1)
Selected Bibliography
360
(13)
Index
373