Note: Supplemental materials are not guaranteed with Rental or Used book purchases.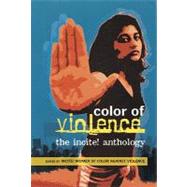 Summary
What would it take to end violence against women of color?How does the mainstream antiviolence movement help? How does it hinder?When will we admit that repositioning women of color at the center of the movement-women more often harmed by the police, prisons, and border patrols than aided by them-means that we must address state violence? In Color of Violence, INCITE! demands that we reconsider a reliance on the criminal justice system for solving women's struggles with domestic violence; acknowledge how militarism subjects women to extreme levels of violence perpetrated from within, and without, their communities; recognize how the medical establishment inflicts violence-such as involuntary sterilization and inadequate health care-on women of color; devise new strategies for cross-cultural dialogue, theorizing, and alliance building; and much, much more. INCITE! Women of Color Against Violence was born in 2000, when more than two thousand dedicated activists from diverse communities came together to end the war being waged on women of color in the US and around the world. Now the largest multiracial, grassroots, feminist organization in the United States, INCITE! boasts chapters in more than 20 cities. Color of Violence: The INCITE! Anthology presents the fierce and vital writing of 32 of these visionaries, who not only shift the focus from domestic violence and sexual assault, but also map innovative strategies of movement building and resistance used by women of color around the world. At a time of heightened state surveillance and repression of people of color, Color of Violence: The INCITE! Anthology is an essential intervention.
Table of Contents
Introduction
p. 1
Reconceptualizing Antiviolence Strategies
Rethinking Antiviolence Strategies: Lessons from the Black Women's Movement in Britain
p. 13
Disability in the New World Order
p. 25
Federal Indian Law and Violent Crime
p. 32
Feminism, Race, and Adoption Policy
p. 42
The Color of Choice: White Supremacy and Reproductive Justice
p. 53
Heteropatriarchy and the Three Pillars of White Supremacy: Rethinking Women of Color Organizing
p. 66
A Call for Consistency: Palestinian Resistance and Radical US Women of Color
p. 74
Forms of Violence
The Color of Violence
p. 81
Four Generations in Resistance
p. 88
The War to Be Human / Becoming Human in a Time of War
p. 92
The Forgotten "-ism": An Arab American Women's Perspective on Zionism, Racism, and Sexism
p. 97
Reflections in a Time of War: A Letter to My Sisters
p. 113
Don't Liberate Me
p. 118
"National Security" and the Violation of Women: Militarized Border Rape at the US-Mexico Border
p. 119
The Complexities of "Feminicide" on the Border
p. 130
INS Raids and How Immigrant Women are Fighting Back
p. 135
Law Enforcement Violence Against Women of Color
p. 138
Crime, Punishment, and Economic Violence
p. 157
Pomo Woman, Ex-Prisoner, Speaks Out
p. 164
The War Against Black Women, and the Making of NO!
p. 170
The Medicalization of Domestic Violence
p. 179
Building Movement
Unite and Rebel! Challenges and Strategies in Building Alliances
p. 191
Sistas Makin' Moves: Collective Leadership for Personal Transformation and Social Justice
p. 196
Disloyal to Feminism: Abuse of Survivors within the Domestic Violence Shelter System
p. 208
Gender Violence and the Prison-Industrial Complex
p. 223
Trans Day of Action for Social and Economic Justice
p. 227
"The Personal is the Private is the Cultural": South Asian Women Organizing Against Domestic Violence
p. 231
An Antiracist Christian Ethical Approach to Violence Resistance
p. 243
Taking Risks: Implementing Grassroots Community Accountability Strategies
p. 250
Poem on trying to love without fear
p. 267
Endnotes and Works Cited
p. 270
Index
p. 305
About the Contributors
p. 321
About South End Press
p. 326
Table of Contents provided by Ingram. All Rights Reserved.