Note: Supplemental materials are not guaranteed with Rental or Used book purchases.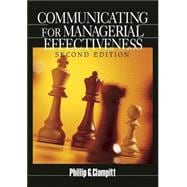 Communicating for Managerial Effectiveness
ISBN13:
9780761921530
by
Clampitt, Phillip
Related Products
Summary
This revised and updated edition of Communicating for Managerial Effectiveness analyzes six critical communication challenges faced by most managers, and offers practical strategies. New to this edition is: greater emphasis on successful implementation; more insight into how to manage the relationship between data, information, knowledge and action; improved advice on how to strategically communicate about organizational changes; a discussion on the impact of the Internet; and a web site including exercises and case studies.
Author Biography
Phillip G. Clampitt, Ph.D., is a Professor of Organizational Communication and Information Sciences at the University of Wisconsin -- Green Bay. His work has been published in a variety of journals, including Management Communication Quarterly, the Journal of Business Communication, Communication World, the Journal of Broadcasting, and the international Journal of Communication Management.
Table of Contents
Foreword
viii
Preface
ix
Acknowledgments
x
Introduction
xi
1
(22)
2
(6)
8
(6)
14
(7)
21
(2)

| | |
| --- | --- |
| | What Is Communication, Anyway? |

23
(24)
24
(17)

| | |
| --- | --- |
| | Implications of the Propositions |

41
(4)
45
(2)

| | |
| --- | --- |
| | Communicating the Corporate Culture |

47
(24)
48
(1)

| | |
| --- | --- |
| | Why Do Organizations Have Culture? |

49
(2)

| | |
| --- | --- |
| | What Are the Consequences of Culture? |

51
(3)

| | |
| --- | --- |
| | How Can the Culture Be Discovered? |

54
(3)

| | |
| --- | --- |
| | How Can the Culture Be Evaluated? |

57
(3)

| | |
| --- | --- |
| | How Can the Culture Be Communicated? |

60
(9)
69
(2)

| | |
| --- | --- |
| | Managing Data, Information, Knowledge, and Action |

71
(30)
72
(2)
74
(4)
78
(2)

| | |
| --- | --- |
| | Managing the Data-Information Relationship |

80
(10)

| | |
| --- | --- |
| | Managing the Information-Knowledge Relationship |

90
(4)

| | |
| --- | --- |
| | Managing the Knowledge-Action Relationship |

94
(4)

| | |
| --- | --- |
| | Applying the D-I-K-A Model |

98
(2)
100
(1)
101
(22)

| | |
| --- | --- |
| | A Model for Selecting Appropriate Channels |

102
(5)
107
(12)
119
(4)
123
(24)
124
(5)

| | |
| --- | --- |
| | Implementing a Successful Feedback System |

129
(5)

| | |
| --- | --- |
| | Communicating Performance Feedback |

134
(11)
145
(2)
147
(32)
148
(3)
151
(1)
152
(3)
155
(9)
164
(5)
169
(7)
176
(3)

| | |
| --- | --- |
| | Interdepartmental Communication |

179
(26)

| | |
| --- | --- |
| | The Nature of Departmentalization |

180
(2)

| | |
| --- | --- |
| | Potential Problems of Departmentalization |

182
(3)
185
(5)
190
(3)
193
(10)
203
(2)

| | |
| --- | --- |
| | Communicating the Innovative Spirit |

205
(26)
206
(4)
210
(6)

| | |
| --- | --- |
| | Measuring Success and Failure |

216
(4)
220
(8)

| | |
| --- | --- |
| | Blue Ribbons and Red Tape |

228
(2)
230
(1)
231
(28)
233
(2)
235
(12)

| | |
| --- | --- |
| | A Strategic Approach to Corporate Ethics |

247
(10)
257
(2)
259
(4)
Appendix A: Data Bank Composition
263
(1)
Appendix B: Results of Communication Assessments
264
(5)
References
269
(10)
Index
279
(10)
About the Author
289