Note: Supplemental materials are not guaranteed with Rental or Used book purchases.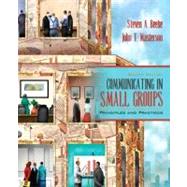 Questions About This Book?
What version or edition is this?
This is the 8th edition with a publication date of 1/1/2006.
What is included with this book?
The Used copy of this book is not guaranteed to include any supplemental materials. Typically, only the book itself is included.
Summary
Known for its wealth of relevant, practical, and up-to-date information,Communicating in Small Groupscontinues to provide a balance of principles and applications of group communication.With additional emphasis on teamwork, technology, and ethical collaboration,Communicating in Small Groups: Principles and Practiceshelps students enhance their performance in groups and teams while also giving them insight as to why group and team members communicate as they do.
Table of Contents
Preface
xvii
Acknowledgments
xxii

| | |
| --- | --- |
| | PART I: Foundations of Group and Team Communication |

2
(76)

| | |
| --- | --- |
| | Introducing Group and Team Principles and Practices |

2
(36)

| | |
| --- | --- |
| | What Is Small Group Communication? |

3
(3)
4
(1)
5
(1)

| | |
| --- | --- |
| | Meeting with a Common Purpose |

5
(1)

| | |
| --- | --- |
| | Feeling a Sense of Belonging |

5
(1)
6
(1)
6
(6)
8
(1)

| | |
| --- | --- |
| | Characteristics of an Effective Team |

9
(1)

| | |
| --- | --- |
| | Characteristics of Effective Team Members |

10
(1)

| | |
| --- | --- |
| | Enhancing Team Effectiveness |

11
(1)

| | |
| --- | --- |
| | What Are the Advantages and Disadvantages of Working in Groups and Teams? |

12
(7)
12
(2)
14
(2)
16
(1)
16
(1)
17
(2)

| | |
| --- | --- |
| | What Are the Different Types of Small Groups? |

19
(3)
19
(1)
19
(3)

| | |
| --- | --- |
| | What Is Virtual Small Group Communication? |

22
(5)
22
(1)
22
(1)
23
(1)

| | |
| --- | --- |
| | Cutting Edge Theory: Media Richness Theory |

24
(1)

| | |
| --- | --- |
| | Electronic Meeting Systems |

25
(1)
26
(1)

| | |
| --- | --- |
| | The Quality of Virtual Communication |

26
(1)

| | |
| --- | --- |
| | How Can You Become a Competent Small Group Communicator? |

27
(1)

| | |
| --- | --- |
| | The Essence of Communication Competence |

27
(1)

| | |
| --- | --- |
| | The Nine Core Small Group Communication Competencies |

28
(10)

| | |
| --- | --- |
| | Collaborating Ethically: What Would You Do? |

30
(1)

| | |
| --- | --- |
| | Putting Principles Into Practice |

31
(1)
32
(1)
33
(5)

| | |
| --- | --- |
| | Small Group Communication Theory |

38
(20)

| | |
| --- | --- |
| | The Nature of Theory and the Theory-Building Process |

39
(1)

| | |
| --- | --- |
| | Theory: A Practical Approach to Group Communication |

40
(3)

| | |
| --- | --- |
| | Collaborating Ethically: What Would You Do? |

41
(1)
41
(1)
41
(2)

| | |
| --- | --- |
| | The Purpose of Communication in Small Groups: Making Sense |

43
(2)
44
(1)

| | |
| --- | --- |
| | Small Groups: More Complexity |

44
(1)

| | |
| --- | --- |
| | Theoretical Perspectives for the Study of Group and Team Communication |

45
(7)
45
(1)
46
(2)

| | |
| --- | --- |
| | Symbolic Convergence Theory |

48
(1)
49
(1)

| | |
| --- | --- |
| | Cutting Edge Theory: Structuration and the Exercise of Free Will |

50
(1)
50
(1)
51
(1)
52
(1)

| | |
| --- | --- |
| | New Technologies and Small Group Communication Theory |

52
(1)

| | |
| --- | --- |
| | Describing Elements of Group and Team Communication |

53
(5)

| | |
| --- | --- |
| | Putting Principles Into Practice |

55
(1)
56
(1)
56
(2)
58
(20)

| | |
| --- | --- |
| | Why Do People Join Groups? |

59
(1)
60
(4)
60
(1)
61
(2)
63
(1)
64
(1)
64
(2)

| | |
| --- | --- |
| | Establishing Mutuality of Concern |

66
(5)

| | |
| --- | --- |
| | Collaborating Ethically: What Would You Do? |

68
(1)
68
(1)
69
(1)
69
(1)

| | |
| --- | --- |
| | Proximity, Contact, and Interaction |

69
(1)

| | |
| --- | --- |
| | Cutting Edge Theory: Mutuality of Concern |

70
(1)
70
(1)
71
(2)
71
(1)
72
(1)
72
(1)
73
(1)

| | |
| --- | --- |
| | Homogeneity and Diversity in Groups |

73
(1)

| | |
| --- | --- |
| | Group Formation over Time |

73
(5)
74
(1)

| | |
| --- | --- |
| | Putting Principles Into Practice |

75
(1)
76
(1)
77
(1)

| | |
| --- | --- |
| | PART II: Managing Group and Team Relationships |

78
(126)

| | |
| --- | --- |
| | Relating to Others in Groups and Teams |

78
(36)
79
(6)
80
(1)

| | |
| --- | --- |
| | Self-Concept Development: Gender, Sexual Orientation, Culture, and Role |

80
(2)

| | |
| --- | --- |
| | Diversity of Roles in Small Groups |

82
(1)
83
(1)

| | |
| --- | --- |
| | Group-Building and Maintenance Roles |

83
(1)
84
(1)
85
(6)
86
(1)
86
(1)

| | |
| --- | --- |
| | Cutting Edge Theory: Establishing Group Norms |

87
(1)

| | |
| --- | --- |
| | Conforming to Group Norms |

87
(2)

| | |
| --- | --- |
| | Collaborating Ethically: What Would You Do? |

89
(1)

| | |
| --- | --- |
| | Establishing Ground Rules and a Mission Statement |

89
(2)
91
(1)
91
(3)

| | |
| --- | --- |
| | Privileges Accorded to High-Status Group Members |

91
(1)

| | |
| --- | --- |
| | Effects of Status Differences |

92
(1)
93
(1)
94
(1)

| | |
| --- | --- |
| | Observing Status Differences to Predict Group Dynamics |

94
(1)
94
(4)
95
(1)

| | |
| --- | --- |
| | Effects of Power on Group Process |

96
(1)
97
(1)
97
(1)

| | |
| --- | --- |
| | Status and Power: A Cultural Footnote |

97
(1)
98
(2)

| | |
| --- | --- |
| | Developing Trusting Relationships |

98
(1)
99
(1)

| | |
| --- | --- |
| | The Development of Group Relationships over Time |

100
(1)
101
(1)
101
(13)

| | |
| --- | --- |
| | Individualism and Collectivism |

102
(1)

| | |
| --- | --- |
| | High-Context and Low-Context Cultures |

102
(1)

| | |
| --- | --- |
| | High-Contact and Low-Contact Cultures |

103
(2)
105
(1)
105
(1)
106
(1)

| | |
| --- | --- |
| | Putting Principles Into Practice |

107
(2)
109
(2)
111
(3)
114
(22)
116
(1)

| | |
| --- | --- |
| | Defensive and Supportive Climates |

117
(4)

| | |
| --- | --- |
| | Evaluation versus Description |

117
(1)

| | |
| --- | --- |
| | Control versus Problem Orientation |

118
(1)

| | |
| --- | --- |
| | Strategy versus Spontaneity |

118
(1)

| | |
| --- | --- |
| | Neutrality versus Empathy |

118
(1)

| | |
| --- | --- |
| | Superiority versus Equality |

118
(1)

| | |
| --- | --- |
| | Certainty versus Provisionalism |

119
(1)

| | |
| --- | --- |
| | Collaborating Ethically: What Would You Do? |

120
(1)
120
(1)

| | |
| --- | --- |
| | Interpersonal Confirmation and Disconfirmation |

121
(2)
121
(1)
122
(1)
123
(3)

| | |
| --- | --- |
| | Composition and Cohesiveness: Building a Team |

123
(1)

| | |
| --- | --- |
| | Cutting Edge Theory: Cohesiveness and Productivity at Harley-Davidson |

124
(1)

| | |
| --- | --- |
| | Individual Benefits and Cohesiveness |

124
(1)

| | |
| --- | --- |
| | Task Effectiveness and Cohesiveness |

125
(1)

| | |
| --- | --- |
| | Communication and Cohesiveness |

125
(1)
126
(2)
127
(1)
128
(1)

| | |
| --- | --- |
| | Group Climate and Productivity |

129
(7)

| | |
| --- | --- |
| | Putting Principles Into Practice |

130
(1)
131
(2)
133
(3)

| | |
| --- | --- |
| | Enhancing Group and Team Communication Skills |

136
(32)

| | |
| --- | --- |
| | Verbal Dynamics in the Small Group |

137
(2)

| | |
| --- | --- |
| | Words as Barriers to Communication |

137
(1)
138
(1)
139
(4)
139
(2)

| | |
| --- | --- |
| | Barriers to Effective Listening |

141
(1)

| | |
| --- | --- |
| | A Guide to Active Listening |

142
(1)

| | |
| --- | --- |
| | The Importance of Nonverbal Communication in Groups |

143
(2)

| | |
| --- | --- |
| | More Time Is Spent Communicating Nonverbally Than Verbally |

144
(1)

| | |
| --- | --- |
| | Emotions and Feelings Are Typically Expressed Nonverbally Rather Than Verbally |

144
(1)

| | |
| --- | --- |
| | Nonverbal Messages Are Usually More Believable Than Verbal Messages |

144
(1)

| | |
| --- | --- |
| | Applications of Nonverbal Communication Research to Groups and Teams |

145
(9)

| | |
| --- | --- |
| | Posture, Movement, and Gestures |

145
(2)
147
(1)
147
(1)
148
(1)
148
(1)

| | |
| --- | --- |
| | Cutting Edge Theory: Nonverbal Virtual Communication |

149
(1)
150
(1)

| | |
| --- | --- |
| | Territoriality and Personal Space |

150
(2)
152
(1)
152
(1)

| | |
| --- | --- |
| | Communication Environment |

152
(1)
153
(1)

| | |
| --- | --- |
| | Functions of Nonverbal Cues in Groups and Teams |

154
(3)

| | |
| --- | --- |
| | Nonverbal Messages Influence Perceived Leadership |

154
(1)

| | |
| --- | --- |
| | Nonverbal Messages Influence Persuasion Skills |

154
(1)

| | |
| --- | --- |
| | Nonverbal Messages Help Synchronize Interaction |

154
(1)

| | |
| --- | --- |
| | Nonverbal Messages Provide Information about Perceived Honesty or Dishonesty |

154
(2)
156
(1)

| | |
| --- | --- |
| | Interpreting Nonverbal Communication |

157
(11)
159
(1)

| | |
| --- | --- |
| | Collaborating Ethically: What Would You Do? |

160
(1)
160
(1)

| | |
| --- | --- |
| | Putting Principles Into Practice |

161
(2)
163
(1)
164
(4)
168
(36)
169
(2)
169
(1)

| | |
| --- | --- |
| | Misconceptions about Conflict |

170
(1)
171
(3)

| | |
| --- | --- |
| | Pseudo-Conflict: When People Misunderstand One Another |

171
(1)

| | |
| --- | --- |
| | Simple Conflict: When People Disagree about Issues |

172
(1)

| | |
| --- | --- |
| | Ego Conflict: When Personalities Clash |

173
(1)

| | |
| --- | --- |
| | Conflict and Diversity in Small Groups |

174
(4)

| | |
| --- | --- |
| | Approaches to Conflict in Individualistic and Collectivistic Cultures |

174
(1)
175
(1)

| | |
| --- | --- |
| | Cutting Edge Theory: Managing Conflict in Diverse Groups |

176
(1)

| | |
| --- | --- |
| | Approaches to Conflict in High-Context and Low-Context Cultures |

176
(2)

| | |
| --- | --- |
| | Conflict Management Styles |

178
(2)
178
(1)
179
(1)
179
(1)

| | |
| --- | --- |
| | Cooperative Conflict Management: Principles and Skills |

180
(1)

| | |
| --- | --- |
| | Separate the People from the Problem |

180
(1)

| | |
| --- | --- |
| | Focusing on Shared Interests |

181
(1)

| | |
| --- | --- |
| | Generating Many Options to Solve Problems |

181
(1)

| | |
| --- | --- |
| | Basing Decisions on Objective Criteria |

181
(1)

| | |
| --- | --- |
| | When People Are Not Cooperative: Dealing with Difficult Group Members |

181
(4)

| | |
| --- | --- |
| | Collaborating Ethically: What Would You Do? |

183
(2)

| | |
| --- | --- |
| | Groupthink: Conflict Avoidance |

185
(7)
186
(2)
188
(1)

| | |
| --- | --- |
| | Suggestions for Reducing Groupthink |

188
(2)
190
(2)
192
(1)

| | |
| --- | --- |
| | Consensus: Reaching Agreement through Communication |

192
(12)
192
(1)

| | |
| --- | --- |
| | Suggestions for Reaching Consensus |

193
(4)
197
(1)

| | |
| --- | --- |
| | Putting Principles Into Practice |

198
(1)
199
(1)
200
(4)

| | |
| --- | --- |
| | PART III: Managing Group and Team Tasks |

204
(134)
204
(24)

| | |
| --- | --- |
| | Developing a Discussion Plan |

205
(4)

| | |
| --- | --- |
| | Get Acquainted with Your Group Members |

205
(1)

| | |
| --- | --- |
| | Cutting Edge Theory: Why Do We Share What We Know? |

206
(1)

| | |
| --- | --- |
| | Clarify the Goals of the Group |

207
(1)

| | |
| --- | --- |
| | Develop a Plan for Gathering Information and Analyzing Issues |

207
(1)

| | |
| --- | --- |
| | Follow a Structured Agenda to Accomplish the Task |

208
(1)

| | |
| --- | --- |
| | Use Critical-Thinking and Analysis Skills |

208
(1)

| | |
| --- | --- |
| | Determine How to Present Your Information |

208
(1)
209
(1)

| | |
| --- | --- |
| | Formulating Discussion Questions |

209
(5)
210
(1)
211
(1)
211
(1)
212
(2)
214
(1)

| | |
| --- | --- |
| | Using Electronic Resources and the Library |

214
(2)

| | |
| --- | --- |
| | Using Logic and Reasoning |

216
(2)
216
(1)
217
(1)
217
(1)

| | |
| --- | --- |
| | Evaluating Evidence in Group Discussion |

218
(2)
218
(1)
218
(1)
219
(1)
219
(1)
219
(1)

| | |
| --- | --- |
| | Using Critical-Analysis Skills: Avoiding Reasoning Fallacies |

220
(8)
221
(1)
221
(1)
221
(1)
221
(1)
222
(1)
222
(1)

| | |
| --- | --- |
| | Collaborating Ethically: What Would You Do? |

223
(1)

| | |
| --- | --- |
| | Putting Principles Into Practice |

224
(1)
225
(1)
226
(2)

| | |
| --- | --- |
| | Making Decisions and Solving Problems |

228
(28)

| | |
| --- | --- |
| | Group Decision Making: Choosing among Alternatives |

229
(4)

| | |
| --- | --- |
| | Elements of Group Decision Making |

229
(1)

| | |
| --- | --- |
| | Methods of Group Decision Making |

230
(1)

| | |
| --- | --- |
| | Obstacles to Quality Group Decision Making |

231
(1)
232
(1)

| | |
| --- | --- |
| | Group Problem Solving: Overcoming Obstacles to Achieve a Goal |

233
(2)
233
(1)
234
(1)

| | |
| --- | --- |
| | Barriers to Group and Team Problem Solving |

234
(1)

| | |
| --- | --- |
| | Collaborating Ethically: What Would You Do? |

235
(1)

| | |
| --- | --- |
| | Three Approaches to Group Problem Solving |

235
(13)
236
(2)

| | |
| --- | --- |
| | Other Models of Group Problem Solving |

238
(1)
239
(2)
241
(1)
242
(2)

| | |
| --- | --- |
| | Cutting Edge Theory: The Bona Fide Perspective on Groups |

244
(3)
247
(1)
247
(1)

| | |
| --- | --- |
| | Cultural Assumptions about Group Problem Solving and Decision Making |

248
(8)

| | |
| --- | --- |
| | Putting Principles Into Practice |

249
(1)
250
(3)
253
(3)

| | |
| --- | --- |
| | Using Problem-Solving Techniques |

256
(30)

| | |
| --- | --- |
| | An Overview of Prescriptive Problem-Solving Strategies |

257
(3)

| | |
| --- | --- |
| | The Origin of Prescriptive Problem-Solving Strategies |

257
(1)

| | |
| --- | --- |
| | The Importance of Structuring Problem-Solving Discussion |

258
(2)

| | |
| --- | --- |
| | Reflective Thinking: The Traditional Approach to Group Problem Solving |

260
(14)

| | |
| --- | --- |
| | Step 1: Identify and Define the Problem |

260
(1)

| | |
| --- | --- |
| | Collaborating Ethically: What Would You Do? |

261
(1)

| | |
| --- | --- |
| | Tools for Defining the Problem |

261
(2)

| | |
| --- | --- |
| | Step 2: Analyze the Problem |

263
(1)

| | |
| --- | --- |
| | Tools for Analyzing a Problem |

264
(3)
267
(1)

| | |
| --- | --- |
| | How to Establish Criteria |

267
(1)

| | |
| --- | --- |
| | Step 3: Generate Several Possible Solutions |

268
(1)

| | |
| --- | --- |
| | Step 4: Select the Best Solution or Combination of Solutions |

268
(1)

| | |
| --- | --- |
| | Tools for Evaluating the Solutions |

269
(1)

| | |
| --- | --- |
| | Step 5: Test and Implement the Solution |

270
(1)

| | |
| --- | --- |
| | Tools for Implementing a Solution |

270
(2)

| | |
| --- | --- |
| | How to Use Reflective Thinking in Your Group or Team |

272
(2)

| | |
| --- | --- |
| | Question-Oriented Approaches to Problem Solving |

274
(4)
274
(1)
275
(1)

| | |
| --- | --- |
| | How to Use Question-Oriented Approaches in Your Group or Team |

275
(1)

| | |
| --- | --- |
| | Cutting Edge Theory: Total Quality Management |

276
(2)
278
(8)

| | |
| --- | --- |
| | Putting Principles Into Practice |

279
(1)
279
(3)
282
(4)

| | |
| --- | --- |
| | Enhancing Creativity in Groups and Teams |

286
(26)
287
(1)
288
(1)
289
(1)

| | |
| --- | --- |
| | Creativity Myth 1: Creativity Is a Mysterious Process That Can't Be Learned |

289
(1)

| | |
| --- | --- |
| | Creativity Myth 2: Only a Few Gifted People Are Creative |

289
(1)

| | |
| --- | --- |
| | Creativity Myth 3: Creativity Just Happens |

289
(1)

| | |
| --- | --- |
| | Barriers to Group and Team Creativity |

290
(1)

| | |
| --- | --- |
| | Premature Evaluation of Ideas |

290
(1)

| | |
| --- | --- |
| | Poor Physical Surroundings |

290
(1)
290
(1)
290
(1)
291
(1)

| | |
| --- | --- |
| | Principles of Group and Team Creativity |

291
(2)

| | |
| --- | --- |
| | Appropriately Analyze and Define the Problem |

291
(1)

| | |
| --- | --- |
| | Create a Climate of Freedom |

292
(1)

| | |
| --- | --- |
| | Listen to Minority Points of View |

292
(1)

| | |
| --- | --- |
| | Encourage People to See Things and Themselves Differently |

292
(1)

| | |
| --- | --- |
| | Selectively Increase Group and Team Structure |

293
(1)

| | |
| --- | --- |
| | Techniques for Enhancing Group and Team Creativity |

293
(19)
293
(1)

| | |
| --- | --- |
| | Traditional Brainstorming Steps |

294
(1)

| | |
| --- | --- |
| | The Nominal-Group Technique |

295
(2)

| | |
| --- | --- |
| | Collaborating Ethically: What Would You Do? |

297
(1)
297
(1)

| | |
| --- | --- |
| | Cutting Edge Theory: Cognitive Stimulation and Creativity |

298
(1)
298
(2)
300
(1)
300
(1)
301
(1)

| | |
| --- | --- |
| | How to Use Brainstorming in Your Group or Team |

302
(1)
303
(1)

| | |
| --- | --- |
| | Putting Principles Into Practice |

304
(1)
305
(4)
309
(3)
312
(26)
313
(1)

| | |
| --- | --- |
| | Trait Perspective: Characteristics of Effective Leaders |

314
(1)

| | |
| --- | --- |
| | Functional Perspective: Group Needs and Roles |

314
(5)
314
(2)
316
(3)

| | |
| --- | --- |
| | Situational Perspective: Adapting Style to Context |

319
(6)
319
(3)

| | |
| --- | --- |
| | Hersey and Blanchard's Situational Model |

322
(1)
323
(2)

| | |
| --- | --- |
| | Some Observations on the Situational Approach to Leadership |

325
(1)
325
(1)

| | |
| --- | --- |
| | Transformational Leadership |

325
(1)

| | |
| --- | --- |
| | Emergent Leadership in Small Groups |

326
(4)
326
(1)

| | |
| --- | --- |
| | Collaborating Ethically: What Would You Do? |

327
(1)

| | |
| --- | --- |
| | Cutting Edge Theory: Leadership and Gender |

328
(1)
329
(1)
330
(8)

| | |
| --- | --- |
| | Putting Principles Into Practice |

331
(1)
332
(4)
336
(2)

| | |
| --- | --- |
| | Appendix A Principles and Practices for Effective Meetings |

338
(10)

| | |
| --- | --- |
| | Giving Meetings Structure |

339
(3)

| | |
| --- | --- |
| | Determine the Meeting Goal(s) |

339
(1)

| | |
| --- | --- |
| | Identify Items That Need to Be Discussed to Achieve the Goal |

340
(1)

| | |
| --- | --- |
| | Organize the Agenda Items to Achieve the Goal |

340
(1)
340
(2)
342
(1)

| | |
| --- | --- |
| | Becoming a Meeting Facilitator: Managing Group and Team Interaction |

342
(2)
343
(1)
343
(1)
343
(1)
343
(1)
344
(1)
344
(1)

| | |
| --- | --- |
| | How to Participate in Meetings |

345
(3)
346
(1)

| | |
| --- | --- |
| | Putting Principles Into Practice |

347
(1)
347
(1)

| | |
| --- | --- |
| | Appendix B Principles and Practices for Communicating to an Audience |

348
(8)
348
(1)
349
(1)
349
(1)
350
(1)

| | |
| --- | --- |
| | Planning What to Say to an Audience |

350
(2)
350
(1)
351
(1)

| | |
| --- | --- |
| | Identify Your Major Ideas |

351
(1)
351
(1)
351
(1)

| | |
| --- | --- |
| | Presenting Information to an Audience |

352
(4)

| | |
| --- | --- |
| | Select Your Method of Delivery |

352
(1)

| | |
| --- | --- |
| | Use Effective Delivery Skills |

353
(1)

| | |
| --- | --- |
| | Consider Using Visual Aids |

353
(1)

| | |
| --- | --- |
| | Using Computer-Generated Graphics |

354
(1)
355
(1)
Glossary
356
(8)
Credits
364
(1)
Index
365