Note: Supplemental materials are not guaranteed with Rental or Used book purchases.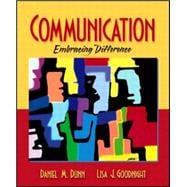 Related Products
Summary
Communication: Embracing Difference is the first hybrid communication text to stress the importance of understanding and celebrating difference as a means to becoming a more effective communicator. This new hybrid text targets both mainstream students and non-traditional students who range widely in age, ethnicity, race, religion, sexual orientation, social roles, and socio-economic status. Many of these students are parents; many work full time or even hold more than one job; many are the first in their family to go to college. Communication: Embracing Difference uses examples and an overall approach that are designed to resonate with the diverse student population that makes up so many campuses today. The text describes basic communication theory in everyday, non-technical terms and offers students an abundance of opportunities to analyze, understand, practice, and apply skills to real-life situations presented in the book and encountered in their own daily lives. Communication: Embracing Difference emphasizes the practical application of communication skills in interpersonal, small group, and public settings.
Table of Contents
Each chapter contains "Ethics in Communication" and "Communication and Technology" and conclude with "Summary" and "Review Questions."
UNIT ONE: THE PROCESS OF COMMUNICATION.
1. An Overview of Communication.
The Communication Process.
Functions of Communication.
Types of Communication.
Understanding Difference, Diversity and Communication.
2. Perception.
The Process of Perception.
Perceptions of Ourselves.
Perception of Others.
Developing Accurate Perceptions of Ourselves and Others.
3. Listening.
Hearing and Listening.
Factors that Interfere with Listening.
Effective Listening.
4. Verbal Communication.
The Nature of Language and Meaning.
The Meanings of Words.
Factors that Influence Our Language Use.
Problems with Language.
Improving Verbal Skills.
5. Nonverbal Communication.
The Nature of Nonverbal Communication.
Types and Functions of Nonverbal Communication.
Improving Nonverbal Communication Skills.
UNIT TWO: INTERPERSONAL COMMUNICATION.
6. Understanding Ourselves and Others.
The Nature of Interpersonal Relationship.
Stages of Relationship Development.
Self-Disclosure within Relationships.
Theoretical Explanations of Interpersonal Communication.
Conflict within Relationships.
Improving Our Efforts to Resolve Conflicts.
7. Creating a Positive Communication Climate.
Coping with Defensiveness.
Stepping Back from Defensiveness.
8. Interviewing.
Interview Questions.
Organizing the Interview.
Types of Interviews.
Improving Your Interviewing Skills.
9. Communicating in Small-Groups.
An Overview of Small-Group Communication.
Types of Small Groups.
Variables of the Group Process.
Participating in Small-Group Discussions.
10. Solving Problems Using Small Groups.
Solving Problems as a Group.
Types of Problem Solving Formats.
The Process of Problem Solving.
Leadership.
UNIT THREE: PUBLIC COMMUNICATION.
11. Selecting a Speech Topic and Adapting to the Audience.
Selecting a Topic.
Brainstorming.
Adapting Your Topic for the Audience.
The Speech Purpose.
12. Researching and Using Supportive Material for Your Speech.
Sources of Information.
Citing Source Material.
Forms of Support for Your Speech.
Presentational Aids.
Using Presentational Aids.
13. Organizing Your Speech.
The Body.
The Introduction.
The Conclusion.
Transitions.
Preparing the Speech Outline: Key Word.
Preparing the Speech Outline: Full Sentence.
14. Delivering Your Speech.
Oral and Written Communication.
Understanding Speech Anxiety.
Types of Delivery.
Sharing Ideas.
Using Your Body.
Using Your Voice.
Practicing Your Speech.
15. The Informative Speech.
The Nature of the Informative Speech.
Informative Speech Topics.
Organizing the Informative Speech.
Methods of Presenting an Informative Speech.
Sample Student Informative Speech: Graduating Debt Free: Grants and Scholarships.
16. The Persuasive Speech.
Developing a Persuasive Speech Objective.
Topics for a Persuasive Speech.
Organizing Your Persuasive Speech.
Developing Persuasive Appeals.
Sample Persuasive Speech: Eliminate Your Credit Card Debit.