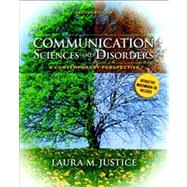 Communication Sciences and Disorders : A Contemporary Perspective
by
Justice, Laura M.
Questions About This Book?
Why should I rent this book?
Renting is easy, fast, and cheap! Renting from eCampus.com can save you hundreds of dollars compared to the cost of new or used books each semester. At the end of the semester, simply ship the book back to us with a free UPS shipping label! No need to worry about selling it back.
How do rental returns work?
Returning books is as easy as possible. As your rental due date approaches, we will email you several courtesy reminders. When you are ready to return, you can print a free UPS shipping label from our website at any time. Then, just return the book to your UPS driver or any staffed UPS location. You can even use the same box we shipped it in!
What version or edition is this?
This is the 2nd edition with a publication date of 4/13/2009.
What is included with this book?
The New copy of this book will include any supplemental materials advertised. Please check the title of the book to determine if it should include any CDs, lab manuals, study guides, etc.
The Used copy of this book is not guaranteed to include any supplemental materials. Typically, only the book itself is included.
The Rental copy of this book is not guaranteed to include any supplemental materials. You may receive a brand new copy, but typically, only the book itself.
Related Products
Customer Reviews
Good service
July 31, 2011
by





The sender sent the textbook as expected and I received it on time. The textbook was new as was described and the price was reasonable. Overall, I am very satisfied with the product.

Flag Review
---
Communication Sciences and Disorders : A Contemporary Perspective

:
stars based on
1
user reviews.
Summary
Communication Sciences and Disorders: A Contemporary Perspective introduces students to the field in a clear and succinct manner that allows readers access to the most current theories, research, and practices through rich examples, detailed case studies and engaging anecdotes.
It employs a clinical case-based, literacy-infused approach with special attention given to research-based practices in assessment and intervention and the many uses of technology in diverse aspects of research and practice.
Bringing the field to life through comprehensive case studies that include evaluation and treatment plans and multi-media samples, Communication Sciences and Disorders: A Contemporary Perspective provides an up-to-date look at the many facets and varied new challenges emerging in the field.
Literacy-focused content is infused throughout the book in order help students examine linkages among speaking, listening, reading, and writing, while different segments of the book concentrates on the ecological impact of communication disorders at home, school, work, and community, all with an emphasis on thinking about functional assessment and outcomes.
New to the Second Edition
-A new emphasis on literature draws connections between speaking, listening, reading, and writing, while special boxed features include inserts on a range of literacy-focused topics.
-A focus on the use of technology in communication sciences and disorders shows students the many ways in which technology is continuously improving our knowledge and practice in the field.
-A chapter on new research brings the most contemporary findings to reader.
Author Biography
Laura Justice is a professor in the School of Teaching and Learning at The Ohio State University. The author of four books including Language Development: Theory to Practice (Prentice Hall, 2007) and Scaffolding with Storybooks (International Reading Association, 2005), Justice's research centers on young children who exhibit developmental vulnerabilities in language and literacy acquisition and the effects of teacher- or parent-implemented interventions on children's learning.
Table of Contents
PART I


I. FOUNDATIONS OF COMMUNICATION SCIENCES AND DISORDERS 1
Fundamentals of Communication Science and Disorders 2
Introduction 3
What Is Communication? 5
Definition 5
The Purpose of Communication 7
How Does Communication Relate to Language, Speech, and Hearing? 9
Language 10
Speech 15
Hearing 19
What Is a Communication Disorder? 21
Normal and Disordered Communication 21
Communication Disorders and Communication Differences 22
Classification of Communication Disorders 25
What Careers Are Available in the Field of Communication Sciences and Disorders? 31
Speech-Language Pathology 32
Audiology 35
Allied Professions 37
Chapter Summary 39
II. AN OVERVIEW OF COMMUNICATION DEVELOPMENT 40
Introduction 41
What Is Communicative Competence? 41
Definition 41
What Is the Foundation for Communicative Competence? 47
Earliest Foundations 47
What Are Major Communicative Milestones in Infancy and Toddlerhood? 50
Infancy 51
Toddlerhood 55
What Are Major Communicative Milestones in Preschool and School-Age Children? 65
Preschool Accomplishments 65
Achievements in Use 67
School-Age Accomplishments 71
Language Diversity Considerations 77
Chapter Summary 79
III. ANATOMICAL AND PHYSIOLOGICAL BASED OF COMMUNICATION AND COMMUNICATION DISORDERS 80
Introduction 81
Neuroscience and Human Communication 83
Terminology 83
The Nervous System 83
Anatomy and Physiology of Speech 93
Respiration 94
Phonation 96
Articulation 101
Anatomy and Physiology of Hearing 102
Outer Ear 103
Middle Ear 104
Inner Ear 105
The Auditory Nerve 107
Auditory Brain Center 107
Anatomy and Physiology of Swallowing 107
Three Phases of Swallowing 108
Chapter Summary 110
IV. COMMUNICATION ASSESSMENT AND INTERVENTION: PRINCIPLES AND PRACTICES 112
Introduction 113
What Is Assessment? 115
Definition 115
Purposes of Assessment 115
The Assessment Process 117
How Are Assessment Instruments Categorized? 125
Validity and Reliability 125
Types of Assessment 127
What Is Intervention? 134
Definition 134
Purposes of Intervention 136
Intervention Planning 138
Intervention Models 139
How Are Interventions Categorized? 140
Behaviorist Approaches 140
Linguistic-Cognitive Approaches 141
Social-Interactionist Approaches 142
Information-Processing Models 143
Family-Centered Intervention 146
Chapter Summary 146
V. AUGMENTATIVE AND ALTERNATIVE COMMUNICATION AND COMPLEX COMMUNICATION NEEDS 148
Introduction 151
What Is AAC? 152
What Is an AAC System 153
Symbol 153
Aid 156
Strategy 157
Technique 157
Selection Set 159
What Are Complex Complication Needs? 160
Definintion 160
Multiculturalism and CCNs 162
What Are Some Common Causes of Complex Communication Needs? 164
How Are AAC Systems and Complex Communication Needs Identified? 166
The Assessment Team 166
The Assessment Process 167
How Can People with Complex Communication Needs Benefit from an AAC System? 171
Meeting Unmet Communication Needs 171
Improving Communication Competence 171
Increasing Participation in Society 172
Chapter Summary 174
PART IICOMMUNICATION DISORDERS ACROSS THE LIFESPAN 175
VI. LANGUAGE DISORDERS IN EARLY AND LATER CHILDHOOD 176
Introduction 177
What Is a Language Disorder? 177
Definition 177
Terminology 181
Prevalence and Incidence 182
How Are Language Disorders Classified? 183
Etiology 183
Manifestation 183
Severity 184
Dual Language Learners 185
What Are the Defining Characteristics of Prevalent Types of Language Disorders? 186
Specific Language Impairment 186
Autism Spectrum Disorder 188
Intellectual Disability 192
Brain Injury 195
How Are Language Disorders Identified? 198
The Assessment Process 198
The Importance of Accurate Diagnosis 204
How Are Language Disorders Treated? 206
Targets, Strategies, and Contexts 206
The Treatment Plan 209
Intervention Principles 210
Chapter Summary 216
VII. ADULT LANGUAGE DISORDERS AND COGNITIVE-BASED DYSFUNCTIONS 218
Introduction 219
What Is Aphasia? 220
Definition 220
Prevalence and Incidence 222
Types of Strokes 222
Risk Factors 223
How Is Aphasia Classified? 223
Behavioral Symptoms 224
What Are the Defining Characteristics of Aphasia Syndromes? 228
Broca's Aphasia 228
Transcortical Motor Aphasia 229
Global Aphasia 230
Wernicke's Aphasia 230
Transcortical Sensory Aphasia 231
Conduction Aphasia 231
Anomic Aphasia 232
How Is Aphasia Identified and Treated? 232
The Assessment Process 232
Prognostic Indicators 234
Designing Treatment Plans 234
Determining the Treatment Setting 236
Measuring Outcomes 236
What Are Right-Hemisphere Dysfunction, Traumatic Brain Injury, and Dementia? 237
Right-Hemisphere Dysfunction 237
Traumatic Brain Injury 240
Dementia 244
Chapter Summary 247
XII. READING DISABILITIES 248
Introduction 249
What Are the Key Components Involved in Skilled Reading? 251
Simple View of Reading 251
Reading Processes 253
Speech, Language, and Hearing Professionals' Roles 258
What Is a Reading Disability, and How Are Reading Disabilities Classified? 259
How Are Reading Disabilities Classified? 260
Reading Disabilities: Dyslexia, Specific Comprehension Deficit, and Mixed Reading Deficit 260
What Are the Defining Characteristics of Prevalent Types of Reading Disabilities? 261
Dyslexia 261
Specific Comprehension Disabilities 264
Mixed Reading Disabilities 266
How Are Reading Disabilities Identified? 266
Screening Assessments 267
Diagnosis and Description 269
How Are Reading Disabilities Treated? 272
Treatment Goals and Approaches 272
Chapter Summary 279
IX. PHONOLOGICAL DISORDERS 280
Introduction 281
What Is a Phonological Disorder 283
Definition 283
Prevalence 284
Terminology 284
Describing Phonology and Articulation 286
How Are Phonological Disorders Classified? 292
Differentiating Phonological Disorders from Other Speech-Sound Disorders 292
Types of Speech-Sound Disorders 293
What Are the Defining Characteristics of Phonological Disorders? 295
Phonological Disorder of Unknown Origin 295
Phonological Disorder: Otitis Media with Effusion 297
Special Populations 298
How Are Phonological Disorders Identified and Described? 301
The Assessment Process 301
How Are Phonological Disorders Treated? 308
Intervention Approaches 308
Goals and Targets in Phonological Therapy 312
Discharge 314
Chapter Summary 314
X. FLUENCY DISORDERS 316
Introduction 317
What Is a Fluency Disorder? 319
Definition 319
Terminology 321
Prevalence and Incidence 321
How Are Fluency Disorders Classified? 323
Developmental Fluency Disorders 323
How Are the Defining Characteristics of Fluency Disorders? 328
Core Features 328
Secondary Features 330
Causes and Risk Factors 332
Can Stuttering Be Induced? 337
How Are Fluency Disorders Identified? 338
The Assessment Process 339
How Are Fluency Disorders Treated? 346
Treatment for Children 347
Clinician-Implemented Treatments 349
Treatment for Adolescents 350
Treatment for Adults 352
Chapter Summary 353
XI. VOICE DISORDERS 354
Introduction 355
What Is a Voice Disorder? 356
Definition 356
Terminology 360
Prevalence and Incidence 362
How Are Voice Disorders Classified? 365
Vocal Abuse 364
Neurogenic Disorders 368
Parkinson's Disease 370
Psychogenic Disorders 371
Alaryngeal Communication 393
What Are the Defining Characteristics of Voice Disorders? 375
Resonance 376
Pitch and Loudness 377
Phonatory Quality 379
How Are Voice Disorders Identified? 380
The Voice Care Team 380
The Assessment Process 380
How Are Voice Disorders Treated? 386
Treatment for Vocal Abuse 388
Treatment for Neurogenic Disorders 389
Treatment for Psychogenic Disorders 389
Alaryngeal Communication 389
Chapter Summary 390
XII. MOTOR SPEECH DISORDERS: APRAXIA AND DYSARTHRIA 392
Introduction 393
What Is a Motor Speech Disorder? 393
Definition 393
Terminology 394
Prevalence and Incidence 401
How Are Motor Speech Disorders Classified? 402
Etiology 402
Manifestation 403
Severity 403
Characterizing Individual Differences 404
What Are the Defining Characteristics of Prevalent Types of Motor Speech Disorders? 404
Motor Programming and Planning Disorders and Acquired Apraxia of Speech (AOS) 405
Childhood Apraxia of Speech (CAS) 407
Acquired Dysarthria 408
Developmental Dysarthria 410
How Are Motor Speech Disorders Identified? 411
The Assessment Process 411
How Are Motor Speech Disorders Treated? 417
Treatment Goals 417
Targets and Strategies 418
Chapter Summary 425
XIII. PEDIATRIC HEARING LOSS 426
Introduction 427
What Is Pediatric Hearing Loss? 427
Definition 427
Terminology 429
Prevalence and Incidence 430
Impact 431
How Is Pediatric Hearing Loss Classified? 435
Etiology 435
Manifestation 438
Severity 438
What Are the Defining Characteristics of Prevalent Types of Pediatric Hearing Loss? 440
Conductive Hearing Loss 440
Sensorineural Hearing Loss 442
Mixed Hearing Loss 443
How Is Pediatric Hearing Loss Identified? 444
The Assessment Process 444
The Importance of Accurate Diagnosis 452
How Is Pediatric Hearing Loss Treated? 453
Communication Choices 453
Amplification and Listening Devices 455
Aural Habilitation 456
Intervention Principles 458
What Is Auditory Processing Disorder, and How Is It Identified and Treated? 460
Defining Characteristics 461
Causes and Risk Factors 462
Assessment 462
Treatment Approaches 462
Chapter Summary 463
XIV.HEARING LOSS IN ADULTS 464
Introduction 465
What Is Adult Hearing Loss? 466
Definition 466
Terminology 470
Prevalence and Incidence 470
How Is Adult Hearing Loss Classified? 471
Etiology 471
Manifestation 472
Severity 473
What Are the Defining Characteristics of Prevalent Types of Hearing Loss? 474
Conductive Hearing Loss 474
Sensorineural Hearing Loss 475
Mixed Hearing Loss 479
How Is Hearing Loss Identified? 479
The Assessment Process 479
The Importance of Accurate Diagnosis 480
How Is Hearing Loss Treated? 481
Limitations of Current Approaches 481
Amplification and Assistive Listening Devices 483
Aural Rehabilitation 485
Chapter Summary 491
XV. FEEDING AND SWALLOWING DISORDERS 492
Introduction 493
What Are Feeding and Swallowing Disorders? 494
Pediatric Feeding Disorders 494
Dysphagia 495
The Normal Swallow 498
The Disordered Swallow: Dysphagia 499
What Are the Defining Characteristics of Pediatric Feeding and Swallowing Disorders? 501
Unsafe Feeding and Swallowing 501
Inadequate Feeding and Swallowing 503
Inappropriate Feeding and Swallowing 506
How Are Pediatric Feeding and Swallowing Disorders Identified and Treated? 506
Early Identification and Referral 506
Comprehensive Assessment 507
Treatment Goals in Pediatric Feeding and Swallowing 508
What Are the Defining Characteristics of Adult Dysphagia? 511
Phase Affected 511
Underlying Pathology of Cause 513
Severity 516
How Is Adult Dysphagia Identified and Treated? 516
Clinical Swallowing Examination 516
Instrumental Dysphagia Examination 518
Treating Dysphagia 519
Nutrition and Dietary Considerations 520
Chapter Summary 523