Note: Supplemental materials are not guaranteed with Rental or Used book purchases.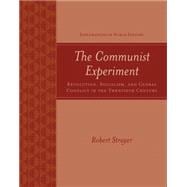 The Communist Experiment: Revolution, Socialism, and Global Conflict in the Twentieth Century
ISBN13:
9780072497441
by
Strayer, Robert
Summary
Strayer's The Communist Experiment is part of a McGraw Hill's World History Series, designed to introduce readers to particular issues that have been significant on a global scale. This book offers an accessible, comparative, and thematically complete treatment of the "communist experiment," based on the idea that communism represents a unique lens through which to view the history of the 20th century on a global scale. Because communism relates to many other events and forces of the world at that time-world war, fascism, the rise the United States, decolonization, feminism, the rise of the Third World, revolution, and more-it provides an excellent frame for understanding those developments and their effects throughout the world.
Table of Contents
A Note from the Series Editors
Communism in Context Communism as a Global Phenomenon Communism in World History Conclusion: Communism and the Twentieth Century
Revolution and the Birth of Communism Why Revolution?
The Collapse of Old Regimes: Russia
The Collapse of Old Regimes: China Nine Months: The Bolsheviks and the Russian Revolution
Thirty-eight Years: The Making of the Chinese Revolution Conclusion: Unexpectedness and Conjuncture
Building Socialism Alone: Stalinism and the Soviet Experiment
The First Socialist Society
Stalinist Socialism
The Search for Enemies: A Soviet Holocaust
World War II and Beyond: Stalin's Final Years Conclusion: Explaining Stalinism
Mao's Path: Building Socialism in China Starting Points: Comparing China and the Soviet Union
First Steps Toward Socialism: Following the Soviet
Model Toward Socialism: Finding a Chinese Path Conclusion
Socialism and the Search for Enemies: Comparing the Soviet Union and China
Communism in the Global Arena
Standing Alone: The Soviet Union and the World, 1917-1945 Europe Divided
The Origins of the Cold War, 1945-1950
Communist Breakthroughs in Asia, 1949-1954
The Global Expansion of the Cold War, 1955-1985
The Cold War and the Nuclear Arms Race Dissension in the Communist World Conclusion: The Communist World in the 1970s
The End of the Communist Era
The Collapse of Communism in the Soviet Union
The Abandonment of Communism in China
The Fate of Two Communisms
The World and the End of the Communist
Era Conclusion: The Communist World in a New Century: Shrunken and Diluted
Epilogue: Communism and Reflections on History
Understanding and Forgetting Intentions, Outcomes, and Surprises Making
History Ambiguous Judgments Suggestions for
Further Reading
Notes Credits
Index
Table of Contents provided by Publisher. All Rights Reserved.