Note: Supplemental materials are not guaranteed with Rental or Used book purchases.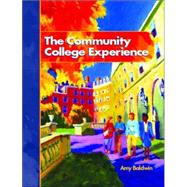 The Community College Experience
ISBN13:
9780131172975
by
Baldwin, Amy
Summary
This book provides basic information and encouragement for the first-time community college student and the non-traditional student-it shows that attending college and balancing work with family can be accomplished. It covers a range of topics, examines reasons for attending college, teaches study techniques, and explores life after community college. Each chapter discusses a major "college survival" topic and provides a wealth of information for anyone who has stepped onto campus for the first time. This new edition streamlines the chapters and presents topics as they naturally unfold during the first semester in college. The very important issue of time management is integrated throughout the book so that students can discover different ways of staying on task.
Table of Contents
Getting Started
Who Are You and What Do You Know?
Understanding College Culture and Your Campus
Stress and Time Management
In the Classroom
Campus Communication
Forging Relationships
Listening and Taking Notes Effectively
College Reading Skills
Study Skills and Test-Taking Strategies
Writing Effectively
Critical Thinking and Information Literacy
Beyond the Classroom
Setting New Educational and Financial Goals
Preparing for Life After a Community College
Resources on Learning Styles
Taking an Online Course
Glossary of Terms
Index
Table of Contents provided by Publisher. All Rights Reserved.
Excerpts
Why Community College Students?The Community College Experiencewas written to meet the unique needs of community college students. Often, college survival courses and textbooks are geared toward traditional students who have just graduated from high school and are living on campus. These traditional students usually have different challenges than community college students have. Therefore, students who have been away from school for several years or who need assistance in succeeding in college are the target audience for this book. It is they who need not only information about college culture but also guidance and assurance that they can complete a degree.It is the combined need for basic information and encouragement that drives this book. Each chapter covers a topic that is essential to college survival, but it does so with the community college student in mind. For example, Chapter 1 is devoted to setting goals and priorities, which are essential to the success of students who already have full lives. There is also a discussion about the meaning of grades--they are not a measure of self worth or potential.The purpose of this book is to help people who are new to the college experience and who have many experiential and educational "gaps" to fill. These same people also need reassurance and encouragement that they can achieve their goals of a degree, a rewarding career, and a fulfilling life. Special FeaturesThis book offers several special features to challenge and aid student readers: Community college student profile--Each chapter begins with a profile of a community college student. Questions and answers pertaining to the chapter topic follow. Students have a chance to see others who are just like themselves, learning to cope with the pressures of being in college and succeeding. Clear, honest, and practical information--Each chapter covers a specific college survival topic with honesty and clarity and provides practical advice. Students of all levels and knowledge base can benefit from the information presented. Understanding grades--Chapter 2 offers a discussion of what grades mean--and what they don't--as well as information about calculating course grades and grade point averages. Integrity Matters boxes--Most chapters include a text box that highlights both academic and personal integrity. Students who read this book will understand how integrity is essential to their education as well as their other life experiences. Exercises--Each chapter includes practice, reflection, critical thinking, and collaboration exercises that will help students to think about the information in the text. For theCritical Thinkingquestions, students may write answers in a personal journal or in the corresponding module on the Companion Website. With thePracticeandReflectionfeatures, space is provided in the text forNotes,and students may elaborate on thoughts either in journals or on the Companion Website ( www.prenticehall.com/baldwin ). "From College to University" and "From College to Career"--These two sections, found near the end of each chapter, apply the chapter's topic to the world beyond the community college. Students will be able to see how these essential keys to college success are building blocks for life fulfillment. Research It Further . . . Ideas--Each chapter ends with research ideas for students to explore and then share their findings with the class. These projects are engaging and will provide students with much practical information. Taking online classes--Appendix B provides information about taking classes online, a growing tr