Note: Supplemental materials are not guaranteed with Rental or Used book purchases.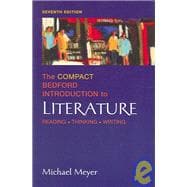 The Compact Bedford Introduction to Literature; Reading, Thinking, Writing
by
Michael Meyer
Questions About This Book?
What version or edition is this?
This is the 7th edition with a publication date of 5/13/2005.
What is included with this book?
The Used copy of this book is not guaranteed to include any supplemental materials. Typically, only the book itself is included.
Summary
This new compact edition ofThe Bedford Introduction to Literatureoffers all the distinctive features of Michael Meyer's best-selling introduction to literature in a shorter, less expensive paperback format. A generous and vibrant selection of stories, poems, and plays are supported by editorial features proven to help students read, think, and write effectively about literature. Now featuring unique visual portfolios and a CD-ROM packed with activities and contextual material, the new edition brings literature to life for students like never before.
Table of Contents
Preface for Instructors
vii
Introduction: Reading Imaginative Literature
1
(1)
1
(3)

| | |
| --- | --- |
| | Emily Dickinson, A narrow Fellow in the Grass |

2
(2)
4
(2)

| | |
| --- | --- |
| | The Changing Literary Canon |

6
(3)
9
(2)
11
(290)
13
(33)

| | |
| --- | --- |
| | Reading Fiction Responsively |

13
(10)

| | |
| --- | --- |
| | Kate Chopin, The Story of an Hour |

15
(1)
15
(1)

| | |
| --- | --- |
| | A Sample Close Reading: An Annotated Section of ``The Story of an Hour'' |

16
(3)

| | |
| --- | --- |
| | A Sample Paper: Differences in Responses to Kate Chopin's ``The Story of an Hour'' |

19
(4)

| | |
| --- | --- |
| | Explorations and Formulas |

23
(6)

| | |
| --- | --- |
| | A Composite of a Romance Tip Sheet |

25
(3)

| | |
| --- | --- |
| | Photo: Romance Novel Cover |

28
(1)

| | |
| --- | --- |
| | A Comparison of Two Stories |

29
(17)

| | |
| --- | --- |
| | Karen Van Der Zee, From A Secret Sorrow |

30
(8)

| | |
| --- | --- |
| | Gail Godwin, A Sorrowful Woman |

38
(1)
38
(5)

| | |
| --- | --- |
| | Perspective: Kay Mussell, Are Feminism and Romance Novels Mutually Exclusive? |

43
(2)

| | |
| --- | --- |
| | Perspective: Thomas Jefferson, On the Dangers of Reading Fiction |

45
(1)
46
(17)
46
(17)

| | |
| --- | --- |
| | Questions for Responsive Reading and Writing |

47
(2)

| | |
| --- | --- |
| | A Sample Paper in Progress |

49
(1)
50
(1)
50
(1)

| | |
| --- | --- |
| | Revising: First and Second Drafts |

51
(8)

| | |
| --- | --- |
| | A Sample Paper, Final Draft: Fulfillment or Failure? Marriage in A Secret Sorrow and ``A Sorrowful Woman'' |

59
(4)
63
(41)

| | |
| --- | --- |
| | Edgar Rice Burroughs, From Tarzan of the Apes |

66

| | |
| --- | --- |
| | Photo: Edgar Rice Burroughs |

65
(1)

| | |
| --- | --- |
| | Cover: All-Story Magazine, 1912 (Tarzan Issue) |

65
(8)

| | |
| --- | --- |
| | Joyce Carol Oates, Three Girls |

73
(1)
73
(7)

| | |
| --- | --- |
| | William Faulkner, A Rose for Emily |

80
(1)
80
(7)

| | |
| --- | --- |
| | Perspective: William Faulkner, On ``A Rose for Emily'' |

87
(2)
89
(1)
89
(13)

| | |
| --- | --- |
| | Perspective: A. L. Bader, Nothing Happens in Modern Short Stories |

102
(2)
104
(47)

| | |
| --- | --- |
| | Charles Dickens, From Hard Times |

105
(1)

| | |
| --- | --- |
| | Portrait: Charles Dickens |

105
(5)

| | |
| --- | --- |
| | May-Lee Chai, Saving Sourdi |

110
(1)
110
(14)

| | |
| --- | --- |
| | Herman Melville, Bartleby, the Scrivener |

124
123
(26)

| | |
| --- | --- |
| | Perspective: Nathaniel Hawthorne, On Herman Melville's Philosophic Stance |

149
(2)
151
(22)

| | |
| --- | --- |
| | Ernest Hemingway, Soldier's Home |

154
153
(7)

| | |
| --- | --- |
| | Perspective: Ernest Hemingway, On What Every Writer Needs |

160
(1)

| | |
| --- | --- |
| | Fay Weldon, Ind AFF, or Out of Love in Sarajevo |

161
160
(7)

| | |
| --- | --- |
| | Perspective: Fay Weldon, On the Importance of Place in ``IND AFF'' |

167
(1)

| | |
| --- | --- |
| | Helena Maria Viramontes, The Moths |

168
(5)
173
(38)

| | |
| --- | --- |
| | Third-Person Narrator (Nonparticipant) |

174
(2)

| | |
| --- | --- |
| | First-Person Narrator (Participant) |

176
(35)

| | |
| --- | --- |
| | Anton Chekhov, The Lady with the Pet Dog |

179
178
(12)

| | |
| --- | --- |
| | Perspective: Anton Chekhov, On Morality in Fiction |

190
(1)

| | |
| --- | --- |
| | Joyce Carol Oates, The Lady with the Pet Dog |

191
(13)

| | |
| --- | --- |
| | Perspective: Matthew C. Brennan, Point of View and Plotting in Chekhov's and Oates's ``The Lady with the Pet Dog'' |

204
(3)
207
206
(5)
211
(28)

| | |
| --- | --- |
| | Chitra Banerjee Divakaruni, Clothes |

214
(1)

| | |
| --- | --- |
| | Photo: Chitra Banerjee Divakaruni |

214
(9)

| | |
| --- | --- |
| | Colette [Sidonie-Gabrielle Colette], The Hand |

223
(3)

| | |
| --- | --- |
| | Ralph Ellison, Battle Royal |

226
(1)
226
(11)

| | |
| --- | --- |
| | Perspective: Mordecai Marcus, What Is an Initiation Story? |

237
(2)
239
(20)

| | |
| --- | --- |
| | Stephen Crane, The Bride Comes to Yellow Sky |

243
(1)
243
(9)

| | |
| --- | --- |
| | Katherine Mansfield, Miss Brill |

252

| | |
| --- | --- |
| | Photo: Katherine Mansfield |

251
(5)

| | |
| --- | --- |
| | Dagoberto Gilb, Love in L.A. |

256
255
(4)
259
(31)
259
(2)
261
(1)
262
(28)

| | |
| --- | --- |
| | Raymond Carver, Popular Mechanics |

264
(1)
264
(2)

| | |
| --- | --- |
| | Perspective: John Barth, On Minimalist Fiction |

266
(1)

| | |
| --- | --- |
| | T. Coraghessan Boyle, Carnal Knowledge |

267
(1)

| | |
| --- | --- |
| | Photo: T. Coraghessan Boyle |

267
(15)
282
(1)
282
(8)

| | |
| --- | --- |
| | Combining the Elements of Fiction |

290
(11)
290
(1)
291
(10)
292
291
(6)

| | |
| --- | --- |
| | Questions for Writing: Developing a Topic into a Thesis |

297
(4)
301
(192)

| | |
| --- | --- |
| | A Study of Nathaniel Hawthorne |

303
(42)

| | |
| --- | --- |
| | A Brief Biography and Introduction |

305
(35)

| | |
| --- | --- |
| | Portrait: Nathaniel Hawthorne, by Charles Osgood |

304
(1)

| | |
| --- | --- |
| | Portrait: Sophia Peabody, by Chester Harding [?] |

304
(1)

| | |
| --- | --- |
| | Photo: The Hawthorne Children |

304
(3)
307
(1)

| | |
| --- | --- |
| | Photo: Nathaniel Hawthorne |

308
(1)

| | |
| --- | --- |
| | Nathaniel Hawthorne, Young Goodman Brown |

309
(7)

| | |
| --- | --- |
| | Image: The Witch of the Woodlands |

316
(3)

| | |
| --- | --- |
| | Nathaniel Hawthorne, The Minister's Black Veil |

319
(9)

| | |
| --- | --- |
| | Nathaniel Hawthorne, The Birthmark |

328
(12)
340
(5)

| | |
| --- | --- |
| | Nathaniel Hawthorne, On Solitude |

340
(1)

| | |
| --- | --- |
| | Nathaniel Hawthorne, On the Power of the Writer's Imagination |

341
(2)

| | |
| --- | --- |
| | Nathaniel Hawthorne, On His Short Stories |

343
(1)

| | |
| --- | --- |
| | Herman Melville, On Nathaniel Hawthorne's Tragic Vision |

343
(2)

| | |
| --- | --- |
| | A Study of Flannery O'Connor |

345
(51)

| | |
| --- | --- |
| | A Brief Biography and Introduction |

346
(45)

| | |
| --- | --- |
| | Photo: Flannery O'Connor, Age 12 |

347
(1)

| | |
| --- | --- |
| | Photo: Flannery O'Connor as a Teen |

347
(1)

| | |
| --- | --- |
| | Photo: Flannery O'Connor (with Self-Portrait) |

347
(1)

| | |
| --- | --- |
| | Photo: Flannery O'Connor and the Corinthian Staff |

348
(1)

| | |
| --- | --- |
| | Cartoon: ``Targets Are Where You Find 'Em,'' from The Colonnade |

348
(2)

| | |
| --- | --- |
| | Photo: Flannery O'Connor at Andalusia |

350
(1)

| | |
| --- | --- |
| | Flannery O'Connor, A Good Man Is Hard to Find |

351
(11)

| | |
| --- | --- |
| | Flannery O'Connor, Good Country People |

362
(14)

| | |
| --- | --- |
| | Flannery O'Connor, Revelation |

376
(15)
391
(5)

| | |
| --- | --- |
| | Flannery O'Connor, On Faith |

391
(1)

| | |
| --- | --- |
| | Flannery O'Connor, On the Materials of Fiction |

392
(1)

| | |
| --- | --- |
| | Flannery O'Connor, On the Use of Exaggeration and Distortion |

392
(1)

| | |
| --- | --- |
| | Josephine Hendin, On O'Connor's Refusal to ``Do Pretty'' |

393
(1)

| | |
| --- | --- |
| | Claire Kahane, The Function of Violence in O'Connor's Fiction |

394
(1)

| | |
| --- | --- |
| | Edward Kessler, On O'Connor's Use of History |

394
(2)

| | |
| --- | --- |
| | A Critical Case Study: William Faulkner's ``Barn Burning'' |

396
(30)
397
(1)

| | |
| --- | --- |
| | Photo: Oxford Hardware Store |

398
(1)

| | |
| --- | --- |
| | Photo: Oxford's General Store |

398
(1)

| | |
| --- | --- |
| | Photo: Rowan Oak, William Faulkner's Home |

399
(1)

| | |
| --- | --- |
| | Photo: Faulkner at His Writing Desk |

399
(1)

| | |
| --- | --- |
| | William Faulkner, Barn Burning |

400
(13)
413
(1)

| | |
| --- | --- |
| | Jane Hiles, Blood Ties in ``Barn Burning'' |

413
(1)

| | |
| --- | --- |
| | Benjamin DeMott, Abner Snopes as a Victim of Class |

414
(2)

| | |
| --- | --- |
| | Gayle Edward Wilson, Conflict in ``Barn Burning'' |

416
(3)

| | |
| --- | --- |
| | James Ferguson, Narrative Strategy in ``Barn Burning'' |

419
(1)

| | |
| --- | --- |
| | Questions for Writing: Incorporating the Critics |

420
(2)

| | |
| --- | --- |
| | A Sample Paper (Excerpt): The Fires of Class Conflict in ``Barn Burning'' |

422
(4)

| | |
| --- | --- |
| | A Cultural Case Study: James Joyce's ``Eveline'' |

426
(18)

| | |
| --- | --- |
| | A Brief Biography and Introduction |

427
(17)

| | |
| --- | --- |
| | Image: ``Eveline'' in The Irish Homestead |

430
(1)
430
(1)

| | |
| --- | --- |
| | Drawing: Desmond Harmsworth, ``Joyce at Midnight'' |

431
(1)

| | |
| --- | --- |
| | Photo: James Joyce, Nora Barnacle, and Friends |

431
(1)

| | |
| --- | --- |
| | Photo: James Joyce in Paris |

431
(1)
432
(4)
436
(1)

| | |
| --- | --- |
| | Photo: Poole Street, Dublin |

436
(1)

| | |
| --- | --- |
| | Resources of Ireland (from The Alliance Temperance Almanack for 1910) |

437
(3)

| | |
| --- | --- |
| | A Letter Home from an Irish Emigrant in Australia |

440
(1)

| | |
| --- | --- |
| | A Plot Synopsis of The Bohemian Girl |

441
(1)

| | |
| --- | --- |
| | Poster: The Bohemian Girl |

442
(2)

| | |
| --- | --- |
| | A Thematic Case Study: The Literature of the South |

444
(18)

| | |
| --- | --- |
| | Map: The South, according to the U.S. Bureau of the Census |

445
(1)

| | |
| --- | --- |
| | John Shelton Reed and Dale Volberg Reed, Definitions of the South |

446
(1)

| | |
| --- | --- |
| | W.J. Cash, The Old and the New South |

447
(1)

| | |
| --- | --- |
| | Movie Still: Vivien Leigh in Gone with the Wind |

448
(1)

| | |
| --- | --- |
| | Lithograph: Currier and Ives, The Old Plantation Home |

449
(1)

| | |
| --- | --- |
| | Irving Howe, The Southern Myth |

449
(2)

| | |
| --- | --- |
| | Painting: John Richards, The Battle of Gettysburg |

451
(1)

| | |
| --- | --- |
| | Flannery O'Connor, The Regional Writer |

452
(1)

| | |
| --- | --- |
| | Painting: Clyde Broadway, Trinity--Elvis, Jesus, and Robert E. Lee |

453
(1)

| | |
| --- | --- |
| | Margaret Walker, The Southern Writer and Race |

453
(1)

| | |
| --- | --- |
| | Photo: Ernest C. Withers, ``Bus Station, Colored Waiting Room, Memphis, Tennessee'' |

454
(1)

| | |
| --- | --- |
| | Photo: Elizabeth Eckford at Little Rock Central High School |

455
(1)

| | |
| --- | --- |
| | Photo: Ernest C. Withers, ``Sanitation Workers' Strike, Memphis, Tennessee'' |

455
(1)

| | |
| --- | --- |
| | Richard Wright, The Ethics of Living Jim Crow |

456
(1)

| | |
| --- | --- |
| | Collage: Romare Bearden, Watching the Good Trains Go By |

457
(1)

| | |
| --- | --- |
| | Donald R. Noble, The Future of Southern Writing |

458
(2)

| | |
| --- | --- |
| | Lee Smith, On Southern Change and Permanence |

460
(2)

| | |
| --- | --- |
| | A Thematic Case Study: The Nature of Storytelling |

462
(31)
463
(20)

| | |
| --- | --- |
| | Margaret Atwood, There Was Once |

464
462
(5)

| | |
| --- | --- |
| | Lorrie Moore, How to Become a Writer |

467
466
(7)

| | |
| --- | --- |
| | Tim O'Brien, How to Tell a True War Story |

473
472
(11)

| | |
| --- | --- |
| | Encountering Fiction: Comics and Graphic Stories |

483
(10)

| | |
| --- | --- |
| | Comic Strip: Matt Groening, Life in Hell |

484
(1)

| | |
| --- | --- |
| | Comic Strip: Lynda Barry, Spelling |

485
(1)

| | |
| --- | --- |
| | Graphic Story: Edward Gorey, from The Hapless Child |

486
(3)

| | |
| --- | --- |
| | Graphic Story: Marjane Satrapi, ``The Trip,'' from Persepolis |

489
(4)
493
(66)

| | |
| --- | --- |
| | An Album of Contemporary Stories |

495
(21)
496
495
(7)
502
501
(4)

| | |
| --- | --- |
| | Richard Russo, The Whore's Child |

505
(1)
505
(11)

| | |
| --- | --- |
| | Stories for Further Reading |

516
(43)
517
516
(3)

| | |
| --- | --- |
| | D. H. Lawrence, The Horse Dealer's Daughter |

519
518
(13)

| | |
| --- | --- |
| | Alice Munro, An Ounce of Cure |

531
530
(9)

| | |
| --- | --- |
| | Edgar Allan Poe, The Cask of Amontillado |

539
538
(6)

| | |
| --- | --- |
| | E. Annie Proulx, 55 Miles to the Gas Pump |

544
(1)

| | |
| --- | --- |
| | John Steinbeck, The Chrysanthemums |

545
544
(9)
553
552
(7)
559
(2)
561
(240)
563
(42)

| | |
| --- | --- |
| | Reading Poetry Responsively |

563
(3)

| | |
| --- | --- |
| | Marge Piercy, The Secretary Chant |

564
(1)

| | |
| --- | --- |
| | Robert Hayden, Those Winter Sundays |

565
(1)
566
(1)
566
(16)
568
(1)
568
(1)

| | |
| --- | --- |
| | A Sample Close Reading: An Annotated Version of ``Oh, Oh'' |

568
(2)
570
(1)

| | |
| --- | --- |
| | A Sample Student Analysis: Tossing Metaphors Together in ``Catch'' |

571
(3)

| | |
| --- | --- |
| | Elizabeth Bishop, The Fish |

574
(1)
574
(2)

| | |
| --- | --- |
| | Philip Larkin, A Study of Reading Habits |

576
(2)

| | |
| --- | --- |
| | Robert Morgan, Mountain Graveyard |

578
(1)
579
(1)
579
(1)
580
(1)

| | |
| --- | --- |
| | Regina Barreca, Nighttime Fires |

581
(1)

| | |
| --- | --- |
| | Suggestions for Approaching Poetry |

582
(3)

| | |
| --- | --- |
| | Billy Collins, Introduction to Poetry |

584
(1)

| | |
| --- | --- |
| | Encountering Poetry: Images of Poetry in Popular Culture |

585
(8)

| | |
| --- | --- |
| | Poster: Dorothy Parker, ``Unfortunate Coincidence'' |

586
(1)

| | |
| --- | --- |
| | Photo: Carl Sandburg, ``Window'' |

587
(1)

| | |
| --- | --- |
| | Photo: Philip Levine and Terry Allen, ``Corporate Head'' |

588
(1)

| | |
| --- | --- |
| | Cartoon: Roz Chast, ``The Love Song of J. Alfred Crew'' |

589
(1)

| | |
| --- | --- |
| | Photo: Tim Taylor, ``I shake the delicate apparatus'' |

590
(1)

| | |
| --- | --- |
| | Poster and Photos: Eric Dunn, Mike Wigton, and David Huang, National Poetry Slam |

591
(1)

| | |
| --- | --- |
| | Web Site: Poetry-portal.com |

592
(1)
593
(6)

| | |
| --- | --- |
| | Helen Farries, Magic of Love |

594
(1)

| | |
| --- | --- |
| | John Frederick Nims, Love Poem |

594
(2)

| | |
| --- | --- |
| | Bruce Springsteen, You're Missing |

596
(1)

| | |
| --- | --- |
| | Saundra Sharp, It's the Law: A Rap Poem |

597
(1)

| | |
| --- | --- |
| | Perspective: Robert Francis, On ``Hard'' Poetry |

598
(1)
599
(6)
599
(1)
600
(1)
600
(2)

| | |
| --- | --- |
| | Li Ho, A Beautiful Girl Combs Her Hair |

602
(1)

| | |
| --- | --- |
| | Luisa Lopez, Junior Year Abroad |

603
(2)
605
(7)
605
(7)

| | |
| --- | --- |
| | Questions for Responsive Reading and Writing |

606
(1)

| | |
| --- | --- |
| | Elizabeth Bishop, Manners |

607
(1)

| | |
| --- | --- |
| | A Sample Student Analysis: Memory in Elizabeth Bishop's ``Manners'' |

608
(4)

| | |
| --- | --- |
| | Word Choice, Word Order, and Tone |

612
(32)
612
(6)
612
(2)

| | |
| --- | --- |
| | Denotations and Connotations |

614
(1)

| | |
| --- | --- |
| | Randall Jarrell, The Death of the Ball Turret Gunner |

615
(2)

| | |
| --- | --- |
| | E. E. Cummings, she being Brand |

617
(1)
618
(1)
619
(3)
619
(1)

| | |
| --- | --- |
| | Katharyn Howd Machan, Hazel Tells LaVerne |

620
(1)

| | |
| --- | --- |
| | Martin Espada, Latin Night at the Pawnshop |

621
(1)
621
(1)

| | |
| --- | --- |
| | Diction and Tone in Four Love Poems |

622
(9)

| | |
| --- | --- |
| | Robert Herrick, To the Virgins, to Make Much of Time |

622
(1)
622
(2)

| | |
| --- | --- |
| | Andrew Marvell, To His Coy Mistress |

624
(1)
624
(1)

| | |
| --- | --- |
| | Perspective: Bernard Duyfhuizen, ``To His Coy Mistress'': On How a Female Might Respond |

625
(2)

| | |
| --- | --- |
| | Richard Wilbur, A Late Aubade |

627
(1)

| | |
| --- | --- |
| | Diane Ackerman, A Fine, a Private Place |

628
(3)
631
(8)

| | |
| --- | --- |
| | Thomas Hardy, The Convergence of the Twain |

631
(1)

| | |
| --- | --- |
| | David R. Slavitt, Titanic |

632
(1)

| | |
| --- | --- |
| | Sharon Olds, Sex without Love |

633
(1)

| | |
| --- | --- |
| | John Keats, Ode on a Grecian Urn |

634
(2)

| | |
| --- | --- |
| | Gwendolyn Brooks, We Real Cool |

636
(1)
637
(1)
637
(1)

| | |
| --- | --- |
| | Louis Simpson, In the Suburbs |

638
(1)

| | |
| --- | --- |
| | A Note on Reading Translations |

639
(5)

| | |
| --- | --- |
| | Four Translations of a Poem by Sappho |

640
(1)
640
(1)

| | |
| --- | --- |
| | Sappho, Immortal Aphrodite of the broidered throne |

640
(1)

| | |
| --- | --- |
| | Sappho, Beautiful-throned, immortal Aphrodite |

641
(1)

| | |
| --- | --- |
| | Sappho, Prayer to my lady of Paphos |

642
(1)

| | |
| --- | --- |
| | Sappho, Artfully adorned Aphrodite, deathless |

642
(2)
644
(21)

| | |
| --- | --- |
| | Poetry's Appeal to the Senses |

644
(8)

| | |
| --- | --- |
| | William Carlos Williams, Poem |

645
(1)

| | |
| --- | --- |
| | Photo: William Carlos Williams |

645
(1)

| | |
| --- | --- |
| | Walt Whitman, Cavalry Crossing a Ford |

646
(1)

| | |
| --- | --- |
| | David Solway, Windsurfing |

646
(2)

| | |
| --- | --- |
| | Theodore Roethke, Root Cellar |

648
(1)

| | |
| --- | --- |
| | Matthew Arnold, Dover Beach |

649
(1)

| | |
| --- | --- |
| | Jimmy Santiago Baca, Green Chile |

650
(2)
652
(13)

| | |
| --- | --- |
| | Mary Robinson, London's Summer Morning |

652
(1)
653
(1)

| | |
| --- | --- |
| | Wilfred Owen, Dulce et Decorum Est |

654
(1)

| | |
| --- | --- |
| | Patricia Smith, What It's Like to Be a Black Girl (for Those of You Who Aren't) |

655
(1)
655
(1)

| | |
| --- | --- |
| | Rainer Maria Rilke, The Panther |

656
(1)

| | |
| --- | --- |
| | Jane Kenyon, The Blue Bowl |

656
(1)

| | |
| --- | --- |
| | Sally Croft, Home-Baked Bread |

657
(1)

| | |
| --- | --- |
| | Mark Jarman, Ground Swell |

658
(2)
660
(1)

| | |
| --- | --- |
| | Ezra Pound, In a Station of the Metro |

661
(1)
661
(1)

| | |
| --- | --- |
| | Cathy Song, The White Porch |

661
(2)

| | |
| --- | --- |
| | Perspective: T. E. Hulme, On the Differences between Poetry and Prose |

663
(2)
665
(18)

| | |
| --- | --- |
| | William Shakespeare, From Macbeth (Act V, scene v) |

666
(1)
667
(3)

| | |
| --- | --- |
| | Margaret Atwood, you fit into me |

667
(1)
667
(1)

| | |
| --- | --- |
| | Emily Dickinson, Presentiment--is that long Shadow -- on the lawn--- |

668
(1)

| | |
| --- | --- |
| | Anne Bradstreet, The Author to Her Book |

669
(1)
670
(4)
670
(1)

| | |
| --- | --- |
| | Dylan Thomas, The Hand That Signed the Paper |

671
(1)
671
(1)

| | |
| --- | --- |
| | Janice Townley Moore, To a Wasp |

672
(2)

| | |
| --- | --- |
| | J. Patrick Lewis, The Unkindest Cut |

674
(1)
674
(9)

| | |
| --- | --- |
| | Margaret Atwood, February |

674
(1)

| | |
| --- | --- |
| | Ernest Slyman, Lightning Bugs |

675
(1)
676
(1)
676
(1)

| | |
| --- | --- |
| | William Wordsworth, London, 1802 |

676
(1)

| | |
| --- | --- |
| | Jim Stevens, Schizophrenia |

677
(1)

| | |
| --- | --- |
| | John Donne, A Valediction: Forbidding Mourning |

678
(1)
679
(1)

| | |
| --- | --- |
| | Ronald Wallace, Building an Outhouse |

680
(1)

| | |
| --- | --- |
| | Ruth Fainlight, The Clarinettist |

680
(1)

| | |
| --- | --- |
| | Perspective: John R. Searle, Figuring Out Metaphors |

681
(2)

| | |
| --- | --- |
| | Symbol, Allegory, and Irony |

683
(22)
683
(3)

| | |
| --- | --- |
| | Robert Frost, Acquainted with the Night |

684
(2)
686
(2)

| | |
| --- | --- |
| | Edgar Allan Poe, The Haunted Palace |

686
(2)
688
(3)

| | |
| --- | --- |
| | Edwin Arlington Robinson, Richard Cory |

688
(1)
689
(1)

| | |
| --- | --- |
| | E. E. Cummings, next to of course god america I |

690
(1)

| | |
| --- | --- |
| | Stephen Crane, A Man Said to the Universe |

691
(1)
691
(14)
691
(1)
691
(1)
692
(1)
693
(1)

| | |
| --- | --- |
| | William Stafford, Traveling through the Dark |

694
(1)

| | |
| --- | --- |
| | Alden Nowlan, The Bull Moose |

695
(1)

| | |
| --- | --- |
| | Julio Marzan, Ethnic Poetry |

696
(1)

| | |
| --- | --- |
| | James Merrill, Casual Wear |

697
(1)

| | |
| --- | --- |
| | Henry Reed, Naming of Parts |

698
(1)
699
(1)

| | |
| --- | --- |
| | Robert Browning, My Last Duchess |

700
(1)

| | |
| --- | --- |
| | Portrait: Robert Browning |

700
(1)

| | |
| --- | --- |
| | William Blake, The Chimney Sweeper |

701
(1)

| | |
| --- | --- |
| | Lorna Dee Cervantes, To We Who Were Saved by the Stars |

702
(1)

| | |
| --- | --- |
| | Bob Hicok, Spam leaves an aftertaste |

703
(1)

| | |
| --- | --- |
| | Perspective: Ezra Pound, On Symbols |

704
(1)
705
(25)
705
(7)

| | |
| --- | --- |
| | Anonymous, Scarborough Fair |

706
(1)

| | |
| --- | --- |
| | John Updike, Player Piano |

707
(1)

| | |
| --- | --- |
| | May Swenson, A Nosty Fright |

708
(1)

| | |
| --- | --- |
| | Emily Dickinson, A Bird came down the Walk--- |

709
(2)

| | |
| --- | --- |
| | Galway Kinnell, Blackberry Eating |

711
(1)
711
(1)
712
(4)

| | |
| --- | --- |
| | Richard Armour, Going to Extremes |

712
(1)

| | |
| --- | --- |
| | Robert Southey, From ``The Cataract of Lodore'' |

713
(2)

| | |
| --- | --- |
| | Perspective: David Lenson, On the Contemporary Use of Rhyme |

715
(1)
716
(2)

| | |
| --- | --- |
| | Gerard Manley Hopkins, God's Grandeur |

716
(2)
718
(12)
718
(1)

| | |
| --- | --- |
| | Lewis Carroll (Charles Lutwidge Dodgson), Jabberwocky |

718
(1)
719
(1)

| | |
| --- | --- |
| | William Heyen, The Trains |

720
(1)
721
(1)

| | |
| --- | --- |
| | Rachel Hadas, Thick and Thin |

722
(1)

| | |
| --- | --- |
| | Alexander Pope, From An Essay on Criticism |

723
(1)

| | |
| --- | --- |
| | Gwendolyn Brooks, Sadie and Maud |

724
(1)

| | |
| --- | --- |
| | Maxine Hong Kingston, Restaurant |

725
(1)

| | |
| --- | --- |
| | Photo: Maxine Hong Kingston |

725
(1)
726
(1)

| | |
| --- | --- |
| | Robert Francis, The Pitcher |

726
(1)

| | |
| --- | --- |
| | Helen Chasin, The Word Plum |

727
(1)

| | |
| --- | --- |
| | Perspective: Dylan Thomas, On the Words in Poetry |

728
(2)
730
(19)
731
(4)

| | |
| --- | --- |
| | Walt Whitman, From ``Song of the Open Road'' |

731
(3)

| | |
| --- | --- |
| | William Wordsworth, My Heart Leaps Up |

734
(1)

| | |
| --- | --- |
| | Suggestions for Scanning a Poem |

735
(2)

| | |
| --- | --- |
| | Timothy Steele, Waiting for the Storm |

736
(1)

| | |
| --- | --- |
| | William Butler Yeats, That the Night Come |

736
(1)
737
(12)
737
(1)

| | |
| --- | --- |
| | A. E. Housman, When I was one-and-twenty |

738
(1)

| | |
| --- | --- |
| | Virginia Hamilton Adair, Pro Snake |

739
(1)

| | |
| --- | --- |
| | Robert Herrick, Delight in Disorder |

739
(1)

| | |
| --- | --- |
| | Ben Jonson, Still to Be Neat |

740
(1)

| | |
| --- | --- |
| | Diane Burns, Sure You Can Ask Me a Personal Question |

741
(1)
742
(1)
742
(1)
743
(1)

| | |
| --- | --- |
| | Alfred, Lord Tennyson, The Charge of the Light Brigade |

744
(1)

| | |
| --- | --- |
| | Theodore Roethke, My Papa's Waltz |

745
(1)

| | |
| --- | --- |
| | Norman Stock, What I Said |

746
(1)

| | |
| --- | --- |
| | Edward Hirsch, Fast Break |

747
(1)

| | |
| --- | --- |
| | Perspective: Louise Bogan, On Formal Poetry |

748
(1)
749
(25)
750
(22)

| | |
| --- | --- |
| | A. E. Housman, Loveliest of trees, the cherry now |

750
(1)

| | |
| --- | --- |
| | Robert Herrick, Upon Julia's Clothes |

751
(1)
752
(1)

| | |
| --- | --- |
| | John Keats, On First Looking into Chapman's Homer |

753
(1)
753
(1)

| | |
| --- | --- |
| | William Wordsworth, The World Is Too Much with Us |

754
(1)

| | |
| --- | --- |
| | William Shakespeare, Shall I compare thee to a summer's day? |

755
(1)

| | |
| --- | --- |
| | William Shakespeare, My mistress' eyes are nothing like the sun |

755
(1)

| | |
| --- | --- |
| | Edna St. Vincent Millay, I will put Chaos into fourteen lines |

756
(1)
757
(1)

| | |
| --- | --- |
| | Mark Jarman, Unholy Sonnet |

757
(1)
758
(1)

| | |
| --- | --- |
| | Dylan Thomas, Do not go gentle into that good night |

758
(1)
759
(1)

| | |
| --- | --- |
| | Algernon Charles Swinburne, Sestina |

759
(2)

| | |
| --- | --- |
| | Florence Cassen Mayers, All-American Sestina |

761
(1)
762
(1)

| | |
| --- | --- |
| | Samuel Taylor Coleridge, What Is an Epigram? |

762
(1)
762
(1)

| | |
| --- | --- |
| | David McCord, Epitaph on a Waiter |

762
(1)

| | |
| --- | --- |
| | Paul Laurence Dunbar, Theology |

763
(1)

| | |
| --- | --- |
| | Photo: Paul Laurence Dunbar |

763
(1)
763
(1)

| | |
| --- | --- |
| | Anonymous, There was a young lady named Bright |

763
(1)

| | |
| --- | --- |
| | Laurence Perrine, The limerick's never averse |

764
(1)

| | |
| --- | --- |
| | Keith Casto, She Don't Bop |

764
(1)
764
(1)

| | |
| --- | --- |
| | Matsuo Basho, Under cherry trees |

765
(1)

| | |
| --- | --- |
| | Carolyn Kizer, After Basho |

765
(1)

| | |
| --- | --- |
| | Sonia Sanchez, c'mon man hold me |

765
(1)
765
(1)

| | |
| --- | --- |
| | Seamus Heaney, Mid-term Break |

766
(1)
767
(1)

| | |
| --- | --- |
| | Percy Bysshe Shelley, Ode to the West Wind |

767
(2)

| | |
| --- | --- |
| | Joy Harjo, Perhaps the World Ends Here |

769
(1)
769
(1)
770
(1)

| | |
| --- | --- |
| | Michael McFee, In Medias Res |

770
(1)
771
(1)

| | |
| --- | --- |
| | X. J. Kennedy, A Visit from St. Sigmund |

771
(1)
772
(2)

| | |
| --- | --- |
| | Robert Morgan, On the Shape of a Poem |

772
(1)
773
(1)
774
(17)
774
(1)

| | |
| --- | --- |
| | Walt Whitman, From ``I Sing the Body Electric'' |

775
(1)
776
(1)

| | |
| --- | --- |
| | Perspective: Walt Whitman, On Rhyme and Meter |

777
(1)

| | |
| --- | --- |
| | Galway Kinnell, After Making Love We Hear Footsteps |

778
(1)

| | |
| --- | --- |
| | Kelly Cherry, Alzheimer's |

779
(1)

| | |
| --- | --- |
| | William Carlos Williams, The Red Wheelbarrow |

780
(1)

| | |
| --- | --- |
| | Judith Ortiz Cofer, Latin Women Pray |

780
(1)

| | |
| --- | --- |
| | Photo: Judith Ortiz Cofer |

780
(1)

| | |
| --- | --- |
| | Gary Gildner, First Practice |

781
(1)

| | |
| --- | --- |
| | Marilyn Nelson Waniek, Emily Dickinson's Defunct |

781
(1)

| | |
| --- | --- |
| | Robert Hass, A Story about the Body |

782
(1)

| | |
| --- | --- |
| | Sharon Olds, Rite of Passage |

783
(1)

| | |
| --- | --- |
| | Julio Marzan, The Translator at the Reception for Latin American Writers |

784
(1)

| | |
| --- | --- |
| | Aurora Levins Morales, Child of the Americas |

785
(1)

| | |
| --- | --- |
| | Photo: Aurora Levins Morales |

785
(1)
786
(2)

| | |
| --- | --- |
| | Peter Meinke, The ABC of Aerobics |

788
(1)

| | |
| --- | --- |
| | Gary Soto, Mexicans Begin Jogging |

789
(1)
789
(1)
790
(1)

| | |
| --- | --- |
| | Donald Justice, Order in the Streets |

790
(1)

| | |
| --- | --- |
| | Combining the Elements of Poetry |

791
(10)
791
(1)
792
(1)

| | |
| --- | --- |
| | John Donne, Death Be Not Proud |

793
(1)
793
(1)

| | |
| --- | --- |
| | Asking Questions about the Elements |

793
(2)
794
(1)
795
(1)

| | |
| --- | --- |
| | A Sample Informal Outline |

795
(1)
796
(5)

| | |
| --- | --- |
| | A Sample Explication: The Use of Conventional Metaphors for Death in John Donne's ``Death Be Not Proud'' |

796
(5)
801
(144)

| | |
| --- | --- |
| | A Study of Emily Dickinson |

803
(41)
804
(5)

| | |
| --- | --- |
| | Portrait: Silhouette of Emily Dickinson |

805
(1)
805
(1)

| | |
| --- | --- |
| | Photo: Emily Dickinson (Not Authenticated) |

805
(1)
806
(1)

| | |
| --- | --- |
| | Image: Illustrated Letter to William Cowper Dickinson |

806
(1)

| | |
| --- | --- |
| | Photo: Dickinson Homestead |

806
(1)

| | |
| --- | --- |
| | Photo: The Evergreens (Home of Austin and Susan Dickinson) |

807
(1)
807
(1)

| | |
| --- | --- |
| | Image: Cartoon in Letter to Susan Dickinson |

807
(2)

| | |
| --- | --- |
| | An Introduction to Her Work |

809
(20)

| | |
| --- | --- |
| | Facsimile: Manuscript Page, ``What Soft---Cherubic Creatures---'' |

809
(1)

| | |
| --- | --- |
| | Emily Dickinson, If I can stop one Heart from breaking |

810
(1)

| | |
| --- | --- |
| | Emily Dickinson, If I shouldn't be alive |

811
(1)

| | |
| --- | --- |
| | Emily Dickinson, The Thought beneath so slight a film |

812
(1)

| | |
| --- | --- |
| | Emily Dickinson, To make a prairie it takes a clover and one bee |

813
(1)

| | |
| --- | --- |
| | Emily Dickinson, Success is counted sweetest |

813
(1)

| | |
| --- | --- |
| | Emily Dickinson, Water, is taught by thirst |

814
(1)

| | |
| --- | --- |
| | Emily Dickinson, Safe in their Alabaster Chambers---(1859 version) |

814
(1)

| | |
| --- | --- |
| | Emily Dickinson, Safe in their Alabaster Chambers---(1861 version) |

815
(1)

| | |
| --- | --- |
| | Emily Dickinson, Papa above! |

815
(1)

| | |
| --- | --- |
| | Emily Dickinson, Portraits are to daily faces |

816
(1)

| | |
| --- | --- |
| | Emily Dickinson, Some keep the Sabbath going to Church |

817
(1)

| | |
| --- | --- |
| | Emily Dickinson, ``Heaven''---is what I cannot reach! |

817
(1)

| | |
| --- | --- |
| | Emily Dickinson, I like a look of Agony |

818
(1)

| | |
| --- | --- |
| | Emily Dickinson, Wild Nights---Wild Nights! |

819
(1)

| | |
| --- | --- |
| | Emily Dickinson, I'm ceded---I've stopped being Theirs |

819
(1)

| | |
| --- | --- |
| | Emily Dickinson, What Soft---Cherubic Creatures |

820
(1)

| | |
| --- | --- |
| | Emily Dickinson, The Soul selects her own Society |

821
(1)

| | |
| --- | --- |
| | Emily Dickinson, Much Madness is divinest Sense |

821
(1)

| | |
| --- | --- |
| | Emily Dickinson, I dwell in Possibility |

822
(1)

| | |
| --- | --- |
| | Emily Dickinson, After great pain, a formal feeling comes |

823
(1)

| | |
| --- | --- |
| | Emily Dickinson, I heard a Fly buzz---when I died |

823
(1)

| | |
| --- | --- |
| | Emily Dickinson, The Props assist the House |

824
(1)

| | |
| --- | --- |
| | Emily Dickinson, Because I could not stop for Death |

824
(1)

| | |
| --- | --- |
| | Emily Dickinson, I felt a Cleaving in my Mind |

825
(1)

| | |
| --- | --- |
| | Emily Dickinson, Volcanoes be in Sicily |

826
(1)

| | |
| --- | --- |
| | Emily Dickinson, Oh Sumptuous moment |

826
(1)

| | |
| --- | --- |
| | Emily Dickinson, The Bustle in a House |

827
(1)

| | |
| --- | --- |
| | Emily Dickinson, Tell all the Truth but tell it slant |

827
(1)

| | |
| --- | --- |
| | Emily Dickinson, A Route of Evanescence |

828
(1)
829
(15)

| | |
| --- | --- |
| | Emily Dickinson, A Description of Herself |

829
(1)

| | |
| --- | --- |
| | Thomas Wentworth Higginson, On Meeting Dickinson for the First Time |

830
(1)

| | |
| --- | --- |
| | Mabel Loomis Todd, The Character of Amherst |

831
(1)

| | |
| --- | --- |
| | Richard Wilbur, On Dickinson's Sense of Privation |

831
(1)

| | |
| --- | --- |
| | Sandra M. Gilbert and Susan Gubar, On Dickinson's White Dress |

832
(1)

| | |
| --- | --- |
| | Photo: Emily Dickinson's White Dress |

833
(1)

| | |
| --- | --- |
| | Cynthia Griffin Wolff, On the Many Voices in Dickinson's Poetry |

834
(1)

| | |
| --- | --- |
| | Paula Bennett, On ``I heard a Fly buzz---when I died---'' |

835
(1)

| | |
| --- | --- |
| | Martha Nell Smith, On ``Because I could not stop for Death---'' |

836
(1)

| | |
| --- | --- |
| | Ronald Wallace, Miss Goff |

837
(1)

| | |
| --- | --- |
| | Questions for Writing about an Author in Depth |

838
(1)
839
(1)

| | |
| --- | --- |
| | Emily Dickinson, ``Faith'' is a fine invention |

839
(1)

| | |
| --- | --- |
| | Emily Dickinson, I know that He exists |

840
(1)

| | |
| --- | --- |
| | Emily Dickinson, I never saw a Moor |

840
(1)

| | |
| --- | --- |
| | Emily Dickinson, Apparently with no surprise |

840
(1)

| | |
| --- | --- |
| | A Sample Paper: Religious Faith in Four Poems by Emily Dickinson |

841
(3)
844
(32)
845
(3)

| | |
| --- | --- |
| | Photo: Robert Frost, Age 18 |

845
(1)

| | |
| --- | --- |
| | Photo: Robert Frost in Franconia |

846
(1)

| | |
| --- | --- |
| | Photo: Robert Frost in Shaftsbury |

847
(1)

| | |
| --- | --- |
| | An Introduction to His Work |

848
(19)

| | |
| --- | --- |
| | Facsimile: Manuscript Page, ``Neither Out Far nor In Deep'' |

849
(2)

| | |
| --- | --- |
| | Robert Frost, The Road Not Taken |

851
(1)

| | |
| --- | --- |
| | Robert Frost, The Pasture |

852
(1)
853
(1)

| | |
| --- | --- |
| | Robert Frost, Mending Wall |

853
(2)

| | |
| --- | --- |
| | Robert Frost, Home Burial |

855
(3)

| | |
| --- | --- |
| | Robert Frost, After Apple-Picking |

858
(1)
859
(2)

| | |
| --- | --- |
| | Robert Frost, ``Out, Out---'' |

861
(1)

| | |
| --- | --- |
| | Robert Frost, Gathering Leaves |

862
(1)

| | |
| --- | --- |
| | Robert Frost, Fire and Ice |

863
(1)

| | |
| --- | --- |
| | Robert Frost, Stopping by Woods on a Snowy Evening |

863
(1)
864
(1)

| | |
| --- | --- |
| | Robert Frost, Neither Out Far nor In Deep |

865
(1)

| | |
| --- | --- |
| | Robert Frost, The Silken Tent |

865
(1)

| | |
| --- | --- |
| | Robert Frost, Never Again Would Birds' Song Be the Same |

866
(1)

| | |
| --- | --- |
| | Robert Frost, The Gift Outright |

866
(1)
867
(9)

| | |
| --- | --- |
| | Robert Frost, ``In White'': An Early Version of ``Design'' |

867
(1)

| | |
| --- | --- |
| | Robert Frost, On the Living Part of a Poem |

868
(1)

| | |
| --- | --- |
| | Amy Lowell, On Frost's Realistic Technique |

868
(1)

| | |
| --- | --- |
| | Robert Frost, On the Figure a Poem Makes |

869
(2)

| | |
| --- | --- |
| | Robert Frost, On the Way to Read a Poem |

871
(1)

| | |
| --- | --- |
| | Herbert R. Coursen Jr., A Parodic Interpretation of ``Stopping by Woods on a Snowy Evening'' |

872
(1)

| | |
| --- | --- |
| | Blanche Farley, The Lover Not Taken |

873
(1)

| | |
| --- | --- |
| | Peter D. Poland, On ``Neither Out Far nor In Deep'' |

874
(2)

| | |
| --- | --- |
| | A Study of Langston Hughes |

876
(31)
877
(2)
877
(1)

| | |
| --- | --- |
| | Langston Hughes, The Negro Speaks of Rivers |

878
(1)

| | |
| --- | --- |
| | An Introduction to His Work |

879
(22)

| | |
| --- | --- |
| | Portrait: Winold Reiss, Langston Hughes |

880
(1)

| | |
| --- | --- |
| | Facsimile: Manuscript Page, ``Old Walt'' |

881
(1)

| | |
| --- | --- |
| | Photo: James VanDerZee, Harlem Couple |

882
(1)

| | |
| --- | --- |
| | Photo: Langston Hughes at McCarthy Hearings |

883
(1)
884
(1)
885
(1)

| | |
| --- | --- |
| | Langston Hughes, Danse Africaine |

886
(1)

| | |
| --- | --- |
| | Langston Hughes, Mother to Son |

886
(1)
887
(1)

| | |
| --- | --- |
| | Langston Hughes, Dream Variations |

887
(1)

| | |
| --- | --- |
| | Langston Hughes, The Weary Blues |

888
(1)
889
(1)

| | |
| --- | --- |
| | Langston Hughes, Lenox Avenue: Midnight |

890
(1)

| | |
| --- | --- |
| | Langston Hughes, Song for a Dark Girl |

891
(1)

| | |
| --- | --- |
| | Langston Hughes, Red Silk Stockings |

891
(1)

| | |
| --- | --- |
| | Langston Hughes, Rent-Party Shout: For a Lady Dancer |

892
(1)

| | |
| --- | --- |
| | Langston Hughes, Ballad of the Landlord |

893
(1)
894
(1)

| | |
| --- | --- |
| | Langston Hughes, Dream Boogie |

894
(1)
895
(1)

| | |
| --- | --- |
| | Langston Hughes, Un-American Investigators |

896
(1)

| | |
| --- | --- |
| | Langston Hughes, Poet to Bigot |

897
(1)

| | |
| --- | --- |
| | Langston Hughes, Old Walt |

897
(1)

| | |
| --- | --- |
| | Langston Hughes, Dinner Guest: Me |

898
(1)

| | |
| --- | --- |
| | Langston Hughes, Frederick Douglass: 1817--1895 |

899
(1)

| | |
| --- | --- |
| | Langston Hughes, The Backlash Blues |

900
(1)
901
(6)

| | |
| --- | --- |
| | Langston Hughes, On Racial Shame and Pride |

901
(1)

| | |
| --- | --- |
| | Langston Hughes, On Harlem Rent Parties |

902
(1)

| | |
| --- | --- |
| | Donald B. Gibson, The Essential Optimism of Hughes and Whitman |

903
(1)

| | |
| --- | --- |
| | James A. Emanuel, Hughes's Attitudes toward Religion |

904
(1)

| | |
| --- | --- |
| | David Chinitz, The Romanticization of African in the 1920s |

904
(3)

| | |
| --- | --- |
| | A Critical Case Study: T. S. Eliot's ``The Love Song of J. Alfred Prufrock'' |

907
(19)
908
(1)
908
(1)
909
(2)

| | |
| --- | --- |
| | Portrait: Wyndham Lewis, T. S. Eliot |

911

| | |
| --- | --- |
| | T. S. Eliot, The Love Song of J. Alfred Prufrock |

910
(4)
914
(12)

| | |
| --- | --- |
| | Elisabeth Schneider, Hints of Eliot in Prufrock |

914
(1)

| | |
| --- | --- |
| | Barbara Everett, The Problem of Tone in Prufrock |

915
(1)

| | |
| --- | --- |
| | Michael L. Baumann, The ``Overwhelming Question'' for Prufrock |

916
(2)

| | |
| --- | --- |
| | Frederik L. Rusch, Society and Character in ``The Love Song of J. Alfred Prufrock'' |

918
(3)

| | |
| --- | --- |
| | Robert Sward, A Personal Analysis of ``The Love Song of J. Alfred Prufrock'' |

921
(5)

| | |
| --- | --- |
| | Two Thematic Case Studies: The Love Poem and Teaching and Learning |

926
(19)
927
(7)

| | |
| --- | --- |
| | Christopher Marlowe, The Passionate Shepherd to His Love |

927
(1)

| | |
| --- | --- |
| | William Shakespeare, Not marble, nor the gilded monuments |

928
(1)

| | |
| --- | --- |
| | Anne Bradstreet, To My Dear and Loving Husband |

929
(1)

| | |
| --- | --- |
| | Elizabeth Barrett Browning, How Do I Love Thee? Let Me Count the Ways |

930
(1)

| | |
| --- | --- |
| | Edna St. Vincent Millay, Recuerdo |

931
(1)

| | |
| --- | --- |
| | Photo: Edna St. Vincent Millay |

931
(1)

| | |
| --- | --- |
| | E. E. Cummings, since feeling is first |

932
(1)
933
(1)
933
(1)

| | |
| --- | --- |
| | Poems about Teaching and Learning |

934
(11)

| | |
| --- | --- |
| | Langston Hughes, Theme for English B |

935
(1)
936
(1)

| | |
| --- | --- |
| | Paul Zimmer, Zimmer's Head Thudding against the Blackboard |

937
(1)

| | |
| --- | --- |
| | Mark Halliday, Graded Paper |

938
(1)

| | |
| --- | --- |
| | Judy Page Heitzman, The Schoolroom on the Second Floor of the Knitting Mill |

939
(1)
940
(2)

| | |
| --- | --- |
| | Perspective: Jeffrey Harrison, On ``Fork'' as a Work of Fiction |

942
(3)

| | |
| --- | --- |
| | A Thematic Case Study: Border Crossings Between |

| | |
| --- | --- |
| | Phillis Wheatley, On Being Brought from Africa to America |

| | |
| --- | --- |
| | Diagram: 18th-Century Slaveship |

| | |
| --- | --- |
| | Painting: Joseph Mallord William Turner, The Slave Ship |

| | |
| --- | --- |
| | Advertisement: 1784 Slave Auction |

| | |
| --- | --- |
| | Wole Soyinka, Telephone Conversation |

| | |
| --- | --- |
| | Poster: Columbia Pictures, Guess Who's Coming to Dinner? |

| | |
| --- | --- |
| | Image: Jacalyn Lopez Garcia, ``I Just Wanted to Be Me'' |

| | |
| --- | --- |
| | Sandra M. Gilbert, Mafioso |

| | |
| --- | --- |
| | Photo: ``Baggage Examined Here'' |

| | |
| --- | --- |
| | Chitra Banerjee Divakaruni, Indian Movie, New Jersey |

| | |
| --- | --- |
| | Soundtrack Cover: Rawal Films, Ladki Pasand Hai (I Like This Girl) |

| | |
| --- | --- |
| | Janice Mirikitani, Recipe |

| | |
| --- | --- |
| | Photo: Chiaki Tsukumo, ``Girl with Licca Doll'' |

| | |
| --- | --- |
| | Photo: Alex MacLean, ``Somerville, Massachusetts'' |

945
(48)

| | |
| --- | --- |
| | An Album of Contemporary Poems |

947
(13)

| | |
| --- | --- |
| | Michelle Boisseau, Self-Pity's Closet |

947
(1)

| | |
| --- | --- |
| | Billy Collins, Marginalia |

948
(3)

| | |
| --- | --- |
| | Stephen Dobyns, Do They Have a Reason? |

951
(1)

| | |
| --- | --- |
| | Jane Hirshfield, The Lives of the Heart |

952
(1)

| | |
| --- | --- |
| | Joan Murray, Play-by-Play |

953
(2)

| | |
| --- | --- |
| | Alberto Rios, The Gathering Evening |

955
(1)

| | |
| --- | --- |
| | Cathy Song, A Poet in the House |

956
(1)
956
(1)

| | |
| --- | --- |
| | William Trowbridge, Poets' Corner |

957
(2)
959
(1)
960
(33)
960
(1)

| | |
| --- | --- |
| | Anonymous, Bonny Barbara Allan |

961
(1)

| | |
| --- | --- |
| | William Blake, The Garden of Love |

962
(1)

| | |
| --- | --- |
| | William Blake, Infant Sorrow |

962
(1)

| | |
| --- | --- |
| | Anne Bradstreet, Before the Birth of One of Her Children |

963
(1)

| | |
| --- | --- |
| | Gwendolyn Brooks, a song in the front yard |

963
(1)

| | |
| --- | --- |
| | George Gordon, Lord Byron, She Walks in Beauty |

964
(1)

| | |
| --- | --- |
| | Lucille Clifton, this morning (for the girls of eastern high school) |

965
(1)
965
(1)

| | |
| --- | --- |
| | Samuel Taylor Coleridge, Kubla Khan: or, a Vision in a Dream |

965
(2)

| | |
| --- | --- |
| | E. E. Cummings, Buffalo Bill's |

967
(1)
967
(1)

| | |
| --- | --- |
| | Louise Erdrich, Dear John Wayne |

968
(1)
968
(1)
969
(1)

| | |
| --- | --- |
| | Anthony Hecht, The Dover Bitch |

969
(1)

| | |
| --- | --- |
| | Felicia Hemans, Woman and Fame |

970
(1)

| | |
| --- | --- |
| | George Herbert, The Collar |

971
(1)
972
(1)

| | |
| --- | --- |
| | Gerard Manley Hopkins, Pied Beauty |

973
(1)

| | |
| --- | --- |
| | Gerard Manley Hopkins, The Windhover |

973
(1)

| | |
| --- | --- |
| | A. E. Housman, To an Athlete Dying Young |

974
(1)

| | |
| --- | --- |
| | Colette Inez, It Didn't Serve Us Right |

974
(1)
975
(1)

| | |
| --- | --- |
| | John Keats, When I have fears that I may cease to be |

975
(1)

| | |
| --- | --- |
| | John Keats, La Belle Dame sans Merci |

976
(1)

| | |
| --- | --- |
| | Yusef Komunyakaa, Slam, Dunk, & Hook |

977
(1)

| | |
| --- | --- |
| | Emma Lazarus, The New Colossus |

978
(1)

| | |
| --- | --- |
| | Li-Young Lee, Eating Together |

978
(1)
978
(1)

| | |
| --- | --- |
| | W. S. Merwin, The Dry Stone Mason |

979
(1)
979
(1)

| | |
| --- | --- |
| | John Milton, When I consider how my light is spent |

979
(1)

| | |
| --- | --- |
| | Howard Nemerov, Walking the Dog |

980
(1)

| | |
| --- | --- |
| | Naomi Shihab Nye, Where Children Live |

980
(1)

| | |
| --- | --- |
| | Christina Georgina Rossetti, In Progress |

981
(1)

| | |
| --- | --- |
| | Portrait: Christina Georgina Rossetti |

981
(1)

| | |
| --- | --- |
| | Christina Georgina Rossetti, Promises Like Pie-Crust |

981
(1)

| | |
| --- | --- |
| | William Shakespeare, That time of year thou mayst in me behold |

982
(1)

| | |
| --- | --- |
| | William Shakespeare, When, in disgrace with Fortune and men's eyes |

982
(1)

| | |
| --- | --- |
| | Percy Bysshe Shelley, Ozymandias |

983
(1)

| | |
| --- | --- |
| | Virgil Suarez, The Stayer |

983
(1)

| | |
| --- | --- |
| | Wallace Stevens, The Emperor of Ice-Cream |

984
(1)

| | |
| --- | --- |
| | Alfred, Lord Tennyson, Ulysses |

985
(2)

| | |
| --- | --- |
| | Walt Whitman, When I Heard the Learn'd Astronomer |

987
(1)

| | |
| --- | --- |
| | Miller Williams, Thinking about Bill, Dead of AIDS |

987
(1)

| | |
| --- | --- |
| | William Carlos Williams, Spring and All |

988
(1)

| | |
| --- | --- |
| | William Carlos Williams, This Is Just to Say |

988
(1)

| | |
| --- | --- |
| | William Wordsworth, I Wandered Lonely as a Cloud |

989
(1)

| | |
| --- | --- |
| | Portrait: William Wordsworth |

989
(1)

| | |
| --- | --- |
| | William Wordsworth, It Is a Beauteous Evening, Calm and Free |

989
(1)

| | |
| --- | --- |
| | William Wordsworth, Mutability |

990
(1)

| | |
| --- | --- |
| | William Butler Yeats, Crazy Jane Talks with the Bishop |

990
(1)

| | |
| --- | --- |
| | Portrait: William Butler Yeats |

990
(1)

| | |
| --- | --- |
| | William Butler Yeats, Leda and the Swan |

991
(1)

| | |
| --- | --- |
| | William Butler Yeats, The Second Coming |

991
(2)
993
(2)
995
(328)
997
(39)

| | |
| --- | --- |
| | Reading Drama Responsively |

997
(18)
1000
999
(11)

| | |
| --- | --- |
| | A Sample Close Reading: An Annotated Section of Trifles |

1010
(2)

| | |
| --- | --- |
| | Perspective: Susan Glaspell, From the Short Story Version of Trifles |

1012
(3)
1015
(3)
1018
(18)

| | |
| --- | --- |
| | Larry David, From ``The Pitch,'' a Seinfeld Episode |

1021
(1)
1021
(10)

| | |
| --- | --- |
| | Kari Lizer, From ``Dolls and Dolls,'' a Will & Grace Episode |

1031
(5)
1036
(6)
1036
(6)

| | |
| --- | --- |
| | Questions for Responsive Reading and Writing |

1037
(2)

| | |
| --- | --- |
| | A Sample Paper: The Feminist Evidence in Trifles |

1039
(3)
1042
(58)
1042
(1)

| | |
| --- | --- |
| | Theatrical Conventions of Greek Drama |

1043
(3)

| | |
| --- | --- |
| | Drawing: A Classical Greek Theater |

1045
(1)
1046
(54)

| | |
| --- | --- |
| | Sophocles, Oedipus the King |

1049
(43)
1092
(1)

| | |
| --- | --- |
| | Aristotle, On Tragic Character |

1092
(2)

| | |
| --- | --- |
| | Sigmund Freud, On the Oedipus Complex |

1094
(1)

| | |
| --- | --- |
| | Sophocles, Another Translation of a Scene from Oedipus the King |

1095
(3)

| | |
| --- | --- |
| | Muriel Rukeyser, On Oedipus the King |

1098
(1)

| | |
| --- | --- |
| | David Wiles, On Oedipus the King as a Political Play |

1098
(2)

| | |
| --- | --- |
| | A Study of William Shakespeare |

1100
(100)

| | |
| --- | --- |
| | Portrait: William Shakespeare, from the First Folio |

1101
(1)

| | |
| --- | --- |
| | Portrait: William Shakespeare, the ``Chandos Portrait'' |

1101
(2)
1103
(3)

| | |
| --- | --- |
| | Drawing: C. Walter Hodges, the Globe Theatre |

1105
(1)

| | |
| --- | --- |
| | The Range of Shakespeare's Drama: History, Comedy, and Tragedy |

1106
(3)

| | |
| --- | --- |
| | A Note on Reading Shakespeare |

1109
(91)

| | |
| --- | --- |
| | William Shakespeare, Othello the Moor of Venice |

1112

| | |
| --- | --- |
| | Facsimile: Othello Title Page |

1111
(83)
1194
(1)

| | |
| --- | --- |
| | Objections to the Elizabethan Theater by the Mayor of London |

1194
(1)

| | |
| --- | --- |
| | Lisa Jardine, On Boy Actors in Female Roles |

1195
(1)

| | |
| --- | --- |
| | Samuel Johnson, On Shakespeare's Characters |

1195
(1)

| | |
| --- | --- |
| | Jane Adamson, On Desdemona's Role in Othello |

1196
(1)

| | |
| --- | --- |
| | David Bevington, On Othello's Heroic Struggle |

1197
(1)

| | |
| --- | --- |
| | James Kincaid, On the Value of Comedy in the Face of Tragedy |

1198
(2)

| | |
| --- | --- |
| | Photo: The Glass Menagerie |

| | |
| --- | --- |
| | Photo: Death of a Salesman |

| | |
| --- | --- |
| | Photo: A Raisin in the Sun |

1200
(56)
1200
(2)
1202
(1)

| | |
| --- | --- |
| | Theatrical Conventions of Modern Drama |

1203
(53)

| | |
| --- | --- |
| | Henrik Ibsen, A Doll House |

1205
1204
(50)

| | |
| --- | --- |
| | Perspective: Henrik Ibsen, Notes for A Doll House |

1254
(2)

| | |
| --- | --- |
| | A Critical Case Study: Henrik Ibsen's A Doll House |

1256
(12)
1257
(11)

| | |
| --- | --- |
| | A Nineteenth-Century Husband's Letter to His Wife |

1257
(2)

| | |
| --- | --- |
| | Barry Witham and John Lutterbie, A Marxist Approach to A Doll House |

1259
(2)

| | |
| --- | --- |
| | Carol Strongin Tufts, A Psychoanalytic Reading of Nora |

1261
(3)

| | |
| --- | --- |
| | Joan Templeton, Is A Doll House a Feminist Text? |

1264
(2)

| | |
| --- | --- |
| | Questions for Writing: Applying a Critical Strategy |

1266
(2)

| | |
| --- | --- |
| | A Cultural Case Study: David Henry Hwang's M. Butterfly |

1268
(55)

| | |
| --- | --- |
| | David Henry Hwang, M. Butterfly |

1271
1268
(49)
1317
(1)

| | |
| --- | --- |
| | Harold Rosenthal and John Warrack, A Plot Synopsis of Madame Butterfly |

1317
(1)

| | |
| --- | --- |
| | Richard Bernstein, The News Source for M. Butterfly |

1318
(2)

| | |
| --- | --- |
| | Photo: Shi Pei Pu in The Story of the Butterfly |

1320
(1)

| | |
| --- | --- |
| | David Savran, An Interview with David Henry Hwang |

1321
(2)
1323
(208)

| | |
| --- | --- |
| | Plays for Further Reading |

1325
(206)

| | |
| --- | --- |
| | Tennessee Williams, The Glass Menagerie |

1326
(1)

| | |
| --- | --- |
| | Photo: Tennessee Williams |

1326
(45)

| | |
| --- | --- |
| | Perspective: Tennesee Williams, Production Notes to The Glass Menagerie |

1371
(2)

| | |
| --- | --- |
| | Perspective: Tennesee Williams, On Theme |

1373
(1)

| | |
| --- | --- |
| | Arthur Miller, Death of a Salesman |

1374
1373
(66)

| | |
| --- | --- |
| | Perspective: Arthur Miller, Tragedy and the Common Man |

1439
(3)

| | |
| --- | --- |
| | Perspective: Arthur Miller, On Biff and Willy Loman |

1442
(2)

| | |
| --- | --- |
| | Samuel Beckett, Krapp's Last Tape |

1444
1443
(7)

| | |
| --- | --- |
| | Perspective: Martin Esslin, On the Theater of the Absurd |

1450
(3)

| | |
| --- | --- |
| | Lorraine Hansberry, A Raisin in the Sun |

1453

| | |
| --- | --- |
| | Photo: Lorraine Hansberry |

1452
(63)

| | |
| --- | --- |
| | Perspective: Thomas P. Adler, The Political Basis of Lorraine Hansberry's Art |

1515
(2)

| | |
| --- | --- |
| | John Leguizamo, From Mambo Mouth |

1517
(1)
1517
(3)

| | |
| --- | --- |
| | Tony Kushner, Reverse Transcription |

1520
1519
(10)

| | |
| --- | --- |
| | Jane Anderson, The Reprimand |

1529
1528
(3)

| | |
| --- | --- |
| | Critical Thinking and Writing |

1531
(84)

| | |
| --- | --- |
| | Critical Strategies for Reading |

1533
(24)
1533
(3)

| | |
| --- | --- |
| | The Literary Canon: Diversity and Controversy |

1536
(2)
1538
(2)
1540
(2)
1542
(2)
1544
(4)

| | |
| --- | --- |
| | Literary History Criticism |

1544
(1)
1545
(1)

| | |
| --- | --- |
| | New Historicist Criticism |

1546
(1)
1547
(1)
1548
(2)
1548
(1)

| | |
| --- | --- |
| | Gay and Lesbian Criticism |

1549
(1)
1550
(2)

| | |
| --- | --- |
| | Reader-Response Strategies |

1552
(2)

| | |
| --- | --- |
| | Deconstructionist Strategies |

1554
(3)
1557
(33)

| | |
| --- | --- |
| | The Purpose and Value of Writing about Literature |

1557
(1)
1558
(1)

| | |
| --- | --- |
| | Annotating the Text and Journal Note Taking |

1559
(2)
1561
(1)
1562
(3)
1565
(3)
1568
(1)
1569
(4)

| | |
| --- | --- |
| | Writing the Introduction and Conclusion |

1570
(1)
1571
(2)
1573
(1)
1573
(1)
1574
(1)

| | |
| --- | --- |
| | Types of Writing Assignments |

1575
(15)
1575
(1)

| | |
| --- | --- |
| | Emily Dickinson, There's a certain Slant of light |

1576
(1)

| | |
| --- | --- |
| | A Sample Explication: A Reading of Dickinson's ``There's a certain Slant of light'' |

1576
(4)
1580
(1)

| | |
| --- | --- |
| | A Sample Analysis: The A&P as a State of Mind |

1580
(4)
1584
(2)

| | |
| --- | --- |
| | A Sample Comparison: The Struggle for Women's Self-Definition in A Doll House and M. Butterfly |

1586
(4)

| | |
| --- | --- |
| | The Literary Research Paper |

1590
(19)
1591
(1)
1592
(2)

| | |
| --- | --- |
| | Annotated List of References |

1592
(2)
1594
(1)

| | |
| --- | --- |
| | Evaluating Sources and Taking Notes |

1594
(1)

| | |
| --- | --- |
| | Developing a Thesis and Organizing the Paper |

1595
(1)
1596
(1)

| | |
| --- | --- |
| | Documenting Sources and Avoiding Plagiarism |

1597
(12)
1599
(4)
1603
(1)

| | |
| --- | --- |
| | A Sample Research Paper: How the Narrator Cultivates a Rose for Emily |

1604
(5)

| | |
| --- | --- |
| | Taking Essay Examinations |

1609
(6)

| | |
| --- | --- |
| | Preparing for an Essay Exam |

1609
(2)
1609
(1)

| | |
| --- | --- |
| | Take Notes and Annotate the Text |

1609
(1)
1610
(1)
1611
(1)

| | |
| --- | --- |
| | Closed-Book versus Open-Book Exams |

1611
(1)
1611
(1)

| | |
| --- | --- |
| | Strategies for Writing Essay Exams |

1612
(3)
Glossary of Literary Terms
1615
(36)
Index of First Lines
1651
(6)
Index of Authors and Titles
1657