Note: Supplemental materials are not guaranteed with Rental or Used book purchases.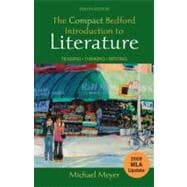 The Compact Bedford Introduction to Literature with 2009 MLA Update: Reading, Thinking, Writing
ISBN13:
9780312677299
by
Meyer
Questions About This Book?
What version or edition is this?
This is the 8th edition with a publication date of 6/17/2010.
What is included with this book?
The Used copy of this book is not guaranteed to include any supplemental materials. Typically, only the book itself is included.
Customer Reviews
Amazing book from a great vendor!
April 18, 2011
by





I ordered this textbook from ecampus and the purchase was very smooth. The price is very suitable and the book arrived earlier than the delivery date and in a very good condition for a used book exactly as a described. I highly recommend this vendor. Thank you very much :)

Flag Review
---
The Compact Bedford Introduction to Literature with 2009 MLA Update: Reading, Thinking, Writing

:
stars based on
1
user reviews.
Summary
The Compact Bedford Introduction to Literature is designed to bring literature to life — and to make students lifelong readers. As an instructor of literature and writing, editor Michael Meyer understands that a particular challenge in today's classroom is that students may not see literature as relevant to their lives. They may have difficulty reading it critically and lack confidence in their writing skills. With these factors in mind, Meyer has put together a lively collection of literature drawn from many periods, cultures, and voices, with an excellent representation of contemporary authors, women authors, and authors of color.
These works are presented with more than a dozen chapters of critical reading and writing support, and a generous helping of sample close readings, writing assignments, and student papers. And, because everyone teaches a little differently, the book offers more options for working with the literature than any comparable anthology — including in-depth chapters on major authors and case studies on individual works and universal themes.
"I rate The Compact Bedford Introduction to Literature as head and shoulders above its competition."- Donald Pharr, Saint Leo University
Author Biography
MICHAEL MEYER (Ph.D., University of Connecticut) has taught introductory writing and literature courses for more than thirty years — since 1981 at the University of Connecticut and before that at the University of North Carolina at Charlotte and the College of William and Mary. His articles have appeared in such distinguished journals as American Literature, Studies in American Renaissance, and the Virginia Quarterly Review, and he is former president of the Thoreau Society and coauthor (with Walter Harding) of The New Thoreau Handbook, a standard reference source. His other books for Bedford/St. Martin's include The Bedford Introduction to Literature, Eighth Edition, Poetry: An Introduction, Fifth Edition, and Thinking and Writing About Literature, Second Edition.
Table of Contents
Resources For Reading and Writing about Literature

Preface for Instructors

Introduction: Reading Imaginative

The Nature of Literature

Emily Dickinson, A narrow Fellow in the Grass

The Value of Literature

The Changing Literary Canon

FICTION

THE ELEMENTS OF FICTION

1. Reading Fiction

Reading Fiction Responsively


Kate Chopin, The Story of an Hour


A SAMPLE CLOSE READING: An Annotated Section of "The Story of an Hour"


A SAMPLE PAPER: Differences in Responses to Kate Chopin's "The Story of an Hour"

Explorations and Formulas

A Comparison of Two Stories


Karen Van Der Zee, From A Secret Sorrow


Gail Godwin, A Sorrowful Woman


PERSPECTIVES


Kay Mussell, Are Feminism and Romance Novels Mutually Exclusive?


Thomas Jefferson, On the Dangers of Reading Fiction

2. Writing about Fiction

From Reading to Writing


QUESTIONS FOR RESPONSIVE READING AND WRITING


A SAMPLE PAPER IN PROGRESS


A First Response to "A Secret Sorrow" and A Sorrowful Woman


A Sample Brainstorming List


A Sample First Draft: Separate Sorrows


A Sample Second Draft: Separate Sorrows


FINAL PAPER: Fulfillment or Failure? Marriage in A Secret Sorrow and "A Sorrowful Woman"

3. Plot


Edgar Rice Burroughs, From Tarzan of the Apes


]Ha Jin, Love in the Air


William Faulkner, A Rose for Emily


PERSPECTIVE: William Faulkner, On "A Rose for Emily"


]A SAMPLE CLOSE READING: An Annotated Section of "A Rose for Emily"


]A SAMPLE STUDENT RESPONSE: Conflict and Crisis in William Faulkner's "A Rose for Emily"


Andre Dubus, Killings


PERSPECTIVES: Thomas E. Kennedy, On Morality and Revenge in "Killings"; A. L. Bader, Nothing Happens in Modern Short Stories

4. Character


Charles Dickens, From Hard Times


]A SAMPLE STUDENT RESPONSE: Character in Charles Dickens's Hard Times


May-lee Chai, Saving Sourdi


Herman Melville, Bartleby, the Scrivener


PERSPECTIVES: Nathaniel Hawthorne, On Herman Melville's Philosophic Stance; Dan McCall, On the Lawyer's Character in "Bartleby, the Scrivener"


]Susan Straight, Mines

5. Setting


Ernest Hemingway, Soldier's Home


PERSPECTIVES: e. e. cummings, my sweet old etcetera; Ernest Hemingway, On What Every Writer Needs


Fay Weldon, IND AFF, or Out of Love in Sarajevo


PERSPECTIVE: Fay Weldon, On the Importance of Place in "IND AFF"


]A SAMPLE STUDENT RESPONSE: Setting in Fay Weldon's "IND, AFF"


]Robert Olen Butler, Christmas 1910

6. Point of View

Third-Person Narrator

First-Person Narrator


]Achy Obejas, We Came All the Way from Cuba so You Could Dress Like This?


Anton Chekhov, The Lady with the Pet Dog


PERSPECTIVES: Additional Translations of the Final Paragraphs of Anton Chekhov's "The Lady with the Pet Dog"


Anton Chekhov, From "The Lady and the Dog"


Anton Chekhov, From "A Lady with a Dog"


PERSPECTIVE


Anton Chekhov, On Morality in Fiction


Joyce Carol Oates, The Lady with the Pet Dog


PERSPECTIVE: Matthew C. Brennan, Point of View and Plotting in Chekhov's and Oates's "The Lady with the Pet Dog"


]A SAMPLE STUDENT RESPONSE: Point of View in Anton Chekhov's "The Lady with the Pet Dog"


Alice Walker, Roselily

7. Symbolism


Colette, The Hand


Ralph Ellison, Battle Royal


PERSPECTIVE: Mordecai Marcus, "What Is an Initiation Story?"


]A SAMPLE CLOSE READING: An Annotated Section of "Battle Royal"


]A SAMPLE STUDENT RESPONSE: Symbolism Ralph Ellison's in "Battle Royal"


]Peter Meinke, The Cranes

8. Theme


Stephen Crane, The Bride Comes to Yellow Sky


Katherine Mansfield, Miss Brill


Dagoberto Gilb, Love in L.A.


]A SAMPLE STUDENT RESPONSE: Theme in Dagoberto Gilb's "Love in L.A."


]Daley Walker, I am the Grass

9. Style, Tone, and Irony

Style

Tone

Irony


Raymond Carver, Popular Mechanics


]A SAMPLE STUDENT RESPONSE: Minimalist Style in Raymond Carver's "Popular Mechanics"

Susan Minot, Lust


]Lydia Davis, Letter to a Funeral Parlor

10. Combining the Elements of Fiction: A Writing Process

The Elements Together

Mapping the Story

David Updike, Summer


QUESTIONS FOR WRITING: Developing a Topic into a Revised Thesis


A Sample Brainstorming List


A Sample First Thesis


A Sample Revised Thesis


]A SAMPLE STUDENT ANALYSIS: Inaction and Setting in David Updike's "Summer"

APPROACHES TO FICTION

11. A Study of Nathaniel Hawthorne

A Brief Biography and Introduction


Young Goodman Brown


The Minister's Black Veil


The Birthmark


PERSPECTIVES on Hawthorne:


Nathaniel Hawthorne, On Solitude


Nathaniel Hawthorne, On the Power of the Writer's Imagination


Nathaniel Hawthorne, On His Stories


Herman Melville, On Nathaniel Hawthorne's Tragic Vision


]Gaylord Brewer, "The Joys of Secret Sin"

12. A Study of Flannery O'Connor

A Brief Biography and Introduction


A Good Man Is Hard to Find


Good Country People


Revelation


PERSPECTIVES on O'Connor:


Flannery O'Connor, On Faith


Flannery O'Connor, On the Materials of Fiction


Flannery O'Connor, On the Use of Exaggeration and Distortion


Flannery O'Connor, On Theme and Symbol


Josephine Hendin, On O'Connor's Refusal to "Do Pretty"


Claire Kahane, The Function of Violence in O'Connor's Fiction


Edward Kessler, On O'Connor's Use of History


]Time Magazine, On "A Good Man is Hard to Find"

13. A Critical Case Study: William Faulkner's "Barn Burning"


Barn Burning


PERSPECTIVES on Faulkner:


Jane Hiles, Blood Ties in "Barn Burning"


Benjamin DeMott, Abner Snopes as a Victim of Class


Gayle Edward Wilson, Conflict in "Barn Burning"


James Ferguson, Narrative Strategy in "Barn Burning"


QUESTIONS FOR WRITING: Incorporating the Critics


A SAMPLE STUDENT PAPER: The Fires of Class Conflict in William Faulkner's "Barn Burning"

14. A Cultural Case Study: James Joyce's "Eveline"

A Brief Biography and Introduction

Eveline

Documents


(photo) Poole Street, Dublin


(almanac) The Alliance Temperance Almanack, On the Resources of Ireland


(letter) Bridget Burke, A Letter Home from an Irish Emigrant


(essay) A Plot Synopsis of The Bohemian Girl


(poster) The Bohemian Girl



15. Thematic Case Study: Literature of the South


(map) U.S. Bureau of the Census, "The South"


(essay) John Shelton Reed and Dale Volberg Reed, Definitions of the South


(essay) W.J. Cash, The Old and the New South


(movie still) Metro-Goldwyn-Mayer, Gone with the Wind


(lithograph) Currier and Ives, "The Old Plantation Home"


(essay) Irving Howe, The Southern Myth


(painting) John Richards, The Battle of Gettysburg


(essay) Flannery O'Connor, The Regional Writer


(painting) Clyde Broadway, Trinity: Elvis, Jesus, and Robert E. Lee


(photo) Ernest C. Withers, "Bus Station, Colored Waiting Room, Memphis, Tennessee"


(photo) Library of Congress, Elizabeth Eckford at Little Rock Central High School


(photo) Ernest C. Withers, "Sanitation Workers' Strike, Memphis, Tennessee"


(essay) Richard Wright, The Ethics of Living Jim Crow


(collage) Romare Bearden, Watching the Good Trains Go


(essay) Donald R. Noble, The Future of Southern Writing


(essay) Lee Smith, On Southern Change and Permanence

]16. A Thematic Case Study: Humor and Satire


E. Annie Proulx, 55 Miles to the Gas Pump


T.C. Boyle, Carnal Knowledge


]Lee Smith, The Happy Memories Club


]Mark Twain, The Story of the Good Little Boy

Encountering Fiction: Comics


(comic strip) Matt Groening, from Life in Hell


(comic strip) Lynda Barry, Spelling


A COLLECTION OF STORIES

17. An Album of Contemporary Stories


]Martin Amis, The Last Days of Muhammad Atta


]Rick Bass, Her First Elk


Amy Bloom, By-and-by

18. Stories for Further Reading


]Joseph Conrad, An Outpost of Progress


Chitra Banerjee Divakaruni, Clothes


Jamaica Kincaid, Girl


Tim O'Brien, How to Tell a True War Story


Edgar Allan Poe, The Cask of Amontillado


Katherine Anne Porter, The Witness


John Updike, A & P

POETRY

THE ELEMENTS OF POETRY

19. Reading Poetry

Reading Poetry Responsively


Marge Piercy, The Secretary Chant


Robert Hayden, Those Winter Sundays


John Updike, Dog's Death

The Pleasure of Words


William Hathaway, Oh, Oh


A SAMPLE CLOSE READING: An Annotated Version of ÒOh, OhÓ


Robert Francis, Catch


A SAMPLE STUDENT ANALYSIS: Tossing Metaphors Together in Robert Francis's ÒCatchÓ


Elizabeth Bishop, The Fish


Philip Larkin, A Study of Reading Habits


Robert Morgan, Mountain Graveyard


e. e. cummings, l(a


Anonymous, Western Wind


Regina Barreca, Nighttime Fires

Suggestions for Approaching Poetry


Billy Collins, Introduction to Poetry

Encountering Poetry: Images of Poetry in Popular Culture


(poster) Dorothy Parker, Unfortunate Coincidence


(photo) Carl Sandburg, Window


(photo) Philip Levine and Terry Allen, Corporate Head


(cartoon) Roz Chast, The Love Song of J. Alfred Crew


(photo) Tim Taylor, I shake the delicate apparatus


(poster) Eric Dunn and Mike Wigton, National Poetry Slam Poster


(photos) David Huang, National Poetry Slam Photographs


(image) Poetry-portal.com


](webscreen) Ted Kooser, ÒAmerican Life in PoetryÓ


(column) David Allan Evans, ÒNeighborsÓ

Poetry in Popular Forms


Helen Farries, Magic of Love


John Frederick Nims, Love Poem


Bruce Springsteen, You're Missing


S. Pearl Sharp, It's the Law


PERSPECTIVE: Robert Francis, On ÒHardÓ Poetry

Poems for Further Study


Alberto R'os, Seniors




]Alfred, Lord Tennyson, Crossing the Bar


Li Ho, A Beautiful Girl Combs Her Hair


Louisa Lopez, Junior Year Abroad


]Thomas Lux, The Voice You Hear When You Read Silently

20. Writing about Poetry

From Reading to Writing


QUESTIONS FOR RESPONSIVE READING AND WRITING


Elizabeth Bishop, Manners


]A SAMPLE CLOSE READING: An Annotated Version of ÒMannersÓ


]A SAMPLE STUDENT ANALYSIS: Memory in Elizabeth Bishop's ÒMannersÓ

21. Word Choice, Word Order, and Tone

Word Choice


Randall Jarrell, The Death of the Ball Turret Gunner

e. e. cummings, she being Brand

Word Order

Tone


Judith Ortiz Cofer, Common Ground


]Colette Inez, Back When All was Continuous Chuckles


Katharyn Howd Machan, Hazel Tells LaVerne


]A SAMPLE STUDENT RESPONSE: The Tone of Katharyn Howd Machan's ÒHazel Tells LaVerneÓ


Mart'n Espada, Latin Night at the Pawnshop


]Paul Lawrence Dunbar, To a Captious Critic

Diction and Tone in Three Love Poems


Robert Herrick, To the Virgins, to Make Much of Time


Andrew Marvell, To His Coy Mistress


]Sharon Olds, Last Night

Poems for Further Study


]Barbara Hamby, Ode to American English


Thomas Hardy, The Convergence of the Twain


David R. Slavitt, Titanic


]Joanne Diaz, On My Father's Loss of Hearing


Sharon Olds, Sex without Love


John Keats, Ode on a Grecian Urn


Gwendolyn Brooks, We Real Cool


]Joan Murray, We Old Dudes


Alice Jones, The Larynx


Louis Simpson, In the Suburbs

A Note on Reading Translation

Three Translations of a Poem by Sappho


Sappho, Immortal Aphrodite of the broidered throne (translated by Henry T. Wharton)




Sappho, Beautiful-throned, immortal Aphrodite (translated by T. W. Higginson)


Sappho, Prayer to my lady of Paphos (translated by Mary Barnard)

]Three Translations of a Poem by Pablo Neruda


]Pablo Neruda, Verbo (original Spanish version)


]Pablo Neruda, Word (translated by Ben Belitt)


]Pablo Neruda, Word (translated by Kristin Linklater)


]Pablo Neruda, Verb (translated by Ilan Stavins)

22. Images

Poetry's Appeal to the Senses


William Carlos Williams, Poem


Walt Whitman, Cavalry Crossing a Ford


David Solway, Windsurfing


Theodore Roethke, Root Cellar


Matthew Arnold, Dover Beach


Jimmy Santiago Baca, Green Chile

Poems for Further Study


]Amy Lowell, The Pond


]Sheila Wingfield, A Bird


Mary Robinson, London's Summer Morning


William Blake, London


]A SAMPLE STUDENT RESPONSE: Imagery in William Blake's ÒLondonÓ and Mary Robinson's ÒLondon's Summer MorningÓ


Wilfred Owen, Dulce et Decorum Est


Patricia Smith, What It is Like to Be a Black Girl


]Charles Simic, To the One Upstairs


Rainer Maria Rilke, The Panther


Sally Croft, Home-Baked Bread


John Keats, To Autumn


]Kate Clanchy, Spell


Ezra Pound, In a Station of the Metro


]Charles R. Feldstein, Maddie Clifton, 1990-1998


PERSPECTIVE: T. E. Hulme, On the Differences between Poetry and Prose

23. Figures of Speech


William Shakespeare, From Macbeth (Act V, Scene v)

Simile and Metaphor


Margaret Atwood, you fit into me


Emily Dickinson, Presentiment — is that long Shadow — on the lawn —


Anne Bradstreet, The Author to Her Book

Other Figures


Edmund Conti, Pragmatist


Dylan Thomas, The Hand That Signed the Paper


Janice Townley Moore, To a Wasp


J. Patrick Lewis, The Unkindest Cut

Poems for Further Study


]Gary Snyder, How Poetry Comes to Me


]A SAMPLE STUDENT RESPONSE: Figurative Language in Gary Snyder's ÒHow Poetry Comes to MeÓ


Margaret Atwood, February


]William Carlos Williams, To Waken an Old Lady


Ernest Slyman, Lightning Bugs


]Cathy Song, Sunworshippers


William Wordsworth, London, 1802


Jim Stevens, Schizophrenia


John Donne, A Valediction: Forbidding Mourning


Linda Pastan, Marks


Ronald Wallace, Building an Outhouse


Ruth Fainlight, The Clarinettist


PERSPECTIVE: John R. Searle, Figuring Out Metaphors

24. Symbol, Allegory, and Irony

Symbol


Robert Frost, Acquainted with the Night

Allegory


Edgar Allan Poe, The Haunted Palace

Irony


Edwin Arlington Robinson, Richard Cory


]A SAMPLE STUDENT RESPONSE: Symbolism in Edwin Arlington Robinson's ÒRichard CoryÓ


Kenneth Fearing, AD


e. e. cummings, next to of course god america i


Stephen Crane, A Man Said to the Universe

Poems for Further Study


]Bob Hicock, Making It in Poetry


Jane Kenyon, Surprise


Mart'n Espada, Bully


Carl Sandburg, Buttons


]Wallace Stevens, Anecdote of the Jar


William Stafford, Traveling through the Dark


Alden Nowlan, The Bull Moose


Julio Marz‡n, Ethnic Poetry


James Merrill, Casual Wear


Henry Reed, Naming of Parts


]Rachel Hadas, The Compact


Robert Browning, My Last Duchess


William Blake, The Chimney Sweeper


PERSPECTIVE: Ezra Pound, On Symbols

25. Sounds

Listening to Poetry


Anonymous, Scarborough Fair


John Updike, Player Piano




May Swenson, A Nosty Fright


Emily Dickinson, A Bird came down the Walk —


]A SAMPLE STUDENT RESPONSE: Sound in Emily Dickinson's ÒA Bird came down the Walk — Ó


Galway Kinnell, Blackberry Eating

Rhyme


Richard Armour, Going to Extremes


Robert Southey, From The Cataract of Lodore


PERSPECTIVE: David Lenson, On the Contemporary Use of Rhyme

Sound and Meaning


Gerard Manley Hopkins, God's Grandeur

Poems for Further Study


]Thomas Lux, Onomatopoeia


Lewis Carroll [Charles Lutwidge Dodgson], Jabberwocky


William Heyen, The Trains


]Eliza Griswold, Occupation


]Henry Wadsworth Longfellow, The Tide Rises, The Tide Falls


John Donne, Song


Alexander Pope, From An Essay on Criticism


]Haki R. Madhbuti, The B Network


Maxine Hong Kingston, Restaurant


Paul Humphrey, Blow


Robert Francis, The Pitcher


Helen Chasin, The Word Plum


]Howard Nemerov, Because you Asked Me about the Line Between Prose and Poetry

26. Patterns of Rhythm

Some Principles of Meter


Walt Whitman, From Song of the Open Road


William Wordsworth, My Heart Leaps Up

Suggestions for Scanning a Poem


Timothy Steele, Waiting for the Storm


]A SAMPLE STUDENT RESPONSE: Rhythm in Timothy Steele's ÒWaiting for the StormÓ


William Butler Yeats, That the Night Come

Poems for Further Study


Alice Jones, The Foot


A. E. Housman, When I was one-and-twenty


]Rita Dove, Fox Trot Fridays


Robert Herrick, Delight in Disorder


Ben Jonson, Still to Be Neat


William Blake, The Lamb


William Blake, The Tyger


]Carl Sandburg, Chicago


Alfred, Lord Tennyson, The Charge of the Light Brigade




Theodore Roethke, My Papa's Waltz


Norman Stock, What I Said


]Lenard D. Moore, Black Girl Tap Dancing


PERSPECTIVE: Louise Bogan, On Formal Poetry

27. Poetic Forms

Some Common Poetic Forms


A. E. Housman, Loveliest of trees, the cherry now


Robert Herrick, Upon Julia's Clothes

Sonnet


John Keats, On First Looking into Chapman's Homer


William Wordsworth, The World Is Too Much with Us


William Shakespeare, Shall I compare thee to a summer's day?


William Shakespeare, My mistress' eyes are nothing like the sun


Edna St. Vincent Millay, I will put Chaos into fourteen lines


A SAMPLE STUDENT RESPONSE: Fixed Form in Edna St. Vincent Millay's ÒI will put Chaos into fourteen linesÓ


]Seamus Heaney, The Forge


Molly Peacock, Desire


Mark Jarman, Unholy Sonnet

Villanelle


Dylan Thomas, Do not go gentle into that good night


]Wendy Cope, Lonely Heart

Sestina


Algernon Charles Swinburne, Sestina


Florence Cassen Mayers, All-American Sestina

Epigram


Samuel Taylor Coleridge, What Is an Epigram?


A. R. Ammons, Coward


David McCord, Epitaph on a Waiter


Paul Laurence Dunbar, Theology

Limerick


Anonymous, There was a young lady named Bright


Laurence Perrine, The limerick's never averse


Keith Casto, She Don't Bop

Haiku


Matsuo Basho-, Under cherry trees


Carolyn Kizer, After Basho-


Sonia Sanchez, c'mon man hold me

Elegy


]Theodore Roethke, Elegy for Jane

Ode


Percy Bysshe Shelley, Ode to the West Wind

Picture Poem


Michael McFee, In Medias Res

Parody


X. J. Kennedy, A Visit from St. Sigmund




PERSPECTIVES: Robert Morgan, On the Shape of a Poem; Elaine Mitchell, Form

28. Open Form


e. e. cummings, in Just —


Walt Whitman, From I Sing the Body Electric


PERSPECTIVE: Walt Whitman, On Rhyme and Meter


]A SAMPLE STUDENT RESPONSE: The Open Form of Walt Whitman's ÒI Sing the Body ElectricÓ


]Louis Jenkins, The Prose Poem


Galway Kinnell, After Making Love We Hear Footsteps


Kelly Cherry, Alzheimer's


William Carlos Williams, The Red Wheelbarrow


]Natasha Trethewey, Domestic Work, 1937


Gary Gildner, First Practice


Marilyn Nelson Waniek, Emily Dickinson's Defunct


Sharon Olds, Rite of Passage


Julio Marzan, The Translator at the Reception for Latin American Writers


]Robert Morgan, Overalls


Anonymous, The Frog


Tato Laviera, AmeR'can


Peter Meinke, The ABC of Aerobics

Found Poem


Donald Justice, Order in the Streets

29. Combining Elements of Poetry: A Writing Process

The Elements Together

Mapping the Poem

Asking Questions about the Elements


John Donne, Death Be Not Proud


]A SAMPLE CLOSE READING: An Annotated Version of ÒDeath Be Not ProudÓ


A SAMPLE FIRST RESPONSE PAPER

Organizing Your Thoughts


A SAMPLE INFORMAL OUTLINE

The Elements and Theme


A SAMPLE EXPLICATION: The Use of Conventional Metaphors for Death in John Donne's ÒDeath Be Not ProudÓ

APPROACHES TO POETRY

30. A Study of Emily Dickinson

A Brief Biography

An Introduction to Her Work


If I can stop one Heart from breaking


If I shouldn't be alive


The Thought beneath so slight a film —


To make a prairie it takes a clover and one bee




Success is counted sweetest


Water, is taught by thirst


Safe in their alabaster chambers — (1859 version)


Safe in their alabaster chambers — (1861 version)


Portraits are to daily faces


Some keep the Sabbath going to Church —


ÒHeavenÓ — is what I cannot reach!


]HopeÓ is the thing with Feathers


I like a look of Agony


Wild Nights — Wild Nights!


]I reason, Earth is short —


What Soft — Cherubic Creatures —


The Soul selects her own Society —


Much Madness is divinest Sense —


I dwell in Possibility


After great pain, a formal feeling comes —
I heard a Fly buzz

— when I died —


Because I could not stop for Death —
I felt a cleaving in my mind


]A Light exists in Spring


The Bustle in a House


Tell all the Truth but tell it slant —


]A Word dropped careless on a Page


]There is no Frigate like a Book


]I took one Draught of Life


PERSPECTIVES on Dickinson


Emily Dickinson, Dickinson's Description of Herself


Thomas Wentworth Higginson, On Meeting Dickinson for the First Time


Mabel Loomis Todd, The Character of Amherst


Richard Wilbur, On Dickinson's Sense of Privation


Sandra M. Gilbert and Susan Gubar, On Dickinson's White Dress


Cynthia Griffin Wolff, On the Many Voices in Dickinson's Poetry


Paula Bennett, On ÒI heard a Fly buzz — when I died —Ó


Martha Nell Smith, On ÒBecause I could not stop for Death — Ó


Ronald Wallace, Miss Goff


QUESTIONS FOR WRITING: Writing About an Author in Depth


A SAMPLE IN-DEPTH STUDY: Religious Faith in Four Poems by Emily Dickinson


ÒFaithÓ is a fine invention


I know that He exists


I never saw a Moor —


Apparently with no surprise

31. A Study of Robert Frost

A Brief Biography

An Introduction to His Work


The Road Not Taken


The Pasture




Mowing


]My November Guest


]Storm Fear


Mending Wall


Home Burial


After Apple-Picking


Birches


ÒOut, Out — Ó


Fire and Ice


Stopping by Woods on a Snowy Evening


Nothing Gold Can Stay


]Unharvested


Design


Neither Out Far nor In Deep


The Silken Tent


]The Most of It


PERSPECTIVES on Frost:


Robert Frost, ÒIn WhiteÓ: an Early Version of ÒDesignÓ


Robert Frost, On the Living Part of a Poem


Amy Lowell, On Frost's Realistic Technique


Robert Frost, On the Figure a Poem Makes


Robert Frost, On the Way to Read a Poem


Herbert R. Coursen Jr., A Parodic Interpretation of ÒStopping by Woods on a Snowy EveningÓ


Blanche Farley, The Lover Not Taken —


Peter D. Poland, On ÒNeither Out Far nor In DeepÓ

32. A Study of Langston Hughes

A Brief Biography


The Negro Speaks of Rivers

An Introduction to His Life and Work


I, Too


Negro


Danse Africaine


Mother to Son


Dream Variations


The Weary Blues


Formula


]Esthete in Harlem


Lenox Avenue: Midnight


Song for a Dark Girl


Red Silk Stockings


Rent-Party Shout: For a Lady Dancer


]Drum


]Park Bench


Ballad of the Landlord


]Morning After


Dream Boogie


]125th Street


Harlem


Un-American Investigators


Old Walt


Dinner Guest: Me


Frederick Douglass: 1817-1895


PERSPECTIVES on Hughes


Langston Hughes, On Harlem Rent Parties


Donald B. Gibson, The Essential Optimism of Hughes and Whitman


James A. Emanuel, Hughes's Attitudes toward Religion


Richard K. Barksdale, On Censoring ÒBallad of the LandlordÓ


David Chinitz, The Romanticization of Africa in the 1920s

]33. A Study of Julia Alvarez: Five Poems

A Brief Biography

An Introduction to Her Work


(essay) ] Julia Alvarez, On Writing ÒQueens, 1963Ó


(poem) ] Julia Alvarez, Queens, 1963


(interview) Marny Requa, From an Interview with Julia Alvarez


(essay) ] Julia Alvarez, Housekeeping Cages


(essay) ] Julia Alvarez, On Writing ÒDustingÓ


(poem) ] Julia Alvarez, Dusting


(essay) ] Julia Alvarez, On Writing ÒIroning Their ClothesÓ


(poem) ] Julia Alvarez, Ironing Their Clothes


(essay) ] Julia Alvarez, On Writing ÒSonnet 42Ó


(poem) ] Julia Alvarez, Sonnet 42


(manuscript) ] Julia Alvarez, Four Drafts of Sonnet 42: A Poet's Writing Process


(essay) ] Julia Alvarez, On Writing ÒFirst MuseÓ


(poem) ] Julia Alvarez, First Muse


(essay) Kelli Lyon Johnson, Mapping an Identity

34. Critical Case Study: T. S. Eliot's ÒThe Love Song of J. Alfred PrufrockÓ

An Introduction to His Work


T. S. Eliot, The Love Song of J. Alfred Prufrock


PERSPECTIVES on Eliot


Elisabeth Schneider, Hints of Eliot in Prufrock


Barbara Everett, The Problem of Tone in Prufrock


Michael L. Baumann, The ÒOverwhelming QuestionÓ for Prufrock


Frederik L. Rusch, Society and Character in ÒThe Love Song of J. Alfred PrufrockÓ


Robert Sward, A Personal Analysis of ÒThe Love Song of J. Alfred PrufrockÓ

A Thematic Case Study: Border Crossings (color insert)


(poem) Phillis Wheatley, On Being Brought from Africa to America




(painting) William Turner, The Slave Ship


(diagram) An 18th Century Slave Ship


(poster) A 1784 Slave Auction Poster


(poem) Wole Soyinka, Telephone Conversation


(poster) Columbia Pictures, Guess Who's Coming to Dinner?


(poem) Pat Mora, Legal Alien


(collage) Jacalyn L—pez Garcia, I Just Wanted to Be Me


(poem) Sandra M. Gilbert, Mafioso


(photo) ÒBaggage Examined Here,Ó Ellis Island


(poem) Chitra Banerjee Divakaruni, Indian Movie, New Jersey


(album cover) Rawal Films, Ladki Pasano Hai (I Like This Girl)


(poem) Janice Mirikatani, Recipe


(photo) Chiaki Tsukumo, Girl and Licca Doll


(poem) Thomas Lynch, Liberty


(photo) Alex MacLean, Somerville, Massachusetts

35. A Thematic Case Study: Love and Longing


Christopher Marlowe, The Passionate Shepherd to His Love


William Shakespeare, Not marble, nor the gilded monuments


Anne Bradstreet, To My Dear and Loving Husband


Elizabeth Barret Browning, How Do I Love Thee? Let Me Count The Ways


Edna St. Vincent Millay, Recuerdo


e. e. cummings, since feeling is first


]Mark Doty, The Embrace


]Billie Bolton, Memorandum

36. A Thematic Case Study: Teaching and Learning


]Robert Bly, Gratitude to Old Teachers


Linda Pastan, Pass/Fail


Paul Zimmer, Zimmer's Head Thudding Against the Blackboard


]Richard Hague, Directions for Resisting the SAT


Mark Halliday, Graded Paper


Judy Page Heitzman, A Schoolroom on the Second Floor of the Knitting Mill


Richard Wakefield, In a Poetry Workshop


]Maggie Anderson, The Thing You Must Remember


Jeffrey Harrison, Fork


PERSPECTIVE: Jeffrey Harrison, On ÒForkÓ as a Work of Fiction



]37. A Thematic Case Study: Humor and Satire


]Fleur Adcock, The Video


John Ciardi, Suburban


]Daisy Fried, Wit's End


]Ronald Wallace, In a Rut


Howard Nemerov, Walking the Dog


]Peter Schmitt, Friends with Numbers


]Mart'n Espada, The Community College Revises its Curriculum in Response to Changing Demographics


M. Carl Holman, Mr. Z


Gary Soto, Mexicans Begin Jogging


Bob Hicok, Spam Leaves an Aftertaste


]Thomas Lux, Commercial Leech Farming Today


]Ann Lauinger, Marvell Noir

AN ANTHOLOGY OF POEMS

38. An Album of Contemporary Poems


Michelle Boisseau, Self-Pity's Closet


Billy Collins, Marginalia


]Tony Hoagland, America


]Rachel Loden, Locked Ward, Newtown, Connecticut


]Susan Minot, My Husband's Back


Alberto R'os, The Gathering Evening


Cathy Song, A Poet in the House


William Trowbridge, Poet's Corner

39. A Collection of Poems


Anonymous, Bonny Barbara Allan


William Blake, The Garden of Love


William Blake, Infant Sorrow


Anne Bradstreet, Before the Birth of One of Her Children


]William Cullen Bryant, To a Waterfowl


]Robert Burns, The Red, Red Rose


George Gordon, Lord Byron, She Walks in Beauty


Lucille Clifton, this morning (for the girls of easter high)


Samuel Taylor Coleridge, Kubla Khan: or, a Vision in a Dream


]Richard Crashaw, An Epitaph upon a Young Married Couple, Dead and Buried Together


e. e. cummings, Buffalo Bill's


]John Donne, The Apparition


John Donne, The Flea


George Eliot [Mary Ann Evans], In a London Drawingroom


]Charlotte Perkins Gilman, Whatever Is


Thomas Hardy, Hap


George Herbert, The Collar


Gerard Manley Hopkins, Pied Beauty


Gerard Manley Hopkins, The Windhover


A. E. Housman, Is my team ploughing


A. E. Housman, To an Athlete Dying Young


]Julia Ward Howe, Battle-Hymn of the Republic


Ben Jonson, To Celia


]John Keats, The Human Seasons


John Keats, La Belle Dame sans Merci


Yusef Komunyakaa, Slam, Dunk, and Hook


]Ted Kooser, A Death at the Office


John Milton, When I consider how my light is spent


]Christina Georgina Rossetti, Some Ladies Dress in Muslin Full and White


Christina Georgina Rossetti, Promises Like Pie Crusts


William Shakespeare, That time of year thou mayst in me behold


]William Shakespeare, When forty winters shall besiege thy brow


Percy Bysshe Shelley, Ozymandias


]Lydia Huntley Sigourney, Indian Names


Wallace Stevens, The Emperor of Ice-Cream


Alfred, Lord Tennyson, Ulysses


Walt Whitman, One's-Self I Sing


Walt Whitman, When I Heard the Learn'd Astronomer


Miller Williams, Thinking about Bill, Dead of AIDS


William Carlos Williams, This Is Just to Say


]William Wordsworth, A Slumber Did My Spirit Seal


]William Wordsworth, The Solitary Reaper


William Wordsworth, Mutability


William Butler Yeats, Crazy Jane Talks with the Bishop


William Butler Yeats, Leda and the Swan

DRAMA

THE STUDY OF DRAMA

40. Reading Drama

Reading Drama Responsively


Susan Glaspell, Trifles


A SAMPLE CLOSE READING: An Annotated Scene from Trifles


PERSPECTIVE: Susan Glaspell, From the Short Story Version of Trifles

Elements of Drama


]Michael Hollinger, Naked Lunch

Drama in Popular Forms


Larry David, ÒThe Pitch,Ó a Seinfeld Episode


PERSPECTIVE: Geoffrey O'Brien, On Seinfeld as a Moneymaker




Kari Lizer, ÒDolls and Dolls,Ó a Will & Grace Episode

41. Writing about Drama

From Reading to Writing


QUESTIONS FOR RESPONSIVE READING AND WRITING


A SAMPLE STUDENT PAPER: The Feminist Evidence in Susan Glaspell's Trifles

42. A Study of Sophocles

Theatrical Conventions of Geek Drama

Tragedy


Sophocles, Oedipus the King (Translated by Robert Fagles)


PERSPECTIVES on Sophocles:


Aristotle, On Tragic Character


Sigmund Freud, On the Oedipus Complex


Sophocles, Another Translation of a Scene from Oedipus the King


Muriel Rukeyser, On Oedipus the King


David Wiles, On Oedpius the King as a Political Play

43. A Study of William Shakespeare

Shakespeare's Theater

The Range of Shakespeare's Drama: History, Comedy, and Tragedy

A Note on Reading Shakespeare


William Shakespeare, Othello the Moor of Venice


PERSPECTIVES on Shakespeare:


The Mayer of London, Objections to the Elizabethan Theater


Lisa Jardin, On Boy Actors in Female Roles


Samuel Johnson, On Shakespeare's Characters


Jane Adamson, On Desdemona's Role in Othello


David Bevington, On Othello's Heroic Struggle


James Kincaid, On the Value of Comedy in the Face of Tragedy

44. Modern Drama

Realism

Naturalism

Theatrical Conventions of Modern Drama


Henrik Ibsen, A Doll House


(Translated by Rolf Fjelde)


PERSPECTIVE: Henrik Ibsen, Notes for A Doll House

45. A Critical Case Study: Henrik Ibsen's A Doll House


PERSPECTIVES for A Doll House


Anonymous, A Nineteenth-Century Husband's Letter to His Wife


Barry Witham and John Lutterbie, A Marxist Approach to A Doll House




Carol Strongin Tufts, A Psychoanalytic Reading of Nora


Joan Templeton, Is A Doll House a Feminist Text?


QUESTIONS FOR WRITING: Applying a Critical Strategy


A SAMPLE STUDENT PAPER: On the Other Side of the Slammed Door in Henrik Ibsen's A Doll House

46. A Thematic Case Study: An Album of Contemporary Humor and Satire


]Woody Allen, Old Saybrook


Jane Anderson, The Reprimand


]David Ives, Moby-Dude, Or: The Three-Minute Whale


John Leguizamo, Mambo Mouth


]Rich Orloff, Playwriting 101: The Rooftop Lesson

A COLLECTION OF PLAYS

47. Plays for Further Reading


]David Henry Hwang, Trying to Find Chinatown


]Jane Martin, Rodeo


Arthur Miller, Death of a Salesman


PERSPECTIVES on Death of a Salesman:


Arthur Miller, Tragedy and the Common Man


Arthur Miller, On Biff and Willy Loman


Tennessee Williams, The Glass Menagerie


PERSPECTIVES on The Glass Menagerie:


Tennessee Williams, Production Notes to The Glass Menagerie


Tennessee Williams, On Theme


]August Wilson, Fences


PERSPECTIVE: David Savran, An Interview with August Wilson

CRITICAL THINKING AND WRITING

48. Critical Strategies for Reading

Critical Thinking

The Literary Canon: Diversity and Controversy

Formalist Strategies

Biographical Strategies

Psychological Strategies

Historical Strategies

Gender Strategies

Mythological Strategies

Reader-Response Strategies

Deconstructionist Strategies

Selected Bibliography


PERSPECTIVES on Critical Reading


Susan Sontag, Against Interpretation


Andrew P. Debicki, New Criticism and Deconstructionism: Two Attitudes in Teaching Poetry


Peter Rabinowitz, On Close Readings


Harriet Hawkins, Should We Study King Kong or King Lear?


Morris Dickstein, On the Social Responsibility of the Critic

49. Reading and Writing

The Purpose and Value of Writing about Literature

Reading the Work Closely

Annotating the Text and Journal Note Taking

Choosing a Topic

Developing a Thesis

Arguing about Literature


QUESTIONS FOR WRITING: Arguing About Literature

Organizing a Paper

Writing a Draft

Revising and Editing


QUESTIONS FOR WRITING: A Revision Checklist

Manuscript Form

Types of Writing Assignments


Emily Dickinson, There's a certain Slant of light


A SAMPLE STUDENT EXPLICATION: A Reading of Emily Dickinson's


"There's a certain Slant of light"


A SAMPLE STUDENT ANALYSIS: John Updike's "A&P" as a State of Mind


A SAMPLE STUDENT COMPARISON: The Struggle for Women's Self-Definition in James Joyce's "Eveline" and Henrik Ibsen's A Doll House

50. The Literary Research Paper

Choosing a Topic

Finding Sources

Evaluating Sources and Taking Notes

Developing a Thesis and Organizing the Paper

Revising

Documenting Sources

A SAMPLE STUDENT RESEARCH PAPER: How the Narrator Cultivates William Faulkner's "A Rose for Emily"

51. Taking Essay Examinations

Preparing for an Essay Exam

Types of Exams

Strategies for Writing Essay Exams

Glossary of Literary Terms

Indexes

Index of First Lines

Index of Authors and Titles

Index of Terms