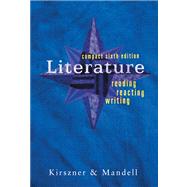 Questions About This Book?
What version or edition is this?
This is the 6th edition with a publication date of 3/13/2006.
What is included with this book?
The New copy of this book will include any supplemental materials advertised. Please check the title of the book to determine if it should include any CDs, lab manuals, study guides, etc.
The Used copy of this book is not guaranteed to include any supplemental materials. Typically, only the book itself is included.
Summary
This compact edition retains all the features that have made the full edition so successful in a smaller, affordable volume: The first compact three-genre introduction to literature text to address the changing canon is now the first to include a guide for writing about literature-with handbook coverage of critical thinking, argument, and the writing process. Combining the broadest selection of literature available with time-proven and class-tested instruction, the sixth edition remains the most responsive introduction to literature text available.
Table of Contents
Authors Represented by Multiple Works
xxxvii
Preface
xliii
PART 1 A GUIDE TO WRITING ABOUT LITERATURE
1
(134)

| | |
| --- | --- |
| | 1 UNDERSTANDING LITERATURE |

3
(14)
3
(2)
5
(1)
6
(3)

| | |
| --- | --- |
| | Luisa Valenzuela, All about Suicide |

7
(1)

| | |
| --- | --- |
| | Wole Soyinka, Telephone Conversation |

8
(1)
9
(2)
11
(3)

| | |
| --- | --- |
| | The Function of Literary Criticism |

14
(3)

| | |
| --- | --- |
| | Checklist: Evaluating Literary Criticism |

15
(2)

| | |
| --- | --- |
| | 2 READING AND WRITING ABOUT LITERATURE |

17
(26)
17
(4)
17
(1)
18
(1)

| | |
| --- | --- |
| | Checklist: Using Highlighting Symbols |

19
(1)

| | |
| --- | --- |
| | Maya Angelou, My Arkansas |

19
(2)
20
(1)
21
(22)
22
(6)
28
(1)

| | |
| --- | --- |
| | Revising and Editing an Essay |

29
(14)
34
(1)

| | |
| --- | --- |
| | Checklist: Conventions of Writing about Literature |

35
(1)

| | |
| --- | --- |
| | Exercise: Two Student Papers |

36
(1)

| | |
| --- | --- |
| | Student Paper: Initiation into Adulthood |

37
(3)

| | |
| --- | --- |
| | Student Paper: Hard Choices |

40
(3)

| | |
| --- | --- |
| | 3 WRITING SPECIAL KINDS OF PAPERS |

43
(35)

| | |
| --- | --- |
| | Writing a Comparison-Contrast |

43
(8)

| | |
| --- | --- |
| | Checklist: Writing a Comparison-Contrast |

44
(1)

| | |
| --- | --- |
| | Comparing Two Fictional Characters |

45
(5)

| | |
| --- | --- |
| | Student Paper: The Dangerous Consequences of Societal Limbo |

45
(5)

| | |
| --- | --- |
| | Suggested Topics for Comparison-Contrast Papers |

50
(1)
51
(7)

| | |
| --- | --- |
| | Checklist: Writing an Explication |

51
(1)
51
(6)

| | |
| --- | --- |
| | Student Paper: A Lingering Doubt |

52
(5)

| | |
| --- | --- |
| | Suggested Topics for Explication Papers |

57
(1)

| | |
| --- | --- |
| | Writing a Character Analysis |

58
(5)

| | |
| --- | --- |
| | Checklist: Writing a Character Analysis |

58
(1)

| | |
| --- | --- |
| | Analyzing a Character in a Play |

59
(4)

| | |
| --- | --- |
| | Student Paper: Linda Loman: Breaking the Mold |

59
(4)

| | |
| --- | --- |
| | Suggested Topics for Character Analysis Papers |

63
(1)

| | |
| --- | --- |
| | Writing about a Work's Historical Context |

63
(8)

| | |
| --- | --- |
| | Checklist: Writing about a Work's Historical Context |

64
(1)

| | |
| --- | --- |
| | Setting a Literary Work in Its Historical Context |

64
(6)

| | |
| --- | --- |
| | Student Paper: Dreaming of Home |

65
(5)

| | |
| --- | --- |
| | Suggested Topics for Historical Context Papers |

70
(1)

| | |
| --- | --- |
| | 4 THINKING CRITICALLY ABOUT YOUR WRITING |

71
(3)

| | |
| --- | --- |
| | Distinguishing Fact from Opinion |

71
(2)

| | |
| --- | --- |
| | Evaluating Supporting Evidence |

73
(1)

| | |
| --- | --- |
| | Detecting Bias in Your Writing |

73
(1)
74
(4)
74
(1)
75
(1)
76
(1)

| | |
| --- | --- |
| | Recognizing Logical Fallacies |

76
(2)

| | |
| --- | --- |
| | 5 WRITING LITERARY ARGUMENTS |

78
(16)

| | |
| --- | --- |
| | Planning a Literary Argument |

78
(3)

| | |
| --- | --- |
| | Choosing a Debatable Topic |

78
(1)

| | |
| --- | --- |
| | Developing an Argumentative Thesis |

79
(1)

| | |
| --- | --- |
| | Checklist: Developing an Argumentative Thesis |

79
(1)
80
(1)

| | |
| --- | --- |
| | Considering Your Audience |

80
(1)

| | |
| --- | --- |
| | Refuting Opposing Arguments |

81
(1)

| | |
| --- | --- |
| | Using Evidence Effectively |

81
(3)

| | |
| --- | --- |
| | Supporting Your Literary Argument |

81
(1)
82
(1)
83
(1)

| | |
| --- | --- |
| | Using Visuals as Evidence |

84
(1)

| | |
| --- | --- |
| | Organizing a Literary Argument |

84
(10)

| | |
| --- | --- |
| | Writing a Literary Argument |

85
(10)

| | |
| --- | --- |
| | Student Paper: The Politics of "Everyday Use" |

86
(8)

| | |
| --- | --- |
| | 6 WRITING A RESEARCH PAPER |

94
(15)
94
(1)

| | |
| --- | --- |
| | Doing Exploratory Research |

94
(1)
95
(1)
95
(3)
95
(1)
96
(2)
98
(1)
99
(1)

| | |
| --- | --- |
| | Drafting a Thesis Statement |

100
(1)
100
(1)
101
(1)

| | |
| --- | --- |
| | Sample Research Paper with MLA Documentation |

102
(7)

| | |
| --- | --- |
| | Student Paper: And Again She Makes the Journey: Character and Act in Eudora Welty's "A Worn Path" |

102
(7)

| | |
| --- | --- |
| | 7 DOCUMENTING SOURCES AND AVOIDING PLAGIARISM |

109
(17)
109
(3)

| | |
| --- | --- |
| | Document All Material That Requires Documentation |

110
(1)

| | |
| --- | --- |
| | Enclose Borrowed Words in Quotation Marks |

110
(1)

| | |
| --- | --- |
| | Do Not Imitate a Source's Syntax and Phrasing |

111
(1)

| | |
| --- | --- |
| | Differentiate Your Words from Those of Your Source |

111
(1)

| | |
| --- | --- |
| | Checklist: Plagiarism and Internet Sources |

112
(1)
112
(14)

| | |
| --- | --- |
| | Parenthetical References in the Text |

112
(4)

| | |
| --- | --- |
| | Checklist: Guidelines for Punctuating Parenthetical References |

113
(3)
116
(9)
125
(1)

| | |
| --- | --- |
| | 8 WRITING ESSAY EXAMS ABOUT LITERATURE |

126
(9)

| | |
| --- | --- |
| | Planning an Essay Exam Answer |

126
(3)
126
(1)

| | |
| --- | --- |
| | Consider Your Audience and Purpose |

127
(1)

| | |
| --- | --- |
| | Read through the Entire Exam |

127
(1)

| | |
| --- | --- |
| | Read Each Question Carefully |

127
(2)
129
(1)

| | |
| --- | --- |
| | Shaping an Essay Exam Answer |

129
(1)
129
(1)
130
(1)

| | |
| --- | --- |
| | Drafting and Revising an Essay Exam Answer |

130
(7)

| | |
| --- | --- |
| | Sample Student Essay Exam Answer |

131
(4)
PART 2 FICTION
135
(520)
137
(12)

| | |
| --- | --- |
| | Origins of Modern Fiction |

137
(5)
138
(4)

| | |
| --- | --- |
| | The History of the Short Story |

142
(1)
142
(1)

| | |
| --- | --- |
| | Ernest Hemingway, Hills Like White Elephants |

143
(4)

| | |
| --- | --- |
| | Recognizing Kinds of Fiction |

147
(2)

| | |
| --- | --- |
| | 10 FICTION SAMPLER: THE SHORT-SHORT |

149
(1)

| | |
| --- | --- |
| | Gary Gildner, Sleepy Time Gal |

150
(2)

| | |
| --- | --- |
| | Jonathan Safran Foer, A Primer for the Punctuation of Heart Disease |

152
(5)

| | |
| --- | --- |
| | Margaret Atwood, Happy Endings |

157
(3)
160
(1)

| | |
| --- | --- |
| | Amanda Holzer, Love and Other Catastrophes: A Mix Tape |

161
(1)

| | |
| --- | --- |
| | Monica Ware, Mislaid Plans |

162
(2)

| | |
| --- | --- |
| | 11 READING AND WRITING ABOUT FICTION |

164
(1)
164
(1)
165
(1)

| | |
| --- | --- |
| | Alberto Alvaro Rios, The Secret Lion |

165
(6)
171
(18)
171
(4)
175
(4)

| | |
| --- | --- |
| | Student Paper: Symbols in "The Secret Lion" (First Draft) |

176
(3)

| | |
| --- | --- |
| | Revising and Editing an Essay |

179
(26)

| | |
| --- | --- |
| | Student Paper: Symbols in "The Secret Lion" (Second Draft) |

180
(4)

| | |
| --- | --- |
| | Student Paper: "The Secret Lion": Everything Changes (Final Draft) |

184
(5)
189
(3)
189
(1)
190
(1)
191
(1)

| | |
| --- | --- |
| | Checklist: Writing about Plot |

192
(1)

| | |
| --- | --- |
| | Kate Chopin, The Story of an Hour |

192
(3)

| | |
| --- | --- |
| | Naguib Mahfouz, Half a Day |

195
(4)
199
(6)

| | |
| --- | --- |
| | William Faulkner, A Rose for Emily |

205
(11)

| | |
| --- | --- |
| | WRITING SUGGESTIONS: Plot |

213
(3)
216
(22)

| | |
| --- | --- |
| | Round and Flat Characters |

216
(1)

| | |
| --- | --- |
| | Dynamic and Static Characters |

217
(1)
218
(1)

| | |
| --- | --- |
| | Checklist: Writing about Character |

218
(1)
219
(6)

| | |
| --- | --- |
| | Katherine Mansfield, Miss Brill |

225
(5)

| | |
| --- | --- |
| | Gish Jen, The Water Faucet Vision |

230
(8)
238
(14)

| | |
| --- | --- |
| | WRITING SUGGESTIONS: Character |

250
(1)
251
(31)
252
(1)
252
(1)
253
(2)

| | |
| --- | --- |
| | Checklist: Writing about Setting |

254
(1)
255
(5)

| | |
| --- | --- |
| | Sherman J. Alexie, This Is What It Means to Say Phoenix, Arizona |

260
(10)

| | |
| --- | --- |
| | Ralph Ellison, Battle Royal |

270
(12)

| | |
| --- | --- |
| | Tillie Olsen, I Stand Here Ironing |

282
(9)

| | |
| --- | --- |
| | WRITING SUGGESTIONS: Setting |

290
(1)
291
(1)
291
(3)
292
(2)
294
(2)
294
(1)

| | |
| --- | --- |
| | Limited Omniscient Narrators |

295
(1)
295
(1)

| | |
| --- | --- |
| | Selecting an Appropriate Point of View |

296
(4)

| | |
| --- | --- |
| | Checklist: Selecting an Appropriate Point of View: Review |

299
(1)

| | |
| --- | --- |
| | Checklist: Writing about Point of View |

300
(1)

| | |
| --- | --- |
| | Richard Wright, Big Black Good Man |

300
(11)

| | |
| --- | --- |
| | Edgar Allan Poe, The Cask of Amontillado |

311
(7)

| | |
| --- | --- |
| | William Faulkner, Barn Burning |

318
(14)

| | |
| --- | --- |
| | Chitra Banerjee Divakaruni, The Disappearance |

332
(9)

| | |
| --- | --- |
| | WRITING SUGGESTIONS: Point of View |

340
(1)

| | |
| --- | --- |
| | 16 STYLE, TONE, AND LANGUAGE |

341
(38)
341
(1)
341
(2)

| | |
| --- | --- |
| | Formal and Informal Diction |

343
(2)
345
(1)
345
(2)

| | |
| --- | --- |
| | Checklist: Writing about Style, Tone, and Language |

346
(1)
347
(6)

| | |
| --- | --- |
| | Flannery O'Connor, A Good Man Is Hard to Find |

353
(13)

| | |
| --- | --- |
| | Charlotte Perkins Gilman, The Yellow Wallpaper |

366
(13)

| | |
| --- | --- |
| | Tim O'Brien, The Things They Carried |

379
(15)

| | |
| --- | --- |
| | WRITING SUGGESTIONS: Style, Tone, and Language |

393
(1)

| | |
| --- | --- |
| | 17 SYMBOL, ALLEGORY, AND MYTH |

394
(1)
394
(2)
395
(1)
395
(1)
396
(2)
398
(2)

| | |
| --- | --- |
| | Checklist: Writing about Symbol, Allegory, and Myth |

399
(1)

| | |
| --- | --- |
| | Jorge Luis Borges, The Book of Sand |

400
(4)

| | |
| --- | --- |
| | Shirley Jackson, The Lottery |

404
(8)

| | |
| --- | --- |
| | Alice Walker, Everyday Use |

412
(8)

| | |
| --- | --- |
| | Raymond Carver, Cathedral |

420
(12)

| | |
| --- | --- |
| | Nathaniel Hawthorne, Young Goodman Brown |

432
(13)

| | |
| --- | --- |
| | WRITING SUGGESTIONS: Symbol, Allegory, and Myth |

443
(1)
444
(37)
445
(1)
446
(2)

| | |
| --- | --- |
| | Checklist: Writing about Theme |

448
(1)

| | |
| --- | --- |
| | Eudora Welty, A Worn Path |

448
(8)

| | |
| --- | --- |
| | David Michael Kaplan, Doe Season |

456
(12)

| | |
| --- | --- |
| | D.H. Lawrence, The Rocking-Horse Winner |

468
(13)

| | |
| --- | --- |
| | Hisaye Yamamoto, Seventeen Syllables |

481
(15)

| | |
| --- | --- |
| | WRITING SUGGESTIONS: Theme |

492
(2)
494
(50)

| | |
| --- | --- |
| | Fiction in Film: John Updike's "A&P" |

496
(2)

| | |
| --- | --- |
| | Fiction in Film: Tillie Olsen's "I Stand Here Ironing" |

498
(2)

| | |
| --- | --- |
| | Fiction in Film: Alice Walker's "Everyday Use" |

500
(2)

| | |
| --- | --- |
| | Fiction in Film: Raymond Carver's "Cathedral" |

502
(2)

| | |
| --- | --- |
| | Fiction in Film: Eudora Welty's "A Worn Path" |

504
(2)

| | |
| --- | --- |
| | 20 JOYCE CAROL OATES'S "WHERE ARE YOU GOING, WHERE HAVE YOU BEEN?": A CASEBOOK FOR READING, RESEARCH, AND WRITING |

506
(3)

| | |
| --- | --- |
| | Joyce Carol Oates, Where Are You Going, Where Have You Been? |

509
(13)

| | |
| --- | --- |
| | Joyce Carol Oates, When Characters from the Page Are Made Flesh on the Screen |

522
(4)

| | |
| --- | --- |
| | Gretchen Schulz and R.J.R. Rockwood, from In Fairyland, without a Map: Connie's Exploration Inward in Joyce Carol Oates's "Where Are You Going, Where Have You Been?" |

526
(4)

| | |
| --- | --- |
| | Mike Tierce and John Michael Crafton, from Connie's Tambourine Man: A New Reading of Arnold Friend |

530
(3)

| | |
| --- | --- |
| | Bob Dylan, It's All Over Now, Baby Blue |

533
(1)

| | |
| --- | --- |
| | Laura Kalpakian, from a review of Where Are You Going, Where Have You Been?: Selected Early Stories |

534
(3)

| | |
| --- | --- |
| | Don Moser, from The Pied Piper of Tucson |

537
(5)

| | |
| --- | --- |
| | Anonymous, The Pied Piper of Hamelin |

542
(2)

| | |
| --- | --- |
| | Charles Perrault, Little Red Riding Hood |

544
(10)

| | |
| --- | --- |
| | Topics for Further Research |

545
(122)

| | |
| --- | --- |
| | Student Paper: Mesmerizing Men and Vulnerable Teens: Power Relationships in "Where Are You Going, Where Have You Been?" and "Teenage Wasteland" |

547
(7)

| | |
| --- | --- |
| | 21 FICTION FOR FURTHER READING |

554
(128)

| | |
| --- | --- |
| | James Baldwin, Sonny's Blues |

554
(22)

| | |
| --- | --- |
| | Toni Cade Bambara, The Lesson |

576
(6)

| | |
| --- | --- |
| | T. Coraghessan Boyle, Greasy Lake |

582
(7)

| | |
| --- | --- |
| | Louise Erdrich, The Red Convertible |

589
(7)

| | |
| --- | --- |
| | Gabriel Garcia Márquez, A Very Old Man with Enormous Wings |

596
(5)
601
(4)

| | |
| --- | --- |
| | Franz Kafka, A Hunger Artist |

605
(6)

| | |
| --- | --- |
| | Flannery O'Connor, Everything That Rises Must Converge |

611
(11)

| | |
| --- | --- |
| | Edgar Allan Poe, The Tell-Tale Heart |

622
(3)

| | |
| --- | --- |
| | Katherine Anne Porter, The Jilting of Granny Weatherall |

625
(7)

| | |
| --- | --- |
| | John Steinbeck, The Chrysanthemums |

632
(8)
640
(8)

| | |
| --- | --- |
| | Anne Tyler, Teenage Wasteland |

648
(7)
PART 3 POETRY
655
(1)
657
(366)
657
(1)
658
(1)
659
(5)
664
(1)

| | |
| --- | --- |
| | William Shakespeare, That time of year thou mayst in me behold |

665
(1)

| | |
| --- | --- |
| | Louis Zukofsky, I walk in the old street |

665
(1)
666
(1)

| | |
| --- | --- |
| | Recognizing Kinds of Poetry |

667
(4)
667
(1)
667
(2)

| | |
| --- | --- |
| | 23 POETRY SAMPLER: VISUAL POETRY |

669
(7)

| | |
| --- | --- |
| | George Herbert, Easter Wings |

671
(1)
672
(1)

| | |
| --- | --- |
| | Greg Williamson, Group Photo with Winter Trees |

672
(1)

| | |
| --- | --- |
| | Charles Bernstein, this poem intentionally left blank |

673
(1)

| | |
| --- | --- |
| | Ian Hamilton Finlay, Acrobats |

673
(1)

| | |
| --- | --- |
| | Reed Altemus and Jim Leftwich, Flake upper phase |

674
(1)

| | |
| --- | --- |
| | Bob Grumman, Mathemaku No. 10 |

675
(1)

| | |
| --- | --- |
| | 24 READING AND WRITING ABOUT POETRY |

676
(1)
676
(1)
677
(1)

| | |
| --- | --- |
| | Robert Hayden, Those Winter Sundays |

677
(1)
678
(1)
679
(18)
679
(3)
682
(5)

| | |
| --- | --- |
| | Student Paper: A Comparison of Two Poems about Fathers (First Draft) |

683
(4)

| | |
| --- | --- |
| | Revising and Editing an Essay |

687
(15)

| | |
| --- | --- |
| | Student Paper: A Comparison of Two Poems about Fathers (Second Draft) |

688
(4)

| | |
| --- | --- |
| | Student Paper: Digging for Memories (Final Draft) |

692
(5)
697
(27)

| | |
| --- | --- |
| | Emily Dickinson, I'm nobody! Who are you? |

697
(1)
697
(1)

| | |
| --- | --- |
| | Louise Glück, Gretel in Darkness |

698
(2)

| | |
| --- | --- |
| | Leonard Adamé, My Grandmother Would Rock Quietly and Hum |

700
(1)
701
(1)

| | |
| --- | --- |
| | Robert Browning, My Last Duchess |

702
(3)

| | |
| --- | --- |
| | FURTHER READING: The Speaker in the Poem |

705
(1)

| | |
| --- | --- |
| | Leslie Marmon Silko, Where Mountain Lion Lay Down with Deer |

705
(3)

| | |
| --- | --- |
| | Janice Mirikitani, Suicide Note 706 Pat Mora, Veiled |

708
(1)
709
(1)

| | |
| --- | --- |
| | Robert Frost, Fire and Ice |

709
(1)

| | |
| --- | --- |
| | Thomas Hardy, The Man He Killed |

710
(1)
711
(3)

| | |
| --- | --- |
| | FURTHER READING: The Tone of the Poem |

714
(1)

| | |
| --- | --- |
| | Adam Zagajewski, Try to Praise the Mutilated World |

714
(1)

| | |
| --- | --- |
| | William Wordsworth, The World Is Too Much with Us |

715
(1)

| | |
| --- | --- |
| | Claude McKay, The White City |

716
(1)

| | |
| --- | --- |
| | Robert Herrick, To the Virgins, to Make Much of Time |

717
(1)

| | |
| --- | --- |
| | Deborah Garrison, Please Fire Me |

718
(1)
719
(1)

| | |
| --- | --- |
| | Robert Browning, Porphyria's Lover |

719
(2)

| | |
| --- | --- |
| | Percy Bysshe Shelley, Ozymandias |

721
(1)
722
(2)
724
(1)

| | |
| --- | --- |
| | W.H. Auden, The Unknown Citizen |

724
(1)

| | |
| --- | --- |
| | Dudley Randall, Ballad of Birmingham |

725
(4)

| | |
| --- | --- |
| | Checklist: Writing about Voice |

726
(1)

| | |
| --- | --- |
| | WRITING SUGGESTIONS: Voice |

727
(2)

| | |
| --- | --- |
| | 26 WORD CHOICE, WORD ORDER |

729
(3)

| | |
| --- | --- |
| | Sipho Sepamla, Words, Words, Words |

729
(1)
730
(1)

| | |
| --- | --- |
| | Walt Whitman, When I Heard the Learn'd Astronomer |

731
(1)

| | |
| --- | --- |
| | William Stafford, For the Grave of Daniel Boone |

732
(2)

| | |
| --- | --- |
| | FURTHER READING: Word Choice |

734
(1)

| | |
| --- | --- |
| | James Wright, Autumn Begins in Martins Ferry, Ohio |

734
(1)

| | |
| --- | --- |
| | Adrienne Rich, Living in Sin |

735
(2)
737
(1)
738
(1)
739
(1)

| | |
| --- | --- |
| | Margaret Atwood, The City Planners |

739
(2)
741
(2)

| | |
| --- | --- |
| | FURTHER READING: Levels of Diction |

743
(1)

| | |
| --- | --- |
| | Wanda Coleman, Sears Life |

743
(1)

| | |
| --- | --- |
| | Mark Halliday, The Value of Education |

744
(1)

| | |
| --- | --- |
| | Charles Bukowski, Dog Fight |

745
(1)

| | |
| --- | --- |
| | Gwendolyn Brooks, We Real Cool |

746
(1)
747
(1)

| | |
| --- | --- |
| | Edmund Spenser, One day I wrote her name upon the strand |

748
(1)

| | |
| --- | --- |
| | E.E. Cummings, anyone lived in a pretty how town |

749
(1)

| | |
| --- | --- |
| | FURTHER READING: Word Order |

750
(1)

| | |
| --- | --- |
| | A.E. Housman, To an Athlete Dying Young |

750
(1)

| | |
| --- | --- |
| | Checklist: Writing about Word Choice and Word Order |

751
(2)

| | |
| --- | --- |
| | WRITING SUGGESTIONS: Word Choice, Word Order |

752
(1)
753
(5)

| | |
| --- | --- |
| | Jane Flanders, Cloud Painter |

753
(2)

| | |
| --- | --- |
| | William Carlos Williams, Red Wheelbarrow |

755
(1)

| | |
| --- | --- |
| | Ezra Pound, In a Station of the Metro |

756
(1)

| | |
| --- | --- |
| | Gary Snyder, Some Good Things to Be Said for the Iron Age |

756
(1)

| | |
| --- | --- |
| | Suzanne E. Berger, The Meal |

757
(1)

| | |
| --- | --- |
| | William Carlos Williams, The Great Figure |

758
(2)
760
(1)

| | |
| --- | --- |
| | Michael Chitwood, Division |

760
(1)

| | |
| --- | --- |
| | Robert Frost, Nothing Gold Can Stay |

760
(1)
761
(1)

| | |
| --- | --- |
| | William Shakespeare, My mistress' eyes are nothing like the sun |

762
(1)
763
(1)
763
(3)

| | |
| --- | --- |
| | Checklist: Writing about Imagery |

764
(1)

| | |
| --- | --- |
| | WRITING SUGGESTIONS: Imagery |

765
(1)
766
(3)

| | |
| --- | --- |
| | William Shakespeare, Shall I compare thee to a summer's day? |

766
(1)

| | |
| --- | --- |
| | Simile, Metaphor, and Personification |

767
(1)
767
(1)

| | |
| --- | --- |
| | Lawrence Ferlinghetti, Constantly Risking Absurdity |

768
(1)

| | |
| --- | --- |
| | Audre Lorde, Rooming houses are old women |

769
(2)

| | |
| --- | --- |
| | FURTHER READING: Simile, Metaphor, and Personification |

771
(1)

| | |
| --- | --- |
| | Robert Burns, Oh, my love is like a red, red rose |

771
(1)
771
(1)
772
(1)

| | |
| --- | --- |
| | John Updike, Ex-Basketball Player |

773
(1)

| | |
| --- | --- |
| | Randall Jarrell, The Death of the Ball Turret Gunner |

774
(1)

| | |
| --- | --- |
| | Marge Piercy, The Secretary Chant |

775
(1)

| | |
| --- | --- |
| | John Donne, A Valediction: Forbidding Mourning |

776
(2)

| | |
| --- | --- |
| | Hyperbole and Understatement |

778
(1)
778
(3)

| | |
| --- | --- |
| | David Huddle, Holes Commence Falling |

781
(1)

| | |
| --- | --- |
| | FURTHER READING: Hyperbole and Understatement |

782
(1)

| | |
| --- | --- |
| | Anne Bradstreet, To My Dear and Loving Husband |

782
(1)

| | |
| --- | --- |
| | Andrew Marvell, To His Coy Mistress |

783
(2)

| | |
| --- | --- |
| | Robert Frost, "Out, Out—" |

785
(1)

| | |
| --- | --- |
| | Donald Hall, My Son, My Executioner |

786
(1)

| | |
| --- | --- |
| | Margaret Atwood, you fit into me |

787
(1)
787
(1)

| | |
| --- | --- |
| | Richard Lovelace, To Lucasta Going to the Wars |

788
(1)

| | |
| --- | --- |
| | FURTHER READING: Metonymy and Synecdoche |

788
(1)

| | |
| --- | --- |
| | Thomas Lux, Henry Clay's Mouth |

788
(1)
789
(1)

| | |
| --- | --- |
| | Sonia Sanchez, On Passing thru Morgantown, Pa. |

790
(1)

| | |
| --- | --- |
| | FURTHER READING: Apostrophe |

791
(1)

| | |
| --- | --- |
| | Allen Ginsberg, A Supermarket in California |

791
(3)

| | |
| --- | --- |
| | Checklist: Writing about Figures of Speech |

792
(1)

| | |
| --- | --- |
| | WRITING SUGGESTIONS: Figures of Speech |

793
(1)
794
(5)

| | |
| --- | --- |
| | Walt Whitman, Had I the Choice |

794
(1)
794
(1)

| | |
| --- | --- |
| | Gwendolyn Brooks, Sadie and Maud |

795
(1)
796
(3)

| | |
| --- | --- |
| | Emily Dickinson, I like to see it lap the Miles |

799
(3)

| | |
| --- | --- |
| | FURTHER READING: Rhythm and Meter |

802
(1)

| | |
| --- | --- |
| | Adrienne Rich, Aunt Jennifer's Tigers |

802
(1)

| | |
| --- | --- |
| | Etheridge Knight, For Malcolm, a Year After |

803
(1)

| | |
| --- | --- |
| | Frank O'Hara, To the Poem |

804
(1)

| | |
| --- | --- |
| | Alliteration and Assonance |

805
(1)

| | |
| --- | --- |
| | Alfred, Lord Tennyson, The Eagle |

806
(1)

| | |
| --- | --- |
| | N. Scott Momaday, Comparatives |

806
(1)

| | |
| --- | --- |
| | Robert Herrick, Delight in Disorder |

807
(1)
808
(1)
809
(1)
809
(2)

| | |
| --- | --- |
| | FURTHER READING: Alliteration, Assonance, and Rhyme |

811
(1)

| | |
| --- | --- |
| | Gerard Manley Hopkins, Pied Beauty |

811
(1)

| | |
| --- | --- |
| | W.H. Auden, As I Walked Out One Evening |

812
(2)

| | |
| --- | --- |
| | Galway Kinnell, Blackberry Eating |

814
(1)
815
(1)

| | |
| --- | --- |
| | Lewis Carroll, Jabberwocky |

816
(3)

| | |
| --- | --- |
| | Checklist: Writing about Sound |

817
(1)

| | |
| --- | --- |
| | WRITING SUGGESTIONS: Sound |

818
(1)
819
(2)

| | |
| --- | --- |
| | John Keats, On the Sonnet |

819
(1)
819
(2)
821
(3)
821
(1)
822
(1)
823
(1)

| | |
| --- | --- |
| | William Shakespeare, When, in disgrace with Fortune and men's eyes |

824
(1)

| | |
| --- | --- |
| | FURTHER READING: The Sonnet |

824
(1)

| | |
| --- | --- |
| | John Keats, On First Looking into Chapman's Homer |

824
(2)

| | |
| --- | --- |
| | Gwendolyn Brooks, First Fight. Then Fiddle |

826
(1)
826
(1)

| | |
| --- | --- |
| | Alberto Alvaro Rios, Nani |

827
(1)

| | |
| --- | --- |
| | FURTHER READING: The Sestina |

828
(1)

| | |
| --- | --- |
| | Elizabeth Bishop, Sestina |

828
(1)
829
(1)

| | |
| --- | --- |
| | Theodore Roethke, The Waking |

829
(2)
830
(1)

| | |
| --- | --- |
| | FURTHER READING: The Epigram |

831
(1)

| | |
| --- | --- |
| | Samuel Taylor Coleridge, What Is an Epigram? |

831
(1)

| | |
| --- | --- |
| | William Blake, Her Whole Life Is an Epigram |

831
(1)

| | |
| --- | --- |
| | Martin Espada, Why I Went to College |

831
(1)
832
(1)
832
(1)
832
(1)

| | |
| --- | --- |
| | Carolyn Kizer, After Basho |

833
(1)
833
(1)

| | |
| --- | --- |
| | Jack Kerouac, American Haiku |

834
(1)
835
(1)
836
(1)

| | |
| --- | --- |
| | E.E. Cummings, the sky was candy |

837
(1)

| | |
| --- | --- |
| | FURTHER READING: Open Form |

838
(1)

| | |
| --- | --- |
| | Walt Whitman, from "Out of the Cradle Endlessly Rocking" |

838
(1)
839
(1)

| | |
| --- | --- |
| | Robert Hayden, Monet's "Waterlilies" |

840
(2)

| | |
| --- | --- |
| | William Carlos Williams, Spring and All |

842
(1)

| | |
| --- | --- |
| | Carolyn Forché The Colonel |

843
(4)

| | |
| --- | --- |
| | Checklist: Writing about Form |

844
(1)

| | |
| --- | --- |
| | WRITING SUGGESTIONS: Form |

845
(2)

| | |
| --- | --- |
| | 31 SYMBOL, ALLEGORY, ALLUSION, MYTH |

847
(4)

| | |
| --- | --- |
| | William Blake, The Sick Rose |

847
(1)
847
(1)

| | |
| --- | --- |
| | Robert Frost, For Once, Then, Something |

848
(1)

| | |
| --- | --- |
| | Jim Simmerman, Child's Grave, Hale County, Alabama |

849
(2)

| | |
| --- | --- |
| | Emily Dickinson, Volcanoes be in Sicily |

851
(1)
851
(1)

| | |
| --- | --- |
| | Edgar Allan Poe, The Raven |

851
(4)
855
(1)

| | |
| --- | --- |
| | Christina Rossetti, Uphill |

855
(1)

| | |
| --- | --- |
| | FURTHER READING: Allegory |

856
(1)

| | |
| --- | --- |
| | Adrienne Rich, Diving into the Wreck |

856
(3)
859
(1)

| | |
| --- | --- |
| | Wok Soyinka, Future Plans |

859
(1)

| | |
| --- | --- |
| | William Meredith, Dreams of Suicide |

860
(1)

| | |
| --- | --- |
| | FURTHER READING: Allusion |

861
(1)

| | |
| --- | --- |
| | Maxine Kumin, Where Any of Us |

861
(1)
862
(1)

| | |
| --- | --- |
| | Countee Cullen, Yet Do I Marvel |

863
(1)
864
(1)

| | |
| --- | --- |
| | William Butler Yeats, Leda and the Swan |

864
(1)

| | |
| --- | --- |
| | Derek Walcott, Sea Grapes |

865
(1)

| | |
| --- | --- |
| | W.H. Auden, Museé des Beaux Arts |

866
(2)

| | |
| --- | --- |
| | T.S. Eliot, Journey of the Magi |

868
(4)

| | |
| --- | --- |
| | Checklist: Writing about Symbol, Allegory, Allusion, Myth |

870
(1)

| | |
| --- | --- |
| | WRITING SUGGESTIONS: Symbol, Allegory, Allusion, Myth |

871
(1)

| | |
| --- | --- |
| | 32 DISCOVERING THEMES IN POETRY |

872
(55)
872
(1)

| | |
| --- | --- |
| | Theodore Roethke, My Papa's Waltz |

873
(1)

| | |
| --- | --- |
| | Edna St. Vincent Millay, The courage that my mother had |

874
(1)

| | |
| --- | --- |
| | Raymond Carver, Photograph of my Father in His Twenty-Second Year |

874
(1)

| | |
| --- | --- |
| | Judith Ortiz Cofer, My Father in the Navy: A Childhood Memory |

875
(1)

| | |
| --- | --- |
| | Mitsuye Yamada, The Night Before Good-bye |

875
(1)
876
(1)

| | |
| --- | --- |
| | Dylan Thomas, Do not go gentle into that good night |

877
(1)
878
(1)

| | |
| --- | --- |
| | William Wordsworth, I wandered lonely as a cloud |

878
(1)

| | |
| --- | --- |
| | Christina Rossetti, Summer |

879
(1)

| | |
| --- | --- |
| | Gerard Manley Hopkins, The Windhover |

880
(1)
880
(2)

| | |
| --- | --- |
| | William Stafford, Traveling through the Dark |

882
(1)
882
(1)
883
(1)

| | |
| --- | --- |
| | Robert Browning, Meeting at Night |

883
(1)

| | |
| --- | --- |
| | Robert Browning, Parting at Morning |

884
(1)

| | |
| --- | --- |
| | Elizabeth Barrett Browning, How Do I Love Thee? |

884
(1)

| | |
| --- | --- |
| | Edna St. Vincent Millay, What Lips My Lips Have Kissed |

884
(1)

| | |
| --- | --- |
| | Dorothy Parker, General Review of the Sex Situation |

885
(1)
885
(1)

| | |
| --- | --- |
| | Rupert Brooke, The Soldier |

886
(1)

| | |
| --- | --- |
| | Wilfred Owen, Dulce et Decorum Est |

887
(1)

| | |
| --- | --- |
| | William Butler Yeats, An Irish Airman Foresees His Death |

888
(1)

| | |
| --- | --- |
| | Robert Lowell, For the Union Dead |

888
(2)

| | |
| --- | --- |
| | Denise Levertov, What Were They Like? |

890
(1)

| | |
| --- | --- |
| | Yusef Komunyakaa, Facing It |

891
(1)

| | |
| --- | --- |
| | Carl Phillips, On the Notion of Tenderness in Wartime |

892
(1)

| | |
| --- | --- |
| | Wislawa Szymborska, The End and the Beginning |

892
(2)

| | |
| --- | --- |
| | 33 THE POETRY OF LANGSTON HUGHES: A CASEBOOK FOR READING, RESEARCH, AND WRITING |

894
(5)

| | |
| --- | --- |
| | Langston Hughes, The Negro Speaks of Rivers |

899
(1)

| | |
| --- | --- |
| | Langston Hughes, Mother to Son |

899
(1)

| | |
| --- | --- |
| | Langston Hughes, Dream Variations |

900
(1)

| | |
| --- | --- |
| | Langston Hughes, The Weary Blues |

900
(1)
901
(1)

| | |
| --- | --- |
| | Langston Hughes, Song for a Dark Girl |

902
(1)

| | |
| --- | --- |
| | Langston Hughes, Ballad of the Landlord |

902
(1)

| | |
| --- | --- |
| | Langston Hughes, Theme for English B |

903
(1)

| | |
| --- | --- |
| | Langston Hughes, Dream Boogie |

904
(1)

| | |
| --- | --- |
| | Langston Hughes, Birmingham Sunday (September 15, 1963) |

905
(2)

| | |
| --- | --- |
| | Langston Hughes, Lenox Avenue: Midnight |

907
(1)

| | |
| --- | --- |
| | Langston Hughes, Un-American Investigators |

908
(1)

| | |
| --- | --- |
| | Langston Hughes, Dinner Guest: Me |

909
(1)

| | |
| --- | --- |
| | Langston Hughes, from The Negro Artist and the Racial Mountain |

910
(2)

| | |
| --- | --- |
| | Langston Hughes, To Negro Writers |

912
(2)

| | |
| --- | --- |
| | Langston Hughes, from My Adventures as a Social Poet |

914
(3)

| | |
| --- | --- |
| | Arnold Rampersad, from The Origins of Poetry in Langston Hughes |

917
(4)

| | |
| --- | --- |
| | Herman Beavers, from Dead Rocks and Sleeping Men: Aurality in the Aesthetic of Langston Hughes |

921
(2)

| | |
| --- | --- |
| | Steven C. Tracy from "Midnight Ruffles of Cat-Gut Lace": The Boogie Poems of Langston Hughes |

923
(1)

| | |
| --- | --- |
| | Karen Jackson Ford, from Do Right to Write Right: Langston Hughes's Aesthetics of Simplicity |

924
(3)

| | |
| --- | --- |
| | George B. Hutchinson, from Langston Hughes and the 'Other' Whitman |

927
(8)

| | |
| --- | --- |
| | Topics for Further Research |

928
(97)

| | |
| --- | --- |
| | Student Paper: Challenging the Father/ Challenging the Self: Langston Hughes's "The Negro Speaks of Rivers" |

929
(6)

| | |
| --- | --- |
| | 34 POETRY FOR FURTHER READING |

935
(154)

| | |
| --- | --- |
| | Elizabeth Alexander, Apollo |

935
(1)

| | |
| --- | --- |
| | Sherman J. Alexie, Defending Walt Whitman |

936
(1)
937
(1)

| | |
| --- | --- |
| | Anonymous, Bonny Barbara Allan |

938
(1)
939
(1)
940
(1)

| | |
| --- | --- |
| | Matthew Arnold, Dover Beach |

940
(1)

| | |
| --- | --- |
| | Elizabeth Bishop, The Fish |

941
(2)
943
(1)

| | |
| --- | --- |
| | William Blake, To see a World in a Grain of Sand |

944
(1)
944
(1)

| | |
| --- | --- |
| | Anne Bradstreet, The Author to Her Book |

945
(1)

| | |
| --- | --- |
| | Gwendolyn Brooks, Medgar Evers |

945
(1)

| | |
| --- | --- |
| | George Gordon, Lord Byron, She Walks in Beauty |

946
(1)

| | |
| --- | --- |
| | Thomas Campion, There is a garden in her face |

946
(1)

| | |
| --- | --- |
| | Geoffrey Chaucer, from The Canterbury Tales |

947
(2)

| | |
| --- | --- |
| | Lucille Clifton, Praise Song |

949
(1)

| | |
| --- | --- |
| | Samuel Taylor Coleridge, Kubla Khan |

949
(2)

| | |
| --- | --- |
| | Billy Collins, Introduction to Poetry |

951
(1)

| | |
| --- | --- |
| | Hart Crane, To Brooklyn Bridge |

951
(1)

| | |
| --- | --- |
| | E.E. Cummings, Buffalo Bill's |

952
(1)

| | |
| --- | --- |
| | E.E. Cummings, next to of course god america i |

953
(1)

| | |
| --- | --- |
| | Emily Dickinson, After great pain, a formal feeling comes |

953
(1)

| | |
| --- | --- |
| | Emily Dickinson, Because I could not stop for Death |

954
(1)

| | |
| --- | --- |
| | Emily Dickinson, "Faith" is a fine invention |

954
(1)

| | |
| --- | --- |
| | Emily Dickinson, I dwell in Possibility |

955
(1)

| | |
| --- | --- |
| | Emily Dickinson, I heard a Fly buzz—when I died |

955
(1)

| | |
| --- | --- |
| | Emily Dickinson, Success is counted sweetest |

956
(1)

| | |
| --- | --- |
| | Emily Dickinson, Tell all the Truth but tell it slant |

956
(1)

| | |
| --- | --- |
| | Emily Dickinson, Wild Nights—Wild Nights! |

956
(1)

| | |
| --- | --- |
| | John Donne, Batter My Heart, Three-Personed God |

957
(1)

| | |
| --- | --- |
| | John Donne, Death Be Not Proud |

957
(1)
957
(1)

| | |
| --- | --- |
| | Rita Dove, Fox Trot Fridays |

958
(1)

| | |
| --- | --- |
| | Paul Laurence Dunbar, We Wear the Mask |

959
(1)

| | |
| --- | --- |
| | Stephen Dunn, Waiting with Two Members of a Motorcycle Gang for My Child to Be Born |

959
(1)

| | |
| --- | --- |
| | T.S. Eliot, The Love Song of J. Alfred Prufrock |

960
(4)

| | |
| --- | --- |
| | James A. Emanuel, Emmett Till |

964
(1)

| | |
| --- | --- |
| | Louise Erdrich, Indian Boarding School: The Runaways |

964
(1)

| | |
| --- | --- |
| | Robert Frost, Acquainted with the Night |

965
(1)
966
(1)

| | |
| --- | --- |
| | Robert Frost, Mending Wall |

966
(1)

| | |
| --- | --- |
| | Robert Frost, The Road Not Taken |

967
(1)

| | |
| --- | --- |
| | Robert Frost, Stopping by Woods on a Snowy Evening |

968
(1)

| | |
| --- | --- |
| | Federico Garcia Lorca, Arbolé Arbolé... |

968
(2)

| | |
| --- | --- |
| | Nikki Giovanni, Nikki-Rosa |

970
(1)

| | |
| --- | --- |
| | H.D. (Hilda Doolittle), Helen |

971
(1)

| | |
| --- | --- |
| | Thomas Hardy, The Convergence of the Twain |

971
(2)

| | |
| --- | --- |
| | Seamus Heaney, Mid-Term Break |

973
(1)

| | |
| --- | --- |
| | Edward Hirsch, Fast Break |

973
(1)

| | |
| --- | --- |
| | Gerard Manley Hopkins, God's Grandeur |

974
(1)
975
(1)

| | |
| --- | --- |
| | Mary Karr, A Blessing from My Sixteen Years' Son |

975
(2)

| | |
| --- | --- |
| | John Keats, La Belle Dame sans Merci: A Ballad |

977
(1)

| | |
| --- | --- |
| | John Keats, Ode on a Grecian Urn |

978
(2)

| | |
| --- | --- |
| | John Keats, When I Have Fears |

980
(1)

| | |
| --- | --- |
| | Aron Keesbury, On the Robbery across the Street |

980
(1)

| | |
| --- | --- |
| | Yusef Komunyakaa, Ignis Fatuus |

981
(1)

| | |
| --- | --- |
| | Ted Kooser, Selecting a Reader |

982
(1)
982
(2)
984
(1)

| | |
| --- | --- |
| | Archibald MacLeish, Ars Poetica |

985
(1)

| | |
| --- | --- |
| | Christopher Marlowe, The Passionate Shepherd to His Love |

985
(1)

| | |
| --- | --- |
| | Claude McKay, If We Must Die |

986
(1)

| | |
| --- | --- |
| | James Merrill, Page from the Koran |

987
(1)

| | |
| --- | --- |
| | W.S. Merwin, To My Brother |

987
(1)

| | |
| --- | --- |
| | Pablo Neruda, The United Fruit Co. |

988
(1)

| | |
| --- | --- |
| | Sharon Olds, The One Girl at the Boys' Party |

989
(1)

| | |
| --- | --- |
| | Judith Ortiz Cofer, Claims |

990
(1)
990
(1)

| | |
| --- | --- |
| | Marge Piercy, Barbie Doll |

991
(1)
991
(2)
993
(1)

| | |
| --- | --- |
| | Ezra Pound, The River-Merchant's Wife: A Letter |

993
(1)

| | |
| --- | --- |
| | Sir Walter Raleigh, The Nymph's Reply to the Shepherd |

994
(1)

| | |
| --- | --- |
| | Henry Reed, Naming of Parts |

995
(1)

| | |
| --- | --- |
| | Edwin Arlington Robinson, Miniver Cheevy |

996
(1)

| | |
| --- | --- |
| | Edwin Arlington Robinson, Richard Cory |

997
(1)

| | |
| --- | --- |
| | Sonia Sanchez, right on: white america |

997
(1)
998
(1)

| | |
| --- | --- |
| | William Shakespeare, Let me not to the marriage of true minds |

998
(1)

| | |
| --- | --- |
| | William Shakespeare, Not marble, nor the gilded monuments |

999
(1)

| | |
| --- | --- |
| | Percy Bysshe Shelley, Ode to the West Wind |

999
(2)

| | |
| --- | --- |
| | Charles Simic, Old Soldier |

1001
(1)

| | |
| --- | --- |
| | Stevie Smith, Not Waving but Drowning |

1002
(1)
1002
(2)

| | |
| --- | --- |
| | Gary Soto, Saturday at the Canal |

1004
(1)

| | |
| --- | --- |
| | William Stafford, An Afternoon in the Stacks |

1005
(1)

| | |
| --- | --- |
| | Wallace Stevens, Anecdote of the Jar |

1005
(1)

| | |
| --- | --- |
| | Wallace Stevens, The Emperor of Ice-Cream |

1005
(1)
1006
(1)

| | |
| --- | --- |
| | Virgil Suárez, La Florida |

1006
(1)
1007
(1)

| | |
| --- | --- |
| | Alfred, Lord Tennyson, Ulysses |

1008
(1)

| | |
| --- | --- |
| | Mona Van Duyn, In Bed with a Book |

1009
(1)

| | |
| --- | --- |
| | Phillis Wheatley, On Being Brought from Africa to America |

1010
(1)

| | |
| --- | --- |
| | Walt Whitman, A Noiseless Patient Spider |

1010
(1)

| | |
| --- | --- |
| | Walt Whitman, from "Song of Myself" |

1011
(1)

| | |
| --- | --- |
| | Richard Wilbur, Man Running |

1012
(1)
1013
(2)

| | |
| --- | --- |
| | William Carlos Williams, The Dance |

1015
(1)

| | |
| --- | --- |
| | William Wordsworth, Composed upon Westminster Bridge, September 3, 1802 |

1015
(1)

| | |
| --- | --- |
| | William Wordsworth, London, 1802 |

1016
(1)

| | |
| --- | --- |
| | William Wordsworth, My heart leaps up when I behold |

1016
(1)

| | |
| --- | --- |
| | William Wordsworth, The Solitary Reaper |

1016
(1)

| | |
| --- | --- |
| | Charles Wright, In Praise of Han Shan |

1017
(1)

| | |
| --- | --- |
| | William Butler Yeats, Crazy Jane Talks with the Bishop |

1018
(1)

| | |
| --- | --- |
| | William Butler Yeats, The Lake Isle of Innisfree |

1018
(1)

| | |
| --- | --- |
| | William Butler Yeats, Sailing to Byzantium |

1019
(1)

| | |
| --- | --- |
| | William Butler Yeats, The Second Coming |

1020
(1)

| | |
| --- | --- |
| | Adam Zagajewski, Poetry Searches for Radiance |

1020
(3)
PART 4 DRAMA
1023
(1)
1025
(604)
1025
(9)

| | |
| --- | --- |
| | The Ancient Greek Theater |

1025
(2)
1027
(4)
1031
(3)
1034
(6)
1034
(3)
1037
(3)
1040
(1)
1040
(2)

| | |
| --- | --- |
| | Recognizing Kinds of Drama |

1042
(1)
1043
(12)

| | |
| --- | --- |
| | 36 DRAMA SAMPLER: TEN-MINUTE PLAYS |

1055
(1)
1055
(5)
1060
(4)

| | |
| --- | --- |
| | Arlene Hutton, I Dream Before I Take the Stand |

1064
(14)
1078
(6)

| | |
| --- | --- |
| | 37 READING AND WRITING ABOUT DRAMA |

1084
(1)
1084
(2)
1085
(1)
1086
(18)
1086
(3)
1089
(3)

| | |
| --- | --- |
| | Student Paper: The Women's Role in Trifles (First Draft) |

1090
(2)

| | |
| --- | --- |
| | Revising and Editing an Essay |

1092
(12)

| | |
| --- | --- |
| | Student Paper: Confinement and Rebellion in Trifles (Second Draft) |

1093
(5)

| | |
| --- | --- |
| | Student Paper: Desperate Measures: Acts of Defiance in Trifles (Final Draft) |

1098
(6)
1104
(3)
1104
(2)
1105
(1)
1106
(2)
1107
(1)
1107
(14)

| | |
| --- | --- |
| | Checklist: Writing about Plot |

1107
(1)
1108
(13)

| | |
| --- | --- |
| | Henrik Ibsen, A Doll House |

1121
(57)

| | |
| --- | --- |
| | WRITING SUGGESTIONS: Plot |

1176
(1)
1177
(1)
1178
(5)

| | |
| --- | --- |
| | Formal and Informal Language |

1179
(1)

| | |
| --- | --- |
| | Plain and Elaborate Language |

1180
(2)
1182
(1)
1182
(1)
1183
(1)
1184
(1)
1185
(3)

| | |
| --- | --- |
| | Checklist: Writing about Character |

1187
(1)

| | |
| --- | --- |
| | August Strindberg, The Stronger |

1188
(5)
1193
(55)

| | |
| --- | --- |
| | Arthur Miller, Death of a Salesman |

1248
(74)

| | |
| --- | --- |
| | William Shakespeare, Hamlet |

1322
(104)

| | |
| --- | --- |
| | WRITING SUGGESTIONS: Character |

1425
(1)
1426
(2)
1426
(2)
1428
(3)
1428
(1)
1428
(1)
1429
(1)
1429
(2)

| | |
| --- | --- |
| | Checklist: Writing about Staging |

1430
(1)

| | |
| --- | --- |
| | Sophocles, Oedipus the King |

1431
(43)

| | |
| --- | --- |
| | WRITING SUGGESTIONS: Staging |

1473
(1)
1474
(12)
1474
(1)
1475
(1)
1476
(1)
1476
(1)
1477
(1)

| | |
| --- | --- |
| | Checklist: Writing about Theme |

1478
(1)

| | |
| --- | --- |
| | David Henry Hwang, Trying to Find Chinatown |

1478
(8)
1486
(57)

| | |
| --- | --- |
| | WRITING SUGGESTIONS: Theme |

1539
(1)

| | |
| --- | --- |
| | 42 TENNESSEE WILLIAMS'S THE GLASS MENAGERIE: A CASEBOOK FOR READING, RESEARCH, AND WRITING |

1540
(74)

| | |
| --- | --- |
| | Tennessee Williams, The Glass Menagerie |

1543
(50)

| | |
| --- | --- |
| | Tennessee Williams, Author's Production Notes (Preface to the Published Edition) |

1593
(2)

| | |
| --- | --- |
| | Jacqueline O'Connor, from Dramatizing Dementia: Madness in the Plays of Tennessee Williams |

1595
(1)

| | |
| --- | --- |
| | Tennessee Williams, from Tennessee Williams: Memoirs |

1596
(3)

| | |
| --- | --- |
| | Jean Evans, Interview 1945 |

1599
(4)

| | |
| --- | --- |
| | Thomas L.L. King, from Irony and Distance in The Glass Menagerie 1600 g r |

| | |
| --- | --- |
| | Nancy Marie Patterson Tischler, from Student Companion to Tennessee Williams |

1603
(2)

| | |
| --- | --- |
| | Roger B. Stein, from The Glass Menagerie Revisited: Catastrophe without Violence |

1605
(2)

| | |
| --- | --- |
| | Tom Scanlan, from Family, Drama, and American Dreams |

1607
(3)

| | |
| --- | --- |
| | James Fisher, from "The Angels of Fructification": Tennessee Williams, Tony Kushner, and Images of Homosexuality on the American Stage |

1610
(4)

| | |
| --- | --- |
| | Tennessee Williams, Portrait of a Girl in Glass |

1614
(16)

| | |
| --- | --- |
| | Topics for Further Research |

1621
(9)

| | |
| --- | --- |
| | Student Paper: Laura's Gentleman Caller |

1622
(7)
Appendix: Using Literary Criticism in Your Writing
1629
(1)
1629

| | |
| --- | --- |
| | A Formalist Reading: Kate Chopin's "The Storm" |

1630
(2)

| | |
| --- | --- |
| | FOR FURTHER READING: Formalism |

1631
(1)

| | |
| --- | --- |
| | Reader-Response Criticism |

1631
(1)

| | |
| --- | --- |
| | Reader-Response Readings: Kate Chopin's "The Storm" |

1632
(4)

| | |
| --- | --- |
| | FOR FURTHER READING: Reader-Response Criticism |

1633
(1)
1634
(1)
1635
(1)

| | |
| --- | --- |
| | A Feminist Reading: Tillie Olsen's "I Stand Here Ironing" |

1636
(2)

| | |
| --- | --- |
| | FOR FURTHER READING: Feminist Criticism |

1636
(1)
1637
(1)

| | |
| --- | --- |
| | A Marxist Reading: Tillie Olsen's "I Stand Here Ironing" |

1638
(2)

| | |
| --- | --- |
| | FOR FURTHER READING: Marxist Criticism |

1638
(1)
1639
(1)

| | |
| --- | --- |
| | A New Historicist Reading: Charlotte Perkins Gilman's "The Yellow Wallpaper" |

1640
(3)

| | |
| --- | --- |
| | FOR FURTHER READING: New Historicist Criticism |

1641
(1)
1641
(2)

| | |
| --- | --- |
| | A Psychoanalytic Reading: Edgar Allan Poe's "The Cask of Amontillado" |

1643
(2)

| | |
| --- | --- |
| | FOR FURTHER READING: Psychoanalytic Criticism |

1644
(1)
1644
(1)

| | |
| --- | --- |
| | A Structuralist Reading: William Faulkner's "Barn Burning" |

1645
(2)

| | |
| --- | --- |
| | FOR FURTHER READING: Structuralism |

1646
(1)
1646
(1)

| | |
| --- | --- |
| | A Deconstructionist Reading: Flannery O'Connor's "A Good Man Is Hard to Find" |

1647

| | |
| --- | --- |
| | FOR FURTHER READING: Deconstruction |

1648
Glossary of Literary Terms
G1
Credits
C1
Index of First Lines of Poetry
I1
Index of Authors and Titles
I5
Index of Literary Terms
I14