Note: Supplemental materials are not guaranteed with Rental or Used book purchases.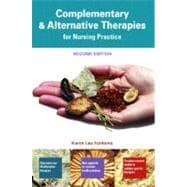 Complementary and Alternative Therapies for Nursing Practice
ISBN13:
9780131512542
by
Fontaine, Karen Lee
Related Products
Summary
For courses in alternative therapies as well as issues and trends courses, and continuing education courses for registered nurses. Providing a comprehensive overview of alternative health practices and complimentary therapies from a nursing perspective, this enlightening and informative text covers the principles, techniques, research, health promotion methods and healing practices for specific illnesses and symptoms. This second edition incorporates the latest research findings, expanded resource sections, additional photographs, and thoroughly updated material.
Table of Contents
Preface
ix

| | |
| --- | --- |
| | UNIT I Healing Practices: Complementary/Alternative Therapies for Nurses |

1
(46)
3
(22)

| | |
| --- | --- |
| | Basic Concepts Guiding Alternative Therapies |

25
(22)

| | |
| --- | --- |
| | UNIT II Systematized Health Care Practices |

47
(72)

| | |
| --- | --- |
| | Traditional Chinese Medicine |

49
(25)
74
(24)

| | |
| --- | --- |
| | Native American Healing and Curanderismo |

98
(21)

| | |
| --- | --- |
| | UNIT III Botanical Healing |

119
(64)

| | |
| --- | --- |
| | Herbs and Nutritional Supplements |

121
(22)
143
(16)
159
(14)
173
(10)

| | |
| --- | --- |
| | UNIT IV Manual Healing Methods |

183
(82)
185
(14)
199
(22)
221
(18)

| | |
| --- | --- |
| | Hand-Mediated Biofield Therapies |

239
(16)

| | |
| --- | --- |
| | Combined Physical and Biofield Therapies |

255
(10)

| | |
| --- | --- |
| | UNIT V Mind--Body Techniques |

265
(112)
267
(15)
282
(19)

| | |
| --- | --- |
| | Hypnotherapy and Guided Imagery |

301
(20)
321
(18)
339
(11)
350
(10)

| | |
| --- | --- |
| | Movement-Oriented Therapies |

360
(17)

| | |
| --- | --- |
| | UNIT VI Spiritual Therapies |

377
(34)
379
(12)
391
(20)
411
(52)
413
(18)
431
(12)
443
(20)
Appendix Alternative Therapies for Common Health Problems
463
(26)
Index
489
Excerpts
The profession of nursing has advanced beyond the Western biomedical model to incorporate many healing tools used by our Asian, Latino, Native American, African, and European ancestors. We are rapidly rediscovering that these ancient principles and practices have significant therapeutic value. Some see this movement as a "return to our roots." Others believe it is a response to runaway health care costs, growing dissatisfaction with high-tech medicine, and increasing concern over the adverse effects and misuse of medications. The growth of consumer empowerment also fuels this movement.As nurses, how do we begin to assimilate thousands of years of healing knowledge? How do we begin this journey of integrating practices into our own lives? In our professional practice, how do we model healthful living? How do we help consumers choose their own healing journeys? How do we break down the barriers between conventional and alternative medicine? Learning about healing practices, like anything else, is a slow process involving a steady accumulation of bits of information and skills that eventually form a coherent pattern called knowledge. While it is possible to learn a great deal about healing practices from reading, thinking, and asking questions, you must in the long run learn about healing through participation. Without hands-on experience, you can be a good student but you can never be a great nursing practitioner of the healing arts. I trust this text will be one step in a lifelong exploration of and experiences with healing practices.Consumers do not wish to abandon conventional medicine but they do want to have a range of options available to them including herbs, nutrition, manual healing methods, mind-body techniques, and spiritual approaches. Some healing practices, such as exercise, nutrition, meditation, and massage, promote health and prevent disease. Others, such as herbs or homeopathic remedies, address specific illnesses. Many other healing practices do both. The rise of chronic disease rates in Western society has motivated consumers to increasingly consider self-care approaches. As recently as the 1950s, we lived in a world of curable disease, largely infectious, where medical interventions were both appropriate and effective and only 30 percent of all disease was chronic. Now, 80 percent of all disease is chronic. Western medicine, with its focus on acute disorders, trauma, and surgery, is considered to be the best high-tech medical care in the world. Unfortunately, it cannot respond adequately to the current epidemic of chronic illnesses.Ethnocentrism, the assumption that one's own cultural or ethnic group is superior to others, has often prevented Western health care practitioners from learning "new" ways to promote health and prevent chronic illness. With consumer demand for a broader range of options, we must open our minds to the idea that other cultures and countries have valid ways of preventing and curing diseases that could be good for Western societies. Although the information may be new to us, many of these traditions are hundreds or even thousands of years old and have long been part of the medical mainstream in other cultures.I have titled this bookComplementary & Alternative Therapies for Nursing Practicebecause I believe we need to merge alternative approaches with our Western-based nursing practices. I have tried to provide enough information about alternative therapies to help guide our practice decisions. This text, as an overview and practical guide for nurses, does not pretend to be an exhaustive collection of all the facts and related research in the area of alternative medicine, nor does it offer meticulous documentation for all claims made by the various therapies. The goal of the text is to motivate you, the reader, to explore alternative approaches, increase your knowledge about factors that contribute to health and illness, and expand your profess