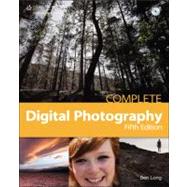 Related Products
Summary
Complete Digital Photography, Fifth Edition" guides users through every aspect of digital photography from shooting through post-production and printing. Covering both the technical aspects of photography, as well as the artistry, this comprehensive book is valuable to shooters of all levels. Readers will learn all aspects of digital photography from how a camera works and how to choose the camera that's right for you, through shooting, image editing, output, and workflow. Along the way, readers will learn the basics of photography artistry including composition, lighting, how to see, and more. This new edition has been completely revised with brand new content and a more reader-friendly format.
Table of Contents
Eyes, Brains, Lights, and Images
Getting to Know Your Camera
Camera Anatomy
Image Transfer
Image Sensors
Exposure Basics
Program Mode
Advanced Exposure
Finding and Composing a Photo
Lighting
Raw Shooting
Special Shooting
Workflow
Editing Workflow and First Steps
Correcting Tone
Correcting Color
Image Editing in Raw
Masking
Black-and-White Conversion
Layers, Retouching, and Special Effects
Output
Table of Contents provided by Publisher. All Rights Reserved.