Note: Supplemental materials are not guaranteed with Rental or Used book purchases.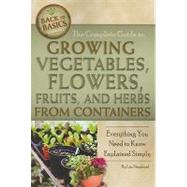 The Complete Guide to Growing Vegetables, Flowers, Fruits, and Herbs from Containers: Everything You Need to Know Explained Simply
ISBN13:
9781601383471
by
Shepherd, Lizz
Summary
This book will provide every potential container gardener with the necessary steps and resources needed to grow their very own crops to thrive in any conditions. From the very outset, you will learn about how vegetables, flowers, and herbs grow naturally ¿ charts will provide you with a detailed breakdown of how plants grow and what they need to grow effectively, from root space to water consumption. Companion planting for small spaces will show you how the plants will survive with other plants in the same container and which plants can even be placed in confined spaced and survive. The basics of container planting, including the best single plant containers, two, three, and four plant combinations are provided to help you decide how to lay out your container garden. The top gardeners were contacted and interviewed, providing highly insightful information that guides you through how container potted plants grow and thrive. You will learn the basics of side planted containers and how succulents perform in these closed spaces. The best container plants are listed in order along with the necessary tools they need to survive. The best container sizes, soil types, fertilizer, climate information, and pest prevention methods are all given as well to help round out your container planting. Regardless of your needs or methods, this guide will take you through every step necessary to get your container plants growing and thriving.