Note: Supplemental materials are not guaranteed with Rental or Used book purchases.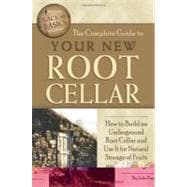 The Complete Guide to Your New Root Cellar: How to Build an Underground Root Cellar and Use It for Natural Storage of Fruits and Vegetables
ISBN13:
9781601383419
by
Atlantic Publishing Company
Summary
This book will walk anyone through the process of building and using a root cellar to store their fruits and vegetables for later use, through the cold winter months when even the most basic items can cost an arm and a leg. Before even starting your root cellar, you will learn the basics of choosing the right crops and planting them at the right time or buying them in advance for your root cellar. You will learn how to know which crops and which specific vegetables and fruits are good to keep and which ones should be left alone. You will learn how and when to bring in the harvest and how to prepare for storage effectively. You will learn the basics of spoilage and what to expect from your foods. You will learn what to expect each winter for multiple month storage and which vegetables and fruits to start expecting in your cellar. You will also benefit from interviews with the top experts in the field of storage and root cellaring and farmers who have been storing vegetables for years. You will learn how to start your own underground garden and what various types of cellars exist ¿ trenches, closets, and hideaways. You will learn how to start planning your root cellar, how to utilize your basement if you so desire and how to start excavating and preparing it for the first harvest.