Note: Supplemental materials are not guaranteed with Rental or Used book purchases.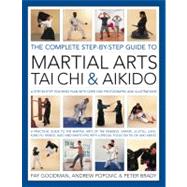 Complete Step-by-Step Guide to Martial Arts, Tai Chi and Aikido : A Practical Guide to the Martial Arts of Tae Kwando, Karate, Ju-Jitsu, Judo, Kung Fu, Kendo, Iado and Shinto Ryu with a Special Focus on Tai Chi and Aikido
by
Goodman, Fay
Summary
This comprehensive sourcebook is the ultimate resource for the martial arts enthusiast, or those taking their first steps into self-defence training. The journey into martial arts begins with an exploration of each discipline, focusing on the history, philosophy and basic etiquette and offering practical step-by-step instruction in the exercises and techniques which make each art form unique. This overview is followed by step-by-step teaching plans for two of the most respected martial arts, t'ai chi and aikido. The history and theory behind each discipline are examined, emphasizing a spiritual approach as well as a physical commitment. Information on preparation and warm-up sequences is given, and guides to the basic postures, movements, techniques and applications of t'ai chi and aikido are demonstrated by expert practitioners.