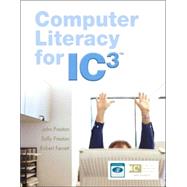 List Price: $55.33

More New and Used
from Private Sellers
Summary
Computer Literacy for IC3was written to provide readers the opportunity to learn and demonstrate computer and Internet literacy through a worldwide industry standard.Covering each of the IC3 objectives, this book provides a broad understanding of the key components to computer literacy.For any business owner or department manager needing to assess employee computer literacy.
Table of Contents
Computing Fundamentals
Identifying Types of Computers
Identifying Computer Hardware Components and their Functions
Evaluating, Purchasing, and Maintaining Computer Equipment
Identifying Software and Hardware Interaction and Types of Software
Identifying Operating System Functions
Using Windows
Using Productivity Software
Taking a Tour of Windows Applications
Creating and Editing Files
Formatting Text and Performing Common Printing Functions
Using Graphic Tools
Formatting Paragraphs and Documents
Working with Tables
Using Outline, Track Changes, and Language Tools
Working with Text and Numbers in a Spreadsheet
Using Formulas, Functions, and Charts
Creating and Delivering Presentations
Living Online
Identifying Network Fundamentals
Identifying The Relationships Between Computer Networks, Telephone Networks,and the Internet
Understanding E-Mail
Identifying how to Use E-Mail
Identifying Information Sources on the Internet
Using a Web Browser and Searching the Internet
Identifying how Computers are Used at Work, School, and Home
Using Computers and the Internet Safely, Legally, Ethically, and Responsibly
Glossary
File Guide
Index
Table of Contents provided by Publisher. All Rights Reserved.