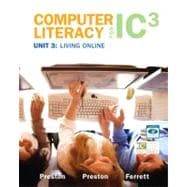 Questions About This Book?
What version or edition is this?
This is the 1st edition with a publication date of 3/27/2009.
What is included with this book?
The Used copy of this book is not guaranteed to include any supplemental materials. Typically, only the book itself is included.
The eBook copy of this book is not guaranteed to include any supplemental materials. Typically only the book itself is included.
Summary
Written to provide all readers with an opportunity to learn and demonstrate computer and Internet literacy.Computer Literary for IC3was written to align with a certification called "Internet and Computing Core Certification (IC3)". This certification is for users who want to demonstrate critical computer and Internet skills valued in todayrs"s academic and professional environments. The Computer Literacy for IC3 text is written to meet the certification standards and provide students with a broad understanding of the key components of computer literacy in order to prepare for the exam. This certification has 3 units: bull; Unit 1: Computing Fundamentals (computer concepts) bull; Unit 2: Using Productivity Software bull; Unit 3: Living Online (the Internet) Each of these units is available as a separateComputer Literacy for IC3text. This text contains:Unit 3: Living Onlineand covers basics of the Internet, including networks and the Internet, electronic mail, using the Internet, and the impact of computing and the Internet on society. The second edition of Computer Literacy for IC3 has been revised to keep up with the IC3 programrs"s evolution, which reflects the recent changes in computers and technology. Instead of publishing one large, comprehensive text, the three units are now available as separate, smaller texts. Understanding the Internet; Gathering Information Online; Buying, Selling, and Banking Online; Communicating Online; Working Online; Identifying Technology Convergence and Its Social Impact Computer Literacy for IC3prepares readers from the IC3 certification, which ensures that they have all the core skills needed to work in todayrs"s technological environment.
Author Biography
Robert L. Ferrett recently retired as Director of the Center for Instructional Computing at Eastern Michigan University, where he provided computer training and support to faculty. He has authored or co-authored more than 80 books on Access, PowerPoint, Excel, Publisher, Windows Vista, WordPerfect, and Word. He has been designing, developing, and delivering computer workshops for nearly two decades. Bob has written for the GO! Series, and was a series editor for the Learn 97, Learn 2000, and Learn XP books. He has a BA in Psychology, an MS in Geography, and an MS in Interdisciplinary Technology from Eastern Michigan University. His doctoral studies are in Instructional Technology at Wayne State University. As a sidelight, Bob teaches a four-week Computers and Genealogy class, and has written genealogy and local history books.
Sally Preston teaches computing in a variety of settings, which provides her with ample opportunity to observe how people learn, what works best, and what challenges are present when learning a new software program. The diverse experience provides a complementary set of skills and knowledge that is blended into her writing. Sally has been writing computer textbooks for nearly ten years and has authored books for the GO! Series, the Learn Series, and for the Essential Series. Sally has an MBA from Eastern Michigan University. When she is away from her computer she is often found planting flowers in her garden.
John Preston is an Associate Professor at Eastern Michigan University in the College of Technology in the Technology Management program. He has been teaching, writing, and designing computer courses since the advent of PCs, and has authored and co-authored more than sixty books on computer applications and the relationship between technology and society. He teaches courses in global technologies, managing information systems, project management, and quantitative reasoning. He served as program coordinator of the Energy Management program and has trained commercial energy auditors for all of the major utilities in Michigan. Prior to his tenure at EMU, he was a partner in an energy management consulting firm.
Table of Contents
Understanding the Internet
Survivable Communications
How traditional phone systems work [network of connected networks] (1.1.4)
Need for a system that could survive a nuclear war
How packet switching works (TCP/IP)
Birth of the Internet to connect military and university research centers (1.1.2)
Networks of Computers
Relationships between Computers (LAN, peer-to-peer, servers and clients) (1.1.3) (1.1.1, 1.1.2)
Connecting computers [node, Ethernet, fiber optic, wireless] (1.1.1
Wide Area Networks (WAN) (1.1.2)
Connecting networks to networks [gateways, "super network?] (1.1.1, 1.1.4)
World-wide naming system, Universal Resource Locator (URL) (3.1.1, 3.1.2
Role of domain names, domain name servers (2.1.2)
Nodes-gateways (routers, through put) and hosts (end points)
Main connections between nodes [backbone, telephone companies, microwave, satellite, undersea fiber optic]
Benefits and risks (1.1.6, 1.1.7)
Birth of the World Wide Web
Researcher writes code that works on all computers-Hypertext Markup Language (HTML) [HyperText Transfer Protocol, HTTP] (3.1.1)
Web browsers - Mozilla, Netscape, and Internet Explorer make it popular [Web site, Web page, Home Page] (3.1.1)
Relationship between WWW and the Internet
Types of Web sites [commercial, academic, organizations, government, military] and country extensions (3.1.3)
Joining the World Wide Web
Gateway computers - onramp to the Internet [domains] (1.1.4)
Internet Service Providers (ISP) provide onramp service for individuals [host domains]
Connection speeds [bits, bytes, bits per second, bytes per second, prefixes kilo, mega, giga, tera, broadband] (1.1.1)
Connecting to an ISP via the telephone company [dial-up, DSL, modem, T1, Fiber Optic, cell phone cellular broadband, G3] (1.1.5)
Connecting to an ISP via the cable television company [co-axial cable, cable modem] (1.1.5)
Connecting to an ISP via Wireless radio [antenna, dead zones] (1.1.5)
Connecting to an ISP via satellite link (dish antenna)
Control and Financing of the Internet
Government turns over management to private industry
Role of telephone companies
How companies charge for service
Control of domain names
Taxation
Security, Privacy, and Ethics
Network admin code of ethics
Firewalls (1.1.1)
Encryption and Virtual Private Networks (VPN) [HTTPS] (3.1.1)
Network security [Login, authentication (1.1.1, 1.1.8)
Intranets (1.1.2)
Gathering Information Online
Using a Web Browser
Functions of a Web Browser, navigating the Web [URL or IP address, Forward and Back, Home page, (3.1.4)
Elements of a Web site [text, graphics, text links, graphic links, buttons/menus/check boxes] (3.1.2, 3.1.4, 3.2.2)
Domain names by country and function (3.1.4)
Storing Web pages for quick ac
Table of Contents provided by Publisher. All Rights Reserved.