Note: Supplemental materials are not guaranteed with Rental or Used book purchases.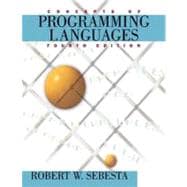 Questions About This Book?
Why should I rent this book?
Renting is easy, fast, and cheap! Renting from eCampus.com can save you hundreds of dollars compared to the cost of new or used books each semester. At the end of the semester, simply ship the book back to us with a free UPS shipping label! No need to worry about selling it back.
How do rental returns work?
Returning books is as easy as possible. As your rental due date approaches, we will email you several courtesy reminders. When you are ready to return, you can print a free UPS shipping label from our website at any time. Then, just return the book to your UPS driver or any staffed UPS location. You can even use the same box we shipped it in!
What version or edition is this?
This is the 4th edition with a publication date of 8/1/1998.
What is included with this book?
The New copy of this book will include any supplemental materials advertised. Please check the title of the book to determine if it should include any CDs, lab manuals, study guides, etc.
The Rental copy of this book is not guaranteed to include any supplemental materials. You may receive a brand new copy, but typically, only the book itself.
Summary
This market leader now offers coverage of Java "TM" support for object-oriented programming, concurrency, and exception handling. It also features object-oriented programming more prominently throughout and provides expanded material on semantics. As in previous editions, Bob Sebesta describes fundamental concepts of programming languages by defining the design issues of the various language constructs, examining the design choices for these constructs in some of the most common languages, and critically comparing the design alternatives.
Table of Contents
1
(36)

| | |
| --- | --- |
| | 1.1 Reasons for Studying Concepts of Programming Languages |

2
(3)
5
(3)

| | |
| --- | --- |
| | 1.3 Language Evaluation Criteria |

8
(12)

| | |
| --- | --- |
| | 1.4 Influences on Language Design |

20
(3)
23
(1)

| | |
| --- | --- |
| | 1.6 Language Design Trade-Offs |

24
(1)

| | |
| --- | --- |
| | 1.7 Implementation Methods |

25
(6)

| | |
| --- | --- |
| | 1.8 Programming Environments |

31
(6)

| | |
| --- | --- |
| | Chapter 2 Evolution of the Major Programming Languages |

37
(68)
38
(3)

| | |
| --- | --- |
| | 2.2 Minimal Hardware Programming: Pseudocodes |

41
(3)

| | |
| --- | --- |
| | 2.3 The IBM 704 and FORTRAN |

44
(5)

| | |
| --- | --- |
| | 2.4 Functional Programming: LISP |

49
(6)

| | |
| --- | --- |
| | 2.5 The First Step Toward Sophistication: ALGOL 60 |

55
(6)

| | |
| --- | --- |
| | 2.6 Computerizing Business Records: COBOL |

61
(5)

| | |
| --- | --- |
| | 2.7 The Beginnings of Timesharing: BASIC |

66
(2)

| | |
| --- | --- |
| | 2.8 Everything for Everybody: PL/I |

68
(5)

| | |
| --- | --- |
| | 2.9 Two Early Dynamic Languages: APL and SNOBOL |

73
(1)

| | |
| --- | --- |
| | 2.10 The Beginnings of Data Abstraction: SIMULA 67 |

74
(1)

| | |
| --- | --- |
| | 2.11 Orthogonal Design: ALGOL 68 |

75
(2)

| | |
| --- | --- |
| | 2.12 Some Important Descendants of the ALGOLs |

77
(7)

| | |
| --- | --- |
| | 2.13 Programming Based on Logic: Prolog |

84
(1)

| | |
| --- | --- |
| | 2.14 History's Largest Design Effort: Ada |

85
(6)

| | |
| --- | --- |
| | 2.15 Object-Oriented Programming: Smalltalk |

91
(3)

| | |
| --- | --- |
| | 2.16 Combining Imperative and Object-Oriented Features: C++ |

94
(3)

| | |
| --- | --- |
| | 2.17 Programming the World Wide Web: Java |

97
(8)

| | |
| --- | --- |
| | Chapter 3 Describing syntax and Semantics |

105
(50)
106
(1)

| | |
| --- | --- |
| | 3.2 The General Problem of Describing Syntax |

107
(2)

| | |
| --- | --- |
| | 3.3 Formal Methods of Describing Syntax |

109
(14)

| | |
| --- | --- |
| | 3.4 Recursive Descent Parsing |

123
(2)
125
(7)

| | |
| --- | --- |
| | 3.6 Describing the Meaning of Programs: Dynamic Semantics |

132
(23)

| | |
| --- | --- |
| | Chapter 4 Names, Bindings, Type Checking, and Scopes |

155
(40)
156
(1)
157
(2)
159
(3)

| | |
| --- | --- |
| | 4.4 The Concept of Binding |

162
(8)
170
(1)
170
(2)
172
(3)
175
(8)
183
(1)

| | |
| --- | --- |
| | 4.10 Referencing Environments |

183
(2)
185
(2)

| | |
| --- | --- |
| | 4.12 Variable Initialization |

187
(8)
195
(64)
196
(1)
197
(4)

| | |
| --- | --- |
| | 5.3 Character String Types |

201
(5)

| | |
| --- | --- |
| | 5.4 User-Defined Ordinal Types |

206
(4)
210
(13)
223
(1)
224
(5)
229
(6)
235
(3)
238
(21)

| | |
| --- | --- |
| | Chapter 6 Expression and the Assignment Statement |

259
(28)
260
(1)

| | |
| --- | --- |
| | 6.2 Arithmetic Expressions |

261
(8)
269
(2)
271
(3)

| | |
| --- | --- |
| | 6.5 Relational and Boolean Expressions |

274
(3)

| | |
| --- | --- |
| | 6.6 Short-Circuit Evaluation |

277
(1)

| | |
| --- | --- |
| | 6.7 Assignment Statements |

278
(5)

| | |
| --- | --- |
| | 6.8 Mixed-Mode Assignment |

283
(4)

| | |
| --- | --- |
| | Chapter 7 Statement-Level Control Structures |

287
(42)
288
(1)
289
(1)
290
(12)
302
(13)

| | |
| --- | --- |
| | 7.5 Unconditional Branching |

315
(3)
318
(4)
322
(7)
329
(48)
330
(1)

| | |
| --- | --- |
| | 8.2 Fundamentals of Subprograms |

330
(6)

| | |
| --- | --- |
| | 8.3 Design Issues for Subprograms |

336
(1)

| | |
| --- | --- |
| | 8.4 Local Referencing Environment |

337
(1)

| | |
| --- | --- |
| | 8.5 Parameter-Passing Methods |

338
(19)

| | |
| --- | --- |
| | 8.6 Parameters That Are Subprogram Names |

357
(2)

| | |
| --- | --- |
| | 8.7 Overloaded Subprograms |

359
(2)
361
(4)

| | |
| --- | --- |
| | 8.9 Separate and Independent Compilation |

365
(1)

| | |
| --- | --- |
| | 8.10 Design Issues for Functions |

366
(1)

| | |
| --- | --- |
| | 8.11 Accessing Nonlocal Environments |

367
(3)

| | |
| --- | --- |
| | 8.12 User-Defined Overloaded Operators |

370
(1)
370
(7)

| | |
| --- | --- |
| | Chapter 9 Implementing Subprograms |

377
(34)

| | |
| --- | --- |
| | 9.1 The General Semantics of Calls and Returns |

378
(1)

| | |
| --- | --- |
| | 9.2 Implementing FORTRAN 77 Subprograms |

379
(2)

| | |
| --- | --- |
| | 9.3 Implementing Subprograms in ALGOL-like Languages |

381
(18)
399
(1)

| | |
| --- | --- |
| | 9.5 Implementing Dynamic Scoping |

400
(4)

| | |
| --- | --- |
| | 9.6 Implementing Parameters That Are Subprogram Names |

404
(7)

| | |
| --- | --- |
| | Chapter 10 Abstract Data Types |

411
(24)

| | |
| --- | --- |
| | 10.1 The Concept of Abstraction |

412
(1)
413
(1)

| | |
| --- | --- |
| | 10.3 Introduction to Data Abstraction |

414
(3)
417
(1)
418
(11)

| | |
| --- | --- |
| | 10.6 Parameterized Abstract Data Types |

429
(6)

| | |
| --- | --- |
| | Chapter 11 Support for Object-Oriented Programming |

435
(54)
436
(1)

| | |
| --- | --- |
| | 11.2 Object-Oriented Programming |

436
(5)

| | |
| --- | --- |
| | 11.3 Design Issues for Object-Oriented Languages |

441
(5)

| | |
| --- | --- |
| | 11.4 Overview of Smalltalk |

446
(1)

| | |
| --- | --- |
| | 11.5 Introduction to the Smalltalk Language |

447
(11)

| | |
| --- | --- |
| | 11.6 Smalltalk Example Programs |

458
(5)

| | |
| --- | --- |
| | 11.7 Large-Scale Features of Smalltalk |

463
(2)

| | |
| --- | --- |
| | 11.8 Evaluation of Smalltalk |

465
(1)

| | |
| --- | --- |
| | 11.9 Support for Object-Oriented Programming in C++ |

466
(8)

| | |
| --- | --- |
| | 11.10 Support for Object-Oriented Programming in Java |

474
(2)

| | |
| --- | --- |
| | 11.11 Support for Object-Oriented Programming in Ada 95 |

476
(4)

| | |
| --- | --- |
| | 11.12 Support for Object-Oriented Programming in Eiffel |

480
(3)

| | |
| --- | --- |
| | 11.13 Implementation of Object-Oriented Constructs |

483
(6)
489
(44)
490
(3)

| | |
| --- | --- |
| | 12.3 Introduction to Subprogram-Level Concurrency |

493
(5)
498
(5)
503
(4)
507
(10)

| | |
| --- | --- |
| | 12.6 Concurrency in Ada 95 |

517
(3)
520
(6)

| | |
| --- | --- |
| | 12.8 Statement-Level Concurrency |

526
(7)

| | |
| --- | --- |
| | Chapter 13 Exception Handling |

533
(34)

| | |
| --- | --- |
| | 13.1 Introduction to Exception Handling |

534
(6)

| | |
| --- | --- |
| | 13.2 Exception Handling in PL/I |

540
(5)

| | |
| --- | --- |
| | 13.3 Exception Handling in Ada |

545
(6)

| | |
| --- | --- |
| | 13.4 Exception Handling in C++ |

551
(4)

| | |
| --- | --- |
| | 13.5 Exception Handling in Java |

555
(12)

| | |
| --- | --- |
| | Chapter 14 Functional Programming Languages |

567
(38)
568
(1)

| | |
| --- | --- |
| | 14.2 Mathematical Functions |

569
(2)

| | |
| --- | --- |
| | 14.3 Fundamentals of Functional Programming Languages |

571
(2)

| | |
| --- | --- |
| | 14.4 The First Functional Programming Language: LISP |

573
(3)

| | |
| --- | --- |
| | 14.5 An Introduction to Scheme |

576
(15)
591
(2)
593
(2)
595
(3)

| | |
| --- | --- |
| | 14.9 Applications of Functional Languages |

598
(1)

| | |
| --- | --- |
| | 14.10 A Comparison of Functional and Imperative Languages |

599
(6)

| | |
| --- | --- |
| | Chapter 15 Logic Programming Languages |

605
(36)
606
(1)

| | |
| --- | --- |
| | 15.2 A Brief Introduction to Predicate Calculus |

606
(4)

| | |
| --- | --- |
| | 15.3 Predicate Calculus and Proving Theorems |

610
(2)

| | |
| --- | --- |
| | 15.4 An Overview of Logic Programming |

612
(2)

| | |
| --- | --- |
| | 15.5 The Origins of Prolog |

614
(1)

| | |
| --- | --- |
| | 15.6 The Basic Elements of Prolog |

614
(14)

| | |
| --- | --- |
| | 15.7 Deficiencies of Prolog |

628
(6)

| | |
| --- | --- |
| | 15.8 Applications of Logic Programming |

634
(2)
636
(5)
Bibliography
641
(12)
Index
653