Note: Supplemental materials are not guaranteed with Rental or Used book purchases.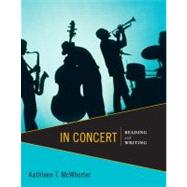 Questions About This Book?
What version or edition is this?
This is the 1st edition with a publication date of 8/10/2012.
What is included with this book?
The Used copy of this book is not guaranteed to include any supplemental materials. Typically, only the book itself is included.
Related Products
Summary
In Concertis one of two titles in a new first edition series written for the integrated Reading/Writing Developmental English course by an author who is an expert in both fields of study - Kathleen McWhorter. In Concert, the second book in the series, correlates to the intermediate developmental reading level and the paragraph to essay developmental writing level.
Author Biography
KATHLEEN T. MCWHORTER has taught reading and writing courses for over 30 years at Niagara County Community College. Her many titles provide various and flexible approaches to teaching reading and writing strategies that accommodate a range of learning and teaching styles.
Table of Contents
Reading and Writing Success Starts Here!
Use the Help Features in This Book

Reading and Writing Success Tips

Tip 1: Manage Your Time and Identify a Place to Study

Tip 2: Manage Your Electronic Life

Tip 3: Build Your Concentration

Tip 4: Keep a Writing Journal

Tip 5: Collaborate for Success
PART ONE Introduction to Reading and Writing
Chapter 1 An Overview of Active Reading
Focusing on Reading and Writing

What Is Active Reading?

Preview Before Reading

Form Guide Questions

Keys to Understanding What You Read

Build Your Vocabulary Through Reading

Think Critically

Integrating Reading and Writing

Read and Respond

A Professional Essay A Brother Lost, Ashley Womble

Self-Test Summary
Vocabulary Workshops
Workshop 1:Expanding Your Vocabulary

Workshop 2:Using Context Clues

Workshop 3:Learning Specialized and Technical Vocabulary

Workshop 4: Using Word Parts
Chapter 2 An Overview of the Writing Process
Focusing on Reading and Writing

What Is Good Writing?

The Five Steps in Writing Process

Generate Ideas

Organize Your Ideas

Write a First Draft

Revise and Rewrite Drafts

Proofread Your Final Draft

Consider Your Audience and Purpose

Integrating Reading and Writing

Read and Respond

A Student Essay Education: The Open Road, Doug Mello

Read and Respond

A Professional Essay Credit Card Smarts: Take Charge of Your Cards

Self-Test Summary
Chapter 3 Reading and Learning from College Textbooks
Focusing on Reading and Writing

Why Write as You Read and Study?

Reading

Strategies for Reading Textbooks

Use the SQ3R System for Learning from Textbooks

Writing

Use Learning and Recall Strategies

Highlight and Annotate

Outline

Map

Paraphrase

Summarize

Think Critically About Information in Textbooks

Integrating Reading and Writing

Read and Respond

Textbook Excerpt How to Remember What You Study, Carole Wade and Carol Tavris

Self-Test Summary
Chapter 4 Reading and Evaluating Visuals
Focusing on Reading and Writing

Why Use Visuals?

Use Strategies for Reading and Interpreting Visuals

Integrate Text and Visuals

Types of Visuals

Photographs

Maps

Tables

Graphs

Diagrams

Charts

Infographics

Cartoons

Think Critically About Visuals
Integrating Reading and Writing
Read and Respond

A Professional Essay Are You Hooked? Leah McLaughlin
Self-Test Summary
PART TWO Reading, Writing, and Organizing Paragraphs 
Chapter 5 Topics, Main Ideas, and Topic Sentences
Focusing on Reading and Writing

Reading

Locate the Topic

Locate the Main Idea

Tips for Locating the Topic Sentence

Think Critically About Main Ideas

Writing 000

Write Effective Topic Sentences

Choose a Manageable Topic

Tips for Writing Effective Topic Sentences

Integrating Reading and Writing

Read and Respond

A Student Essay The Russian and U.S. School Systems, Kate Atkinson

Read and Respond

A Professional Essay Greed, Cancer, and Pink KFC Buckets, John Robbins

Self-Test Summary
Chapter 6 Details, Transitions, and Implied Main Ideas
Focusing on Reading and Writing

What Are Details, Transitions, and Implied Main Ideas?

Reading

Identify Supporting Details

Types of Supporting Details

Think Critically About Details

Use Transitions to Guide Your Reading

Identify Implied Main Ideas

Writing

Select Relevant and Sufficient Details

Organize Details Effectively

Use Transitional Word and Phrases to Connect Details

Use Specific Words

Integrating Reading and Writing

Read and Respond

A Student Essay The China Bug, James Sturm

Read and Respond

A Professional Essay The Most Hateful Words, Amy Tan

Self-Test Summary
Chapter 7 Organization: Basic Patterns
Focusing on Reading and Writing

What Are Patterns of Organization?

Reading and Writing Time Sequence: Chronological Order, Process, and

Narration

What Is Time Sequence?

Reading Chronological Order, Process, and Narration

Writing Process Paragraphs

Writing Narration Paragraphs

Reading and Writing Description

What Is Description?

Reading Description

Writing Descriptive Paragraphs

Reading and Writing Example

What Is an Example?

Reading Examples

Writing Example Paragraphs

Thinking Critically About Patterns of Organization

Integrating Reading and Writing

Read and Respond

A Student Essay From Bullet to Blue Sky, Yesenia De Jesus

Read and Respond

A Professional Essay Cairo Tunnel, Amanda Fields

Self-Test Summary
Chapter 8 Organization: Additional Patterns
Focusing on Reading and Writing

What Are Additional Patterns of Organization?

Reading and Writing Definition

What Is Definition?

Reading Definition

Writing Definition Paragraphs

Reading and Writing Classification

What Is Classification?

Reading Classification

Writing Classification Paragraphs

Reading and Writing Comparison and Contrast

What Are Comparison and Contrast?

Reading Comparison and Contrast

Writing Comparison and Contrast Paragraphs

Reading and Writing Cause and Effect

What Is Cause and Effect?

Reading Cause and Effect

Writing Cause and Effect Paragraphs

Reading and Writing Other Patterns of Organization

Statement and Clarification

Summary

Addition

Spatial Order

Thinking Critically About Patterns of Organization

Integrating Reading and Writing

Read and Respond

A Student Essay Benefits of Joining the Military, by Jessica Nantka

Read and Respond

A Professional Essay E-Waste and E-Waste Recycling, Jay Withgott and Scott Brennan

Self-Test Summary
Chapter 9 Strategies for Revising Paragraphs
Focusing on Reading and Writing

Reading

Read Critically to Revise

Writing

Consider Your Purpose and Audience

Examine Your Ideas

Revise for Specific and Vivid Language

Edit for Correctness

Integrating Reading and Writing

Read and Respond

A Student Essay My Unexpected Addiction, E lizabeth Lawson

Read and Respond

A Professional Essay Who Should Live, and Who Should Die? The Dilemma of Rationing Medical Care, James M. Henslin

Self-Test Summary
PART Three Reading and Writing Essays
Chapter 10 Reading, Planning, and Organizing Essays
Focusing on Reading and Writing

Why Read and Write Essays?

Reading

Read Essays to Build Comprehension and Recall

Understand the Structure of an Essay

To Catch A Liar Sandra Parshall

Mind Your Own Browser Simson L. Garfinkel

Read for Retention, Recall, and Response

Think Critically About Essays

Writing

Choose a Topic

Generate Ideas About Your Topic

Plan Your Essay

Organize Your Essay

Integrating Reading and Writing

Read and Respond

Student Freewriting, Ted Sawchuck

Read and Respond

Measuring Success by Access to Gadgets, Patrick Smith

Self-Test Summary
Chapter 11 Drafting and Revising Essays
Focusing on Reading and Writing

What Is a Draft?

Reading

Read While Drafting

Writing

Write and Revise Your Thesis Statement

Support Your Thesis with Substantial Evidence

Use Transitions to Make Connections

Write the Introduction, Conclusion, and Title

Think Critically About Your Draft and How to Revise It

Edit and Proofread

Integrating Reading and Writing

Read and Respond

A Student Essay Relationships 2.0: Dating and Relating in the Internet

Age, Ted Sawchuck

Read and Respond

A Professional Essay Stop Asking Me My Major, Scott Keyes

Self-Test Summary
Chapter 12 Reading and Writing Essays with Multiple Patterns
Focusing on Reading and Writing

What Is a Multi-Pattern Essay?

Reading

Recognizing Multiple Patterns

Writing

Choose a Primary Pattern of Organization for Your Essay

Common Secondary Patterns of Organization

Plan and Write a Multi-Pattern Essay

Use Multiple Patterns in Introductions, Body Paragraphs, and

Conclusions

Integrating Reading and Writing

Read and Respond

A Student Essay Gang Life: Better from the Outside, Dejohn Harris

Read and Respond

A Professional Essay Emotional Troubles for "Cyberbullies" and Victims, Denise Mann

Self-Test Summary
PART Four Critical Thinking, Reading, and Writing
Chapter 13 Critical Thinking: Making Inferences and Analyzing the Author's Message
Focusing on Reading and Writing

What Is Critical Thinking?

Reading

Make Inferences

Assess the Source and Author Qualifications

Distinguish Between Fact and Opinion

Evaluate Evidence and Omissions

Analyze Tone

Writing

Think Critically When Writing

Integrating Reading and Writing

Read and Respond

A Student Essay Making a Difference, Quinne Sember

Read and Respond

A Professional Essay Are Latinos Different? Sandra Márquez

Self-Test Summary
Chapter 14 Critical Thinking: Evaluating the Author's Techniques
Focusing on Reading and Writing

Why Evaluate the Author's Techniques?

Reading

Understand Connotative and Figurative Language

Analyze Assumptions

Evaluate Generalizations

Identify Bias

Writing

Write Effectively and Fairly

Integrating Reading and Writing

Read and Respond

A Student Essay From Ignorant Bliss to Painful Awareness, Aurora

Gilbert

Read and Respond

A Professional Essay Sweatshops at Sea, Virginia Sole-Smith

Self-Test Summary
Chapter 15 Critical Thinking: Reading and Writing Arguments
Focusing on Reading and Writing

Reading

The Parts of an Argument

Read an Argument Effectively

Think Critically About Arguments

From a Vegetarian: Looking at Hunting from Both Sides Now, Timothy Denesha

Writing

Write Argument Paragraphs

Write Argument Essays

Integrating Reading and Writing

Read and Respond

A Student Essay Marijuana: An Argument for Legalization, Quinne Sember

Read and Respond

Paired Professional Essays Should Online States Ban Postings by Groups the Government Identifies as Terrorists?

Reading 1: Pro Argument from Sen. Joseph Lieberman

Reading 2: Con Argument Leslie Harris and John Morris

Self-Test Summary
PART five Reading and Writing from Sources
Chapter 16 Writing Essays Using Sources
Integrating Reading and Writing

What Is an Essay that Uses Sources?

Find and Record Appropriate Sources

Use Sources to Support Your Thesis and Develop Your Essay

Synthesize Sources

Document Sources

An Overview of MLA Style

An Overview of APA Style

Read and Respond

A Student Essay Weighing the Consequences of Censorship in the Media, Adam Simmons (MLA)

Self-Test Summary
PART SIX Handbook: Reviewing the Basics 
A. U nderstanding the Parts of Speech 

B. U nderstanding the Parts of Sentences 

C. Avo iding Sentence Errors 

D. Writing Effective Sentences 

E. Us ing Punctuation Correctly

F. M anaging Mechanics and spelling

G. Error Correction Exercises 
Credits
Index