Note: Supplemental materials are not guaranteed with Rental or Used book purchases.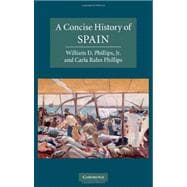 Summary
The rich cultural and political life of Spain has emerged from its complex history, from the diversity of its peoples, and from continual contact with outside influences. This book traces that history from prehistoric times to the present, focusing particularly on culture, society, politics, and personalities. Written in an engaging style, it introduces readers to the key themes that have shaped Spain's history and culture. These include its varied landscapes and climates; the impact of waves of diverse human migrations; the importance of its location as a bridge between the Atlantic and the Mediterranean and Europe and Africa; and religion, particularly militant Catholic Christianity and its centuries of conflict with Islam and Protestantism, as well as debates over the place of the Church in modern Spain. Illustrations, maps, and a guide to further reading, major cultural figures, and places to see, make the history of this fascinating country come alive.
Author Biography
William D. Phillips, JR., is Professor of History at the University of Minnesota and directed the Center for Early Modern History there from 2001 to 2008. His previous publications include Testimonies from the Columbus Lawsuits (edited, 2000), The Worlds of Christopher Columbus (with Carla Rahn Phillips, 1992, recipient of the "Spain in America" [Second] Prize, awarded by the Spanish government), Historia de la esclavitud en Espaa (1990), and Slavery from Roman Times to the Early Transatlantic Trade (1985). Carla Rahn Phillips is Union Pacific Professor in Comparative Early Modern History at the University of Minnesota. Her previous publications include Spain's Golden Fleece: Wool Production and the Wool Trade from the Middle Ages to the Nineteenth Century (1997, with William D. Phillips, Jr., winner of the 1998 "Leo Gershoy" Award of the American Historical Association), and The Treasure of the San Jos: Death at Sea in the War of the Spanish Succession (2007, winner of the Award for Excellence in World History and Biography/Autobiography of the Professional and Scholarly Publishing division of the American Association of Publishers).
Table of Contents
List of Illustrations
p. vi
List of maps
p. ix
Preface
p. xi
The land and its early inhabitants
p. 1
Ancient legacies
p. 21
Diversity in medieval Spain
p. 47
The rise of Spain to international prominence
p. 82
Spain as the first global empire
p. 134
Toward modernity: from the Napoleonic invasion to Alfonso XIII
p. 206
The struggle for the Spanish soul: Republic, civil war, and dictatorship
p. 246
New Spain, new Spaniards: European, democratic, and multi-cultural
p. 281
Chronology and rulers
p. 305
Guide to further information
p. 310
Index
p. 330
Table of Contents provided by Ingram. All Rights Reserved.