Note: Supplemental materials are not guaranteed with Rental or Used book purchases.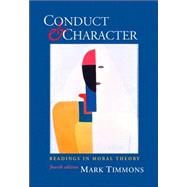 Questions About This Book?
What version or edition is this?
This is the edition with a publication date of 5/30/2002.
What is included with this book?
The New copy of this book will include any supplemental materials advertised. Please check the title of the book to determine if it should include any CDs, lab manuals, study guides, etc.
Related Products
Summary
What makes one person full of integrity and another a scoundrel? CONDUCT AND CHARACTER: READINGS IN MORAL THEORY uses fascinating and easy-to-follow selections from the world's best philosophers to present basic ethical theory in a way you can understand. And because it has writings from both sides of an issue, you'll get the whole story.
Author Biography
Mark Timmons is professor of philosophy at The University of Memphis.
Table of Contents
| | |
| --- | --- |
| Preface | |
| 1. INTRODUCTION TO MORAL THEORY: THE NATURE AND EVALUATION OF MORAL THEORIES | |
| Basic moral concepts | |
| The aims of moral theory | |
| The role of principles in moral theory | |
| The structure of a moral theory | |
| How to evaluate a moral theory | |
| 2. EGOISM | |
| Plato: The Myth of Gyges | |
| Ayn Rand: The Virtue of Selfishness | |
| James Rachels: Egoism and Moral Skepticism | |
| Peter Singer: Egoism, Altruism, and Sociobiology | |
| 3. ETHICS BY AUTHORITY: THE DIVINE COMMAND THEORY AND RELATIVISM | |
| Robert C | |
| Mortimer: Morality is Based on God's Commands | |
| Mark Timmons: Does Morality Depend on God's Commands? Ruth Benedict: A Defense of Ethical Relativism | |
| James Rachels: The Challenge of Cultural Relativism | |
| 4. THE NATURAL LAW THEORY | |
| St | |
| Thomas Aquinas: Treatise on Law | |
| C | |
| E | |
| Harris: The Ethics of Natural Law | |
| Philippa Foot: The Doctrine of Double Effect | |
| Emmett Barcalow: Problems for Natural Law Theory | |
| 5. UTILITARIANISM | |
| Jeremy Bentham: The Principle of Utility | |
| J | |
| S | |
| Mill: In Defense of Utilitarianism | |
| Kai Nielsen: Against Moral Conservatism | |
| John Rawls: Two Concepts of Rules | |
| J | |
| L | |
| Mackie: The Ethics of Fantasy | |
| 6. KANTIAN ETHICAL THEORY | |
| Immanuel Kant: The Moral Law and Autonomy of the Will | |
| Robert L | |
| Holmes: Kantianism | |
| Onora O'Neill: Kant on Treating People as Ends in Themselves | |
| Fred Feldman: On Treating People as Ends in Themselves: A Critique of Kant | |
| 7. VIRTUE ETHICS | |
| Aristotle: Virtue and Character | |
| Rosalind Hursthouse: Normative Virtue Ethics | |
| Michael Slote: Agent-Based Virtue Ethics | |
| Thomas Hurka: Against Virtue Ethics | |
| 8. THE ETHICS OF CARE | |
| Carol Gilligan: Moral Orientation and Moral Development | |
| Viginia Held: Feminist Ethical Theory | |
| Nel Noddings: An Ethic of Caring | |
| Claudia Card: Caring and Evil | |
| 9. PLURALISM AND PARTICULARISM | |
| Jean-Paul Sartre: Moral Choice Without Principles | |
| W | |
| D | |
| Ross: What Makes Right Acts Right? David McNaughton: Principles or Particularism? Brad Hooker: Moral Particularism: Wrong and Bad | |