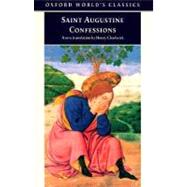 Questions About This Book?
What version or edition is this?
This is the Reprint edition with a publication date of 6/25/1998.
What is included with this book?
The Used copy of this book is not guaranteed to include any supplemental materials. Typically, only the book itself is included.
Summary
Written in 397 A.D., Confessions is the autobiography of Augustine of Hippo, a moving and profound record of a human soul and its struggles toward salvation. The most widely read of all his works, it not only tells the story of Augustine's struggle in the faith, but also his love for Jesus Christ.
Author Biography

An expert on the early Church, Henry Chadwick is Master of Peterhouse, Cambridge. He is the author of such books as Early Christian Thought and the Classical Tradition and Augustine in the Past Masters series.

Table of Contents
Introduction
ix
(18)
Bibliographical Note
xxvii
(2)
Dates
xxix

| | |
| --- | --- |
| | BOOK I: Early Years God transcendent, yet within--infancy--speech--almost baptized--learning Greek--Latin literature's corruption. |

3
(21)

| | |
| --- | --- |
| | BOOK II: Adolescence Sexual adventures--theft of pears: `alone I would never have done it'--the peer group. |

24
(11)

| | |
| --- | --- |
| | BOOK III: Student at Carthage Sex, theatre, and shows--the catharsis of tragedy--the Wreckers--Cicero's Hortensius--revulsion from scripture--to the Manichees--absolute and relative ethics--Monica's dream--the son of many tears. |

35
(17)

| | |
| --- | --- |
| | BOOK IV: Manichee and Astrologer Selling rhetoric--concubine--no animal sacrifice--astrology--Vindicianus--Nebridius--death of a dear friend--for Hierius on beauty and proportion--Aristotle's Categories. |

52
(20)

| | |
| --- | --- |
| | BOOK V: Carthage, Rome, and Milan Restless without God--reconciling science and Genesis--eclipses--meeting Faustus of Mileu--rhetorical style irrelevant to truth--disillusion with Mani--move to Rome--Academic scepticism--evil--dishonest students at Rome--`I came to Milan to Ambrose'--a catechumen loosely attached to the Church. |

72
(18)

| | |
| --- | --- |
| | BOOK VI: Secular Ambitions and Conflicts Monica follows to Milan--her offerings at martyria--Ambrose's sermons and biblical authority--certainty--panegyric on Valentinian II--a drunken beggar--disappointed ambitions--Alypius at Carthage, Rome, and Milan--addiction to gladiators--a civil servant's integrity--his aversion to sex--Augustine's proposed marriage--his concubine back to Africa. |

90
(21)

| | |
| --- | --- |
| | BOOK VII: A Neoplatonic Quest Materialist notions--free will and Evil--rejection of astrology--Firminus--the books of the Platonists--St John's prologue--ascent to a momentary vision of the eternal--the incarnate Lord the way. |

111
(22)

| | |
| --- | --- |
| | BOOK VIII: The Birthpangs of Conversion Simplicianus--Victorinus' baptism--Ponticianus on Antony and ascetics at Milan and Trier--`make me chaste but not yet'--a garden at Milan. |

133
(22)

| | |
| --- | --- |
| | BOOK IX: Cassiciacum: to Monica's death Renunciation of a secular career--Verecundus and Nebridius die baptized--psalm 4--baptism at Milan--psalms and hymns--Gervasius and Protasius--Monica's life: youthful addiction to wine--her fidelity--vision at Ostia--death and burial--why grief? |

155
(24)

| | |
| --- | --- |
| | BOOK X: Memory Love's silent cries--curiosity about my past--loving the incorporeal--memory's vast recesses--the stomach of the mind--forgetfulness--remembering past happiness--`late have I loved you'--`grant what you command'--temptations--food and drink; music--the eyes--curious researches--pride--the Mediator, priest and victim. |

179
(42)

| | |
| --- | --- |
| | BOOK XI: Time and Eternity God's Word, and the successiveness of words--`what was God doing before creation?'--foolish question--what is time? a measurement? a distension in the soul? |

221
(25)

| | |
| --- | --- |
| | BOOK XII: Platonic and Christian Creation Matter and form--formlessness in Genesis I: 2; knowing the unknowable--Manichee shapes--distance from God is dissimilarity--creation out of nothing--time and change--`heaven of heaven' not coeternal, yet not changing--formless matter outside time--Catholic critics of my exegesis--God wills change, does not change his will--Genesis I: I--many interpretations valid if orthodox--truth shared, not private--is the biblical author's intention the only true meaning? |

246
(27)

| | |
| --- | --- |
| | BOOK XIII: Finding the Church in Genesis I Creation from God's goodness and grace, not needed by him--the Trinity in Genesis I: I-2--`our rest is our peace'--`my weight is my love'--the trinity within the soul--the skin of scripture--God as being, knowledge, will--unchanging heavenly truth, changing earthly apprehension--sacraments--the Fish--`ignorance mother of wonder'--`increase and multiply' allegorical, fertility of the mind--beauty of the body--man and woman equal in mind and intelligence-- sabbath rest of eternal life. |

273
(34)
Index
307