Note: Supplemental materials are not guaranteed with Rental or Used book purchases.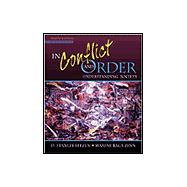 Summary
This introductory text, written from a conflict perspective, emphasizes four themes: diversity, the struggle by the powerless to achieve social justice, the changing economy, and globalization. "In Conflict and Order" studies the forces that lead to both stability and change in society. Who benefits from the existing social arrangements, and who does not? How are human beings shaped by society? What are the forces that maintain social stability, produce social inequality, and resist social change? Eitzen and Baca Zinn challenge you to question your own taken-for-granted assumptions about society, look for the structural causes of social conditions, and ask how society can be restructured along more humane lines.
Table of Contents
Preface
The Sociological Approach
The Sociological Perspective
Sociology
Assumptions of the Sociological Perspective
Problems with the Sociological Perspective
The Historical Development of Sociology
Sociological Methods: The Craft of Sociology
A Closer Look: Sociological Questions
Research Methods: Minimizing Bias
The Structure of Social Groups
The Micro Level
A Closer Look: The Effects of the New Technology on Social Interaction
The Societal or Macro Level
Diversity: The Societal Reaction to Gay Marriages
The Duality of Social Life: Order and Conflict
Social Systems: Order and Conflict
Research Methods: Social Scientists and Values
Synthesis of the Order and Conflict Models
A Closer Look: The Fragmentation of U S Society
A Closer Look: Division and Violence in India
The Use of the Order and Conflict Models in This Book
The Individual In Society: Society In The Individual
Culture
Culture: The Knowledge That People Share
A Closer Look: Is the United States Culturally Superior?
A Closer Look: Cultural Time
The Globalization of Culture
Globalization: The Increasing Domination of the English Language
Worldwide
Values
A Closer Look: The Negative Consequences of Overemphasizing Competition in Sport
Research Methods: Participant Observation
Values from the Order and Conflict Perspectives
Socialization
The Personality as a Social Product
A Closer Look: Learning to Hate
A Closer Look: What Is the Impact of Violence in the Media on Youth?
Similarities and Differences Among the Members of Society
Social Control
Agents of Ideological Social Control
Diversity: The Amish and Social Control
Agents of Direct Social Control
A Closer Look: Government Control in Singapore
Social Control in the Private Sector: Implications for Contemporary Social Life
A Closer Look: The Internet and the Shrinking Zone of Privacy
Social Control from the Order and Conflict Perspectives
Deviance
Table of Contents provided by Publisher. All Rights Reserved.