Note: Supplemental materials are not guaranteed with Rental or Used book purchases.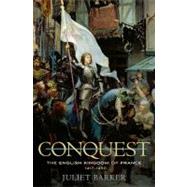 Summary
For thirty dramatic years, England ruled a great swath of France at the point of the sword-an all-but-forgotten episode in the Hundred Years' War that Juliet Barker brings to vivid life in Conquest. Following Agincourt, Henry V's second invasion of France in 1417 launched a campaign that would place the crown of France on an English head. Buoyed by conquest, the English army seemed invincible. By the time of Henry's premature death in 1422, nearly all of northern France lay in his hands and the Valois heir to the throne had been disinherited. Only the appearance of a visionary peasant girl who claimed divine guidance, Joan of Arc, was able to halt the English advance, but not for long. Just six months after her death, Henry's young son was crowned in Paris as the first-and last-English king of France. Henry VI's kingdom endured for twenty years, but when he came of age he was not the leader his father had been. The dauphin whom Joan had crowned Charles VII would finally drive the English out of France. Barker recounts these stirring events-the epic battles and sieges, plots and betrayals-through a kaleidoscope of characters from John Talbot, the "English Achilles," and John, duke of Bedford, regent of France, to brutal mercenaries, opportunistic freebooters, resourceful spies, and lovers torn apart by the conflict.
Table of Contents
Preface
p. ix
Notes to the Text
p. xv
Maps: Northern France
p. xvii
France, 1429
p. xviii
France, 1436
p. xix
Table 1: The English Royal Line from Edward III
p. xx
Table 2: The French Royal Line - The House of Valois
p. xxi
Establishing the Kingdom
Invasion
p. 3
Conquest
p. 15
Heir of France
p. 31
The English Kingdom of France
p. 46
Resistance
p. 61
A Second Agincourt
p. 76
Jehanne D'arc
The Pucelle
p. 95
The Siege of Orléans
p. 110
A New King of France
p. 125
Capture
p. 140
Trial and Execution
p. 156
War of Attrition
A Year of Disasters
p. 175
Recovery
p. 191
Disorder and Defeat
p. 208
The Treaty of Arras
p. 223
The Fall of Paris
p. 239
The Search For Peace
Defending Normandy
p. 257
Gains and Losses
p. 274
Missed Opportunities
p. 289
A Last Military Effort
p. 304
The Truce of Tours
A Truce and a Marriage
p. 323
Concessions for Peace
p. 338
The Surrender of Maine
p. 354
The Truce Breaks Down
p. 370
Reconquest
p. 385
Epilogue
p. 401
Notes
p. 406
Bibliography
p. 438
Chronology of Key Events
p. 447
Acknowledgements
p. 455
Index
p. 456
Table of Contents provided by Ingram. All Rights Reserved.