Note: Supplemental materials are not guaranteed with Rental or Used book purchases.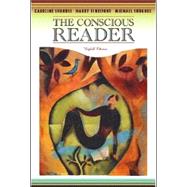 Questions About This Book?
What version or edition is this?
This is the 8th edition with a publication date of 8/1/2000.
What is included with this book?
The New copy of this book will include any supplemental materials advertised. Please check the title of the book to determine if it should include any CDs, lab manuals, study guides, etc.
Summary
The Conscious Reader is an exceptionally rich, thematic anthology of nonfiction prose and literary works, with a multidisciplinary and culturally diverse selection of readings. Renowned for the quality of its selections, The Conscious Reader represents a broad range of academic disciplines and interests, including art, cultural studies, education, psychology, philosophy, politics, science, technology, and environmental studies. The 168 selections also represent a wide range of genres: 25 personal reminiscences, 81 essays, 22 short stories, 36 poems, 2 plays, and 4 full-color paintings. They range from the classical (Plato's Crito) to the contemporary (Maya Angelou, Roger Rosenblatt, and Kenzaburo Oe).
Table of Contents
Rhetorical Contents
xiv
Preface
xix
Art and Composition
Self-Portrait with a Thorn Necklace and Hummingbird
xxxiii
Harriet Tubman
xxxv
The Luncheon of the Boating Party
xxxvii
Drowning Girl
xxxix
The Search for Self
3
(3)

| | |
| --- | --- |
| | Anarchy in the Tenth Grade |

6
(4)
10
(1)
11
(11)

| | |
| --- | --- |
| | Casa: A Partial Remembrance of a Puerto Rican Childhood |

22
(6)

| | |
| --- | --- |
| | Beauty: When the Other Dancer Is the Self |

28
(7)

| | |
| --- | --- |
| | How It Feels to Be Colored Me |

35
(4)
39
(7)

| | |
| --- | --- |
| | The Discovery of What It Means to Be an American |

46
(5)
51
(2)

| | |
| --- | --- |
| | Loneliness...An American Malady |

53
(3)

| | |
| --- | --- |
| | The Child's Need for Magic |

56
(8)
64
(3)
67
(4)
71
(8)

| | |
| --- | --- |
| | The Love Song of J. Alfred Prufrock |

79
(5)

| | |
| --- | --- |
| | The Force That Through the Green Fuse Drives the Flower |

84
(1)
85
(1)
86
(4)
Personal Relationships: Parents and Children

| | |
| --- | --- |
| | Letters and Personal Peminiscences |

90
(7)
97
(5)
102
(10)
112
(15)

| | |
| --- | --- |
| | Abortion Fight Is over Choice |

127
(3)
130
(13)

| | |
| --- | --- |
| | Portrait of a Girl in Glass |

143
(9)
152
(7)
159
(4)

| | |
| --- | --- |
| | Everything That Rises Must Converge |

163
(13)
176
(4)
180
(7)
187
(10)

| | |
| --- | --- |
| | my father moved through dooms of love |

197
(2)
199
(3)
202
(1)
203
(2)

| | |
| --- | --- |
| | ``Life for my child is simple, and is good'' |

205
(4)
Personal Relationships: Men and Women

| | |
| --- | --- |
| | A Vindication of the Rights of Woman |

209
(3)
212
(4)
216
(5)
221
(8)
229
(3)

| | |
| --- | --- |
| | The Quiet Movement of American Men |

232
(14)
246
(5)
251
(14)
265
(4)

| | |
| --- | --- |
| | The Unicorn in the Garden |

269
(2)
271
(10)
281
(8)

| | |
| --- | --- |
| | What We Talk About When We Talk About Love |

289
(11)
300
(6)
306
(7)

| | |
| --- | --- |
| | When in Disgrace with Fortune and Men's Eyes (Sonnet 29) |

313
(2)

| | |
| --- | --- |
| | Let Me Not to the Marriage of True Minds (Sonnet 116) |

314
(1)
315
(1)
315
(1)

| | |
| --- | --- |
| | Lay Your Sleeping Head, My Love |

316
(1)
317
(1)

| | |
| --- | --- |
| | i like my body when it is with your |

318
(1)
319
(2)

| | |
| --- | --- |
| | Just How Do You Suppose That Alice Knows? |

321
(2)
323
(9)
The Cultural Tradition: Popular Culture
332
(6)
338
(2)
340
(5)
345
(4)

| | |
| --- | --- |
| | Kill 'Em! Crush 'Em! Eat 'Em Raw! |

349
(7)

| | |
| --- | --- |
| | A Rhinestone as Big as the Ritz |

356
(6)
362
(11)

| | |
| --- | --- |
| | The Aesthetics of Paranoia |

373
(4)
377
(11)
The Cultural Tradition: Art and Society
388
(5)
393
(7)
400
(5)
405
(4)

| | |
| --- | --- |
| | The Mona Lisa's Enduring Form |

409
(7)
416
(6)
422
(6)

| | |
| --- | --- |
| | Science Fiction: Imaginary Worlds and Real-Life Questions |

428
(6)
434
(3)

| | |
| --- | --- |
| | Playing upon the Strings of Emptiness |

437
(6)
443
(11)
454
(4)
458
(13)
471
(2)
473
(1)
474
(3)
477
(3)
Science, the Environment, and the Future
480
(12)

| | |
| --- | --- |
| | Asking How Much Is Enough |

492
(5)
497
(3)
500
(10)

| | |
| --- | --- |
| | It's a Fact: Faith and Theory Collide over Evolution |

510
(3)

| | |
| --- | --- |
| | Creationism Isn't Science |

513
(7)
520
(11)
531
(2)

| | |
| --- | --- |
| | Expressions: The Visible Link |

533
(4)
537
(9)
546
(13)

| | |
| --- | --- |
| | The Trouble with Wilderness |

559
(4)

| | |
| --- | --- |
| | Winged: The Creatures on My Mind |

563
(5)
568
(13)

| | |
| --- | --- |
| | Conditioning the Children |

581
(3)
584
(1)

| | |
| --- | --- |
| | When I Heard the Learn'd Astronomer |

584
(4)
Freedom and Human Dignity
588
(2)

| | |
| --- | --- |
| | The Ethics of Living Jim Crow |

590
(11)

| | |
| --- | --- |
| | Prologue to Exiled: The Winds of Sunset Heights |

601
(9)

| | |
| --- | --- |
| | The Declaration of Independence |

610
(7)

| | |
| --- | --- |
| | The Declaration of the Rights of Man |

614
(3)

| | |
| --- | --- |
| | Declaration of Sentiments and Resolutions |

617
(4)
621
(2)

| | |
| --- | --- |
| | Of Cruelty and Clemency, and Whether It Is Better to Be Loved or Feared |

623
(3)

| | |
| --- | --- |
| | Letter from Birmingham Jail |

626
(17)
643
(2)
645
(5)
650
(1)

| | |
| --- | --- |
| | Speech on the Signing of the Treaty of Port Elliott |

651
(4)

| | |
| --- | --- |
| | The Principles of Newspeak |

655
(10)
665
(13)
678
(9)

| | |
| --- | --- |
| | On Being Black and Middle Class |

687
(11)
698
(7)
705
(10)

| | |
| --- | --- |
| | A Note on the Banality of Evil |

715
(8)
723
(10)

| | |
| --- | --- |
| | Perhaps We Are Going Away |

733
(5)
738
(2)
740
(1)
741
(3)
744
(36)
The Examined Life: Education
780
(8)
788
(11)
799
(8)

| | |
| --- | --- |
| | Who's Educated? Who Knows? |

807
(3)

| | |
| --- | --- |
| | Human Intelligence Isn't What We Think It Is |

810
(4)
814
(9)

| | |
| --- | --- |
| | Reading, the Most Dangerous Game |

823
(6)
829
(10)

| | |
| --- | --- |
| | Feminist Accused of Sexual Harassment |

839
(6)

| | |
| --- | --- |
| | The Merits of Meritocracy |

845
(3)
848
(5)

| | |
| --- | --- |
| | Lingo Jingo: English-Only and the New Nativism |

853
(13)
866
(6)
872
(2)
874
(1)

| | |
| --- | --- |
| | Elegy for Jane: My Student, Thrown by a Horse |

875
(2)
877
(2)
879
(3)
The Examined Life: Personal Values
882
(11)

| | |
| --- | --- |
| | Learning to See the Miraculous |

893
(4)
897
(9)
906
(3)

| | |
| --- | --- |
| | Where Does Writing Come From? |

909
(6)

| | |
| --- | --- |
| | Heading into Darkness Once Again |

915
(2)

| | |
| --- | --- |
| | Life Is Sacred: That's the Easy Part |

917
(5)

| | |
| --- | --- |
| | The Man Who Was Put in a Cage |

922
(6)
928
(11)

| | |
| --- | --- |
| | The Rewards of Living a Solitary Life |

939
(3)
942
(6)
948
(9)
957
(8)
965
(7)
972
(1)

| | |
| --- | --- |
| | About Face (A Poem Called ``Dover Beach'') |

973
(2)

| | |
| --- | --- |
| | The Mind Is an Enchanting Thing |

975
(2)
977
(1)
978
(3)
Glossary
981
(8)
Author/Artist and Title Index
989