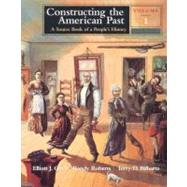 List Price: $41.00
In Stock Usually Ships in 24 Hours
Questions About This Book?
What version or edition is this?
This is the 3rd edition with a publication date of 11/1/1998.
What is included with this book?
The Used copy of this book is not guaranteed to inclue any supplemental materials. Typically, only the book itself is included.
Summary
Students get involved in discovering history for themselves when using Constructing the American Past. Readers evaluate primary sources and then develop informed interpretations of American History.
Table of Contents
Preface
xiii
(2)
Introduction Doing History
xv

| | |
| --- | --- |
| | CHAPTER 1 Contact and Conquest: The Meeting of the Old and New Worlds |

1
(20)
1
(5)
6
(13)

| | |
| --- | --- |
| | 1. Journal of Christopher Columbus's First Voyage |

6
(5)

| | |
| --- | --- |
| | 2. Bartolome de Las Casas, From The Devastation of the Indies: A Brief Account |

11
(4)

| | |
| --- | --- |
| | 3. The Aztec Account of the Spanish Conquest, Florentine Codex, as Collected by Bernadino de Sahagun |

15
(4)
19
(1)
19
(1)
19
(1)
19
(1)
19
(1)
20
(1)

| | |
| --- | --- |
| | CHAPTER 2 Dying and Surviving in Virginia |

21
(26)
21
(5)
26
(18)

| | |
| --- | --- |
| | 1. Arthur Barlowe, "Narrative of the 1584 Voyage" |

26
(2)

| | |
| --- | --- |
| | 2. Thomas Harriot, From A Brief and True Report of the New Found Land of Virginia |

28
(1)

| | |
| --- | --- |
| | 3. John White, "Narrative of the 1590 Virginia Voyage" |

29
(1)

| | |
| --- | --- |
| | 4. George Percy, "Discourse" |

30
(1)

| | |
| --- | --- |
| | 5. John Smith, From Journal |

31
(3)

| | |
| --- | --- |
| | 6. John Smith, "A Map of Virginia with a Description of the Country" |

34
(4)

| | |
| --- | --- |
| | 7. From Nova Britannia, 1609 |

38
(2)

| | |
| --- | --- |
| | 8. From Laws Divine, Moral and Martial, 1611 |

40
(1)

| | |
| --- | --- |
| | 9. "The State of the Colony in Virginia," 1622 |

41
(2)

| | |
| --- | --- |
| | 10. Richard Frethorne, An Indentured Servant Describes Life in Virginia in a Letter to His Parents |

43
(1)
44
(1)
45
(1)
45
(1)
45
(1)
45
(1)
45
(2)

| | |
| --- | --- |
| | CHAPTER 3 The Puritan Experience in New England |

47
(24)
47
(4)
51
(18)

| | |
| --- | --- |
| | 1. John Winthrop, "A Model of Christian Charity" |

51
(3)

| | |
| --- | --- |
| | 2. From The Apologia of Robert Keayne |

54
(2)

| | |
| --- | --- |
| | 3-4. Education and Literacy |

56
(3)
59
(2)

| | |
| --- | --- |
| | 7. Mary Rowlandson, The Sovereignty and Goodness of God |

61
(5)

| | |
| --- | --- |
| | 8-11. Salem's Struggle with Satan |

66
(3)
69
(1)
69
(1)
69
(1)
69
(1)
70
(1)

| | |
| --- | --- |
| | CHAPTER 4 "What, Then, Is the American, This New Man?": William Byrd II, Jonathan Edwards, Benjamin Franklin |

71
(24)
71
(2)
73
(20)

| | |
| --- | --- |
| | 1. The Diaries of William Byrd |

74
(8)

| | |
| --- | --- |
| | 2. The Memoirs of Jonathan Edwards |

82
(3)

| | |
| --- | --- |
| | 3. The Memoirs of Benjamin Franklin |

85
(8)
93
(1)
93
(1)
93
(1)
93
(1)
94
(1)

| | |
| --- | --- |
| | CHAPTER 5 What Kind of Revolution? Justifications for Rebellion |

95
(26)
95
(4)
99
(20)

| | |
| --- | --- |
| | 1. Joseph Galloway, "Plan of Union" |

100
(1)

| | |
| --- | --- |
| | 2. Samuel Seabury, "An Alarm to the Legislature" |

101
(1)

| | |
| --- | --- |
| | 3. Benjamin Franklin on the Galloway Plan and the North Resolution |

102
(2)

| | |
| --- | --- |
| | 4. Thomas Paine, From Common Sense |

104
(4)
108
(1)

| | |
| --- | --- |
| | 6-8. Lord Dunmore's Proclamation and Responses |

109
(2)

| | |
| --- | --- |
| | 9. The Declaration of Independence |

111
(4)

| | |
| --- | --- |
| | 10. Letter from John Adams to Abigail Adams |

115
(1)

| | |
| --- | --- |
| | 11. Thomas Jefferson, From Notes on the State of Virginia |

116
(1)

| | |
| --- | --- |
| | 12. Letter from Benjamin Banneker to Thomas Jefferson |

117
(2)

| | |
| --- | --- |
| | 13. Reply of Thomas Jefferson to Benjamin Banneker |

119
(1)
119
(1)
119
(1)
119
(1)
119
(1)
120
(1)

| | |
| --- | --- |
| | CHAPTER 6 Counting America: Reading the First Federal Census of 1790 |

121
(26)
121
(3)
124
(20)

| | |
| --- | --- |
| | 1. From The Federalist Papers |

124
(2)

| | |
| --- | --- |
| | 2. Excerpt from Article I, Section 2, of the United States Constitution |

126
(2)

| | |
| --- | --- |
| | 3. Summary of the First Census of the United States |

128
(2)

| | |
| --- | --- |
| | 4. Census Data from South Carolina |

130
(3)

| | |
| --- | --- |
| | 5. Census Data from Philadelphia |

133
(5)

| | |
| --- | --- |
| | 6. David Ramsay, From The History of South Carolina |

138
(4)

| | |
| --- | --- |
| | 7. Isaac Weld, Jr., From Travels Through the States of North America |

142
(2)
144
(1)
144
(1)
144
(1)
145
(1)
145
(2)

| | |
| --- | --- |
| | CHAPTER 7 Shouting for Glory: Camp Meeting Christianity Described, Decried, and Defended |

147
(12)
147
(2)
149
(8)

| | |
| --- | --- |
| | 1. Fanny Lewis, "Glory! Glory! This Is the Happiest Day I Ever Saw" |

149
(2)

| | |
| --- | --- |
| | 2. William Thacher, "The Melting Power of God" |

151
(1)

| | |
| --- | --- |
| | 3. Barton Stone, "The Smile of Heaven Shone" |

152
(1)

| | |
| --- | --- |
| | 4. Martin J. Spalding, "A Fanaticism as Absurd as It Was Blasphemous" |

153
(1)

| | |
| --- | --- |
| | 5. "Camp-Meetings, and Agricultural Fairs" |

154
(2)

| | |
| --- | --- |
| | 6. From An Apology for Camp Meetings |

156
(1)
157
(1)
157
(1)
157
(1)
158
(1)
158
(1)

| | |
| --- | --- |
| | CHAPTER 8 Living and Dying in Bondage: The Slave Conspiracy of 1822 |

159
(20)
159
(3)
162
(14)
163
(6)

| | |
| --- | --- |
| | 2. "Gracious Heaven When I Think What I Have Escaped": Anna Hayes Johnson Letters to Her Cousin |

169
(1)

| | |
| --- | --- |
| | 3. "The Conspiracy Had Spread Wider and Wider": John Potter to Langdon Cheves |

170
(2)

| | |
| --- | --- |
| | 4. "White Men, Too, Would Engender Plots": Newspapers Report the Vesey Conspiracy |

172
(2)

| | |
| --- | --- |
| | 5. David Walker's Appeal to the Coloured Citizens of the World |

174
(2)
176
(1)
177
(1)
177
(1)
177
(1)
177
(1)
177
(2)

| | |
| --- | --- |
| | CHAPTER 9 Remembering the Alamo |

179
(26)
179
(4)
183
(18)

| | |
| --- | --- |
| | Document Set 1. The Prelude |

183
(4)

| | |
| --- | --- |
| | Document Set 2. The Battle |

187
(10)

| | |
| --- | --- |
| | Document Set 3. The Aftermath |

197
(4)
201
(1)
202
(1)
202
(1)
202
(1)
202
(1)
203
(2)

| | |
| --- | --- |
| | CHAPTER 10 Women in Antebellum America |

205
(20)
205
(2)
207
(16)

| | |
| --- | --- |
| | 1. A. J. Graves, "Religious Women" |

208
(1)

| | |
| --- | --- |
| | 2. Catharine Beecher, "The Peculiar Responsibilities of American Women" |

209
(1)

| | |
| --- | --- |
| | 3. Sarah M. Grimke, "On the Condition of Women in the United States" |

210
(4)

| | |
| --- | --- |
| | 4. Harriet Jacobs, From Incidents in the Life of a Slave Girl |

214
(2)

| | |
| --- | --- |
| | 5. Declaration of Sentiments |

216
(2)

| | |
| --- | --- |
| | 6. Lucy Larcom, From A New England Girlhood |

218
(3)

| | |
| --- | --- |
| | 7. Malenda Edwards and Mary Paul Letters |

221
(2)
223
(1)
223
(1)
223
(1)
223
(1)
223
(2)

| | |
| --- | --- |
| | CHAPTER 11 A House Divided: Free Labor, Slave Labor |

225
(20)
225
(2)
227
(16)

| | |
| --- | --- |
| | 1. George Fitzhugh, From Cannibals All! |

229
(2)

| | |
| --- | --- |
| | 2. Hinton Rowan Helper, From The Impending Crisis of the South |

231
(3)

| | |
| --- | --- |
| | 3. The Lincoln-Douglas Debates |

234
(4)

| | |
| --- | --- |
| | 4. Harriet Beecher Stowe, From Uncle Tom's Cabin; or Life Among the Lowly |

238
(2)

| | |
| --- | --- |
| | 5. Frederick Douglass, Open Letter to Thomas Auld |

240
(3)
243
(1)
243
(1)
243
(1)
243
(1)
243
(2)

| | |
| --- | --- |
| | CHAPTER 12 A War within a War: The New York City Draft Riots |

245
(22)
245
(3)
248
(16)

| | |
| --- | --- |
| | 1. Enrollment Act of 1863 |

248
(1)

| | |
| --- | --- |
| | 2. Ellen Leonard, "Three Days of Terror" |

249
(8)

| | |
| --- | --- |
| | 3. From The Diary of George Templeton Strong |

257
(3)

| | |
| --- | --- |
| | 4. To the Laboring Men of New York |

260
(1)
261
(1)

| | |
| --- | --- |
| | 6. "The Raging Riot--Its Character, and the True Attitude Toward It" |

262
(2)

| | |
| --- | --- |
| | 7. A Letter from One of the Rioters |

264
(1)
264
(1)
264
(1)
264
(1)
265
(1)
265
(1)
265
(2)

| | |
| --- | --- |
| | CHAPTER 13 Reconstruction and the Rise of the Ku Klux Klan |

267
(20)
267
(2)
269
(16)

| | |
| --- | --- |
| | 1. Initiation Oath of the Knights of the White Camelia |

270
(2)

| | |
| --- | --- |
| | 2. Testimony of Victims of the Ku Klux Klan |

272
(2)

| | |
| --- | --- |
| | 3. Congressional Inquiry into Klan Activities |

274
(4)

| | |
| --- | --- |
| | 4. Hon. Job E. Stevenson of Ohio, Speech to the House of Representatives |

278
(4)

| | |
| --- | --- |
| | 5. Benjamin Bryant, From Experience of a Northern Man Among the Ku-Klux |

282
(2)

| | |
| --- | --- |
| | 6. W. H. Gannon, "How to Extirpate Ku-Kluxism from the South" |

284
(1)
285
(1)
285
(1)
286
(1)
286
(1)
286
(1)
Credits
287
(5)
Index
292