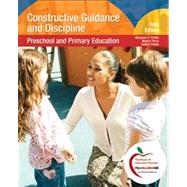 Questions About This Book?
What version or edition is this?
This is the 5th edition with a publication date of 4/28/2009.
What is included with this book?
The Used copy of this book is not guaranteed to include any supplemental materials. Typically, only the book itself is included.
The eBook copy of this book is not guaranteed to include any supplemental materials. Typically only the book itself is included.
Customer Reviews
Awesome!
August 8, 2011
by





Excellent for teachers and parents! Talks about proper disciplinary practices for preschool and elementary ages. This textbook helps me remember that kids need to be treated as kids not as adults. Discipline is about teaching not punishing.

Flag Review
---
Constructive Guidance and Discipline : Preschool and Primary Education

:
stars based on
1
user reviews.
Summary
Understanding how children grow, learn, and think helps adults and children live more harmoniously together.
This thorough revision of Constructive Guidance and Discipline: Preschool and Primary Education continues to provide the information to help children to become happy, responsible, and productive people. With a strong emphasis on developmental theory and constructivism, the book explains underlying causes for child behavior, weaves numerous preschool and primary classroom examples throughout, and includes three chapters on guiding children with special physical or emotional needs, learning disabilities, or children who are at risk due to poverty, violence, or loss.
The book is practical in its approach and focuses on how many effective early childhood education practices can prevent or alleviate many common discipline problems. The authors reason that rewards and punishments do not work and that children must learn to make their own decisions based on their own values and convictions. Children are profoundly influenced by the adults in their lives. This book guides teachers and parents to an understanding of how to have a positive impact on their children's lives.
New To This Edition:
NEW! Includes a new chapter on Children with Diverse Abilities (Chapter 13)–Focuses on the small percentage of children who require individualized discipline approaches.
- Helps sort out discipline issues from developmental delays and mental health issues.
NEW! Completely revised chapter on Vulnerable Children (Chapter 14)–This chapter deals with how poverty, violence, loss, and other risk factors affect children's social emotional development.
NEW! Provides a new section on the use of early learning guidelines to promote social emotional development (Chapter 15.)
NEW! Offers an expanded section on design of the physical environment (Chapter 4.)
NEW! Expands the discussion of observation for discovering the cause of behavior problems–Helps students apply the principle of focusing on the causes of behavior problems.
NEW! Incorporates new content on the importance of adult-child relationships and classroom communities.
NEW! Updates the research on emotion regulation, emotional development, empathy, attachment, and the impact of temperament as they relate to child behavior and guidance.
- This information is essential to understanding child behavior and offering appropriate guidance.
NEW! Adds new chapter introductions outlining the main points of each chapter–Links them to the NAEYC teacher education standards.
NEW! Includes new video vignettes stimulate class discussion and help students think through guidance principles in context–Lets them see guidance principles in action.
Author Biography
Marjorie Fields
Dr. Marjorie Fields is retired from teaching after over 30 years teaching in the field of early childhood education. She first taught kindergarten, then first grade, then began teaching teachers. Thanks to her own children, she also had experience in cooperative preschools and with various types of child care.
Marjorie has a doctorate in early childhood education with research in parent involvement. She has been active in early childhood professional organizations at the national and local levels and is currently president of the National Association of Early Childhood Teacher Educators, she has also served as a vice-president of that organization. In addition, Marjorie served on the national governing board of the National Association for the Education of Young Children. She has published extensively in the field of emergent literacy as well as child guidance.
This book is the outgrowth of over 30 years' reading and thinking in conjunction with developing and teaching early childhood discipline courses. Dr. Fields credits her two sons with helping her learn what is most important about child guidance and discipline initially; now she continues to learn from her grandchildren.
Debby Fields Debby Fields is a temporarily retired mental health counselor and stay-at-home mom of two daughters. Debby has worked as an elementary school counselor and as a teen-parent counselor. Through her work and life, she has learned a great deal about child development. Early intervention and attachment were the focus of her work with teen parents. This work allowed her a window into the lives of young adults and with attachment problems and the obstacles they face in raising their own children.
Debby has a master's degree in Marriage, Family, and Child Counseling. She presented her master's thesis on multicultural counseling at a national convention for the American Psychological Association. In addition to her training in attachment issues, she has focused on developing culturally sensitive practices and has a degree in anthropology. Debby currently works in cooperative preschools with both her children.
Contributing Authors
Eileen Hughes Dr. Eileen Hughes is a faculty member in the early childhood program at the University of Alaska Anchorage.
Lory Britain Dr. Lory Britain has 30 years of experience developing curriculum materials and teaching children, parents, student teachers, and professionals in a variety of settings, including the university, community college, and private sector.
Sierra Freeman Sierra Freeman is a special education inclusion teacher in Portland, Oregon, and works with elementary school children.
Table of Contents
Discipline Foundations
Thinking About Guidance and Discipline
Physical and Emotional Development Affect Child Behavior
Intellectual and Social Development Affect Discipline
Discipline Approaches
Creating Environments that Prevent Discipline Problems
Planning Programs that Prevent Discipline Problems
Teaching Desirable Behavior Through Example
Effective Discipline Through Effective Communication
Helping Children Understand and Accept Limits
Controlling Behavior Externally
Punishment Versus Discipline
Matching Discipline Causes To Discipline Approaches
Immaturity
Unmet Needs
Diversity
Vunerabilities
Analyzing Discipline Problems
Action Guide for Media Violence and Children
Table of Contents provided by Publisher. All Rights Reserved.