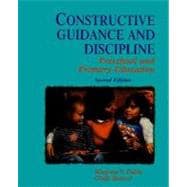 Summary
This book examines guidance and discipline concepts based on child development theory, developmentally appropriate practice, and the constructivist viewpoint. The book recommends only those approaches consistent with all three of these positions. Focused on preventing discipline problems, the authors explore how effective teaching can alleviate or prevent many common discipline problems.
Table of Contents
Discipline Foundations
p. 3
Thinking about Guidance and Discipline
p. 5
Physical and Emotional Development Affect Child Behavior
p. 23
Intellectual and Social Development Affect Discipline
p. 43
Discipline Approaches
p. 65
Creating Environments That Prevent Discipline Problems
p. 67
Planning Programs That Prevent Discipline Problems
p. 91
Teaching Desirable Behavior through Example
p. 115
Effective Discipline through Effective Communication
p. 135
Helping Children Understand Rules and Limits
p. 157
Controlling Behavior Externally
p. 177
Punishment vs. Discipline
p. 199
Matching Discipline Causes to Discipline Approaches
p. 213
Immaturity
p. 215
Unmet Needs
p. 233
Children Experiencing Disabilities
p. 251
Special Emotional Needs
p. 279
Analyzing Discipline Problems
p. 295
References
p. 309
Index
p. 321
Table of Contents provided by Blackwell. All Rights Reserved.