Note: Supplemental materials are not guaranteed with Rental or Used book purchases.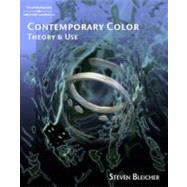 Questions About This Book?
What version or edition is this?
This is the edition with a publication date of 8/18/2004.
What is included with this book?
The Used copy of this book is not guaranteed to include any supplemental materials. Typically, only the book itself is included.
Summary
This beautifully produced and lavishly illustrated introduction to contemporary color offers working artists valuable insight into traditional color theory while examining the effective use of color in digital applications and 3D design work. Written by a leading design educator whose work is widely exhibited, Contemporary Color features a balanced examination of theory and its practical application in a technology-driven world. Topics range from color perception, color harmonies, pigments, colorants, and paints to digital color and 3D design. An intriguing discussion of the psychological impact of color and the future of color add a stimulating dimension to the book. Thoughtful contributions on creativity and best practices round out the inclusive coverage.
Author Biography
Steven Bleicher is a faculty member of the Art and Humanities program at the Art Institute of Fort Lauderdale.
Table of Contents
Preface
viii
Introduction
xv
1
(16)
3
(1)
3
(1)
4
(1)
4
(2)
6
(1)
7
(1)
7
(1)
8
(1)
9
(1)

| | |
| --- | --- |
| | Color Perception Deficiencies |

10
(1)
11
(2)
13
(1)
14
(1)
15
(1)
16
(1)

| | |
| --- | --- |
| | Color Theory--Making Sense of Color |

17
(18)
19
(1)
19
(1)
19
(1)
20
(1)
20
(1)
21
(1)
21
(2)

| | |
| --- | --- |
| | Chevreul, Rood, and Pointillism |

23
(2)

| | |
| --- | --- |
| | Albers, Itten, and the Bauhaus |

25
(1)
26
(1)

| | |
| --- | --- |
| | Commission International D'Eclairage (CIE) |

27
(1)

| | |
| --- | --- |
| | International Color Consortium (ICC) and Inter-Society Color Council (ISCC) |

28
(1)
29
(1)
29
(1)
30
(2)
32
(1)
33
(2)
35
(16)
37
(1)
37
(1)
38
(1)
38
(1)
39
(1)
39
(1)

| | |
| --- | --- |
| | Socioeconomic Aspects of Color |

40
(1)
41
(1)
41
(1)

| | |
| --- | --- |
| | Color Function and Cognition |

42
(1)
43
(1)
44
(1)
45
(1)

| | |
| --- | --- |
| | Color As a Means of Expression |

45
(1)
46
(1)
47
(2)
49
(1)
50
(1)
51
(22)
53
(1)
54
(2)

| | |
| --- | --- |
| | Hue, Value, and Saturation |

56
(1)
57
(1)
57
(2)
59
(1)
59
(1)
60
(2)
62
(1)
63
(2)
65
(2)
67
(1)
68
(1)
68
(1)
68
(2)

| | |
| --- | --- |
| | Interactions of Black and White |

70
(1)
70
(1)

| | |
| --- | --- |
| | Luminosity and Luminescence |

71
(1)
71
(2)

| | |
| --- | --- |
| | Pigments, Colorants, and Paints |

73
(16)
75
(1)
75
(1)
76
(1)

| | |
| --- | --- |
| | Professional Grade Versus Student Grade |

76
(1)
77
(1)
78
(1)

| | |
| --- | --- |
| | More about Paints and Pigments |

79
(1)
79
(1)
80
(1)
81
(1)
81
(1)

| | |
| --- | --- |
| | Colored Pencils and Pastels |

82
(2)
84
(1)
85
(1)
86
(1)
87
(1)
88
(1)
89
(18)
91
(1)
91
(1)
92
(1)
92
(1)
92
(2)

| | |
| --- | --- |
| | Types of Computer-Imaging Programs |

94
(1)
94
(1)
95
(1)
95
(1)
96
(1)
96
(1)
97
(1)
97
(1)
97
(1)
98
(1)
98
(1)
99
(1)

| | |
| --- | --- |
| | Inkjet, Laser, and Giclee Printers |

99
(1)
100
(1)

| | |
| --- | --- |
| | Raster Image Processor (RIP) |

100
(1)
100
(1)
100
(1)

| | |
| --- | --- |
| | Four-Color Separations: Plates |

101
(1)
101
(1)
102
(2)
104
(2)
106
(1)
107
(14)
109
(1)
109
(1)
110
(1)
110
(1)
111
(1)
112
(1)

| | |
| --- | --- |
| | Paints, Colorants, and Patinas |

112
(1)
113
(2)
115
(1)
115
(2)
117
(1)
118
(1)

| | |
| --- | --- |
| | Landscape and Environmental Art |

118
(1)
119
(1)
120
(1)
121
(14)
123
(2)
125
(1)
126
(1)
127
(1)
127
(1)
128
(2)
130
(1)

| | |
| --- | --- |
| | Aboriginal and Outsider Art |

131
(3)
134
(1)
135
(14)
137
(1)
137
(1)

| | |
| --- | --- |
| | The Sixties: Psychedelic Color |

138
(1)
138
(2)

| | |
| --- | --- |
| | Graphics and Brand Identity |

140
(1)
141
(1)
142
(1)
142
(2)
144
(1)
145
(1)
146
(1)

| | |
| --- | --- |
| | Animation and Motion Graphics |

146
(2)
148
(1)
149
(12)

| | |
| --- | --- |
| | Environmentally Friendly Paints |

151
(1)
151
(1)

| | |
| --- | --- |
| | Color Ownership: Color and the Law |

152
(2)
154
(1)
154
(1)

| | |
| --- | --- |
| | High-Definition Television |

155
(1)
155
(1)
156
(1)

| | |
| --- | --- |
| | Virtual Reality and Interactivity |

157
(2)
159
(2)
Glossary
161
(6)
Index
167
(7)
Illustration List
174