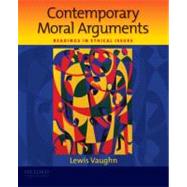 Contemporary Moral Arguments : Readings in Ethical Issues
by
Vaughn, Lewis
Questions About This Book?
What version or edition is this?
This is the edition with a publication date of 12/18/2009.
What is included with this book?
The Used copy of this book is not guaranteed to include any supplemental materials. Typically, only the book itself is included.
Summary
Taking a unique approach that emphasizes critical thinking, this cutting-edge reader is structured around twenty-eight key arguments that have provoked heated debates on current ethical issues. Contemporary Moral Arguments: Readings in Ethical Issues opens with a two-chapter introduction to moral theories and moral reasoning that provides students with the background necessary to analyze the arguments in the following chapters. Chapters 3-12 present seventy-six readings that are organized--in the conventional way--into ten topical areas: abortion; sex and marriage; euthanasia and assisted suicide; genetic engineering and cloning; the death penalty; war, terrorism, and torture; pornography; economic justice and health care; animal rights and environmental duties; and global obligations to the poor. Offering a special feature not found in other anthologies, the selections are also organized in an unconventional way, by argument, so that students can more easily see how philosophers have debated each other on these critical issues. Each argument opens with an introduction that outlines the argument's key points, provides context for it, and reviews some of the main responses to it. Each introduction is followed by two to four essays that present the argument's classic statement, critiques and defenses of it, and related debates. Contemporary Moral Arguments incorporates more pedagogical features than any other reader, including: * Essay questions--ideal for writing assignments--after each of the twenty-eight argument sections * Four types of boxes throughout: Facts and Figures, Public Opinion, Legalities, and Time Lines * A list of key terms at the end of each chapter, all defined in the glossary, and suggestions for further reading * An Instructor's Manual and Testbank on CD featuring chapter and reading summaries, lecture outlines in PowerPoint format, and essay and objective questions with an answer key * A Companion Website at www.oup.com/us/vaughn containing the same material as the Instructor's Manual along with such student resources as self-quizzes and flash cards
Table of Contents
Chapters 3-12 open with an Introduction, Key Terms, and Arguments and Readings
Each chapter ends with Suggestions for Further Reading.
Preface
Moral Reasoning
Ethics and the Moral Domain
Norms: Moral and Nonmoral
The Elements of Morality
Emotion and Conscience
Kinds of Ethical Inquiry
Ethics, Law, and Religion
Moral Relativism
Moral Arguments
Argument Basics
The Structure of Moral Arguments
Evaluating Moral Premises
Key Words
Summary
Plato: The Ring of Gyges
The Case Against Moral Relativism
Can Ethics Provide Answers?
Moral Theories
Why Moral Theories?
Important Moral Theories
Utilitarianism
Kant's Theory
Natural Law Theory
Rawls's Contractarianism
Virtue Ethics
The Ethics of Care
Feminist Ethics
Judging Moral Theories
The Moral Criteria of Adequacy
Applying the Criteria: Utilitarianism
Kant's Theory
Key Words
Summary
Utilitarianism
Fundamental Principles of the Metaphysic of Morals
Aristotle: Nicomachean Ethics
A Theory of Justice
The Need for More Than Justice
Abortion
Warren's Personhood Argument for Abortion
On the Moral and Legal Status of Abortion
The Being in the Womb Is a Person
Abortion: A Defense of the Personhood Argument
Why Abortion Is Immoral
Noonan's Personhood-at-Conception Argument Against Abortion
An Almost Absolute Value in History
In Defense of Abortion and Infanticide
The Scope of the Prohibition Against Killing
Thomson's Self-Defense Argument for Abortion
A Defense of Abortion
Arguments from Bodily Rights: A Critical Analysis
Sex And Marriage
Goldman's Argument Against Conventional Sexual Morality
Plain Sex
Morality and Human Sexuality
The Abnormality Argument Against Homosexuality
Why Homosexuality Is Abnormal
Homosexuality and Nature
The Essentialist Argument Against Gay Marriage
Gay Marriage--and Marriage
For Better or Worse?
Euthanasia And Assisted Suicide
The Autonomy Argument for Euthanasia
When Self-Determination Runs Amok
When Abstract Moralizing Runs Amok
The Philosophers' Brief
The Killing/Letting Die Argument
Active and Passive Euthanasia
Is Killing No Worse Than Letting Die?
The Slippery Slope Argument Against Euthanasia
Why Doctors Must Not Kill
Voluntary Active Euthanasia
Genetic Engineering And Cloning
The Beneficence Argument for Genetic Enhancement
Is Gene Therapy a Form of Eugenics?
Genetic Enhancement
The Open-Future Argument Against Cloning
Cloning Human Beings: An Assessment of the Ethical Issues Pro and Con
A Life in the Shadow: One Reason Why We Should Not Clone Humans
The Death Penalty
Kant's Retributivism Argument for the Death Penalty
Punishment and the Principle of Equality
A Life for a Life
An Eye for an Eye?
Capital Attrition: Error Rates in Capital Cases
The Discrimination Argument Against the Death Penalty
Administrative Objections
Capital Punishment and the Legacy of Racial Bias
The Deterrence Argument for the Death Penalty
On Deterrence and the Death Penalty
Capital Punishment and Social Defense
War, Terrorism, And Torture
The Pacifist Argument Against War
Pacifism
Pacifism: A Philosophical Analysis
The Self-Defense Argument for War
Just and Unjust Wars
When War Is Unjust: Being Honest in Just-War Thinking
The Just War Argument Against Terrorism
Terrorism: A Critique of Excuses
The Morality of Terrorism
Can Terrorism Be Justified?
The Ticking Bomb Argument for Torture
The Case for Torturing the Ticking Bomb Terrorist
Liberalism, Torture, and the Ticking Bomb
Pornography
The Liberty Argument Against Censorship
On Liberty
Hate Speech and Pornography: Do We Have to Choose Between Freedom and Equality?
Pornography, Oppression, and Freedom
MacKinnon's Harm-to-Women Argument for Censorship
Pornography, Civil Rights, and Speech
Women and Pornography
Feminists Against the First Amendment
Economic Justice: Health Care
Daniels's Argument for a Right to Health Care
Is There a Right to Health Care and, If So, What Does It Encompass?
The Right to a Decent Minimum of Health Care
The Argument for Rationing by Moral Worthiness
Fault and the Allocation of Spare Organs
Alcoholics and Liver Transplantation
Animal Rights And Environmental Duty
Singer's ""All Animals Are Equal"" Argument
All Animals Are Equal
The Case for the Use of Animals in Biomedical Research
Our Duties to Animals
Regan's Argument for Animal Rights
The Case for Animal Rights
The Rights of the Nonhuman World
The Moral Status of Animals
The Suffering Argument for Vegetarianism
The Moral Argument for Vegetarianism
Moral Vegetarianism and the Argument from Pain and Suffering
Taylor's Argument for the Moral Equality of All Life
The Ethics of Respect for Nature
Are All Species Equal?
Reverence for Life
Economic Justice And Global Obligations
Hardin's Lifeboat Argument Against Aiding the Poor
Living on a Lifeboat
A Critique of Lifeboat Ethics
Singer's Utilitarian Argument for Aiding the Poor
Famine, Affluence, and Morality
World Hunger and Population
Glossary
Index
Table of Contents provided by Publisher. All Rights Reserved.