Note: Supplemental materials are not guaranteed with Rental or Used book purchases.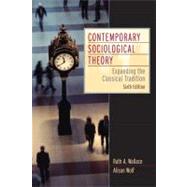 Questions About This Book?
Why should I rent this book?
Renting is easy, fast, and cheap! Renting from eCampus.com can save you hundreds of dollars compared to the cost of new or used books each semester. At the end of the semester, simply ship the book back to us with a free UPS shipping label! No need to worry about selling it back.
How do rental returns work?
Returning books is as easy as possible. As your rental due date approaches, we will email you several courtesy reminders. When you are ready to return, you can print a free UPS shipping label from our website at any time. Then, just return the book to your UPS driver or any staffed UPS location. You can even use the same box we shipped it in!
What version or edition is this?
This is the 6th edition with a publication date of 2/8/2005.
What is included with this book?
The Used copy of this book is not guaranteed to include any supplemental materials. Typically, only the book itself is included.
The Rental copy of this book is not guaranteed to include any supplemental materials. You may receive a brand new copy, but typically, only the book itself.
Related Products
Summary
This book examines the assumptions and concepts of the five major sociological theories and the classical roots of the modern theories. It focuses specifically on functionalism, conflict theory, theories of rational choice, symbolic interactionism, and phenomenology. Focusing on writers whose work has most influenced social theory, this book explores the key concepts of each theory, the background of the major theorists, empirical applications, and everyday "lay" use of each perspective. The book also features examples of research based on actual theory, direct quotations from major theorists, and feminist contributions and critiques on each major perspective. The sixth edition of Contemporary Sociological Theory: Continuing the Classical Traditionhas been revised to include updated research examples that were theoretically driven. An essential reference for every professional whose work is related to sociology.
Table of Contents
Preface
xi

| | |
| --- | --- |
| | The Understanding of Society |

1
(14)

| | |
| --- | --- |
| | The Structure of Sociological Theory |

3
(10)
5
(1)
6
(2)
8
(3)
11
(2)

| | |
| --- | --- |
| | Theory and Understanding: The Examples of Formal Education and the Role of Women in Contemporary Society |

13
(2)
15
(52)
16
(2)
17
(1)

| | |
| --- | --- |
| | Intellectual Roots: Emile Durkheim and His Forerunners |

18
(7)
19
(6)

| | |
| --- | --- |
| | Part One: Talcott Parsons: Grand Theory |

25
(1)
25
(1)
26
(2)

| | |
| --- | --- |
| | Parsons's Theory of Action |

28
(1)
29
(6)

| | |
| --- | --- |
| | The Functional System Problems---AGIL |

35
(10)
41
(4)

| | |
| --- | --- |
| | Part Two: Robert K. Merton: Middle-Range Theory |

45
(1)
45
(1)

| | |
| --- | --- |
| | Theories of the Middle Range |

46
(1)

| | |
| --- | --- |
| | Clarifying Functional Analysis |

47
(8)
48
(3)

| | |
| --- | --- |
| | Manifest and Latent Functions |

51
(1)
52
(3)

| | |
| --- | --- |
| | Merton's Theory of Deviance |

55
(2)

| | |
| --- | --- |
| | Part Three: Neofunctionalism |

57
(1)
58
(1)
59
(2)
61
(3)
64
(3)
67
(91)

| | |
| --- | --- |
| | Introduction: The Two Traditions |

68
(2)
69
(1)
70
(8)

| | |
| --- | --- |
| | Power, Position, and Legitimacy: Marx and Weber |

70
(5)

| | |
| --- | --- |
| | Power, Elites, and Classes |

75
(1)

| | |
| --- | --- |
| | The Web of Conflict: Simmel and the Chicago School |

76
(2)
78
(1)

| | |
| --- | --- |
| | Part One: Conflict Theory and the Critique of Society |

78
(2)

| | |
| --- | --- |
| | Marxist and Neo-Marxist Sociology |

80
(21)

| | |
| --- | --- |
| | The Economic Basis of Society |

81
(1)

| | |
| --- | --- |
| | Class and the Economic Base of Conflict |

82
(5)

| | |
| --- | --- |
| | Culture, Ideology, and Alienation |

87
(6)

| | |
| --- | --- |
| | Class, Society, and the State |

93
(6)

| | |
| --- | --- |
| | Marxist Analysis: An Assessment |

99
(2)

| | |
| --- | --- |
| | Critical Theory: The Frankfurt School |

101
(6)

| | |
| --- | --- |
| | Critical Theory and the Nature of Social Science |

102
(5)
107
(4)

| | |
| --- | --- |
| | The Sociological Imagination |

107
(1)

| | |
| --- | --- |
| | Alienation and Bureaucracy |

108
(1)
109
(2)
111
(9)
114
(4)
118
(2)

| | |
| --- | --- |
| | Part Two: Conflict Theory and Analytic Sociology: The Legacy of Max Weber |

120
(1)
121
(9)

| | |
| --- | --- |
| | Power, Conflict, and Social Explanation |

122
(2)

| | |
| --- | --- |
| | The Determinants of Conflict: A Theory of Conflict Groups |

124
(6)
130
(1)
130
(8)

| | |
| --- | --- |
| | The Origins and Functions of Social Conflict |

132
(3)
135
(3)
138
(1)
138
(17)

| | |
| --- | --- |
| | The Nature of Conflict Sociology |

139
(2)

| | |
| --- | --- |
| | Social Institutions and the Balance of Resources |

141
(9)

| | |
| --- | --- |
| | Culture, Ideology, and Legitimation |

150
(3)

| | |
| --- | --- |
| | Military Force and Geopolitics |

153
(2)
155
(1)
155
(3)

| | |
| --- | --- |
| | Evolution and Modernity: Macrosociological Perspectives |

158
(39)
159
(1)
160
(2)

| | |
| --- | --- |
| | Part One: Karl Marx and the Classless Society |

162
(1)
163
(5)
165
(3)

| | |
| --- | --- |
| | Part Two: Talcott Parsons's Evolutionary Model |

168
(6)
169
(5)

| | |
| --- | --- |
| | Part Three: Jurgen Habermas: Rationalization and Communicative Action |

174
(12)
176
(4)

| | |
| --- | --- |
| | Rationalization of the Lifeworld |

180
(1)
181
(2)

| | |
| --- | --- |
| | Reason and Rationalization |

183
(3)

| | |
| --- | --- |
| | Part Four: Anthony Giddens: Structuration Theory, High Modernity, and Globalization |

186
(9)
188
(2)

| | |
| --- | --- |
| | High Modernity and Globalization |

190
(5)
195
(2)
197
(64)
198
(1)

| | |
| --- | --- |
| | Intellectual Roots: Max Weber and Georg Simmel |

199
(5)

| | |
| --- | --- |
| | Part One: George Herbert Mead: The Self |

204
(1)
205
(2)
207
(2)

| | |
| --- | --- |
| | The Development of the Self |

209
(2)
211
(2)

| | |
| --- | --- |
| | Part Two: Herbert Blumer: Interpretation and Methodology |

213
(1)
214
(3)
217
(3)
220
(5)
225
(10)
226
(2)
228
(6)
234
(1)

| | |
| --- | --- |
| | Part Three: Erving Goffman: Dramaturgy and the Interaction Order |

235
(1)
235
(3)

| | |
| --- | --- |
| | Dramaturgy and Everyday Life |

238
(6)
244
(3)

| | |
| --- | --- |
| | Part Four: Arlie Russell Hochschild and Patricia Hill Collins: Expanding the Horizons of Symbolic Interactionism |

247
(1)
248
(2)

| | |
| --- | --- |
| | Arlie Russell Hochschild: Emotional Labor |

250
(3)

| | |
| --- | --- |
| | Other Contributions to Sociology of Emotions |

253
(2)

| | |
| --- | --- |
| | Patricia Hill Collins: Black Feminist Thought |

255
(4)
259
(2)
261
(41)
262
(1)

| | |
| --- | --- |
| | Intellectual Roots: Edmund Husserl and Alfred Schutz |

263
(4)

| | |
| --- | --- |
| | Part One: Harold Garfinkel: The Founder of Ethnomethodology |

267
(1)
268
(1)
269
(4)
273
(3)
276
(4)

| | |
| --- | --- |
| | Methodological Comparison |

280
(5)

| | |
| --- | --- |
| | Part Two: Peter Berger: The Social Construction of Reality |

285
(1)
285
(1)
285
(7)
287
(1)
288
(1)
289
(3)

| | |
| --- | --- |
| | Part Three: Dorothy E. Smith: Feminist Standpoint Theory |

292
(1)
292
(1)

| | |
| --- | --- |
| | Standpoint Theory Defined |

293
(4)

| | |
| --- | --- |
| | Methodological Implications |

297
(3)
300
(2)

| | |
| --- | --- |
| | Theories of Rational Choice |

302
(79)
303
(2)
305
(8)

| | |
| --- | --- |
| | Anthropology and the Importance of the Gift |

306
(2)

| | |
| --- | --- |
| | Economics, Profit, and Price |

308
(3)

| | |
| --- | --- |
| | Behaviorist Psychology and the Theory of Games |

311
(2)

| | |
| --- | --- |
| | Part One: Rational Choice, Social Exchange, and Individual Behavior |

313
(1)

| | |
| --- | --- |
| | George Homans: Elementary Social Behavior |

313
(13)

| | |
| --- | --- |
| | The Principles of Rationality |

316
(5)

| | |
| --- | --- |
| | The Deprivation-Satiation Proposition |

321
(1)
321
(5)
326
(12)
326
(3)

| | |
| --- | --- |
| | Equity and Affect: The ``Social'' Max |

329
(2)

| | |
| --- | --- |
| | Games Theory and the Prisoner's Dilemma |

331
(7)

| | |
| --- | --- |
| | Part Two: Rational Choice and the Analysis of Social Structure |

338
(1)

| | |
| --- | --- |
| | Peter Blau: Exchange and Social Integration |

338
(10)

| | |
| --- | --- |
| | The Distinctive Nature of Social Exchange |

340
(5)
345
(3)
348
(15)

| | |
| --- | --- |
| | Collective Action and the Problem of ``Free Riders'' |

349
(9)

| | |
| --- | --- |
| | Networks and Emergent Processes |

358
(5)

| | |
| --- | --- |
| | Part Three: James Coleman and the Foundations of Social Theory |

363
(1)

| | |
| --- | --- |
| | Coalitions, Trust, and Norms |

364
(8)
364
(2)

| | |
| --- | --- |
| | Trust and the Formation of Group Norms |

366
(6)
372
(4)

| | |
| --- | --- |
| | Natural Persons and Corporate Actors |

375
(1)
376
(5)

| | |
| --- | --- |
| | Rediscovering the Body: The Sociology of the Body and Sociobiology |

381
(34)
382
(1)

| | |
| --- | --- |
| | Part One: The Sociology of the Body |

383
(14)
384
(5)

| | |
| --- | --- |
| | Mental Illness: Real or Constructed? |

389
(2)

| | |
| --- | --- |
| | Regulating Populations and Bodies |

391
(6)
397
(4)

| | |
| --- | --- |
| | Selfish Genes and Kin Selection |

401
(8)
405
(2)

| | |
| --- | --- |
| | Reproductive Strategies: Who Is Cheating Whom? |

407
(2)
409
(6)
411
(2)
413
(2)

| | |
| --- | --- |
| | Conclusion: Evaluating Sociological Theory |

415
(23)

| | |
| --- | --- |
| | Part One: The Future of Sociological Theory: Modernism and Postmodernism |

416
(1)
416
(10)
417
(2)

| | |
| --- | --- |
| | The Postmodernist Critique |

419
(7)

| | |
| --- | --- |
| | Part Two: Sociological Theory and Understanding: The Value of Multiple Perspectives |

426
(12)

| | |
| --- | --- |
| | Exploring Formal Education: The Role of the School |

428
(4)

| | |
| --- | --- |
| | Exploring the Role of Women in Contemporary Society |

432
(6)
Selected Bibliography
438
(9)
Index
447