Note: Supplemental materials are not guaranteed with Rental or Used book purchases.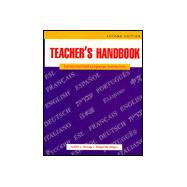 Questions About This Book?
What version or edition is this?
This is the 2nd edition with a publication date of 7/22/1999.
What is included with this book?
The New copy of this book will include any supplemental materials advertised. Please check the title of the book to determine if it should include any CDs, lab manuals, study guides, etc.
Summary
Teacher's Handbook presents a concise theoretical review followed by provocative case studies that ask new and experienced instructors to judge for themselves how best to acquire ESL and foreign language proficiency. The Teacher's Handbook also includes extensive appendices covering professional organizations, publications, and performance standards. This new edition includes a book-specific web site that contains video case studies, a bulletin board, and useful links to a variety of professional organizations and mailing lists.
Table of Contents
Acknowledgments
ix
Preface
xi

| | |
| --- | --- |
| | Understanding the Role of Contextualized Input, Output, and Interaction in Language Learning |

| | |
| --- | --- |
| | [Overview of Second-Language Acquisition Research] |

1
(14)
15
(1)

| | |
| --- | --- |
| | Observing a Child Interacting in His/Her Native Language |

15
(1)

| | |
| --- | --- |
| | Observing a Beginning Language Class |

15
(1)
16
(9)

| | |
| --- | --- |
| | Creating Real Conversational Models |

16
(2)

| | |
| --- | --- |
| | Conducting a Cooperative Learning Task |

18
(7)

| | |
| --- | --- |
| | Contextualizing Language Instruction to Address Goals of the Standards for Foreign Language Learning |

| | |
| --- | --- |
| | [Overview of Standards for Foreign Language Learning] |

25
(12)
37
(1)

| | |
| --- | --- |
| | Developing a Learning Scenario |

37
(1)

| | |
| --- | --- |
| | Contextualizing the Teaching of a Past Tense Grammar Point |

38
(1)
38
(10)

| | |
| --- | --- |
| | Textbook Evaluation: A Look at the Use of Context in Exercises |

38
(5)

| | |
| --- | --- |
| | Developing a Top-Down ESL Lesson |

43
(5)

| | |
| --- | --- |
| | Organizing Content and Planning for Integrated Language Instruction |

48
(17)
65
(1)
65
(1)

| | |
| --- | --- |
| | Developing a Content-Based Level 5 Foreign Language Class |

65
(1)
66
(9)

| | |
| --- | --- |
| | Does the Class Scheduling Format Make a Difference? |

66
(4)

| | |
| --- | --- |
| | Using Learners' Needs to Plan for Instruction |

70
(5)

| | |
| --- | --- |
| | Connecting Language Learning to the Elementary School Curriculum |

| | |
| --- | --- |
| | [Standards Goal Area: Connections] |

75
(18)
93
(1)

| | |
| --- | --- |
| | Designing a Content-Based Elementary School Lesson |

93
(1)

| | |
| --- | --- |
| | Developing a Storytelling Lesson |

94
(1)
94
(6)

| | |
| --- | --- |
| | Teaching First Grade Content in French |

94
(1)

| | |
| --- | --- |
| | Implementing an Elementary School Language Program |

95
(5)

| | |
| --- | --- |
| | Integrating Language Study in the Middle School Curriculum |

| | |
| --- | --- |
| | [Standards Goal Area: Cultures] |

100
(11)
111
(1)

| | |
| --- | --- |
| | Unit and Lesson Design Around a Story, Myth, or Folktale |

111
(1)

| | |
| --- | --- |
| | Developing Culture-Specific Examples of the Three Ps |

111
(1)
111
(8)

| | |
| --- | --- |
| | Exploratory vs. Sequential Middle School Programs |

111
(2)

| | |
| --- | --- |
| | Orderliness with Affection |

113
(6)

| | |
| --- | --- |
| | Using an Interactive Approach to Develop Interpretive Skills |

| | |
| --- | --- |
| | [Standards Goal Area: Communication, Interpretive Mode] |

119
(17)
136
(2)

| | |
| --- | --- |
| | Using the Interactive Model to Explore an Authentic Written Text |

136
(2)

| | |
| --- | --- |
| | Using the Interactive Model to Explore an Authentic Taped Segment |

138
(1)
138
(8)

| | |
| --- | --- |
| | But the Students Don't Understand What I'm Saying |

138
(2)
140
(6)

| | |
| --- | --- |
| | Using a Story-Based Approach to Teach Grammar |

| | |
| --- | --- |
| | [Standards Goal Area: Communication: Interpretive, Presentational] |

146
(18)
164
(1)

| | |
| --- | --- |
| | Examining Grammar Presentations in Textbooks |

164
(1)

| | |
| --- | --- |
| | Designing a Story-Based Language Lesson |

164
(1)
165
(7)

| | |
| --- | --- |
| | Using a Story-Based Language Approach to Teach Reflexive Verbs |

165
(1)

| | |
| --- | --- |
| | Using Songs to Foreshadow Grammar |

166
(6)

| | |
| --- | --- |
| | Developing Oral Interpersonal and Presentational Communication |

| | |
| --- | --- |
| | [Standards Goal Area: Communication, Interpersonal Mode] |

172
(38)
210
(1)

| | |
| --- | --- |
| | Creating Information-Gap Activities for Various Levels of Instruction |

210
(1)

| | |
| --- | --- |
| | Integrating Speaking with Oral or Written Texts |

211
(1)
211
(8)

| | |
| --- | --- |
| | Defining Groups for Cooperative Learning Activities |

211
(2)
213
(6)

| | |
| --- | --- |
| | Developing Written Communication Skills Through Integration of the Three Modes |

219
(28)
247
(1)

| | |
| --- | --- |
| | Designing an Interactive Homework Assignment for Elementary or Middle School Learners |

247
(1)

| | |
| --- | --- |
| | Designing a Writing Activity for Secondary Levels or Beyond |

247
(1)
247
(8)

| | |
| --- | --- |
| | A Writing Assignment That Doesn't Work |

247
(2)

| | |
| --- | --- |
| | Integrating Peer Revision into the Writing Process |

249
(6)

| | |
| --- | --- |
| | Addressing Student Diversity in the Language Classroom |

255
(26)
281
(1)

| | |
| --- | --- |
| | Designing a Lesson Appropriate for Diverse Learning Styles |

281
(1)

| | |
| --- | --- |
| | Working within Communities |

282
(1)
282
(9)

| | |
| --- | --- |
| | Preparing to Teach a Special Education Spanish I and II Class |

282
(1)

| | |
| --- | --- |
| | Cultural Diversity in a Small Rural Community |

283
(8)

| | |
| --- | --- |
| | Assessing Language Performance in Context |

291
(1)
291
(19)
310
(1)

| | |
| --- | --- |
| | Analyzing and Adapting a Traditional Test |

310
(2)

| | |
| --- | --- |
| | Adding an Authentic Dimension to a Performance-Based Assessment Task |

312
(1)

| | |
| --- | --- |
| | Developing Authentic Assessment Tasks and Rubrics |

312
(2)

| | |
| --- | --- |
| | Using Audio Tapes for Oral Assessment |

314
(5)

| | |
| --- | --- |
| | Using Technology to Contextualize and Integrate Language Instruction |

319
(29)
348
(1)

| | |
| --- | --- |
| | Selecting Video Materials |

348
(1)

| | |
| --- | --- |
| | Examining the Potential Use of a TELL Exercise |

348
(1)
349
(1)

| | |
| --- | --- |
| | Incorporating Video in Language Instruction |

349
(1)

| | |
| --- | --- |
| | Creating a Template for Web-Enhanced Materials |

350
(14)
Table of Appendices Found in the Text

| | |
| --- | --- |
| | Some Types of Language-Promoting Assistance |

364
(1)

| | |
| --- | --- |
| | The Chronological Development of Language Teaching |

365
(4)

| | |
| --- | --- |
| | The Concept of Proficiency: A Historical Summary |

369
(2)

| | |
| --- | --- |
| | Statement of Philosophy: Standards for Foreign Language Learning |

371
(1)

| | |
| --- | --- |
| | Excerpt from Nebraska's State K---12 Foreign Language Frameworks |

372
(1)

| | |
| --- | --- |
| | Excerpt from Nebraska's Year Planner for Level One Foreign Language |

373
(1)

| | |
| --- | --- |
| | Sample Unit Planner (``Shopping at the Market'') from Nebraska's Foreign Language Frameworks Unit Planner-Sample |

374
(2)

| | |
| --- | --- |
| | Bloom's Taxonomy of Thinking Processes |

376
(1)

| | |
| --- | --- |
| | Bloom's Taxonomy and the Nebraska Foreign Language Frameworks |

377
(1)

| | |
| --- | --- |
| | The Effective Elementary and Middle School Foreign Language Teacher |

378
(2)

| | |
| --- | --- |
| | Identifying Immersion Language Objectives |

380
(1)
381
(1)
382
(1)
383
(1)

| | |
| --- | --- |
| | Classroom Map for The Pearl |

384
(1)

| | |
| --- | --- |
| | Sample of a Culture Assimilator |

385
(1)

| | |
| --- | --- |
| | Presentation of a Reading Using the Interactive Model for Integrating the Three Modes of Communication |

386
(4)

| | |
| --- | --- |
| | Sample Lesson in Story-Based Language Learning: PACE Model |

390
(2)

| | |
| --- | --- |
| | ``Talk Scores'': Monitoring and Evaluating Group Speaking Activities |

392
(3)

| | |
| --- | --- |
| | Writing Process Questionnaire |

395
(1)

| | |
| --- | --- |
| | Foreign Language Writing Process Questionnaire |

396
(1)

| | |
| --- | --- |
| | Checklist for Constructing an Interactive Homework Assignment |

397
(1)

| | |
| --- | --- |
| | How to Teach Students to Evaluate Others' Writing |

398
(1)
399
(1)
400
(1)

| | |
| --- | --- |
| | Primary Trait Task for Exploratory Writing |

401
(1)

| | |
| --- | --- |
| | Sample Portfolio Template |

402
(1)

| | |
| --- | --- |
| | Portfolio Evaluation Sheet |

403
(1)

| | |
| --- | --- |
| | Student Portfolio Feedback Sheet for a Formative Conference Between Teacher and Student |

404
(1)

| | |
| --- | --- |
| | Portfolio Table of Contents |

405