Note: Supplemental materials are not guaranteed with Rental or Used book purchases.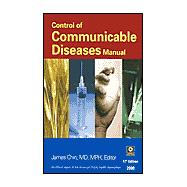 Control of Communicable Diseases Manual
ISBN13:
9780875532424
by
Chin, James
AMERICAN PUBLIC HEALTH ASSOCIATION
Summary
Univ. of California, Berkeley. Brandon/Hill Medical List first-purchase selection (#278). Previous edition, c1995, was authored by Abram S. Benenson. Pocket-sized manual, in outline format, providing current information and recommendations for communicable disease prevention. Trim size: 7 x 4.5 inches. Softcover, hardcover not simultaneously published.
Table of Contents
Editorial Board
iii
Liaison Representatives
vi
Forword
xv
Preface
xvii
Organization And Contents of CCDM
xxi
Surveillance and Reporting of Communicable Diseases
xxv

| | |
| --- | --- |
| | Acquired Immunodeficiency Syndrome |

1
(8)
9
(2)
11
(4)
15
(3)
17
(1)
17
(1)
18
(2)
20
(6)

| | |
| --- | --- |
| | Arenaviral Hemorrhagic Fevers In South America |

26
(2)

| | |
| --- | --- |
| | Arthropod-Borne Viral Diseases |

28
(9)
28
(2)

| | |
| --- | --- |
| | Table: Diseases In Humans Caused By Arthropod-Borne Viruses |

30
(7)

| | |
| --- | --- |
| | Arthropod-Borne Viral Arthritis and Rash |

37
(2)

| | |
| --- | --- |
| | Arthropod-Borne Viral Encephalitides |

39
(6)

| | |
| --- | --- |
| | Mosquito-Borne Viral Encephalitides |

39
(4)

| | |
| --- | --- |
| | Tickborne Viral Encephalitides |

43
(2)

| | |
| --- | --- |
| | Arthropod-Borne Viral Fevers |

45
(9)

| | |
| --- | --- |
| | Mosquito-Borne and Culicoides-Borne Viral Fevers |

45
(5)

| | |
| --- | --- |
| | Venezuelan Equine Encephalomyelitis Virus Disease |

45
(3)

| | |
| --- | --- |
| | Other Mosquito-Borne and Culicoides-Borne Fevers |

48
(2)
50
(2)

| | |
| --- | --- |
| | Phlebotomine-Borne Viral Fevers |

52
(2)

| | |
| --- | --- |
| | Arthropod-Borne Viral Hemorrhagic Fevers |

54
(4)
54
(1)
54
(4)

| | |
| --- | --- |
| | Crimean-Congo Hemorrhagic Fever |

54
(2)
56
(1)
56
(2)
58
(2)
60
(2)
62
(3)
65
(1)
66
(2)
68
(2)

| | |
| --- | --- |
| | Botulism And Intestinal Botulism |

70
(5)
75
(4)
79
(2)
81
(3)
84
(3)

| | |
| --- | --- |
| | Capillariasis Due To Capillaria Philippinensis |

84
(1)

| | |
| --- | --- |
| | Capillariasis Due To Capillaria Hepatica |

85
(2)
87
(1)
87
(3)

| | |
| --- | --- |
| | Other Infections Associated With Animal Bites |

89
(1)
90
(2)
92
(5)
97
(3)

| | |
| --- | --- |
| | Genital Infections, Chlamydial |

97
(3)

| | |
| --- | --- |
| | Urethritis, Nongonococcal And Nonspecific |

100
(1)

| | |
| --- | --- |
| | Cholera And Other Vibrioses |

100
(13)

| | |
| --- | --- |
| | Vibrio Cholerae Serogroups 01 And 0139 |

100
(8)

| | |
| --- | --- |
| | Vibrio Cholerae Serogroups Other Than 01 And 0139 |

108
(2)

| | |
| --- | --- |
| | Vibrio Parahaemolyticus Enteritis |

110
(1)

| | |
| --- | --- |
| | Infection With Vibrio Vulnificus |

111
(2)

| | |
| --- | --- |
| | Infection With Other Vibrios |

113
(1)
113
(1)
114
(3)
116
(1)
117
(2)
119
(10)

| | |
| --- | --- |
| | Acute Bacterial Conjunctivitis |

119
(3)

| | |
| --- | --- |
| | Keratoconjunctivitis, Adenoviral |

122
(2)

| | |
| --- | --- |
| | Adenoviral Hemorrhagic Conjunctivitis |

124
(2)

| | |
| --- | --- |
| | Enteroviral Hemorrhagic Conjunctivitis |

124
(2)

| | |
| --- | --- |
| | Chlamydial Conjunctivitis |

126
(3)
129
(3)

| | |
| --- | --- |
| | Enteroviral Vesicular Pharyngitis |

129
(1)

| | |
| --- | --- |
| | Enteroviral Vesicular Stomatitis With Exanthem |

129
(1)

| | |
| --- | --- |
| | Enteroviral Lymphonodular Pharyngitis |

129
(2)
131
(1)
132
(2)
134
(4)

| | |
| --- | --- |
| | Diarrhea Caused By Cyclospora |

137
(1)

| | |
| --- | --- |
| | Cytomegalovirus Infections |

138
(4)
138
(1)

| | |
| --- | --- |
| | Congenital Cytomegalovirus Infection |

138
(4)
142
(5)

| | |
| --- | --- |
| | Dengue Hemorrhagic Fever/Dengue Shock Syndrome |

145
(2)
147
(7)

| | |
| --- | --- |
| | Tinea Barbae And Tinea Capitis |

147
(2)

| | |
| --- | --- |
| | Tinea Cruris And Tinea Corporis |

149
(2)
151
(2)
153
(1)
154
(1)

| | |
| --- | --- |
| | Diarrhea Caused By Escherichia Coli |

155
(10)

| | |
| --- | --- |
| | Enterohemorrhagic Strains |

155
(3)
158
(2)
160
(1)
161
(3)

| | |
| --- | --- |
| | Enteroaggregative E. Coli |

164
(1)

| | |
| --- | --- |
| | Diffuse-Adherence E. Coli |

165
(1)
165
(6)
171
(1)
172
(2)

| | |
| --- | --- |
| | Ebola-Marburg Viral Diseases |

174
(2)
176
(5)

| | |
| --- | --- |
| | Due To Echinococcus Granulosus |

177
(2)

| | |
| --- | --- |
| | Due To Echinococcus Multilocularis |

179
(1)

| | |
| --- | --- |
| | Due To Echinococcus Vogeli |

180
(1)
181
(2)

| | |
| --- | --- |
| | Encephalopathy, Subacute Spongiform |

183
(3)

| | |
| --- | --- |
| | Creutzfeldt-Jakob Disease |

183
(3)
186
(1)
186
(3)

| | |
| --- | --- |
| | Erythema Infectiosum/Human Parvovirus Infection |

189
(2)
191
(2)
193
(2)
195
(2)
197
(5)
201
(1)

| | |
| --- | --- |
| | Other Nematodes Producing Microfilariae In Humans |

201
(1)
202
(10)

| | |
| --- | --- |
| | Staphylococcal Food Intoxication |

203
(3)

| | |
| --- | --- |
| | Clostridium Perfringens Food Intoxication |

206
(1)

| | |
| --- | --- |
| | Bacillus Cereus Food Intoxication |

207
(2)
209
(1)
209
(1)

| | |
| --- | --- |
| | Paralytic Shellfish Poisoning |

210
(1)

| | |
| --- | --- |
| | Neurotoxic Shellfish Poisoning |

211
(1)

| | |
| --- | --- |
| | Diarrhetic Shellfish Poisoning |

211
(1)

| | |
| --- | --- |
| | Amnesic Shellfish Poisoning |

212
(1)

| | |
| --- | --- |
| | Puffer Fish Poisoning (Tetrodotoxin) |

212
(1)

| | |
| --- | --- |
| | Gastritis Caused By Helicobacter Pylori |

212
(3)

| | |
| --- | --- |
| | Gastroenteritis, Acute Viral |

215
(5)
215
(3)

| | |
| --- | --- |
| | Epidemic Viral Gastroenteropathy |

218
(2)
220
(3)
223
(6)
223
(4)

| | |
| --- | --- |
| | Gonococcal Conjunctivitis (Neonatorum) |

227
(2)
229
(1)
230
(6)

| | |
| --- | --- |
| | Hemorrhagic Fever With Renal Syndrome |

231
(3)

| | |
| --- | --- |
| | Hantavirus Pulmonary Syndrome |

234
(2)

| | |
| --- | --- |
| | Hendra And Nipah Viral Diseases |

236
(2)
238
(19)
238
(5)
243
(8)
251
(2)
253
(2)
255
(2)

| | |
| --- | --- |
| | Herpes Simple And Anogenital Herpesviral Infections |

257
(5)

| | |
| --- | --- |
| | Meningoencephalitis Due To Cercopithecine Herpes Virus 1 |

261
(1)
262
(3)

| | |
| --- | --- |
| | Infection By Histoplasma Capsulatum |

262
(3)
265
(1)
265
(3)
268
(2)
268
(1)

| | |
| --- | --- |
| | Due To Hymenolepis Diminuta |

269
(1)
270
(1)
270
(6)
276
(2)
278
(3)

| | |
| --- | --- |
| | Legionellosis And Nonpneumonic Legionellosis |

281
(3)
284
(5)
284
(3)
287
(2)
289
(4)
293
(3)
296
(3)
299
(3)
302
(4)

| | |
| --- | --- |
| | Lymphocytic Choriomeningitis |

306
(2)
308
(2)
310
(13)
323
(7)
324
(1)
325
(1)
325
(1)

| | |
| --- | --- |
| | Malignancies Possibly Related To EBV |

326
(1)
326
(1)
327
(1)
327
(2)

| | |
| --- | --- |
| | Lymphatic Tissue, Malignancy |

329
(1)
329
(1)
330
(5)
335
(3)
337
(1)
338
(10)
338
(2)
340
(8)
340
(5)
345
(3)
348
(1)
348
(1)
348
(2)

| | |
| --- | --- |
| | Mononucleosis, Infectious |

350
(3)
353
(3)
356
(1)

| | |
| --- | --- |
| | Mycetoma: Actinomycetoma And Eumycetoma |

357
(2)

| | |
| --- | --- |
| | Naegleriasis And Acanthamebiasis |

359
(3)
362
(1)
363
(4)
367
(2)
369
(1)
370
(2)

| | |
| --- | --- |
| | Pediculosis and Phthiriasis |

372
(3)

| | |
| --- | --- |
| | Pertussis And Parapertussis |

375
(4)
379
(2)
381
(6)
387
(11)
387
(4)
391
(1)
392
(2)
394
(4)

| | |
| --- | --- |
| | Due To Chlamydia Trachomatis |

394
(2)

| | |
| --- | --- |
| | Due To Chlamydia Pneumoniae |

396
(2)
398
(1)
398
(7)
405
(2)
407
(4)
411
(9)

| | |
| --- | --- |
| | Checklist For Treatment of Animal Bites |

417
(2)

| | |
| --- | --- |
| | Rabies Postexposure Prophylaxis Guide |

419
(1)
420
(1)
420
(1)
421
(1)
421
(3)

| | |
| --- | --- |
| | Respiratory Disease, Acute Viral |

424
(6)

| | |
| --- | --- |
| | Acute Viral Rhinitis---The Common Cold |

425
(2)

| | |
| --- | --- |
| | Acute Febrile Respiratory Disease |

427
(3)
430
(5)

| | |
| --- | --- |
| | Rocky Mountain Spotted Fever |

430
(2)
432
(1)
433
(1)
434
(1)
434
(1)
435
(1)

| | |
| --- | --- |
| | Rubella And Congenital Rubella |

435
(5)
440
(5)
445
(2)
447
(4)
451
(4)
455
(4)
457
(1)
458
(1)
459
(1)
460
(10)
461
(3)
464
(3)

| | |
| --- | --- |
| | On Hospital Medical And Surgical Wards |

467
(2)
469
(1)

| | |
| --- | --- |
| | Streptococcal Diseases Caused By Group a (Beta Hemolytic) Streptococci |

470
(8)

| | |
| --- | --- |
| | Group B Streptococcal Sepsis of The Newborn |

477
(1)

| | |
| --- | --- |
| | Dental Caries of Early Childhood |

477
(1)
478
(3)
481
(7)
481
(5)

| | |
| --- | --- |
| | Nonvenereal Endemic Syphilis |

486
(2)
488
(3)
491
(1)
491
(6)
495
(1)

| | |
| --- | --- |
| | Table: Summary Guide To Tetanus Prophylaxis In Routine Wound Management |

496
(1)
497
(3)
499
(1)
500
(1)
500
(4)
500
(4)
504
(2)
506
(2)
508
(3)
511
(2)
513
(1)
514
(7)
514
(4)
518
(3)
521
(11)

| | |
| --- | --- |
| | Diseases Due To Other Mycobacteria |

530
(2)
532
(3)

| | |
| --- | --- |
| | Typhoid Fever And Paratyphoid Fever |

535
(6)
541
(7)
541
(3)
544
(1)
545
(3)
548
(2)
550
(3)
553
(5)
558
(3)
561
(4)
562
(1)
563
(2)
Abbreviations
565
(2)
Definitions
567
(13)
Index
580
(44)
Table: Immunization Schedule
624