Note: Supplemental materials are not guaranteed with Rental or Used book purchases.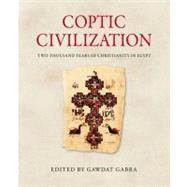 Coptic Civilization Two Thousand Years of Christianity in Egypt
ISBN13:
9789774165474
by
Gabra, Gawdat
The American University in Cairo Press
This title is currently not available.
Summary
Egypt's Copts make up one of the oldest and largest Christian communities in the Middle East. Yet despite the availability of a large number of books on aspects of Coptic culture, including art and architecture, monasticism, theology, and music, there is to date no single volume that provides a comprehensive cultural history of the Copts and their achievements.Coptic Civilizationaims to fill this gap, by introducing the general reader, the interested non-specialist, to Coptic culture in all its variety and multi-faceted richness. With contributions by twenty scholars,CopticCivilizationincludes chapters on monasticism, the Coptic language, Coptic literature, Christian Arabic literature, the objects and documents of daily life, magic, art and architecture, and textiles, as well as the history of Coptic Church, its liturgy, theology, and music.
Author Biography

Gawdat Gabra is the former director of the Coptic Museum and the author, coauthor, or editor of numerous books on the history and culture of Egyptian Christianity, including The Treasures of Coptic Art (AUC Press, 2006) and The History and Religious Heritage of Old Cairo (AUC Press, 2011). He is currently visiting professor of Coptic studies at Claremont Graduate University, California.

Table of Contents

History
Historiography
Samuel Moawad
Coptic Church History
Youhanna Nessim Youssef
Monasticism
Mark Sheridan

Theology, Liturgy, and Music
Alexandrian Theology from Athanasius the Great (326-73) to Timothy II (458-77): A Historical Survey of Coptic Orthodox Theology
Lois Farag
Liturgy in the Coptic Church
Youhanna Nessim Youssef
Coptic Music Culture: Tradition-Structure and Variation
Magdalena Kuhn

Language and Literature
The Coptic Language
Ewa D. Zakrzewska
Gnosticism and Manichaeism in Egypt
Marvin Meyer
The Coptic Bible
Hany N. Takla
Coptic Literature
Youhanna Nessim Youssef
Daily Life: Documentary Evidence
Tonio Sebastian Richter
Warding Off Evil, Attracting Charm: Magic in Late-antique and Early-medieval Egypt
Jacques van der Vliet
Copto-Arabic Literature
Mark N. Swanson

Art, Archaeology, and Material Culture
The Discovery of Christian Egypt: From Manuscript Hunters Toward an Archaeology of Late-antique Egypt
Elisabeth R. O'Connell
Christian Architecture in Egypt
Peter Grossmann
Decoration of Coptic Churches
Gertrud J.M. van Loon
Objects of Daily Life
Dominique Bénazeth
Egypt's Post-pharaonic Textiles
Cäcilia Fluck and Gisele Helmecke

Renaissance of the Coptic Church
The Coptic Church Today
Nelly van Doorn-Harder
Contemporary Coptic Art
Monica René
Coptic Civilization in the Diaspora
Saad Michael Saad