Note: Supplemental materials are not guaranteed with Rental or Used book purchases.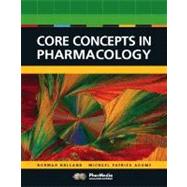 Summary
Introduces LPN/LVNs to pharmacology principles and practices. The body system and disease organization (versus drug classification) is more intuitive and patient care oriented because it places the drug in context of how they are used therapeutically. Nursing Process flowcharts provide succinct, easy-to-read view of the most important nurisng actions for tehe prescribed drug classes; Lifespan Facts provide important pediatric adn geriatric considerations for drug therapies; Natural Alternatives features present a popular herbal and dietary supplement that may be considered along with conventional drugs; Mechanism in Action features use computer animations to clearly demonstrate drug action; Patient Need boxes help a nurse develop communication skills to help increase patient education and understanding. Reference forLicense Practical Nurses and License Vocational Nurses
Author Biography
Michael Patrick Adams is the Dean of Health Occupations at Pasco-Hernando Community College.
Table of Contents
Basic Concepts in Pharmacology
Introduction to Pharmacology Drug Regulation and Approval
Drug Classes, Schedules and Categories
Methods of Drug Administration
What Happens After a Drug Has Been Administered
Herbs and Dietary Supplements
Substance Abuse
The Nervous System
Drugs Affecting Functions of the Autonomic Nervous System
Drugs for Anxiety and Insomnia
Drugs for Emotional and Mood Disorders
Drugs for Psychoses and Degenerative Diseases of the Nervous System
Drugs for Seizures
Drugs for Pain Control
Drugs for Anesthesia
The Cardiovascular System
Drugs for Coagulation Disorders
Drugs for Hypertension
Drugs for Heart Failure
Drugs for Dysrhythmias
Drugs for Angina Pectoris, Myocardial Infarction, and Cerebrovascular Accident
Drugs for Shock and Anaphylaxis
Drugs for Lipid Disorders
The Immune System
Drugs for Inflammation, Allergies, and Immune Disorders
Drugs for Bacterial Infections
Drugs for Fungal, Viral, and Parasitic Infections
Drugs for Neoplasia
The Respiratory, Digestive, and Renal Systems
Drugs for Pulmonary Disorders
Drugs for Gastrointestinal Disorders
Vitamins, Minerals, and Nutritional Supplements
Drugs for Fluid, Acid-Base, and Electrolyte Disorders
The Endocrine and Reproductive Systems
Drugs for Endocrine Disorders
Drugs for Disorders and Conditions of the Reproductive System
The Musculoskeletal System, Integumentary System, and Eyes and Ears
Drugs for Muscle, Bone, and Joint Disorders
Drugs for Skin Disorders
Drugs for Eye and Ear Disorders
References
Answers to NCLEX-PNO and Case Study Questions
Top 200 Drugs
Index
Table of Contents provided by Publisher. All Rights Reserved.