Note: Supplemental materials are not guaranteed with Rental or Used book purchases.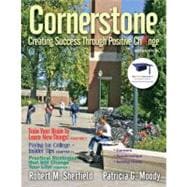 Questions About This Book?
What version or edition is this?
This is the 6th edition with a publication date of 1/7/2010.
What is included with this book?
The Used copy of this book is not guaranteed to include any supplemental materials. Typically, only the book itself is included.
Summary
The sixth edition helps students focus on practical strategies for CHANGE. Those who can master change with a positive attitude take calculated risks and maintain an open mind will succeed.
Filled with inspiring stories and powerful activities, this motivating book teaches success through discovery, goal-setting and determination. Cornerstone utilizes SQ3R and Bloom's Taxonomy throughout, employing the reading and critical thinking strategies necessary for student achievement. Thoroughly updated, it includes a new chapter on Interpersonal Communication, and now extensively covers Information Literacy.
Also provides updated and expanded information on money and debt management and a stronger focus on self-engagement. The chapter on Critical Thinking is brand new, empowering students to advance in the classroom and beyond.
"Students will think the text is talking to them personally. It truly is all about them." -Melanie Deffendal, Delgado Community College
"This is an excellent text that addresses the changing needs of students. Bloom's Taxonomy will challenge students to think about why they decided to attend college and what they want to accomplish. Moreover, the Taxonomy can be applied to other classes. Success is linked to positive change." -Arthur Webb, Oklahoma State University
Author Biography
Robert M. Sherfield, Ph.D.
has been teaching public speaking, theatre, and student success and working with first-year orientation programs for over 25 years. Currently, he is a professor at the College of Southern Nevada, teaching student success, technical writing, public speaking, and drama.
An award-winning educator, Robb was named Educator of the Year at the College of Southern Nevada. He twice received the Distinguished Teacher of the Year Award from the University of South Carolina Union, and has received numerous other awards and nominations for outstanding classroom instruction and advisement.
Robb's extensive work with student success programs includes experience with the design and implementation of these programs—including one program that was presented at the International Conference on the First-Year Experience in Newcastle upon Tyne, England. He has conducted faculty development keynotes and workshops at over 350 institutions of higher education across America. He has spoken in 46 states and several foreign countries.
In addition to his co-authorship of Cornerstone: Opening Doors to Career Success 2nd edition (Prentice Hall, 2010), he has authored or co-authored Solving the Professional Development Puzzle: 101 Solutions for Career and Life Planning (Prentice Hall, 2009), Cornerstone: Discovering Your Potential, Learning Actively, and Living Well (Prentice Hall, 2008), Roadways to Success (Prentice Hall, 2001), the trade book 365 Things I Learned in College (Allyn & Bacon, 1996), Capstone: Succeeding Beyond College (Prentice Hall, 2001), Case Studies for the First Year: An Odyssey into Critical Thinking and Problem Solving (Prentice Hall, 2004), The Everything ® Self-Esteem Book (Adams Media, 2004), , and Cornerstone: Building on Your Best for Career Success (Prentice Hall, 2006).
Robb's interest in student success began with his own first year in college. Low SAT scores and a dismal high school ranking denied him entrance into college. With the help of a success program, Robb was granted entrance into college, and went on to earn five college degrees, including a doctorate. He has always been interested in the social, academic, and cultural development of students, and sees this book as his way to help students enter the world of work and establishing lasting, rewarding careers. Visit www.robertsherfield.com.
Patricia G. Moody, Ph.D. is Dean Emerita of the College of Hospitality, Retail and Sport Management at the University of South Carolina, where she served on the faculty for over 30 years. An award-winning educator, Pat was honored as Distinguished Educator of the Year at her college and as Collegiate Teacher of the Year by the National Business Education Association. She was also a top-five finalist for the Amoco Teaching Award at the University of South Carolina. She received the prestigious John Robert Gregg Award, the highest honor in her field of over 100,000 educators.
Pat has co-authored many texts and simulations including: Solving the Professional Development Puzzle: 101 Solutions for Career and Life Planning , Cornerstone: Discovering Your Potential, Learning Actively, and Living Well, 3 65 Things I Learned in College, Capstone: Succeeding Beyond College, Case Studies for the First Year: An Odyssey into Critical Thinking and Problem Solving, and Cornerstone: Opening Doors to Career Success .
A nationally known motivational speaker, consultant, and author, Pat has spoken in most states, has been invited to speak in several foreign countries, and frequently keynotes national and regional conventions. She has presented her signature, motivational keynote address, "Fly Like an Eagle" to tens thousands of people, from Olympic athletes to corporate executives to high school students.
As the Dean of her college, Dr. Moody led international trips to build relationships and establish joint research projects in hospitality. Under her direction, faculty members in her college began a landmark study of Chinese Tourists. Pat now travels the country delivering workshops, keynotes, and presentations on topics such as Managing Change, Working in the New Global Community, The Future of the Future, Student Motivation, and Emotional Intelligence. She also serves as a personal coach for business executives.
Table of Contents
BEGIN: The Goal of Cornerstone and Our Commitment to You
Features In each chapter:
Why Read This Chapter
Why Read This Chapter…From My Perspective
Scan & Question
PART ONE – CHANGING YOUR THOUGHTS
CHAPTER 1 CHANGE: Adjusting to the Culture of College, Nurturing Change, and Setting Goals
The Times…They Are A-Changin'
The M&M Theory
College and You
The Culture of College
Creating Success Through Positive Change
Eliminating Roadblocks to Your Success
Building a New You
CHAPTER 2 ENGAGE: Developing Your Personal and Academic Passion to Persist in College
The Power and Passion of Motivation
Achieving Your Potential and Increasing Your Motivation
Persisting in College
CHAPTER 3 PERSIST: Using the Tools of Self-Management to Stay in College
To Be Successful, You Have to Last
Knowing the Rules Up Front
The College Professor
I Can't Believe You Gave Me an F
Classroom Challenges
The Golden Rule–or Just a Crock
Self-Management, Ethics, and Your Future
Making Mature Decisions
Cheating!
The Dangers of using Someone Else's Work as Your Own
Success Centers and Student Services on Campus
Let Me Give You a Piece of Advice
Moving On
How to Calculate Your Grade Point Average
On the Go and Going Online
Persisting in College
CHAPTER 4 COMMUNICATE: Improving Your Personal Communication, Cultivating Relationships, and Managing Conflict
The Communication Process
The Story of One Wild Boy
Nonverbal Behavior in Interpersonal Communication
OMG U R OTT
Self-Disclosure and Interpersonal Communication
The Ties That Bind
Learning to Live and Communicate with Others
Conflict in Relationships Is Inevitable
The Faces of Conflict
Standards for Dealing with Difficult People and Managing Conflict
CHAPTER 5 THINK: Expanding Your Aptitude for Critical Thinking, Emotional Intelligence, and Information Literacy Skills
Thinking About Thinking
The Importance of Critical Thinking
An Eight-Point Plan for Critical Thinking
Sharpening Your Emotional Intelligence Skills
PART TWO – CHANGING YOUR PERFORMANCE
CHAPTER 6 PRIORITIZE: Planning Your Time and Reducing Stress
Time–You Have All There Is
Time Management and Self-Discipline
I'll Do It When I Have a Little Free Time
Planning, Doodling, or Begging
Absolutely No…Well, Maybe
Beginning Your Day with Peace
The Dreaded "P" Word
Getting the Most Out of This Moment
Evaluating How You Spend Your Time
Focusing On and Eliminating Distractions and Interruptions
Planning and Preparing
Stress? I Don't Have Enough Time for Stress!
I Don't Think I Feel So Well
CHAPTER 7 LEARN: Using Your Dominant Intelligence, Preferred Learning Style, and Unique Personality Type to Become an Active Learner
We Hope You Learned Your Lesson!
Give Your Brain a Workout
The Learning Process
Understanding Your Strengths
Understanding Multiple Intelligences
Understanding Multiple Inteligences to Enhance Studying and Learning
Understanding Learning Styles Theory
Wanted: A Visual Learner with Tactile Skills
Understanding Personality Types
CHAPTER 8 READ: Building Your Reading and Comprehension Skills
Is Reading Fundamental or Just Pure Torture?
Discovering Your Reading Style
I Feel the Need…The Need for Speed
Speed and Comprehension
You Don't Have to Be a Logodaedalian to Enjoy Words
It's Not Just a Doorstop
Learning to Read Faster and Smarter
Finding the Topic and Main Ideas in Paragraphs and Sections
SQ3R to the Rescue
It's Not Over Until It's Over
CHAPTER 9 RECORD: Cultivating Your Listening Skills and Developing a Note Taking System that Works for You
The Importance of Listening
Listening Defined
The Four Listening Systems
Listening Can Be So Hard
Listening for Key Words, Phrases, and Hints
Listening in Difficult Situations
Taking Effective Notes
Tips for Effective Note Taking
You'll Be Seeing Stars
Three Common Note-Taking Systems\
It's as Simple as A, B, C–1, 2, 3
It's a Split Decision
Going Around in Circles
TMI! TMI! (Too Much Information)
CHAPTER 10 UNDERSTAND: Empowering Your Memory, Studying Effectively, and Taking Tests with Confidence
I Forgot to Remember!
This Isn't Your Daddy's VCR
The Capability of Your Memory
Using Mnemonic Devices
Hakuna Matata
Studying in a Crunch
Thinking About Testing
Quizzing Your Instructor and Knowing Your Response Type
Test-Taking Strategies and Hints for Success
PART THREE – CHANGING YOUR LIFE
CHAPTER 11 PROSPER: Managing Your Money and Your Debts Wisely
The Overwhelming Burden of Crushing Debt
Practicing Discipline at the Right Time
Pennies from Heaven
Student Loans
Know the Score
B is for Budgeting
Living on Borrowed Money
The Pitfalls of Payday Loans, Car Title Loans, and Rent-to-Own Contracts
Small Costs Add Up!
Protect Yourself from Identity Theft
Battling the Big 'If's'
CHAPTER 12 INFORM: Improving Your Research, Writing and Speaking Skills
The Enormous and Vast Power of Words
How to Write a College-Level Research Paper
Public Speaking
Preparing a Powerful PowerPoint Presentation
I'd Rather Die Than Make This Speech
Walking Tall
CHAPTER 13 RELATE: Celebrating People, Cultures, and Diversity
Learning to Think Globally While Making Local Applications
Anything You Can Do, I Can Do Better!
Living and Learning in the Brave New World
Seeing the World with Clear Eyes
CHAPTER 14 LIVE: Developing Your Plan for Wellness and Personal Responsibility
A Holisitic Approach to Wellness
The Mind's Effect on Wellness
Silent Problems of the Mind
The Soul's Effect on Wellness
The Body's Effect on Wellness
What You Do Today May Impact You for Years to Come
Smoking Cessation and How to Do It
STDs and Birth Control
CHAPTER 15 PLAN: Focusing on Your Professional Career and Living Well
Planning for the Future
What Am I Going to Do for the Rest of My Life?
10 Baby Steps That Will Become Giant Steps Tomorrow
Developing Your Career Self-Study Plan
Help Me: I'm Undeclared
Workin' 9 to 5–or Trying To
Writing a Powerful and Concise Cover Letter
Understand the Do's and Don'ts of Memorable Resumes
General Tips
The Big Day Is Here
Win, Lose, or Draw, Always Say 'Thank You' in Writing