Note: Supplemental materials are not guaranteed with Rental or Used book purchases.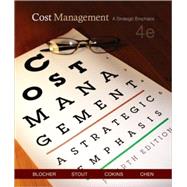 Questions About This Book?
Why should I rent this book?
Renting is easy, fast, and cheap! Renting from eCampus.com can save you hundreds of dollars compared to the cost of new or used books each semester. At the end of the semester, simply ship the book back to us with a free UPS shipping label! No need to worry about selling it back.
How do rental returns work?
Returning books is as easy as possible. As your rental due date approaches, we will email you several courtesy reminders. When you are ready to return, you can print a free UPS shipping label from our website at any time. Then, just return the book to your UPS driver or any staffed UPS location. You can even use the same box we shipped it in!
What version or edition is this?
This is the 4th edition with a publication date of 10/3/2006.
What is included with this book?
The Used copy of this book is not guaranteed to include any supplemental materials. Typically, only the book itself is included.
The Rental copy of this book is not guaranteed to include any supplemental materials. You may receive a brand new copy, but typically, only the book itself.
Summary
Cost Management: A Strategic Emphasis, by Blocher/Stout/Cokins/Chen is the first cost accounting text to offer integrated coverage of strategic management topics in cost accounting. The text is written to help students understand more about management and the role of cost accounting in helping an organization succeed. This text aims to teach management concepts and methods, and to demonstrate how managers use cost management information to make better decisions and improve their organization's competitiveness. In teaching these key management skills, the text takes on a strategic focus. It addresses issues such as:How does a firm compete? What type of cost management information is needed for a firm to succeed? How does the management accountant develop and present this information?This text helps students learn why, when, and how cost information is used to make effective decisions that lead a firm to success.
Table of Contents
| | |
| --- | --- |
| | PART ONE INTRODUCTION TO COST MANAGEMENT |

2
(168)

| | |
| --- | --- |
| | Cost Management and Strategy: An Overview |

2
(28)

| | |
| --- | --- |
| | The Uses of Cost Management |

3
(4)

| | |
| --- | --- |
| | The Four Functions of Management |

4
(2)

| | |
| --- | --- |
| | Strategic Management and Strategic Cost Management |

6
(1)
6
(1)

| | |
| --- | --- |
| | The Contemporary Business Environment |

7
(3)

| | |
| --- | --- |
| | The Global Business Environment |

7
(1)

| | |
| --- | --- |
| | Manufacturing Technologies |

8
(1)

| | |
| --- | --- |
| | The New Economy: Use of Information Technology, the Internet, and E-Commerce |

8
(1)
8
(1)
9
(1)

| | |
| --- | --- |
| | Social, Political, and Cultural Considerations |

9
(1)

| | |
| --- | --- |
| | The Strategic Focus of Cost Management |

10
(1)

| | |
| --- | --- |
| | Contemporary Management Techniques |

10
(3)
10
(1)
11
(1)

| | |
| --- | --- |
| | Business Process Improvement |

11
(1)

| | |
| --- | --- |
| | Activity-Based Costing and Management |

11
(1)
11
(1)

| | |
| --- | --- |
| | The Theory of Constraints |

11
(1)
12
(1)
12
(1)
12
(1)
12
(1)
12
(1)

| | |
| --- | --- |
| | How a Firm Succeeds: The Competitive Strategy |

13
(2)

| | |
| --- | --- |
| | Strategic Measures of Success |

14
(1)

| | |
| --- | --- |
| | Developing a Competitive Strategy: Strategic Positioning |

15
(2)
15
(1)
16
(1)
16
(1)

| | |
| --- | --- |
| | The Professional Environment of Cost Management |

17
(4)

| | |
| --- | --- |
| | Professional Organizations |

17
(2)

| | |
| --- | --- |
| | Professional Certifications |

19
(1)
20
(1)
21
(1)

| | |
| --- | --- |
| | Appendix A: More about Strategy |

22
(1)
23
(1)

| | |
| --- | --- |
| | Comments on Cost Management in Action |

23
(1)
24
(1)
24
(1)
25
(1)
25
(1)
26
(3)

| | |
| --- | --- |
| | Solution to Self-Study Problem |

29
(1)

| | |
| --- | --- |
| | Implementing Strategy: The Balanced Scorecard and the Value Chain |

30
(24)

| | |
| --- | --- |
| | Strengths-Weaknesses-Opportunities-Threats (SWOT) Analysis |

31
(2)
33
(2)
35
(3)

| | |
| --- | --- |
| | Value-Chain Analysis in Computer Manufacturing |

37
(1)
38
(5)

| | |
| --- | --- |
| | The Balanced Scorecard Reflects Strategy |

39
(1)
40
(2)

| | |
| --- | --- |
| | Expanding the Balanced Scorecard Sustainability |

42
(1)
43
(1)
43
(1)

| | |
| --- | --- |
| | Comments on Cost Management in Action |

43
(1)
44
(1)
44
(1)
45
(1)
45
(1)
45
(7)

| | |
| --- | --- |
| | Solutions to Self-Study Problems |

52
(2)

| | |
| --- | --- |
| | Basic Cost Management Concepts |

54
(30)

| | |
| --- | --- |
| | Cost Drivers, Cost Pools, and Cost Objects |

55
(9)

| | |
| --- | --- |
| | Cost Assignment and Cost Allocation: Direct and Indirect Costs |

55
(3)

| | |
| --- | --- |
| | Cost Drivers and Cost Behavior |

58
(1)

| | |
| --- | --- |
| | Activity-Based Cost Drivers |

58
(1)

| | |
| --- | --- |
| | Volume-Based Cost Drivers |

59
(4)

| | |
| --- | --- |
| | Structural and Executional Cost Drivers |

63
(1)

| | |
| --- | --- |
| | Cost Concepts for Product and Service Costing |

64
(4)

| | |
| --- | --- |
| | Cost Accounting for Products and Services |

64
(1)

| | |
| --- | --- |
| | Product Costs and Period Costs |

64
(1)

| | |
| --- | --- |
| | Manufacturing, Merchandising, and Service Costing |

65
(3)

| | |
| --- | --- |
| | Cost Concepts for Planning and Decision Making |

68
(2)
68
(1)

| | |
| --- | --- |
| | Attributes of Cost Information for Decision Making |

69
(1)

| | |
| --- | --- |
| | Cost Concepts for Management and Operational Control |

70
(1)
70
(1)
70
(1)
71
(1)

| | |
| --- | --- |
| | Comments on Cost Management in Action |

71
(1)
71
(1)
72
(1)
72
(1)
73
(5)
78
(4)

| | |
| --- | --- |
| | Solution to Self-Study Problem |

82
(2)
84
(36)
84
(2)

| | |
| --- | --- |
| | Cost Accumulation: Job or Process Costing? |

85
(1)

| | |
| --- | --- |
| | Cost Measurement: Actual, Normal, or Standard Costing? |

85
(1)

| | |
| --- | --- |
| | Overhead Assignment under Normal Costing: Volume-Based or Activity-Based? |

85
(1)

| | |
| --- | --- |
| | The Strategic Role of Product Costing |

86
(1)

| | |
| --- | --- |
| | Job Costing: The Cost Flows |

86
(7)
87
(2)
89
(2)
91
(1)
91
(1)
91
(2)

| | |
| --- | --- |
| | The Application of Factory Overhead in Normal Costing |

93
(4)

| | |
| --- | --- |
| | Cost Drivers for Factory Overhead Application |

93
(1)

| | |
| --- | --- |
| | Applying Factory Overhead Costs |

93
(1)

| | |
| --- | --- |
| | Departmental Overhead Rates |

94
(1)

| | |
| --- | --- |
| | Disposition of Underapplied and Overapplied Overhead |

95
(2)

| | |
| --- | --- |
| | Job Costing in Service Industries |

97
(1)
98
(2)
100
(1)

| | |
| --- | --- |
| | Appendix A: Spoilage, Rework, and Scrap in Job Costing |

101
(2)
103
(1)

| | |
| --- | --- |
| | Comments on Cost Management in Action |

103
(1)
103
(1)
104
(1)
104
(1)
105
(3)
108
(10)

| | |
| --- | --- |
| | Solution to Self-Study Problem |

118
(2)

| | |
| --- | --- |
| | Activity-Based Costing and Management |

120
(50)

| | |
| --- | --- |
| | The Strategic Role of Activity-Based Costing |

120
(1)

| | |
| --- | --- |
| | Role of Volume-Based Costing |

121
(1)
122
(2)

| | |
| --- | --- |
| | Resources, Activities, Resource Consumption Cost Drivers, and Activity Consumption Cost Drivers |

122
(1)

| | |
| --- | --- |
| | What Is Activity-Based Costing? |

122
(1)

| | |
| --- | --- |
| | The Two-Stage Cost Assignment Procedure |

123
(1)

| | |
| --- | --- |
| | Steps in Developing an Activity-Based Costing System |

124
(2)

| | |
| --- | --- |
| | Step 1: Identify Resource Costs and Activities |

124
(1)

| | |
| --- | --- |
| | Step 2: Assign Resource Costs to Activities |

125
(1)

| | |
| --- | --- |
| | Step 3: Assign Activity Costs to Cost Objects |

126
(1)

| | |
| --- | --- |
| | Benefits and Limitations of Activity-Based Costing |

126
(2)
126
(1)
127
(1)

| | |
| --- | --- |
| | A Comparison of Volume-Based and Activity-Based Costing |

128
(2)
128
(1)
129
(1)

| | |
| --- | --- |
| | Activity-Based Management |

130
(3)

| | |
| --- | --- |
| | What Is Activity-Based Management? |

130
(1)
131
(1)
131
(2)

| | |
| --- | --- |
| | Activity-Based Costing/Management (ABC/M) Applications |

133
(5)

| | |
| --- | --- |
| | ABC/M in Manufacturing: Industrial Air Conditioner Units |

133
(2)

| | |
| --- | --- |
| | ABC/M Application in the Service Industry: A Retirement and Assisted Living Community |

135
(1)

| | |
| --- | --- |
| | ABC/M Applications in Government |

136
(2)

| | |
| --- | --- |
| | Customer Profitability Analysis |

138
(4)
139
(1)

| | |
| --- | --- |
| | Customer Profitability Analysis |

140
(1)

| | |
| --- | --- |
| | Customer Value Assessment |

141
(1)
142
(2)

| | |
| --- | --- |
| | Multiple-Stage Activity-Based Costing |

143
(1)

| | |
| --- | --- |
| | Time-Driven Activity-Based Costing |

143
(1)
144
(1)
144
(1)

| | |
| --- | --- |
| | Comments on Cost Management in Action |

145
(1)
145
(1)
146
(1)
146
(1)
147
(6)
153
(14)

| | |
| --- | --- |
| | Solution to Self-Study Problem |

167
(3)

| | |
| --- | --- |
| | PART TWO PLANNING AND DECISION MAKING |

170
(234)
170
(48)

| | |
| --- | --- |
| | Strategic Role of Cost Estimation |

170
(2)

| | |
| --- | --- |
| | Using Cost Estimation to Predict Future Costs |

171
(1)

| | |
| --- | --- |
| | Using Cost Estimation to Identify Cost Drivers |

171
(1)

| | |
| --- | --- |
| | Six Steps of Cost Estimation |

172
(1)

| | |
| --- | --- |
| | Step 1: Define the Cost Object to Be Estimated |

172
(1)

| | |
| --- | --- |
| | Step 2: Determine the Cost Drivers |

172
(1)

| | |
| --- | --- |
| | Step 3: Collect Consistent and Accurate Data |

172
(1)
172
(1)

| | |
| --- | --- |
| | Step 5: Select and Employ the Estimation Method |

173
(1)

| | |
| --- | --- |
| | Step 6: Assess the Accuracy of the Cost Estimation |

173
(1)
173
(10)

| | |
| --- | --- |
| | An Illustration of Cost Estimation |

173
(1)
173
(3)
176
(1)
176
(6)

| | |
| --- | --- |
| | Using Spreadsheet Software for Regression Analysis |

182
(1)

| | |
| --- | --- |
| | Data Requirements and Implementation Problems |

183
(2)
183
(1)

| | |
| --- | --- |
| | Selecting the Time Period |

183
(1)
184
(1)
185
(1)

| | |
| --- | --- |
| | Appendix A: Learning Curve Analysis |

186
(3)

| | |
| --- | --- |
| | Appendix B: Regression Analysis |

189
(6)
195
(1)

| | |
| --- | --- |
| | Comments on Cost Management in Action |

195
(1)
196
(1)
197
(1)
198
(1)
199
(3)
202
(12)

| | |
| --- | --- |
| | Solutions to Self-Study Problems |

214
(4)

| | |
| --- | --- |
| | Cost-Volume-Profit Analysis |

218
(36)

| | |
| --- | --- |
| | Cost-Volume-Profit Analysis |

218
(2)

| | |
| --- | --- |
| | Contribution Margin and Contribution Income Statement |

219
(1)

| | |
| --- | --- |
| | Strategic Role of CVP Analysis |

220
(2)

| | |
| --- | --- |
| | CVP Analysis for Breakeven Planning |

222
(3)

| | |
| --- | --- |
| | Equation Method: For Breakeven in Units |

222
(1)

| | |
| --- | --- |
| | Equation Method: For Breakeven in Dollars |

222
(1)

| | |
| --- | --- |
| | Contribution Margin Method |

223
(2)

| | |
| --- | --- |
| | CVP Analysis for Profit Planning |

225
(4)
225
(1)
225
(3)

| | |
| --- | --- |
| | Including Income Taxes in CVP Analysis |

228
(1)

| | |
| --- | --- |
| | CVP Analysis for Activity-Based Costing |

229
(2)

| | |
| --- | --- |
| | Sensitivity Analysis of CVP Results |

231
(3)

| | |
| --- | --- |
| | What-If Analysis of Sales: Contribution Margin and Contribution Margin Ratio |

231
(1)
231
(1)
232
(2)

| | |
| --- | --- |
| | CVP Analysis with Two or More Products |

234
(2)

| | |
| --- | --- |
| | CVP Analysis for Not-for-Profit Organizations |

236
(1)

| | |
| --- | --- |
| | Assumptions and Limitations of CVP Analysis |

236
(2)

| | |
| --- | --- |
| | Linearity and the Relevant Range |

236
(1)

| | |
| --- | --- |
| | Identifying Fixed and Variable Costs for CVP Analysis |

237
(1)
238
(1)
239
(1)

| | |
| --- | --- |
| | Comments on Cost Management in Action |

239
(1)
239
(1)
239
(1)
240
(1)
240
(2)
242
(11)

| | |
| --- | --- |
| | Solution to Self-Study Problem |

253
(1)

| | |
| --- | --- |
| | Strategy and the Master Budget |

254
(62)
255
(1)

| | |
| --- | --- |
| | Strategy, the Long-Term Plan, and the Master Budget |

256
(4)

| | |
| --- | --- |
| | Importance of Strategy in Budgeting |

256
(2)
258
(1)

| | |
| --- | --- |
| | Strategic Goals and Long-Term Objectives |

258
(1)

| | |
| --- | --- |
| | Short-Term Objectives and the Master Budget |

258
(2)
260
(3)
260
(1)
261
(1)
262
(1)
262
(1)

| | |
| --- | --- |
| | Negotiation, Review, and Approval |

262
(1)
263
(1)
263
(13)
263
(2)
265
(4)

| | |
| --- | --- |
| | Merchandise Purchases Budget |

269
(2)

| | |
| --- | --- |
| | Selling and General Administrative Expense Budget |

271
(1)

| | |
| --- | --- |
| | Cash Receipts (Collections) Budget |

272
(1)
272
(2)

| | |
| --- | --- |
| | Budgeted Income Statement |

274
(1)
274
(2)

| | |
| --- | --- |
| | Budgeting in Service Companies and International Firms, and Not-for-Profit Organizations |

276
(3)

| | |
| --- | --- |
| | Budgeting in Service Industries |

276
(2)

| | |
| --- | --- |
| | Budgeting in Not-for-Profit Organizations |

278
(1)

| | |
| --- | --- |
| | Budgeting in International Settings |

278
(1)

| | |
| --- | --- |
| | Alternative Budgeting Approaches |

279
(3)

| | |
| --- | --- |
| | Zero-Base Budgeting (ZBB) |

279
(1)

| | |
| --- | --- |
| | Activity-Based Budgeting (ABB) |

280
(1)

| | |
| --- | --- |
| | Kaizen (Continuous Improvement) Budgeting |

281
(1)

| | |
| --- | --- |
| | Computer Software in Budgeting and Planning |

282
(2)

| | |
| --- | --- |
| | Ethical and Behavioral Issues in Budgeting |

284
(3)
284
(1)
284
(1)

| | |
| --- | --- |
| | Difficulty Level of the Budget Target |

285
(1)

| | |
| --- | --- |
| | Authoritative or Participative Budgeting? |

286
(1)

| | |
| --- | --- |
| | Role of the Budget Department or Controller |

286
(1)
287
(1)
287
(1)

| | |
| --- | --- |
| | Comments on Cost Management in Action |

287
(1)
288
(1)
289
(1)
290
(1)
291
(8)
299
(14)

| | |
| --- | --- |
| | Solutions to Self-Study Problems |

313
(3)

| | |
| --- | --- |
| | Decision Making with Relevant Costs and a Strategic Emphasis |

316
(44)

| | |
| --- | --- |
| | The Decision-Making Process |

317
(1)
318
(3)

| | |
| --- | --- |
| | Relevant Cost Information |

318
(1)
319
(1)

| | |
| --- | --- |
| | Fixed Costs and Depreciation |

320
(1)

| | |
| --- | --- |
| | Other Relevant Information: Opportunity Costs |

320
(1)
321
(1)
322
(3)
322
(1)
323
(1)

| | |
| --- | --- |
| | Is TTS Now Operating at Full Capacity? |

323
(1)

| | |
| --- | --- |
| | Excessive Relevant Cost Pricing |

324
(1)
325
(1)

| | |
| --- | --- |
| | Make, Lease, or Buy Decision |

325
(2)
325
(2)
327
(1)

| | |
| --- | --- |
| | Sell Before or After Additional Processing |

327
(2)
327
(1)
328
(1)
329
(3)

| | |
| --- | --- |
| | Profitability Analysis: Keep or Drop a Product Line |

329
(1)
330
(1)

| | |
| --- | --- |
| | Profitability Analysis: Evaluating Programs |

331
(1)

| | |
| --- | --- |
| | Profitability Analysis: Service and Not-for-Profit Organizations |

331
(1)

| | |
| --- | --- |
| | Multiple Products and Limited Resources |

332
(3)

| | |
| --- | --- |
| | Case 1: One Production Constraint |

332
(1)

| | |
| --- | --- |
| | Case 2: Two or More Production Constraints |

333
(2)

| | |
| --- | --- |
| | Behavioral and Implementation Issues |

335
(2)

| | |
| --- | --- |
| | Consideration of Strategic Objectives |

335
(1)
335
(1)

| | |
| --- | --- |
| | Replacement of Variable Costs with Fixed Costs |

336
(1)

| | |
| --- | --- |
| | Proper Identification of Relevant Factors |

336
(1)
337
(1)

| | |
| --- | --- |
| | Appendix A: Linear Programming and the Product Mix Decision |

337
(3)
340
(1)

| | |
| --- | --- |
| | Comments on Cost Management in Action |

340
(1)
340
(1)
341
(1)
341
(1)
342
(4)
346
(12)

| | |
| --- | --- |
| | Solutions to Self-Study Problems |

358
(2)

| | |
| --- | --- |
| | Cost Planning for the Product Life Cycle: Target Costing, Theory of Constraints, and Strategic Pricing |

360
(44)
362
(7)
363
(2)

| | |
| --- | --- |
| | Target Costing and Kaizen |

365
(1)

| | |
| --- | --- |
| | An Illustration: Target Costing in Health Product Manufacturing |

366
(1)

| | |
| --- | --- |
| | An Illustration Using Quality: Function Deployment (OFD) |

367
(1)

| | |
| --- | --- |
| | Benefits of Target Costing |

368
(1)

| | |
| --- | --- |
| | The Theory of Constraints |

369
(7)

| | |
| --- | --- |
| | The Use of the Theory of Constraints Analysis in Health Product Manufacturing |

370
(1)

| | |
| --- | --- |
| | Steps in the Theory of Constraints Analysis |

370
(5)

| | |
| --- | --- |
| | Theory of Constraints Reports |

375
(1)

| | |
| --- | --- |
| | Activity-Based Costing and the Theory of Constraints |

375
(1)
376
(3)
377
(1)

| | |
| --- | --- |
| | The Use of Life-Cycle Costing in a Software Firm |

378
(1)

| | |
| --- | --- |
| | Strategic Pricing Using the Product Life Cycle |

379
(3)

| | |
| --- | --- |
| | Pricing Using the Cost Life Cycle |

379
(2)

| | |
| --- | --- |
| | Strategic Pricing for Phases of the Sales Life Cycle |

381
(1)

| | |
| --- | --- |
| | The Use of the Sales Life Cycle in Computer Manufacturing |

381
(1)
382
(1)

| | |
| --- | --- |
| | Appendix A: Using the Flow Diagram to Identify Constraints |

382
(2)
384
(1)

| | |
| --- | --- |
| | Comments on Cost Management in Action |

384
(1)
384
(1)
385
(1)
385
(1)
386
(5)
391
(10)

| | |
| --- | --- |
| | Solution to Self-Study Problem |

401
(3)

| | |
| --- | --- |
| | PART THREE PROCESS COSTING AND COST ALLOCATION |

404
(90)
404
(90)

| | |
| --- | --- |
| | Characteristics of Process Costing Systems |

405
(3)
405
(1)

| | |
| --- | --- |
| | Flow of Costs in Process Costing |

406
(1)
407
(1)
408
(1)

| | |
| --- | --- |
| | Illustration of Process Costing |

408
(11)
409
(3)

| | |
| --- | --- |
| | First-In, First-Out (FIFO) Method |

412
(7)

| | |
| --- | --- |
| | Comparison of Weighted-Average and FIFO Methods |

419
(1)

| | |
| --- | --- |
| | Process Costing with Multiple Departments |

419
(6)
420
(1)
420
(2)
422
(3)

| | |
| --- | --- |
| | Journal Entries for Process Costing |

425
(1)

| | |
| --- | --- |
| | Implementation and Enhancement of Process Costing |

426
(2)

| | |
| --- | --- |
| | Activity-Based Costing and the Theory of Constraints |

426
(1)

| | |
| --- | --- |
| | Just-in-Time Systems and Backflush Costing |

427
(1)
428
(1)

| | |
| --- | --- |
| | Appendix A: Spoilage in Process Costing |

428
(4)
432
(1)

| | |
| --- | --- |
| | Comments on Cost Management in Action |

432
(1)
432
(1)
433
(1)
434
(1)
434
(3)
437
(11)

| | |
| --- | --- |
| | Solutions to Self-Study Problems |

448
(6)

| | |
| --- | --- |
| | Appendix B: Cost Allocation: Service Departments and Joint Product Costs |

454
(1)

| | |
| --- | --- |
| | The Strategic Role of Cost Allocation |

455
(1)

| | |
| --- | --- |
| | The Ethical Issues of Cost Allocation |

456
(1)

| | |
| --- | --- |
| | Cost Allocation to Service and Production Departments |

456
(12)
457
(11)

| | |
| --- | --- |
| | Cost Allocation in Service Industries |

468
(2)
470
(5)

| | |
| --- | --- |
| | Methods for Allocating Joint Costs to Joint Products |

471
(4)
475
(1)

| | |
| --- | --- |
| | Appendix A By-Product Costing |

475
(3)
478
(1)

| | |
| --- | --- |
| | Comments on Cost Management in Action |

478
(1)
478
(1)
478
(1)
479
(1)
480
(1)
481
(11)

| | |
| --- | --- |
| | Solution to Self-Study Problem |

492
(2)

| | |
| --- | --- |
| | PART FOUR OPERATIONAL CONTROL |

494
(204)

| | |
| --- | --- |
| | The Flexible Budget and Standard Costing: Direct Materials and Direct Labor |

494
(56)

| | |
| --- | --- |
| | Management Accounting and Control Systems |

495
(1)

| | |
| --- | --- |
| | Evaluating Operating Performance |

495
(2)
495
(2)
497
(7)

| | |
| --- | --- |
| | Standard Costs versus a Standard Cost System |

497
(1)
498
(1)
499
(1)
499
(2)

| | |
| --- | --- |
| | Standard-Setting Procedures |

501
(1)

| | |
| --- | --- |
| | Establishing Standard Costs |

501
(1)
502
(2)

| | |
| --- | --- |
| | Flexible Budgets and Operational Control |

504
(12)
504
(1)
505
(2)

| | |
| --- | --- |
| | Breakdown of the Total Flexible Budget Variance |

507
(1)
508
(1)

| | |
| --- | --- |
| | Variable Cost Flexible Budget Variances |

508
(1)

| | |
| --- | --- |
| | Further Analysis of the Total Variable Cost Flexible Budget Variance |

509
(1)

| | |
| --- | --- |
| | General Model for Analysis of Variable Cost Variances |

509
(1)

| | |
| --- | --- |
| | Direct Materials Variances |

510
(3)
513
(2)

| | |
| --- | --- |
| | Timing of Variance Recognition |

515
(1)

| | |
| --- | --- |
| | Effect of the New Manufacturing Technology |

516
(1)

| | |
| --- | --- |
| | Behavioral and Implementation Issues |

516
(1)
517
(2)

| | |
| --- | --- |
| | Appendix A: Recording Cost Flows and Variances in a Standard Cost System |

519
(3)
522
(1)

| | |
| --- | --- |
| | Comments on Cost Management in Action |

522
(1)
523
(1)
524
(1)
525
(1)
526
(8)
534
(13)

| | |
| --- | --- |
| | Solutions to Self-Study Problems |

547
(3)

| | |
| --- | --- |
| | The Flexible Budget: Factory Overhead |

550
(60)

| | |
| --- | --- |
| | Standard Overhead Costs: Planning versus Control |

551
(1)

| | |
| --- | --- |
| | Variance Analysis for Factory Overhead Costs |

552
(10)

| | |
| --- | --- |
| | Variable Overhead Cost Analysis |

553
(1)

| | |
| --- | --- |
| | Interpretation and Implications of Variable Overhead Variances |

554
(1)

| | |
| --- | --- |
| | Fixed Overhead Cost Analysis |

555
(4)

| | |
| --- | --- |
| | Interpretation of Fixed Factory Overhead Variances |

559
(1)

| | |
| --- | --- |
| | Alternative Analyses of Factory Overhead Variances |

559
(2)

| | |
| --- | --- |
| | Summary of Factory Overhead Variances |

561
(1)

| | |
| --- | --- |
| | Recording Standard Factory Overhead Costs |

562
(3)

| | |
| --- | --- |
| | Journal Entries and Variances for Factory Overhead Costs |

562
(1)
563
(2)

| | |
| --- | --- |
| | Standard Costs in Service Organizations |

565
(3)

| | |
| --- | --- |
| | Overhead Variances in ABC Systems |

568
(4)

| | |
| --- | --- |
| | ABC-Based Flexible Budgets for Control |

569
(3)

| | |
| --- | --- |
| | Investigation of Variances |

572
(4)
572
(1)

| | |
| --- | --- |
| | Expectations of the Organization |

572
(1)

| | |
| --- | --- |
| | Magnitude, Pattern, and Impact of a Variance |

572
(1)

| | |
| --- | --- |
| | Causes and Controllability |

573
(3)
576
(1)
576
(2)

| | |
| --- | --- |
| | Appendix A: Variance Investigation Decisions Under Uncertainty |

578
(2)
580
(1)

| | |
| --- | --- |
| | Comments on Cost Management in Action |

580
(1)
581
(1)
582
(1)
583
(1)
583
(1)
583
(23)

| | |
| --- | --- |
| | Solutions to Self-Study Problems |

606
(4)

| | |
| --- | --- |
| | The Flexible Budget: Further Analysis of Productivity and Sales |

610
(38)

| | |
| --- | --- |
| | The Strategic Role of the Flexible Budget in Analyzing Sales and Productivity |

610
(2)
612
(7)
613
(5)
618
(1)

| | |
| --- | --- |
| | Analyzing Sales: Comparison with the Master Budget |

619
(8)

| | |
| --- | --- |
| | Sales Volume Variance Decomposed: Sales Quantity and Sales Mix Variances |

620
(4)

| | |
| --- | --- |
| | Sales Quantity Variance Decomposed: Market Size and Market Share Variances |

624
(3)

| | |
| --- | --- |
| | Analyzing Sales: Comparison with Prior Year Results |

627
(3)

| | |
| --- | --- |
| | Analysis of Selling Price and Volume Variances |

628
(1)

| | |
| --- | --- |
| | Analysis of Mix and Quantity Variances |

629
(1)

| | |
| --- | --- |
| | Analysis of Variable Cost Variances |

629
(1)
630
(1)
631
(1)

| | |
| --- | --- |
| | Comments on Cost Management in Action |

631
(1)
631
(1)
632
(1)
633
(1)
634
(2)
636
(8)

| | |
| --- | --- |
| | Solutions to Self-Study Problems |

644
(4)

| | |
| --- | --- |
| | The Management and Control of Quality |

648
(50)

| | |
| --- | --- |
| | The Strategic Importance of Quality |

649
(3)
649
(1)
649
(1)

| | |
| --- | --- |
| | Quality and Profitability: Conceptual Linkage |

650
(1)

| | |
| --- | --- |
| | Empirical Evidence---Does TQM Matter? |

651
(1)

| | |
| --- | --- |
| | Accounting's Role in the Management and Control of Quality |

652
(1)
652
(1)

| | |
| --- | --- |
| | Total Quality Management (TQM) |

652
(2)
652
(2)

| | |
| --- | --- |
| | Characteristics of Total Quality Management |

654
(1)

| | |
| --- | --- |
| | The Need for a New Accounting System |

654
(1)

| | |
| --- | --- |
| | Comprehensive Framework for Managing and Controlling Quality |

654
(3)

| | |
| --- | --- |
| | Knowledge of Business Processes |

654
(1)
655
(1)
656
(1)

| | |
| --- | --- |
| | Nonfinancial Performance Indicators |

656
(1)
656
(1)
656
(1)

| | |
| --- | --- |
| | Link to Operations Management |

656
(1)
656
(1)

| | |
| --- | --- |
| | Setting Quality-Related Expectations |

657
(4)

| | |
| --- | --- |
| | Setting Quality Expectations: A Six Sigma Approach |

657
(2)

| | |
| --- | --- |
| | Setting Quality Expectations: Goalpost versus Absolute Conformance Standards |

659
(1)
659
(1)

| | |
| --- | --- |
| | Absolute Quality Conformance |

660
(1)

| | |
| --- | --- |
| | Goalpost or Absolute Conformance? |

660
(1)

| | |
| --- | --- |
| | Financial Measures and Costs of Quality |

661
(5)
661
(1)

| | |
| --- | --- |
| | Cost of Quality (COQ) Reporting |

662
(2)
664
(1)

| | |
| --- | --- |
| | Data Definition, Sources, and Collection |

664
(1)
665
(1)

| | |
| --- | --- |
| | Illustration of a Cost of Quality Report |

665
(1)

| | |
| --- | --- |
| | COQ and Activity-Based Costing (ABC) |

666
(1)

| | |
| --- | --- |
| | Nonfinancial Quality Indicators |

666
(2)

| | |
| --- | --- |
| | Internal Nonfinancial Quality Metrics |

666
(1)

| | |
| --- | --- |
| | External (Customer Satisfaction) Quality Metrics |

667
(1)

| | |
| --- | --- |
| | Role of Nonfinancial Performance Measures |

667
(1)

| | |
| --- | --- |
| | Detecting and Correcting Poor Quality |

668
(5)
668
(2)
670
(3)
673
(1)

| | |
| --- | --- |
| | Appendix A: Taguchi Quality Loss Functions |

673
(3)
676
(1)

| | |
| --- | --- |
| | Comments on Cost Management in Action |

677
(1)
677
(1)
678
(1)
679
(1)
680
(7)
687
(9)

| | |
| --- | --- |
| | Solutions to Self-Study Problems |

696
(2)

| | |
| --- | --- |
| | PART FIVE MANAGEMENT CONTROL |

698
(86)

| | |
| --- | --- |
| | Management Control and Strategic Performance Measurement |

698
(44)

| | |
| --- | --- |
| | Performance Evaluation and Control |

699
(3)

| | |
| --- | --- |
| | Operational Control versus Management Control |

699
(1)

| | |
| --- | --- |
| | Objectives of Management Control |

699
(1)
700
(2)

| | |
| --- | --- |
| | Design of Management Control Systems for Motivation and Evaluation |

702
(2)
703
(1)
704
(1)

| | |
| --- | --- |
| | Strategic Performance Measurement |

704
(2)
704
(1)

| | |
| --- | --- |
| | Types of Strategic Business Units |

705
(1)
706
(1)

| | |
| --- | --- |
| | Cost Strategic Business Units |

706
(5)

| | |
| --- | --- |
| | Strategic Issues Related to Implementing Cost SBUs |

706
(2)

| | |
| --- | --- |
| | Implementing Cost SBUs in Departments |

708
(2)
710
(1)
710
(1)

| | |
| --- | --- |
| | Revenue Strategic Business Units |

711
(1)

| | |
| --- | --- |
| | Profit Strategic Business Units |

712
(4)

| | |
| --- | --- |
| | Strategic Role of Profit SBUs |

712
(1)

| | |
| --- | --- |
| | The Contribution Income Statement |

713
(1)

| | |
| --- | --- |
| | Variable Costing versus Full Costing |

714
(2)

| | |
| --- | --- |
| | Strategic Performance Measurement and the Balanced Scorecard |

716
(4)

| | |
| --- | --- |
| | Management Control in Service Firms and Not-for-Profit Organizations |

720
(2)
722
(1)
722
(1)

| | |
| --- | --- |
| | Comments on Cost Management in Action |

722
(1)
723
(1)
723
(1)
724
(1)
725
(2)
727
(13)

| | |
| --- | --- |
| | Solution to Self-Study Problem |

740
(2)

| | |
| --- | --- |
| | Strategic Investment Units and Transfer Pricing |

742
(42)

| | |
| --- | --- |
| | Part One: Strategic Investment Units |

743
(1)

| | |
| --- | --- |
| | The Strategic Role of Investment Units |

743
(1)
744
(9)

| | |
| --- | --- |
| | ROI Equals Return on Sales Times Asset Turnover |

744
(1)

| | |
| --- | --- |
| | Illustration of Evaluation Using Return on Investment |

744
(3)

| | |
| --- | --- |
| | Use of Return on Investment |

747
(4)

| | |
| --- | --- |
| | Strategic Issues in Using Return on Investment |

751
(2)
753
(2)

| | |
| --- | --- |
| | Limitations of Residual Income |

754
(1)
755
(1)

| | |
| --- | --- |
| | Using Average Total Assets |

755
(1)

| | |
| --- | --- |
| | Part Two: Transfer Pricing |

756
(1)

| | |
| --- | --- |
| | When Is Transfer Pricing Important? |

756
(1)

| | |
| --- | --- |
| | Objectives of Transfer Pricing |

757
(1)

| | |
| --- | --- |
| | International Transfer Pricing Objectives |

757
(1)
758
(3)

| | |
| --- | --- |
| | Choosing the Right Transfer Pricing Method |

758
(3)

| | |
| --- | --- |
| | International Tax Issues in Transfer Pricing |

761
(2)

| | |
| --- | --- |
| | The Arm's-Length Standard |

761
(1)

| | |
| --- | --- |
| | Advance Pricing Agreements |

762
(1)
763
(1)
763
(1)

| | |
| --- | --- |
| | Comments on Cost Management in Action |

763
(1)
764
(1)
764
(1)
764
(1)
765
(6)
771
(11)

| | |
| --- | --- |
| | Solutions to Self-Study Problems |

782
(2)

| | |
| --- | --- |
| | PART SIX ADVANCED TOPICS IN COST MANAGEMENT |

784
(86)

| | |
| --- | --- |
| | Management Compensation, Business Analysis, and Business Valuation |

784
(34)

| | |
| --- | --- |
| | Part One: Management Compensation |

784
(1)

| | |
| --- | --- |
| | Types of Management Compensation |

785
(1)

| | |
| --- | --- |
| | Strategic Role and Objectives of Management Compensation |

786
(2)

| | |
| --- | --- |
| | Design the Compensation Plan for Existing Strategic Conditions |

786
(1)

| | |
| --- | --- |
| | Risk Aversion and Management Compensation |

786
(1)
787
(1)

| | |
| --- | --- |
| | Objectives of Management Compensation |

787
(1)
788
(4)

| | |
| --- | --- |
| | Bases for Bonus Compensation |

788
(2)
790
(1)
790
(2)

| | |
| --- | --- |
| | Tax Planning and Financial Reporting |

792
(1)

| | |
| --- | --- |
| | Management Compensation in Service Firms |

793
(1)

| | |
| --- | --- |
| | Part Two: Business Analysis and Business Valuation |

794
(1)
795
(3)
795
(1)
795
(3)
798
(3)

| | |
| --- | --- |
| | The Discounted Cash Flow Method |

798
(2)

| | |
| --- | --- |
| | Multiples-Based Valuation |

800
(1)
800
(1)
801
(1)
801
(1)

| | |
| --- | --- |
| | Comments on Cost Management in Action |

801
(1)
802
(1)
802
(1)
803
(1)
803
(4)
807
(9)

| | |
| --- | --- |
| | Solution to Self-Study Problem |

816
(2)
818
(52)

| | |
| --- | --- |
| | Strategy and the Capital Budgeting Process |

819
(2)

| | |
| --- | --- |
| | Underlying Nature of Capital Expenditures |

819
(1)

| | |
| --- | --- |
| | Organizational Strategy and the Nature of Capital Investment Analysis |

819
(1)

| | |
| --- | --- |
| | Effect of Capital Expenditures on Strategic Cost Drivers |

820
(1)

| | |
| --- | --- |
| | Chapter Overview---Where Are We Headed? |

821
(1)

| | |
| --- | --- |
| | The Role of Accounting in the Capital Budgeting Process |

821
(3)
821
(1)

| | |
| --- | --- |
| | Linkage to the Balanced Scorecard (BSC) |

821
(2)

| | |
| --- | --- |
| | Generation of Relevant Financial Data for Decision-Making Purposes |

823
(1)
823
(1)

| | |
| --- | --- |
| | Identification of Relevant Cash-Flow Data for Capital Expenditure Analysis |

824
(8)
824
(1)

| | |
| --- | --- |
| | Cash Flows---A Framework for Analysis |

825
(1)

| | |
| --- | --- |
| | Sample Data Set: Mendoza Company---Equipment Replacement Decision |

825
(2)

| | |
| --- | --- |
| | Determining After-Tax Cash Flows for Capital Investment Analysis |

827
(5)

| | |
| --- | --- |
| | Recap---Cash Flow Information for the Mendoza Company Investment Proposal |

832
(1)

| | |
| --- | --- |
| | Discounted Cash Flow (DCF) Capital Budgeting Decision Models |

832
(7)

| | |
| --- | --- |
| | Types of Capital Budgeting Decision Models |

832
(1)

| | |
| --- | --- |
| | DCF Models: Specifying the Discount Rate |

832
(2)
834
(2)

| | |
| --- | --- |
| | Net Present Value (NPV) Decision Model |

836
(1)

| | |
| --- | --- |
| | Internal Rate of Return (IRR) Decision Model |

837
(2)

| | |
| --- | --- |
| | Comparison of NPV and IRR Methods: Which to Use? |

839
(1)
839
(3)
839
(2)
841
(1)
841
(1)

| | |
| --- | --- |
| | Other Capital Budgeting Decision Models |

842
(4)
842
(2)

| | |
| --- | --- |
| | Accounting (Book) Rate of Return |

844
(2)

| | |
| --- | --- |
| | Behavioral Issues in Capital Budgeting |

846
(2)

| | |
| --- | --- |
| | Common Behavioral Problems: Cost Escalation, Incrementalism, and Uncertainty Intolerance |

846
(1)
847
(1)

| | |
| --- | --- |
| | Addressing the Goal-Congruency Problem |

847
(1)
848
(1)

| | |
| --- | --- |
| | Appendix A: DCF Models: Some Advanced Considerations |

848
(3)
851
(1)

| | |
| --- | --- |
| | Comments on Cost Management in Action |

851
(1)
852
(1)
853
(1)
854
(1)
855
(3)
858
(8)

| | |
| --- | --- |
| | Solution to Self-Study Problem |

866
(4)
Present Value Tables
870
(2)
Glossary
872
(10)
Index
882