Note: Supplemental materials are not guaranteed with Rental or Used book purchases.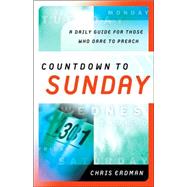 Countdown to Sunday : A Daily Guide for Those Who Dare to Preach
ISBN13:
9781587432033
by
Erdman, Chris William
Summary
Chris Erdman remembers a time when preparing his weekly sermon left him frustrated and uptight. Twenty years later, he found a new way to prepare sermons that changed his life. In Countdown to Sunday, he shares the lessons he has learned. A seasoned preacher and instructor of new preachers, Erdman breaks down his methods of preparation and delivery from Monday through Sunday. Believing that preaching is something lived, he shows not only how sermons grow gradually but also how preachers can learn to preach ???on the run.??? With practical advice and insight, Erdman also covers preaching for weddings and funerals, around the time of elections and wars, on the street, and in the hospital. The result is an invaluable guide that will become a daily companion for preachers, whether experienced or not.
Author Biography
Chris Erdman (DMin, Columbia Theological Seminary) is senior pastor of University Presbyterian Church and teaches preaching and leadership courses at Mennonite Brethren Biblical Seminary, both in Fresno, California. He is the author of Beyond the Chaos: Living the Christian Family in a World Like Ours.
Table of Contents
Why Preaching Requires Blood
p. 19
"How?" Is Not the Question That Gets Us Up in the Morning
p. 23
Truthfulness Will Set You Free
p. 27
Toward a New (Old) Way of Preaching
p. 32
Preaching on the Run - Toward a Simpler Way to Prepare
p. 35
Monday: A Prayer before the Word: On 1 John 5:9-13
Choosing Texts - The Lectionary, the Christian Year, and Forming an Alternative People
p. 41
Thirty to Sixty Minutes Each Monday
p. 46
Let the Stories Crawl Out All by Themselves
p. 49
How to Be Good (at Preaching)
p. 51
Preaching as an Alternative to Violence
p. 55
Tuesday: A Prayer before the Word: On Philippians 4:1-9
On Tuesdays I Chase Words
p. 61
On Crossing the Line - The Public Preaching of Our Private Darkness
p. 63
Do Preachers Really Have This Freedom?
p. 66
Hospitals (and Those in Them) Need the Word of God
p. 70
Preaching and War
p. 74
Wednesday: A Prayer before the Word: On 2 Kings 5:1-14
Wednesdays - Reading the Agenda(s) of the Text
p. 81
How Do I Organize This Stuff for the Sermon?
p. 85
When Disaster Strikes - Dare We Preach Such Flimsy Words?
p. 92
Preaching Jesus Up Against the Jesus of Suburbia
p. 97
Change and Conflict - To What (or Whom) Will You Lend Your Voice?
p. 100
Thursday: A Prayer before the Word: On Genesis 1:1-5
Thursdays Are for Writing
p. 107
Illustration
p. 110
Street Preaching - Ministering the Word ... Bodily
p. 117
The Word on the Street - Seizing the Moment
p. 121
There Is No Innocent Preaching
p. 125
Friday: A Prayer before the Word: On Luke 24:1-12
On Friday, "Preacher, Stop and Listen"
p. 133
Dissent from Death - Preaching the Funeral
p. 138
Preach Christ, Not the Deceased
p. 141
Fear of the Other - Preaching as Disarmament
p. 145
Preaching at a Time of National (or Any) Election
p. 151
Saturday: A Prayer before the Word: On Mark 5:21-43
The Word at the Wedding - Why We Don't Preach Marriage
p. 159
Living with Chronic Disease - The Preacher's Teacher
p. 163
Teaching Other Preachers
p. 167
Practicing the Sermon
p. 171
If Your Sermon's a Dog, Walk It Proudly
p. 175
Sunday: A Prayer before the Word: On Jeremiah 1; 1 Samuel 4:10-22
"Do Not Be Afraid" (A Sermon on 1 Samuel 4)
p. 181
Preaching Naked
p. 190
Mystic Preaching
p. 195
Learning to Enter Sabbath - A Preacher's Sunday
p. 199
Why You Must Not Work Too Hard
p. 202
Table of Contents provided by Blackwell. All Rights Reserved.