Note: Supplemental materials are not guaranteed with Rental or Used book purchases.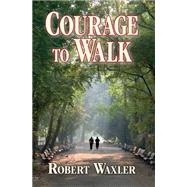 Summary
Courage to Walk is a family memoir filled with fear and hope a heartfelt story of medical intrigue laced with the magic of poetry and meditation. The author s accomplished son Jeremy, a young lawyer, has called to say he cannot move from his bed; he is paralyzed. Having already endured the loss of one son, Bob Waxler and his wife Linda are not willing to suffer another tragic blow and neither is Jeremy. Anxious but determined, they launch into a courageous journey, each in their own way, and battle formidable odds to make sure Jeremy returns to his friends and the courtrooms that he loves. Courage to Walk is a story that reminds us how fragile life is, but it also tells us something important about compassion and the human spirit what a miracle life can be.
Author Biography
Robert P. Waxler graduated with a B.A. from Brown University, an M.A. from Boston College, and a Ph.D. from Stony Brook College SUNY. He is currently an English professor at University of Massachusetts Dartmouth, where he has also served as Chairman of the English Department, Associate Dean of the College of Arts and Sciences, and Dean of Continuing Education and Summer Programs. Dr. Waxler is cofounder of the Center for Jewish Culture at UMass Dartmouth, and served as the Center's co-director for fifteen years. He also cofounded ˘Changing Lives Through Literature÷ (CLTL) , an internationally celebrated alternative sentencing program for criminal offenders. Professor Waxler is co-author of Finding a Voice (University of Michigan Press) and Losing Jonathan (Spinner Publications), and co-editor of Changing Lives Through Literature (Notre Dame Press). He has published articles in The Boston Globe, Journal of Popular Culture, Publications of the Modern Language Association, Modern Language Studies, Brown Magazine, and Journal of Business Communications. He has written essays for A Mensch Among Men (Crossing Press), The Book Club Book (Chicago Review Press), Total Quality Management (Dryden Press), and Success Stories (U.S. Department of Education). The author and his work have been featured in Parade Magazine, Le Nouvel Observateur, The New York Times, and on National Public Radio.