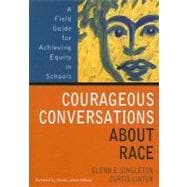 Courageous Conversations about Race : A Field Guide for Achieving Equity in Schools
by
Glenn E. Singleton
Questions About This Book?
What version or edition is this?
This is the edition with a publication date of 11/18/2005.
What is included with this book?
The eBook copy of this book is not guaranteed to include any supplemental materials. Typically only the book itself is included.
Summary
Examining the achievement gap through the prism of race, this comprehensive text explains the need for candid, courageous conversations about race so that educators may understand why performance inequity persists, and learn how they can develop a curriculum that promotes true academic parity. To help guide policy analysis and instructional reform, the authors present a systemwide plan for transforming schools and districts.
Table of Contents
Foreword
ix
Preface
xiii
Acknowledgments
xix
About the Authors
xxi

| | |
| --- | --- |
| | Breaking the Silence: Ushering in Courageous Conversation About Race |

1
(10)

| | |
| --- | --- |
| | The Racial Achievement Gap |

2
(4)
6
(1)

| | |
| --- | --- |
| | The Strategy of Courageous Conversation |

7
(4)

| | |
| --- | --- |
| | PART I. PASSION: AN ESSENTIAL CHARACTERISTIC OF ANTI-RACIST LEADERSHIP |

11
(58)

| | |
| --- | --- |
| | What's So Courageous About This Conversation? |

13
(12)
15
(6)
21
(4)
25
(28)

| | |
| --- | --- |
| | The Problem of the Color Line |

26
(3)
29
(4)

| | |
| --- | --- |
| | Race as a Factor in Education |

33
(5)
38
(1)

| | |
| --- | --- |
| | Establishing Common Language Around Race |

39
(8)
47
(6)

| | |
| --- | --- |
| | Agreeing to Talk About Race |

53
(16)
54
(4)

| | |
| --- | --- |
| | Four Agreements of Courageous Conversation |

58
(11)

| | |
| --- | --- |
| | PART II. PRACTICE: THE FOUNDATION OF ANTI-RACIST LEADERSHIP |

69
(142)

| | |
| --- | --- |
| | The First Condition: Getting Personal Right Here and Right Now |

73
(14)

| | |
| --- | --- |
| | Personal, Local, and Immediate |

74
(1)

| | |
| --- | --- |
| | The Impact of Race on My Life |

75
(3)

| | |
| --- | --- |
| | Degree of Racial Consciousness |

78
(1)

| | |
| --- | --- |
| | Racial Consciousness Versus Racial Unconsciousness |

78
(9)

| | |
| --- | --- |
| | Racial Autobiography: Curtis Linton |

82
(5)

| | |
| --- | --- |
| | The Second Condition: Keeping the Spotlight on Race |

87
(18)
88
(6)
94
(11)

| | |
| --- | --- |
| | Racial Autobiography: Glenn Singleton |

101
(4)

| | |
| --- | --- |
| | The Third Condition: Engaging Multiple Racial Perspectives |

105
(12)

| | |
| --- | --- |
| | Social Construction of Knowledge |

106
(2)

| | |
| --- | --- |
| | Surfacing Critical Perspectives |

108
(9)

| | |
| --- | --- |
| | Racial Autobiography: Ann |

113
(4)

| | |
| --- | --- |
| | The Fourth Condition: Keeping Us All at the Table |

117
(40)
119
(8)
127
(8)

| | |
| --- | --- |
| | The Courageous Conversation Compass |

135
(22)

| | |
| --- | --- |
| | Racial Autobiography: Supriya |

154
(3)

| | |
| --- | --- |
| | The Fifth Condition: What Do You Mean by ``Race''? |

157
(24)
158
(9)

| | |
| --- | --- |
| | A Working Definition of Race |

167
(14)

| | |
| --- | --- |
| | Racial Autobiography: Katheryn |

178
(3)

| | |
| --- | --- |
| | The Sixth Condition: Let's Talk About Whiteness |

181
(30)
182
(1)
183
(6)
189
(2)
191
(5)

| | |
| --- | --- |
| | Whiteness as Examined in the Five Conditions |

196
(7)

| | |
| --- | --- |
| | White Racial Identity Development |

203
(8)

| | |
| --- | --- |
| | Racial Autobiography: Chris |

208
(3)

| | |
| --- | --- |
| | PART III. PERSISTENCE: THE KEY TO ANTI-RACIST LEADERSHIP |

211
(54)

| | |
| --- | --- |
| | How Anti-Racist Leaders Close the Achievement Gap |

213
(12)

| | |
| --- | --- |
| | Invisibility Versus Hypervisibility |

214
(3)

| | |
| --- | --- |
| | Understanding Students of Color Within a White School |

217
(3)

| | |
| --- | --- |
| | Understanding Institutionalized White Racism |

220
(3)

| | |
| --- | --- |
| | The Injustice of Gradualism and Incremental Change |

223
(2)

| | |
| --- | --- |
| | Exploring a Systemic Framework for Closing the Racial Achievement Gap |

225
(14)
226
(2)

| | |
| --- | --- |
| | Systemic Equity Anti-Racism Transformation |

228
(11)

| | |
| --- | --- |
| | Using Courageous Conversation to Achieve Equity in Schools |

239
(26)

| | |
| --- | --- |
| | Personal Anti-Racist/Equity Leadership |

240
(2)

| | |
| --- | --- |
| | Individual Teacher Anti-Racist/Equity Leadership |

242
(1)

| | |
| --- | --- |
| | Whole School Anti-Racist/Equity Leadership |

243
(2)

| | |
| --- | --- |
| | Systemic Anti-Racist/Equity Leadership |

245
(1)

| | |
| --- | --- |
| | Lemon Grove Unified School District: A Case Study |

245
(16)
261
(4)
Resource: Racism and the Achievement Gap
265
(6)
References
271
(4)
Index
275