Note: Supplemental materials are not guaranteed with Rental or Used book purchases.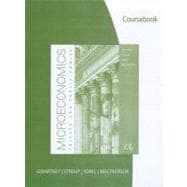 List Price: $65.00
This ISBN is only available through your Virtual Bookstore. Please visit your school's Virtual Bookstore Website to purchase.
Summary
The Coursebook includes numerous multiple-choice, true/false, and discussion questions to help students self-test their knowledge of each chapter, with answers and short explanations for most questions provided in the back of the Coursebook. Each chapter also contains problem and project exercises designed to improve the student's knowledge of the mechanics.
Table of Contents
Preface
p. iii
Making the Grade in Economics
p. vii
The Economic Way of Thinking
The Economic Approach
p. 1
Some Tools of the Economist
p. 11
Markets and Government
Supply, Demand, and the Market Process
p. 25
Supply and Demand: Applications and Extensions
p. 37
Difficult Cases for the Market and the Role of Government
p. 51
The Economics of Collective Decision Making
p. 59
Core Microeconomics
Consumer Choice and Elasticity
p. 67
Costs and the Supply of Goods
p. 79
Price Takers and the Competitive Process
p. 91
Price-Searcher Markets with Low Entry Barriers
p. 105
Price-Searcher Markets with High Entry Barriers
p. 115
The Supply of and Demand for Productive Resources
p. 129
Earnings, Productivity, and the Job Market
p. 139
Investment, the Capital Market, and the Wealth of Nations
p. 147
Income Inequality and Poverty
p. 155
International Economics
Gaining from International Trade
p. 165
Applying the Basics: Special Topics in Economics
Government Spending and Taxation
p. 177
The Internet: How Is It Changing the Economy?
p. 183
The Economics of Social Security
p. 187
The Stock Market: Its Function, Performance, and Potential as an Investment Opportunity
p. 193
The Crisis of 2008: Causes and Lessons for the Future
p. 197
Lessons from the Great Depression
p. 201
The Economics of Health Care
p. 205
School Choice: Can It Improve the Quality of Education?
p. 211
Earnings Difference between Men and Women
p. 217
Do Labor Unions Increase the Wages of Workers?
p. 223
Are We Running Out of Resources?
p. 229
Difficult Environmental Cases and the Role of Government
p. 235
Answer Key
p. 239
Table of Contents provided by Ingram. All Rights Reserved.