Note: Supplemental materials are not guaranteed with Rental or Used book purchases.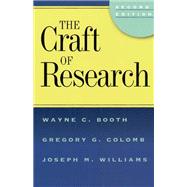 Questions About This Book?
What version or edition is this?
This is the 2nd edition with a publication date of 4/14/2003.
What is included with this book?
The Used copy of this book is not guaranteed to include any supplemental materials. Typically, only the book itself is included.
Summary
Since 1995, students, researchers, and professionals have turned to The Craft of Research for clear and helpful guidance on how to conduct research and report it effectively. Now, master teachers Wayne C. Booth, Gregory G. Colomb, and Joseph M. Williams have completely revised and updated their classic handbook. The new edition will continue to help thousands of students and writers plan, carry out, and report on research to produce effective term papers, dissertations, articles, or books -- in any field, at any level.
Author Biography
Wayne C. Booth is the George Pullman Distinguished Service Professor Emeritus at the University of Chicago. His many books include The Rhetoric of Fiction and For the Love of It: Amateuring and its Rivals, both published by the University of Chicago Press.

Gregory G. Colomb is a professor of the English language and literature at the University of Virginia. He is the author of Designs on Truth: The Poetics of the Augustan Mock-Epic.

Joseph M. Williams is a professor emeritus in the Department of English Language and Literature at the University of Chicago. He is the author of Style: Toward Clarity and Grace. Together Colomb and Williams have written The Craft of Argument.

Table of Contents
Preface
xi
I RESEARCH, RESEARCHERS, AND READERS
1
(34)

| | |
| --- | --- |
| | Prologue: Starting a Research Project |

3
(6)

| | |
| --- | --- |
| | Thinking in Print: The Uses of Research, Public and Private |

9
(8)
10
(2)
12
(1)
13
(2)
15
(2)

| | |
| --- | --- |
| | Connecting with Your Reader: (Re)Creating Your Self and Your Audience |

17
(18)

| | |
| --- | --- |
| | Creating Roles for Writers and Readers |

17
(2)

| | |
| --- | --- |
| | Creating a Relationship with Your Reader: Your Role |

19
(3)

| | |
| --- | --- |
| | Creating the Other Half of the Relationship: The Reader's Role |

22
(4)
26
(4)

| | |
| --- | --- |
| | Managing the Unavoidable Problem of Inexperience |

30
(5)

| | |
| --- | --- |
| | A Checklist for Understanding Your Readers |

32
(3)
II ASKING QUESTIONS, FINDING ANSWERS
35
(74)

| | |
| --- | --- |
| | Prologue: Planning Your Project |

37
(3)
40
(16)

| | |
| --- | --- |
| | From an Interest to a Topic |

41
(2)

| | |
| --- | --- |
| | From a Broad Topic to a Focused One |

43
(2)

| | |
| --- | --- |
| | From a Focused Topic to Questions |

45
(4)

| | |
| --- | --- |
| | From a Merely Interesting Question to Its Wider Significance |

49
(7)
53
(3)

| | |
| --- | --- |
| | From Questions to Problems |

56
(19)

| | |
| --- | --- |
| | Problems, Problems, Problems |

57
(3)

| | |
| --- | --- |
| | The Common Structure of Problems |

60
(8)

| | |
| --- | --- |
| | Finding a Good Research Problem |

68
(2)

| | |
| --- | --- |
| | Summary: The Problem of the Problem |

70
(5)

| | |
| --- | --- |
| | Disagreeing with Your Sources |

72
(3)
75
(15)

| | |
| --- | --- |
| | Screening Sources for Reliability |

76
(3)

| | |
| --- | --- |
| | Locating Printed and Recorded Sources |

79
(4)

| | |
| --- | --- |
| | Finding Sources on the Internet |

83
(2)

| | |
| --- | --- |
| | Gathering Data Directly from People |

85
(3)
88
(1)
88
(2)
90
(19)
91
(4)

| | |
| --- | --- |
| | Reading Generously but Critically |

95
(1)
96
(8)
104
(5)
106
(3)
III MAKING A CLAIM AND SUPPORTING IT
109
(74)

| | |
| --- | --- |
| | Prologue: Pulling Together Your Argument |

111
(3)

| | |
| --- | --- |
| | Making Good Arguments: An Overview |

114
(13)

| | |
| --- | --- |
| | Argument and Conversation |

114
(2)
116
(1)

| | |
| --- | --- |
| | Basing Reasons on Evidence |

117
(1)

| | |
| --- | --- |
| | Acknowledging and Responding to Alternatives |

118
(1)

| | |
| --- | --- |
| | Warranting the Relevance of Reasons |

119
(2)

| | |
| --- | --- |
| | Building Complex Arguments Out of Simple Ones |

121
(1)
122
(5)

| | |
| --- | --- |
| | Designing Arguments Not for Yourself but for Your Readers: Two Common Pitfalls |

124
(3)
127
(11)
127
(2)
129
(9)

| | |
| --- | --- |
| | Qualifying Claims to Enhance Your Credibility |

135
(3)
138
(13)

| | |
| --- | --- |
| | Using Reasons to Plan Your Argument |

138
(2)

| | |
| --- | --- |
| | The Slippery Distinction between Reasons and Evidence |

140
(2)

| | |
| --- | --- |
| | Evidence vs. Reports of Evidence |

142
(2)

| | |
| --- | --- |
| | Selecting the Right Form for Reporting Evidence |

144
(1)
145
(6)

| | |
| --- | --- |
| | Showing the Relevance of Evidence |

149
(2)

| | |
| --- | --- |
| | Acknowledgments and Responses |

151
(14)

| | |
| --- | --- |
| | Questioning Your Argument |

152
(2)

| | |
| --- | --- |
| | Finding Alternatives to Your Argument |

154
(3)

| | |
| --- | --- |
| | Deciding What to Acknowledge |

157
(2)

| | |
| --- | --- |
| | Responses as Subordinate Arguments |

159
(6)

| | |
| --- | --- |
| | The Vocabulary of Acknowledgment and Response |

161
(4)
165
(18)
166
(2)
168
(1)

| | |
| --- | --- |
| | Knowing When to State a Warrant |

168
(2)
170
(7)

| | |
| --- | --- |
| | Challenging the Warrants of Others |

177
(6)

| | |
| --- | --- |
| | Some Strategies for Challenging Warrants |

179
(4)
IV PREPARING TO DRAFT, DRAFTING, AND REVISING
183
(100)
185
(4)
187
(2)
189
(19)

| | |
| --- | --- |
| | Preliminaries to Drafting |

189
(2)

| | |
| --- | --- |
| | Planning: Four Traps to Avoid |

191
(2)
193
(8)

| | |
| --- | --- |
| | The Pitfall to Avoid at All Costs: Plagiarism |

201
(3)
204
(4)

| | |
| --- | --- |
| | Using Quotation and Paraphrase |

205
(3)

| | |
| --- | --- |
| | Revising Your Organization and Argument |

208
(14)
209
(1)

| | |
| --- | --- |
| | Analyzing and Revising Your Overall Organization |

209
(7)
216
(2)
218
(4)
219
(3)

| | |
| --- | --- |
| | Introductions and Conclusions |

222
(19)

| | |
| --- | --- |
| | The Three Elements of an Introduction |

222
(3)

| | |
| --- | --- |
| | Establishing Common Ground |

225
(3)
228
(4)
232
(2)
234
(1)

| | |
| --- | --- |
| | Organizing the Whole Introduction |

235
(1)
236
(5)

| | |
| --- | --- |
| | Opening and Closing Words |

238
(3)

| | |
| --- | --- |
| | Communicating Evidence Visually |

241
(22)
244
(1)
244
(1)
245
(3)
248
(12)

| | |
| --- | --- |
| | Visual Communication and Ethics |

260
(1)

| | |
| --- | --- |
| | Using Graphics as an Aid to Thinking |

261
(2)

| | |
| --- | --- |
| | Revising Style: Telling Your Story Clearly |

263
(20)
263
(2)

| | |
| --- | --- |
| | A First Principle: Stories and Grammar |

265
(9)

| | |
| --- | --- |
| | A Second Principle: Old Before New |

274
(1)

| | |
| --- | --- |
| | Choosing between Active and Passive |

275
(2)

| | |
| --- | --- |
| | A Final Principle: Complexity Last |

277
(3)
280
(3)
281
(2)
V SOME LAST CONSIDERATIONS
283
(42)
285
(4)

| | |
| --- | --- |
| | A Postscript for Teachers |

289
(8)

| | |
| --- | --- |
| | An Appendix on Finding Sources |

297
(20)
298
(1)
299
(18)

| | |
| --- | --- |
| | A Note on Some of Our Sources |

317
(8)
Index
325