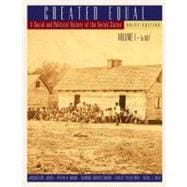 List Price: $64.40
Usually Ships in 3-5 Business Days
Questions About This Book?
What version or edition is this?
This is the 1st edition with a publication date of 1/1/2005.
What is included with this book?
The Used copy of this book is not guaranteed to inclue any supplemental materials. Typically, only the book itself is included.
Summary
In its comprehensive and inclusive view of American history, "Created Equal" provides an accurate, broad, deep, and compelling view of the nation's past. Emphasizing social history-- including the lives and labors of women, immigrants, working people, and persons of color in all regions of the country-- "Created Equal" also delivers the basics of political and economic history, thoughtfully examining the roles that all peoples have played in creating and defining those aspects of the nation's past. "Created Equal" explores an expanding notion of American identity-- one that encompasses the stories of diverse groups of people, territorial growth and expansion, the rise of the middle class, technological innovation and economic development, and engagement with other nations and peoples of the world.
Table of Contents
Each chapter ends with "Conclusion," "Sites to Visit," and "For Further Reading." I. NORTH AMERICAN FOUNDERS. 1. First Founders. Ancient America. A Thousand Years of Change: A.D. 500 to 1500. Linking the Continents. Spain Enters the Americas. The Protestant Reformation Plays Out in America. 2. European Footholds on the Fringes of North America, 1600-1660. Spain's Ocean-Spanning Reach. France and Holland: Overseas Competition for Spain. English Beginnings on the Atlantic Coast. The Puritan Experiment. The Chesapeake Bay Colonies. Interpreting History: Anne Bradstreet: "The Tenth Muse, Lately Sprung Up in America." 3. Controlling the Edges of the Continent, 1660-1715. France and the American Interior. The Spanish Empire on the Defensive. England's American Empire Takes Shape. Bloodshed in the English Colonies: 1670-1690. Consequences of War and Growth: 1690-1715. Connecting History: Homeland Security and Deep Fears of the Enemy Within. II. A CENTURY OF COLONIAL EXPANSION TO 1775. 4. African Enslavement: The Terrible Transformation. The Descent into Race Slavery. The Growth of Slave Labor Camps. England Enters the Atlantic Slave Trade. Survival in a Strange New Land. The Transformation Completed. Interpreting History: "Releese Us out of This Cruell Bondegg." 5. An American Babel, 1713-1763. New Cultures on the Western Plains. Britain's Mainland Colonies: A New Abundance of People. The Varied Economic Landscape. Matters of Faith: The Great Awakening. The French Lose a North American Empire. Connecting History: Sounds Around Us: The Lost World of High Fidelity. 6. The Limits of Imperial Control, 1763-1775. New Challenges to Spain's Expanded Empire. New Challenges to Britain's Expanded Empire. "The Unconquerable Rage of the People." A Conspiracy of Corrupt Ministers? Launching a Revolution. III. THE UNFINISHED REVOLUTION, 1775-1803. 7. Revolutionaries at War, 1775-1783. Declaring Independence. "Victory or Death": Fighting for Survival. Legitimate States, a Respectable Military. The Long Road to Yorktown. Connecting History: Uncanny Similarities: Britain's Vietnam? 8. New Beginnings: The 1780s Beating Swords into Plowshares. Competing for Control of the Mississippi Valley. Creditors and Debtors. Drafting a New Constitution. Ratification and the Bill of Rights. Connecting History: Equal Representation? 9. Revolutionary Legacies, 1789-1803. Competing Political Visions in the New Nation. People of Color: New Freedoms, New Struggles. Continuity and Change in the West. Shifting Social Identities in the Post-Revolutionary Era. The Election of 1800: Revolution or Reversal? IV. EXPANDING THE BOUNDARIES OF FREEDOM AND SLAVERY, 1803-1848. 10. Defending and Expanding the New Nation, 1803-1818. The British Menace. The War of 1812. The "Era of Good Feelings"? The Rise of the Cotton Plantation Economy. 11. Expanding Westward: Society and Politics in the "Age of the Common Man," 1819-1832. The Politics Behind Western Expansion. Federal Authority and Its Opponents. Real People in the "Age of the Common Man." Ties Tha