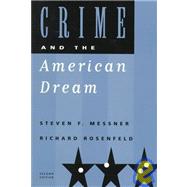 Summary
How has America's over-emphasis on the pursuit of materialistic gain contributed to the it's high rate of violent crime? CRIME AND THE AMERICAN DREAM is an easy-to-understand book that offers clear coveral of criminological theory, using institutional anomie theory as a foundation.
Table of Contents
Preface
Acknowledgments
A Society Organized for Crime
p. 1
By Any Means Necessary: Serious Crime in America
p. 17
Ships in the Night: Theoretical Perspectives in Contemporary Criminology
p. 38
Culture, Institutional Structure, and Social Control: A Sociological Explanation of Crime
p. 60
Strengthening Social Institutions and Rethinking the American Dream
p. 86
References
p. 109
Index
p. 121
Table of Contents provided by Blackwell. All Rights Reserved.