Note: Supplemental materials are not guaranteed with Rental or Used book purchases.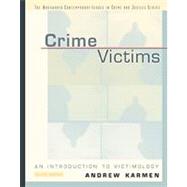 Crime Victims An Introduction to Victimology (with InfoTrac)
ISBN13:
9780534515447
by
Karmen, Andrew
Questions About This Book?
What version or edition is this?
This is the 4th edition with a publication date of 8/1/2000.
What is included with this book?
The New copy of this book will include any supplemental materials advertised. Please check the title of the book to determine if it should include any CDs, lab manuals, study guides, etc.
Summary
CRIME VICTIMS: AN INTRODUCTION TO VICTIMOLOGY is a innovative and comprehensive guide that offers balanced coverage on this controversial subject. A must-have for anyone interested in this field!
Table of Contents
Foreword
xv
Preface
xvii

| | |
| --- | --- |
| | The Rediscovery of Crime Victims and the Rise of Victimology |

| | |
| --- | --- |
| | The Discovery, Decline, and Rediscovery of Crime Victims |

2
(6)

| | |
| --- | --- |
| | The Discovery of Crime Victims |

2
(1)

| | |
| --- | --- |
| | The Decline of Crime Victims |

2
(2)

| | |
| --- | --- |
| | The Rediscovery of Crime Victims |

4
(1)

| | |
| --- | --- |
| | Social Movements: Taking Up the Victims' Cause |

4
(3)

| | |
| --- | --- |
| | The News Media: Portraying the Victim's Plight |

7
(1)

| | |
| --- | --- |
| | Businesses: Selling Products and Services to Victims |

7
(1)
8
(15)

| | |
| --- | --- |
| | The Emergence of a New Focus |

8
(2)

| | |
| --- | --- |
| | Highlights in the Brief History of Victimology and Victim Assistance |

10
(2)
12
(8)

| | |
| --- | --- |
| | Victimology Compared to Criminology |

20
(3)
23
(3)

| | |
| --- | --- |
| | Identify, Define, and Describe the Problem |

24
(1)

| | |
| --- | --- |
| | Measure the True Dimensions of the Problem |

24
(1)

| | |
| --- | --- |
| | Investigate How Victims Are Handled |

25
(1)

| | |
| --- | --- |
| | Gather Evidence to Test Hypotheses |

26
(1)

| | |
| --- | --- |
| | Victimology Contributes to the Process of Rediscovering Victims |

26
(12)

| | |
| --- | --- |
| | The Kinds of Studies Victimologisists Undertake |

27
(1)

| | |
| --- | --- |
| | Stage 1: Calling Attention to an Overlooked Problem |

28
(2)

| | |
| --- | --- |
| | Stage 2: Winning Victories, Implementing Reforms |

30
(1)

| | |
| --- | --- |
| | Stage 3: Emergence of an Opposition and Development of Resistance to Further Changes |

31
(1)

| | |
| --- | --- |
| | Stage 4: Research and Temporary Resolution of the Dispute |

32
(1)

| | |
| --- | --- |
| | The Continuing Process of Rediscovery |

32
(2)

| | |
| --- | --- |
| | Groups of Victims That Have Been Recently Rediscovered |

34
(4)
38
(1)
39
(3)

| | |
| --- | --- |
| | Digging Up the Facts About Crime Victims |

| | |
| --- | --- |
| | Crime in the Streets: The Big Picture |

42
(15)

| | |
| --- | --- |
| | The Use and Abuse of Statistics |

42
(4)

| | |
| --- | --- |
| | A Closer Look at the Two Official Sources of Victimization Data |

46
(1)
47
(2)

| | |
| --- | --- |
| | The National Crime Victimization Survey |

49
(3)

| | |
| --- | --- |
| | Comparing the UCR and the NCVS |

52
(1)

| | |
| --- | --- |
| | Using Data to Bring the Big Picture Into Focus |

53
(4)

| | |
| --- | --- |
| | Searching for Crime Waves: Detecting Victimization Trends |

57
(7)

| | |
| --- | --- |
| | Changes Over Time in Violent Crime Rates |

57
(4)

| | |
| --- | --- |
| | Checking Out Whether More Robberies Are Turning into Murders |

61
(2)

| | |
| --- | --- |
| | ``Your Money or Your Life'' |

63
(1)

| | |
| --- | --- |
| | Using the UCR to Analyze Murders |

64
(2)

| | |
| --- | --- |
| | Murderers and Their Victims |

64
(2)

| | |
| --- | --- |
| | Using the NCVS to Analyze Robberies |

66
(5)

| | |
| --- | --- |
| | Robbers and Their Victims |

66
(2)

| | |
| --- | --- |
| | Findings From the NCVS That Shed Light on Robberies |

68
(3)

| | |
| --- | --- |
| | Making International Comparisons |

71
(2)

| | |
| --- | --- |
| | Comparing the Murder Rates in Different Societies |

72
(1)

| | |
| --- | --- |
| | Assessing Comparative Risks |

73
(3)

| | |
| --- | --- |
| | Putting Crime Into Perspective |

73
(3)

| | |
| --- | --- |
| | Uncovering Victimization Patterns |

76
(5)

| | |
| --- | --- |
| | Recognizing Differential Risks |

76
(1)

| | |
| --- | --- |
| | Differential Risks of Being Murdered |

77
(2)

| | |
| --- | --- |
| | Differential Risks of Being Robbed |

79
(2)

| | |
| --- | --- |
| | Projecting Cumulative Risks |

81
(2)

| | |
| --- | --- |
| | Estimating Lifetime Likelihoods |

81
(2)
83
(1)
84
(3)

| | |
| --- | --- |
| | The Victims' Contribution to the Crime Problem |

| | |
| --- | --- |
| | The Search for Risk Factors |

87
(11)

| | |
| --- | --- |
| | The Determinants of Differential Risks |

88
(5)

| | |
| --- | --- |
| | Reducing Risks: How Safe Is Safe Enough? |

93
(1)

| | |
| --- | --- |
| | From Crime Prevention to Victimization Prevention |

94
(2)

| | |
| --- | --- |
| | Ambivalence About Risk Taking |

96
(1)

| | |
| --- | --- |
| | Deterrence Theory As Applied to Victims |

97
(1)

| | |
| --- | --- |
| | The Controversy Over Shared Responsibility |

98
(39)

| | |
| --- | --- |
| | Expressions of Support for Inquiries Into the Victim's Role |

99
(2)

| | |
| --- | --- |
| | Victim Facilitation, Precipitation, and Provocation |

101
(1)
101
(3)

| | |
| --- | --- |
| | Victim Precipitation and Provocation |

104
(2)

| | |
| --- | --- |
| | The Frequency of Shared Responsibility in Violent Crimes |

106
(1)

| | |
| --- | --- |
| | Recognizing Complete Innocence and Full Responsibility |

107
(1)

| | |
| --- | --- |
| | Typologies of Shared Responsibility |

107
(1)

| | |
| --- | --- |
| | A Typology of Auto Theft Victims |

108
(2)

| | |
| --- | --- |
| | Victim Blaming Versus Victim Defending |

110
(3)

| | |
| --- | --- |
| | Victim Facilitation and Auto Theft: Is It the Careless Who Wind Up Carless? |

113
(1)

| | |
| --- | --- |
| | Criticisms of the Notion of Shared Responsibility |

114
(3)

| | |
| --- | --- |
| | Blaming the Victim for Facilitating the Crime |

117
(1)

| | |
| --- | --- |
| | Examples of ``Motorist Blaming'' |

118
(1)

| | |
| --- | --- |
| | Victim Precipitation and Rape: Was It Somehow Her Fault? |

119
(3)
122
(2)

| | |
| --- | --- |
| | Victim-Defending Perspectives |

124
(1)

| | |
| --- | --- |
| | Victim Provocation and Murder: When Is the Slaying of a Wife Beater Justified? |

125
(2)

| | |
| --- | --- |
| | Arguments Stressing That the Brutal Men Did Not Deserve to Die |

127
(2)

| | |
| --- | --- |
| | Arguments Emphasizing That the Brutal Men Provoked the Lethal Responses |

129
(3)

| | |
| --- | --- |
| | Transcending Victim Blaming and Victim Defending |

132
(2)

| | |
| --- | --- |
| | The Legal Importance of Determining Responsibility |

134
(1)

| | |
| --- | --- |
| | Prof Calls for Crackdown on Crime Victims |

135
(2)
137
(1)
138
(2)

| | |
| --- | --- |
| | Victims and the Criminal Justice System: Cooperation and Conflict |

| | |
| --- | --- |
| | Victims Versus the Criminal Justice System |

140
(2)

| | |
| --- | --- |
| | Criticisms of the Way the Criminal Justice System Handles Victims |

141
(1)

| | |
| --- | --- |
| | What Do Victims Want: Punishment? Treatment? or Restitution? |

142
(6)

| | |
| --- | --- |
| | The System's Shortcomings From a Victim's Point of View |

143
(5)
148
(13)
148
(3)
151
(1)
152
(2)

| | |
| --- | --- |
| | Judging Complaints to Be Unfounded |

154
(2)
156
(4)

| | |
| --- | --- |
| | Recovering Stolen Property |

160
(1)
161
(10)

| | |
| --- | --- |
| | Assisting Victims and Other Witnesses for the State |

162
(2)

| | |
| --- | --- |
| | Protecting Victims Serving as Witnesses for the Prosecution |

164
(3)

| | |
| --- | --- |
| | Dismissing Charges and Rejecting Cases |

167
(2)
169
(2)

| | |
| --- | --- |
| | Victims and Defense Attorneys |

171
(3)
171
(1)

| | |
| --- | --- |
| | Cross-examining Witnesses During Trials |

172
(2)
174
(6)
174
(1)
175
(3)

| | |
| --- | --- |
| | Appealing to the Supreme Court |

178
(1)

| | |
| --- | --- |
| | Supreme Court Decisions Directly Affecting Victims |

179
(1)

| | |
| --- | --- |
| | Victims and Corrections Officials |

180
(3)
181
(2)
183
(3)

| | |
| --- | --- |
| | Recognizing ``Second-class'' Treatment |

183
(2)

| | |
| --- | --- |
| | Which Victims Get Better Treatment? |

185
(1)
186
(1)
186
(3)

| | |
| --- | --- |
| | Special Kinds of Victims: Problems and Solutions |

189
(9)

| | |
| --- | --- |
| | Estimates of the Incidence and the Seriousness of the Problem |

190
(1)

| | |
| --- | --- |
| | Highlights of the Rediscovery of the Missing Children Problem |

191
(3)

| | |
| --- | --- |
| | How Often Are Children Kidnapped, and What Happens to Them? |

194
(1)

| | |
| --- | --- |
| | Hunting for Children Who Have Vanished |

194
(3)

| | |
| --- | --- |
| | Victimization Prevention Measures |

197
(1)

| | |
| --- | --- |
| | Physically and Sexually Abused Children |

198
(20)

| | |
| --- | --- |
| | The Rediscovery of Child Abuse |

198
(3)

| | |
| --- | --- |
| | Estimates of the Incidence, Prevalnce, and Seriousness of Child Abuse |

201
(4)

| | |
| --- | --- |
| | More Controversies Surrounding Childhood Sexual Abuse |

205
(1)

| | |
| --- | --- |
| | Accusations Made During Divorce Proceedings and Custody Battles |

205
(1)

| | |
| --- | --- |
| | The Furor Over Recalling Repressed Memories of Childhood Sexual Abuse |

206
(4)

| | |
| --- | --- |
| | Strange Allegations of Ritualistic Abuse by Satanic Cults |

210
(1)

| | |
| --- | --- |
| | Abused Children and Legal Proceedings |

211
(1)

| | |
| --- | --- |
| | Taking the Best Interests of the Child Into Account |

212
(1)

| | |
| --- | --- |
| | Handling Charges of Abuse |

212
(1)
213
(4)

| | |
| --- | --- |
| | Proactive Versus Reactive Strategies |

217
(1)

| | |
| --- | --- |
| | More Casualties of Domestic Violence |

218
(3)

| | |
| --- | --- |
| | Abuse of Adolescents by Parents |

218
(1)

| | |
| --- | --- |
| | Abuse of Parents by Adolescents |

219
(1)
219
(1)
219
(2)

| | |
| --- | --- |
| | Violence Between Intimates |

221
(18)

| | |
| --- | --- |
| | The Rediscovery of Wife Beating |

221
(3)

| | |
| --- | --- |
| | Estimates of the Incidence, Prevalence, and Seriousness of Spouse Abuse |

224
(5)

| | |
| --- | --- |
| | Aiding Victims Who Feel Trapped |

229
(2)

| | |
| --- | --- |
| | Battered Women and the Criminal Justice System: Violence Is Violence, or Is It? |

231
(2)
233
(1)

| | |
| --- | --- |
| | The Prosecutorial Response |

234
(1)
235
(1)
236
(1)

| | |
| --- | --- |
| | The Rediscovery of Other Victims of Beatings |

237
(1)

| | |
| --- | --- |
| | Battering Within Same-Sex Relationships |

237
(1)

| | |
| --- | --- |
| | The Controversy Surrounding Battered Husbands |

238
(1)

| | |
| --- | --- |
| | Victims of Sexual Assault |

239
(26)

| | |
| --- | --- |
| | The Rediscovery of the Plight of Rape Victims |

239
(1)

| | |
| --- | --- |
| | ``Real Rapes'' and ``Date Rapes'' |

240
(2)

| | |
| --- | --- |
| | The Consequences of Being Sexually Assaulted |

242
(1)

| | |
| --- | --- |
| | Estimates of the Incidence, Prevalence, and Seriousness of Rape |

243
(5)

| | |
| --- | --- |
| | The Controversy Over Date Rape on College Campuses |

248
(2)

| | |
| --- | --- |
| | How the Criminal Justice System Handles Rape Victims |

250
(1)

| | |
| --- | --- |
| | The Controversy Over Unfounded Accusations |

251
(3)

| | |
| --- | --- |
| | The Accuser Versus the Accused |

254
(1)
255
(1)
256
(1)
257
(1)

| | |
| --- | --- |
| | Arrest, Prosecution, and Adjudication |

258
(1)

| | |
| --- | --- |
| | Crisis Centers: Providing Emergency Assistance |

259
(1)

| | |
| --- | --- |
| | Unwanted Publicity and Negative Media Portrayals |

260
(2)

| | |
| --- | --- |
| | Reducing the Threat of Rape |

262
(1)

| | |
| --- | --- |
| | The Rediscovery of More Rape Victims |

263
(1)

| | |
| --- | --- |
| | Wives Raped by Their Husbands |

263
(1)
263
(2)
265
(1)
265
(3)

| | |
| --- | --- |
| | Gaining Restitution From Offenders |

268
(13)
268
(1)

| | |
| --- | --- |
| | The Rise, Fall, and Revival of Restitution |

269
(4)

| | |
| --- | --- |
| | Divergent Goals, Clashing Philosophies |

273
(1)

| | |
| --- | --- |
| | Restitution as a Means of Repaying Victims |

273
(1)

| | |
| --- | --- |
| | Restitution as a Means of Rehabilitating Offenders |

274
(1)

| | |
| --- | --- |
| | Restitution as a Means of Reconciling Offenders and Their Victims |

274
(1)

| | |
| --- | --- |
| | Restitution as a Means of Punishing Offenders |

275
(1)

| | |
| --- | --- |
| | Opportunities Versus Obstacles |

275
(5)

| | |
| --- | --- |
| | Evaluating Restitution Programs |

280
(1)

| | |
| --- | --- |
| | Winning Judgments in Civil Court |

281
(9)

| | |
| --- | --- |
| | The Revival of Interest in Civil Lawsuits |

281
(1)
282
(1)

| | |
| --- | --- |
| | Possibilities and Pitfalls |

283
(3)

| | |
| --- | --- |
| | Collecting Damages From Third Parties |

286
(1)

| | |
| --- | --- |
| | Suing Private Enterprises |

287
(1)
288
(2)

| | |
| --- | --- |
| | Collecting Insurance Reimbursements |

290
(2)
290
(1)

| | |
| --- | --- |
| | Patterns of Loss, Recovery, and Reimbursement |

291
(1)
291
(1)

| | |
| --- | --- |
| | Recovering Losses by Turning to Compensation Programs |

292
(11)

| | |
| --- | --- |
| | Reimbursement From Government Funds |

292
(1)

| | |
| --- | --- |
| | The History of Victim Compensation by Governments |

293
(1)

| | |
| --- | --- |
| | The Debate Over Compensation in the United States |

294
(3)

| | |
| --- | --- |
| | How Programs Operate: Similarities and Differences |

297
(2)

| | |
| --- | --- |
| | Monitoring and Evaluating Compensation Programs |

299
(1)

| | |
| --- | --- |
| | Uncovering How Programs Work |

299
(2)

| | |
| --- | --- |
| | Measuring the Effects of Programs |

301
(2)

| | |
| --- | --- |
| | Confiscating Profits From Notorious Criminals |

303
(1)
304
(1)
305
(3)

| | |
| --- | --- |
| | Victims in the 21st Century: Alternative Directions |

| | |
| --- | --- |
| | Toward Greater Formal Legal Rights Within the Criminal Justice System |

308
(11)

| | |
| --- | --- |
| | Rights Gained at the Expense of Offenders |

311
(2)

| | |
| --- | --- |
| | Rights Gained at the Expense of the System |

313
(1)

| | |
| --- | --- |
| | Rights Gained at the Expense of Either Offenders or the System or Both |

313
(6)

| | |
| --- | --- |
| | Toward Restorative Justice |

319
(11)
319
(5)

| | |
| --- | --- |
| | How Reconciliation Programs Work |

324
(2)

| | |
| --- | --- |
| | Evaluating Efforts at Reconciliation |

326
(1)

| | |
| --- | --- |
| | Pros and Cons From the Victim's Point of View |

327
(3)

| | |
| --- | --- |
| | Toward Retaliatory Justice |

330
(14)

| | |
| --- | --- |
| | Vigilantism's Frontier Origins |

331
(2)

| | |
| --- | --- |
| | Vigilantism Versus Legitimate Use of Force in Self-defense |

333
(1)

| | |
| --- | --- |
| | Would Potential Victims Be Better Off If They Were Armed? |

334
(4)

| | |
| --- | --- |
| | The Drift Back Toward Retaliatory Violence |

338
(6)
344
(1)
345
(2)
References
347
(42)
Appendix
389
(4)
Name Index
393
(8)
Subject Index
401