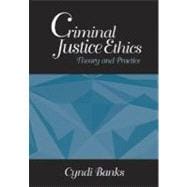 Criminal Justice Ethics : Theory and Practice
by
Banks, Cyndi
Questions About This Book?
What version or edition is this?
This is the edition with a publication date of 3/1/2004.
What is included with this book?
The New copy of this book will include any supplemental materials advertised. Please check the title of the book to determine if it should include any CDs, lab manuals, study guides, etc.
Summary
The subject of ethics in criminal justice has become more important over the last decade as increasing concern about the accountability of law enforcement and public authorities has prompted ethical questions regarding the actions of those who exercise power over citizens. Criminal Justice Ethics: Theory and Practice provides an overview of the expected standards of behavior and ethical issues that confront those in the various fields of criminal justice. This book takes a sociological approach to criminal justice ethics by emphasizing the social and historical aspects of ethical inquiry. Author Cyndi Banks presents a unique discussion of ethical issues by exploring moral dilemmas faced by professionals in the criminal justice system before examining the major theoretical foundations of ethics. This distinct organization of Criminal Justice Ethics allows readers to understand real-life ethical issues before grappling with philosophical approaches to the resolution of those issues. Key Features Covers the interaction of ethics and the criminal justice system in Part I to lay a practical foundation for applying theoretical methods to the resolution of ethical dilemmas and issues Presents real life case studies that connect ethical theories to moral dilemmas and issues facing criminal justice professionals today Offers an innovative approach to criminal justice policy making by providing a framework that analyzes morality in the policy making process Reviews the codes of ethics for criminal justice professionals that establish the requisite standards of behavior in the different fields of criminal justice Discusses Rawlsa??s theory of justice and the feminist ethic of care, topics not thoroughly addressed in other texts on the subject of criminal justice ethics Criminal Justice Ethics is an up-to-date, comprehensive textbook for undergraduate and graduate students studying ethics in criminal justice. The book is also relevant for many ethics courses in philosophy, sociology, and law and society. To read a sample chapter from Criminal Justice Ethics click on "Additional Materials" in the left column under "About This Book" or simply click here .
Author Biography
Cyndi Banks is Associate Professor of Criminal Justice at Northern Arizona University, where she teaches criminal justice ethics, women in prison, juvenile justice, and gender and justice in comparative perspectives.
Table of Contents
| | |
| --- | --- |
| PART ONE - THE INTERACTION BETWEEN ETHICS AND THE CRIMINAL JUSTICE SYSTEM | |
| Chapter 1 - The Importance of Ethics in Criminal Justice | |
| The Value of Ethics | |
| Normative Ethics | |
| Ethical Relativism | |
| Ethical Absolutism | |
| Ethical Pluralism | |
| Religion and Ethical Standards | |
| Ethics and Natural Law | |
| Ethics and Law | |
| Ethical Dilemmas | |
| Ethical Issues in Criminal Justice | |
| Summary | |
| Discussion Questions | |
| Chapter 2 - Ethics and the Police | |
| Ethics and Policing | |
| Police as an Institution | |
| Police Culture | |
| Police Discretion | |
| Ethics and Codes of Ethics | |
| Police Use of Force | |
| 'Dirty Harry/ Dirty Hands' | |
| Police Corruption | |
| Whistleblowing | |
| Discrimination as Corruption | |
| Ethical Issues in Investigation, Interrogation and Custody | |
| Explanations for Police Corruption | |
| Summary | |
| Discussion Questions | |
| Chapter 3 - Racial Discrimination in the Criminal Justice System | |
| Ethical Background | |
| Historical Context | |
| Is There Racial Discrimination in the Criminal Justice System? | |
| Imprisonment Disparities | |
| Death Penalty Disparities | |
| Hate Crimes | |
| Explanations for Racial Discrimination in the Criminal Justice System | |
| Summary | |
| Discussion Questions | |
| Chapter 4 - Lawyers and Ethics | |
| Legal Ethics - Historical Context | |
| The Nature of Professional Ethics | |
| Defense Lawyers | |
| The Prosecutor | |
| Judicial Ethics | |
| Summary | |
| Discussion Questions | |
| Chapter 5 - The Purpose of Criminal Punishment | |
| What is Punishment? | |
| Theoretical Approaches to Punishment | |
| Why Punish? - The Philosophical Approach | |
| Why Punish? - The Sociological Approach | |
| Summary | |
| Discussion Questions | |
| Chapter 6 - Ethics in Corrections | |
| The Prison Explosion | |
| Maximum Security Conditions | |
| Women's Incarceration | |
| Medium Security | |
| Minimum Security | |
| Stateville Prison: The Changing State of Corrections | |
| Guarding Ethically | |
| The Experience of Guarding | |
| Power and Authority in Prison - Controlling the Inmates | |
| Guarding with Discretion | |
| The Gray Wall of Silence - Prison Guard Subculture | |
| Use of Force | |
| Prisoner 'Power' | |
| Unethical Situations | |
| Whistleblowing in Corrections | |
| Ethical Considerations in Probation and Parole | |
| Summary | |
| Discussion Questions | |
| Chapter 7 - The Ethics of Criminal Justice Policy-Making | |
| The Ethics of Criminal Justice Policy-Making | |
| The Ethics of Policy Making | |
| Morality Policy | |
| Public Opinion about Punishment | |
| Mandatory Minimum Sentencing | |
| 'War on Drugs' | |
| Truth in Sentencing | |
| Predators and Superpredators | |
| Capitol Punishment | |
| Private Prisons | |
| Summary | |
| Discussion Questions | |
| PART TWO - THE APPLICATION OF ETHICAL THEORIES TO THE CRIMINAL JUSTICE SYSTEM | |
| Chapter 8 - Duty and Principle | |
| Hypothetical and Categorical Imperatives | |
| The Principle of Universality | |
| Respect for Persons | |
| Kingdom of Ends | |
| Conflicts of Duties between Rules | |
| Applying Deontological Theory: A Case Study | |
| Summary | |
| Discussion Questions | |
| Chapter 9 - Considering the Consequences | |
| Pleasure and Happiness | |
| Act Consequentialism | |
| Rule Consequentialists | |
| Public Policy and Utilitarianism | |
| Arguments Criticizing Utilitarianism | |
| Applying Utilitarian Theory: A Case Study | |
| Summary | |
| Discussion Questions | |
| Chapter 10 - The Importance of Character | |
| Virtues | |
| Aristotle and Happiness | |
| The Golden Mean | |
| Practical Wisdom | |
| What's Wrong with Virtue | |
| Applying Virtue Theory: A Case Study | |
| Summary | |
| Discussion Questions | |
| Chapter 11 - Egoism, Pleasure, and Indifference | |
| Stoicism | |
| Hedonism | |
| Ethical Egoism | |
| Applying Ethical Egoist Theory: A Case Study | |
| Summary | |
| Discussion Questions | |
| Chapter 12 - A Sense of Justice | |
| Application of the Principles | |
| Justice as Fairness | |
| Moral Development | |
| Applying Rawlsian Theory | |
| Summary | |
| Discussion Questions | |