Note: Supplemental materials are not guaranteed with Rental or Used book purchases.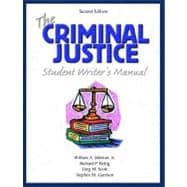 Summary
The Criminal Justice Student Writer's Manual addresses the growing need for simple, direct communication. It's a sad fact that many people today lack this important skill. Administrators of criminal justice agencies are looking for people who can condense large reports into a concise sheet of facts. They want men and women who can report an agency's day-to-day activities, and not just accurately but with an understanding of their implications.
The Criminal Justice Student Writer's Manual will help you organize your thoughts in order to write clearly and accurately. Rather than prescribing rules, it helps you say what needs to be said—simply, honestly, and to the point. As you develop this skill, you will find that it will help you in countless ways throughout your career.
Table of Contents
I. A HANDBOOK OF STYLE FOR CRIMINAL JUSTICE.
1. Writing as Communication.
2. Writing Competently.
3. Formats.
4. Citing Sources.

II. HOW TO CONDUCT RESEARCH IN CRIMINAL JUSTICE.
5. Organizing the Research Process.
6. Information Sources and Distance Learning.

III. WRITING DIFFERENT TYPES OF CRIMINAL JUSTICE PAPERS.
7. Brief Writing Assignments.
8. Criminal Justice Agency Case Studies.
9. Criminal Justice Policy Analysis Papers.
Glossary.
Index.