Note: Supplemental materials are not guaranteed with Rental or Used book purchases.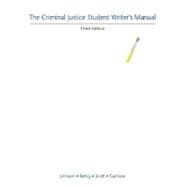 Summary
In this new edition of The Criminal Justice Student Writer's Manual, students learn the skills necessary to become good writers. Topics covered in the book include: Writing competently Formatting Citations Conducting research Position papers Article critiques Book reviews Annotated bibliographies Case studies Policy analysis papers
Table of Contents
Preface
A Handbook of Style for Criminal Justice
Writing as Communication
Writing to Learn
The Writing Process
Writing Competently
Guidelines for the Competent Writer
Punctuation, Grammar, and Spelling
Page Formats
Preliminary Considerations
Margins
Pagination
Title Page
Abstract
Executive Summary
Outline Summary
Table of Contents<$$$>
List of Tables and Figures
Text
Headings and Subheadings
Tables
Illustrations and Figures
Reference Listing
Appendices
References
Citing Sources
Preliminary Decisions
Citing Sources in ASA Format
Citing Sources in APA Format (revised)
How to Conduct Research in Criminal Justice
Organizing the Research Process
Gaining Control
Effective Research Methods
Ethical Use of Source Material
Information Sources and Distance Learning
Library Research
Criminal Justice on the World Wide Web (revised)
A Guide to Distance Learning
Writing Different Types of Criminal Justice Papers
Brief Writing Assignments
Reaction Papers
Article Critiques
Book Reviews (new sample book reviews)
Annotated Bibliographies (new section with examples)
Criminal Justice Agency Case Studies
What Is a Case Study?
Using Case Studies in Research
Limitations of the Case Study Method
Types of Case Studies Written in Criminal Justice
How to Conduct a Criminal Justice Agency Case Study
Elements of the Case Study Paper
A Sample Case Study (new)
Criminal Justice Policy Analysis Papers
What Is Policy Analysis?
Policy Analysis Research Proposals
Criminal Justice Policy Analysis Papers
A Sample Policy Analysis Paper (new)
Glossary
References
Index
Table of Contents provided by Publisher. All Rights Reserved.
Excerpts
The more, complex criminal-justice systems become, the greater the need for clear, direct communication. The sad reality is that many people have difficulty writing a simple declarative sentence. In all areas of criminal justice, no skill is more important than the ability to get messages on paper clearly in order to get business done. If you learn to write well, you will be more valuable in whatever line of work you pursue. Administrators in criminal-justice agencies are looking for people who can condense a mass of data into one sheet of clear comment. They are looking for men and women who can report the day-to-day activities of a complex system concisely and accurately Administrators want more than undigested, descriptive data; they want to know what the experts in each area believe the data mean. This book is designed to help you improve your writing. You will find principles and guidelines to help you write complex reports as well as summarize information into condensed presentations. Good writers know and use the terminology of their discipline. 1n writing reports and professional communications, criminal-justice professionals often need to draw from the lexicon of several disciplines--e.g., law enforcement, forensics, psychology, sociology, law, and management. We have included a broad and extensive glossary to aid you in writing the assignments in this manual. As you continue to use this manual throughout your college and professional career, we hope your writing skills evolve and aid you in attaining your professional goals and objectives.