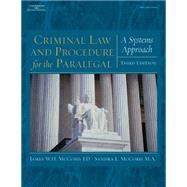 List Price: $177.66
In Stock Usually Ships in 24 Hours.

180 day subscription
Questions About This Book?
Why should I rent this book?
Renting is easy, fast, and cheap! Renting from eCampus.com can save you hundreds of dollars compared to the cost of new or used books each semester. At the end of the semester, simply ship the book back to us with a free UPS shipping label! No need to worry about selling it back.
How do rental returns work?
Returning books is as easy as possible. As your rental due date approaches, we will email you several courtesy reminders. When you are ready to return, you can print a free UPS shipping label from our website at any time. Then, just return the book to your UPS driver or any staffed UPS location. You can even use the same box we shipped it in!
What version or edition is this?
This is the 3rd edition with a publication date of 7/11/2005.
What is included with this book?
The Used copy of this book is not guaranteed to inclue any supplemental materials. Typically, only the book itself is included.
The Rental copy of this book is not guaranteed to include any supplemental materials. You may receive a brand new copy, but typically, only the book itself.
Summary
This text prepares paralegals in the principles of criminal law as well as in the practice skills needed daily in the law office. Presented in a clear, logical, outline format, Criminal Law and Procedure for the Paralegal: A Systems Approach, third , includes effective learning features such as charts, checklists, forms, documents, legal terminology, helpful web sites, and numerous illustrative case examples. A systems folder is also included to help build an impressive practice system of topically arranged forms, legal principles, rules, checklists, and other materials. This comprehensive text blends theory with practice and incorporates insights into the fascinating world of crime and criminals and the legal professionals who work within the justice system. The systems approach used continues to be one of the most popular features of this text, and the clear, concise, yet thorough presentation of concepts and skills leads to the development of a more thoughtful and accurate paralegal professional.
Table of Contents
xix
xxi
Preface
xxxv

| | |
| --- | --- |
| | Foundations of Criminal Law |

3
(24)
4
(1)

| | |
| --- | --- |
| | Overview of the Legal System |

4
(2)
4
(1)
4
(1)
5
(1)
5
(1)
6
(4)
6
(1)
7
(1)
8
(1)
8
(1)
8
(1)

| | |
| --- | --- |
| | Change in the Criminal Law |

9
(1)

| | |
| --- | --- |
| | Divisions of Criminal Law |

9
(1)
9
(1)
9
(1)

| | |
| --- | --- |
| | Punishment and Criminal Law |

10
(3)
10
(1)
10
(1)
11
(1)
12
(1)

| | |
| --- | --- |
| | Critical Reason and Criminal Law |

13
(2)

| | |
| --- | --- |
| | The Dilemma of Crime in a Free Society |

15
(1)

| | |
| --- | --- |
| | Crime in the United States |

15
(2)
15
(1)

| | |
| --- | --- |
| | Reasons for Drop in Crime |

16
(1)

| | |
| --- | --- |
| | Special Concerns: Present and Future |

16
(1)

| | |
| --- | --- |
| | Practical Considerations for the Study of Criminal Law |

17
(1)

| | |
| --- | --- |
| | The Significance of Studying Criminal Law |

17
(1)

| | |
| --- | --- |
| | About This Text: Applying State Law |

18
(1)
18
(1)
18
(3)
19
(1)
19
(1)
19
(1)
20
(1)
20
(1)
21
(1)
21
(6)

| | |
| --- | --- |
| | Administration of Criminal Justice and the Role of the Paralegal |

27
(24)
28
(1)
28
(1)
29
(1)
30
(1)
30
(1)
31
(5)
31
(1)
31
(1)
32
(4)

| | |
| --- | --- |
| | Professional Ethics in Criminal Law Practice |

36
(5)
36
(1)
36
(1)
37
(1)

| | |
| --- | --- |
| | Role of the Defense Attorney |

38
(2)
40
(1)
41
(5)

| | |
| --- | --- |
| | Paralegal Tasks in Criminal Law Offices |

41
(1)

| | |
| --- | --- |
| | Paralegal Ethical Responsibilities |

42
(3)

| | |
| --- | --- |
| | Other Professional Considerations |

45
(1)
45
(1)
46
(5)
51
(26)
52
(1)

| | |
| --- | --- |
| | Harm or Likely Harm: The Classification of Crimes |

52
(1)
53
(3)
53
(1)

| | |
| --- | --- |
| | Voluntary and Involuntary Acts |

53
(1)
54
(1)
55
(1)
56
(1)
56
(5)
56
(1)

| | |
| --- | --- |
| | Model Penal Code Definitions |

57
(2)

| | |
| --- | --- |
| | General, Specific, and Transferred Intent |

59
(1)
59
(1)
59
(2)
61
(2)
61
(1)
62
(1)

| | |
| --- | --- |
| | Supervening or Superseding Causes |

62
(1)
63
(4)
63
(1)
63
(1)
64
(1)
65
(1)
66
(1)

| | |
| --- | --- |
| | Vicarious and Corporate Liability |

67
(4)
67
(1)
67
(1)
68
(3)
71
(6)

| | |
| --- | --- |
| | Crimes Against Persons and Crimes Against Habitation |

77
(60)
78
(1)
78
(1)
78
(1)
79
(44)
79
(1)
80
(13)
93
(11)
104
(1)
105
(11)
116
(3)

| | |
| --- | --- |
| | Kidnapping, False Imprisonment, and Custodial Interference |

119
(4)

| | |
| --- | --- |
| | Crimes Against Habitation |

123
(5)
123
(1)
123
(2)
125
(1)
125
(3)
128
(9)

| | |
| --- | --- |
| | Crimes Against Property, Public Order and Safety, Public Morals, and Justice and Public Administration |

137
(48)
138
(1)
138
(20)
138
(1)
138
(3)
141
(1)
142
(2)
144
(1)

| | |
| --- | --- |
| | Receiving Stolen Property |

144
(1)

| | |
| --- | --- |
| | Forgery and Uttering a Forged Instrument |

144
(1)
145
(3)
148
(1)
149
(3)
152
(2)
154
(4)

| | |
| --- | --- |
| | Crimes Against Public Order and Safety |

158
(6)
158
(1)
159
(1)
160
(1)
161
(1)
161
(1)

| | |
| --- | --- |
| | Endangering Public Health and Environment |

162
(1)

| | |
| --- | --- |
| | Use and Distribution of Firearms |

163
(1)

| | |
| --- | --- |
| | Crimes Against Public Morals |

164
(8)
164
(1)

| | |
| --- | --- |
| | Nonviolent Sexual Conduct |

164
(5)
169
(1)
169
(3)

| | |
| --- | --- |
| | Crimes Against Justice and Public Administration |

172
(3)
172
(1)
172
(1)
173
(1)
174
(1)
174
(1)
174
(1)
175
(1)
175
(10)

| | |
| --- | --- |
| | Inchoate and Organized Crimes |

185
(34)
186
(1)
187
(6)
187
(1)
187
(2)
189
(3)
192
(1)
193
(12)
193
(1)
194
(1)
195
(4)
199
(1)
200
(3)
203
(2)
205
(1)

| | |
| --- | --- |
| | Racketeering Influenced and Corrupt Organizations (RICO) |

206
(1)
206
(1)
206
(1)
207
(1)
207
(1)

| | |
| --- | --- |
| | State Organized Crime Statutes |

207
(1)

| | |
| --- | --- |
| | Continuing Criminal Enterprise (CCE) |

207
(3)
210
(1)
211
(8)
219
(40)
220
(1)
220
(1)

| | |
| --- | --- |
| | Effective Level of Defense |

220
(1)
220
(1)

| | |
| --- | --- |
| | Constitutional and Statutory Defenses |

221
(6)
221
(1)
221
(1)
222
(1)
223
(1)
223
(2)
225
(1)
226
(1)
227
(1)
227
(7)
227
(1)
228
(4)
232
(1)
233
(1)

| | |
| --- | --- |
| | Resisting Unlawful Arrest |

233
(1)

| | |
| --- | --- |
| | Execution of Public Duties |

233
(1)

| | |
| --- | --- |
| | Parental Discipline Justification |

234
(1)
234
(10)
234
(1)
234
(1)
235
(1)
236
(2)
238
(6)
244
(5)
244
(1)

| | |
| --- | --- |
| | Actus Reus as a Missing Element |

244
(1)

| | |
| --- | --- |
| | Mens Rea as a Missing Element |

245
(3)
248
(1)
249
(1)
250
(9)

| | |
| --- | --- |
| | Intake and Drafting the Complaint |

259
(48)
260
(1)
260
(8)
260
(1)
260
(4)
264
(3)
267
(1)
268
(4)

| | |
| --- | --- |
| | Authority, Limits, and Immunity from Civil Suit |

268
(2)

| | |
| --- | --- |
| | Joinder of Offenses and Defendants |

270
(2)
272
(2)

| | |
| --- | --- |
| | Drafting from the Intake Form |

272
(1)

| | |
| --- | --- |
| | Drafting from the Police Report |

273
(1)
274
(2)
274
(1)
275
(1)
275
(1)

| | |
| --- | --- |
| | Checklist for Drafting and Filing the Summons and Warrant |

276
(1)
276
(1)
277
(30)
307
(56)
308
(1)

| | |
| --- | --- |
| | Scope of the Fourth Amendment |

309
(8)
309
(1)

| | |
| --- | --- |
| | Reasonable Expectation of Privacy |

309
(8)
317
(8)

| | |
| --- | --- |
| | Issuance: Probable Cause, Neutrality, Particularity |

317
(3)
320
(5)

| | |
| --- | --- |
| | Warrant Subsequent to Search: Independent Source |

325
(1)

| | |
| --- | --- |
| | Officer Liability and the Fourth Amendment |

325
(1)

| | |
| --- | --- |
| | Exceptions to the Requirement for a Warrant |

325
(26)
325
(1)
326
(4)

| | |
| --- | --- |
| | Stop and Frisk (Investigatory Detention) |

330
(2)

| | |
| --- | --- |
| | Search Incident to Lawful Arrest |

332
(1)
333
(1)
334
(5)
339
(1)
339
(1)

| | |
| --- | --- |
| | Border, Regulatory, and Emergency Searches |

340
(5)
345
(3)
348
(1)

| | |
| --- | --- |
| | Community Caretaking Function |

348
(3)

| | |
| --- | --- |
| | Electronic Surveillance and the Patriot Act |

351
(2)
353
(1)
354
(3)
357
(6)

| | |
| --- | --- |
| | Confessions and Pretrial Identification Procedures |

363
(36)
364
(1)

| | |
| --- | --- |
| | The Fifth Amendment Privilege Against Self-Incrimination |

364
(4)
364
(1)

| | |
| --- | --- |
| | Who Is Protected by the Right Against Self-Incrimination? |

365
(1)

| | |
| --- | --- |
| | In What Kinds of Hearings May the Right be Exercised? |

366
(1)

| | |
| --- | --- |
| | What Is Incriminating Testimony? |

366
(1)

| | |
| --- | --- |
| | When Can Incriminating Testimony be Compelled? |

366
(2)

| | |
| --- | --- |
| | How Far Does a Waiver of the Right Extend? |

368
(1)

| | |
| --- | --- |
| | When Is Evidence Testimonial? |

368
(1)

| | |
| --- | --- |
| | Confessions and Interrogation: Miranda |

368
(20)
368
(8)
376
(1)

| | |
| --- | --- |
| | Issues Miranda Left Unanswered |

377
(8)

| | |
| --- | --- |
| | Effect of Denial of Right to Counsel (Massiah) and Harmless Error |

385
(1)
386
(1)
386
(2)

| | |
| --- | --- |
| | Lineups, One-on-One Show-Ups, and Photo Identifications |

388
(2)
388
(1)

| | |
| --- | --- |
| | The Right to Counsel at Pretrial Identification |

389
(1)

| | |
| --- | --- |
| | Due Process and Pretrial Identifications |

389
(1)
390
(9)

| | |
| --- | --- |
| | Pretrial: Initial Appearance to Preliminary Hearing |

399
(38)
400
(1)
400
(9)
400
(1)

| | |
| --- | --- |
| | Notice of Rights and Determination of Indigency |

400
(2)
402
(2)

| | |
| --- | --- |
| | Initial Appearance: Paralegal's Role |

404
(5)
409
(1)

| | |
| --- | --- |
| | Conditions of Confinement |

409
(1)

| | |
| --- | --- |
| | Duty to Confirm Identity of Detainee |

409
(1)

| | |
| --- | --- |
| | Terrorism and Detention Issues |

409
(1)
410
(1)
410
(9)
410
(1)

| | |
| --- | --- |
| | Interviewing the Defendant |

410
(6)
416
(1)
417
(1)

| | |
| --- | --- |
| | Dealing with the Difficult Client |

417
(1)
418
(1)

| | |
| --- | --- |
| | Other Preliminary Investigation and Preparation |

419
(2)
419
(1)
419
(1)

| | |
| --- | --- |
| | Preparing Questions for the Preliminary Hearing |

420
(1)
421
(2)
423
(1)
423
(14)

| | |
| --- | --- |
| | Pretrial: Grand Jury to Pretrial Conference |

437
(44)
438
(1)

| | |
| --- | --- |
| | Grand Jury and Indictment |

438
(6)
438
(1)
438
(1)
439
(1)
440
(1)
440
(1)

| | |
| --- | --- |
| | The Paralegal's Role: Prosecution |

441
(1)

| | |
| --- | --- |
| | The Paralegal's Role: Defense |

442
(2)
444
(1)
444
(2)
444
(1)
445
(1)
446
(5)
446
(1)
446
(1)
447
(1)

| | |
| --- | --- |
| | Discovery Procedure and the Paralegal's Role |

448
(3)
451
(1)
452
(2)
452
(1)
452
(1)
452
(2)
454
(1)
455
(2)

| | |
| --- | --- |
| | The Right to a Speedy Trial |

457
(1)
458
(1)
458
(23)

| | |
| --- | --- |
| | Trial: Rights, Procedure, Tasks |

481
(34)
482
(1)
482
(4)

| | |
| --- | --- |
| | The Right to a Jury Trial |

482
(1)
483
(1)

| | |
| --- | --- |
| | The Rights of Presence and Confrontation |

484
(2)

| | |
| --- | --- |
| | The Right to Present Witnesses, to Testify, or Not to Testify |

486
(1)

| | |
| --- | --- |
| | Fair Trial Versus Free Press and Public Access |

486
(1)

| | |
| --- | --- |
| | The Paralegal's Role in Preparation for Trial |

487
(2)
487
(1)
487
(1)

| | |
| --- | --- |
| | Preparation of Client and Witnesses |

488
(1)
488
(1)

| | |
| --- | --- |
| | Trial Procedure and the Paralegal's Role |

489
(15)
489
(4)
493
(1)

| | |
| --- | --- |
| | The Prosecution's Case and the Presentation of Evidence |

493
(6)

| | |
| --- | --- |
| | Defense Cross-Examination of Prosecution's Witnesses |

499
(1)

| | |
| --- | --- |
| | Motion for Judgment of Acquittal |

499
(1)

| | |
| --- | --- |
| | Defendant's Case in Chief |

500
(1)

| | |
| --- | --- |
| | Prosecution's Rebuttal and Defendant's Rejoinder |

500
(1)

| | |
| --- | --- |
| | Motion for Judgment of Acquittal or Directed Verdict |

500
(1)

| | |
| --- | --- |
| | Jury Instruction Conference |

501
(1)
501
(1)

| | |
| --- | --- |
| | Judge's Instructions to the Jury |

502
(1)
502
(2)
504
(1)
504
(1)
504
(1)

| | |
| --- | --- |
| | Types of Posttrial Motions |

504
(1)
505
(10)

| | |
| --- | --- |
| | Sentencing, Punishment, and Review |

515
(72)
516
(1)
516
(1)

| | |
| --- | --- |
| | Setting and Serving the Sentence |

516
(1)
517
(1)
517
(12)
517
(1)
518
(7)
525
(1)
526
(1)
527
(1)
527
(1)
528
(1)

| | |
| --- | --- |
| | Sentencing Statutes and Guidelines |

529
(2)
529
(1)

| | |
| --- | --- |
| | Three Strikes Laws and Mandatory Minimums |

529
(1)
530
(1)
531
(7)
531
(1)
531
(1)
531
(1)

| | |
| --- | --- |
| | Alternative Sentencing Plan |

532
(1)
533
(5)
538
(2)
538
(1)

| | |
| --- | --- |
| | Parole and Its Revocation |

538
(1)

| | |
| --- | --- |
| | Rights and Responsibilities of Prisoners |

539
(1)
540
(4)
540
(1)
541
(1)
542
(2)

| | |
| --- | --- |
| | The Writ of Habeas Corpus |

544
(2)
544
(1)

| | |
| --- | --- |
| | Criteria for Access to Habeas Corpus |

545
(1)
546
(1)
546
(41)
Appendix A: System Folder Contents
587
(6)
Appendix B: Excerpts From the Constitution of the United States of America
593
(6)
Glossary
599
(6)
Spanish Glossary
605
(4)
Index
609